I recently worked with Chris from Stahley Customs to turn my Dear Santa Milk and Cookies printable placemat into a custom vinyl sticker!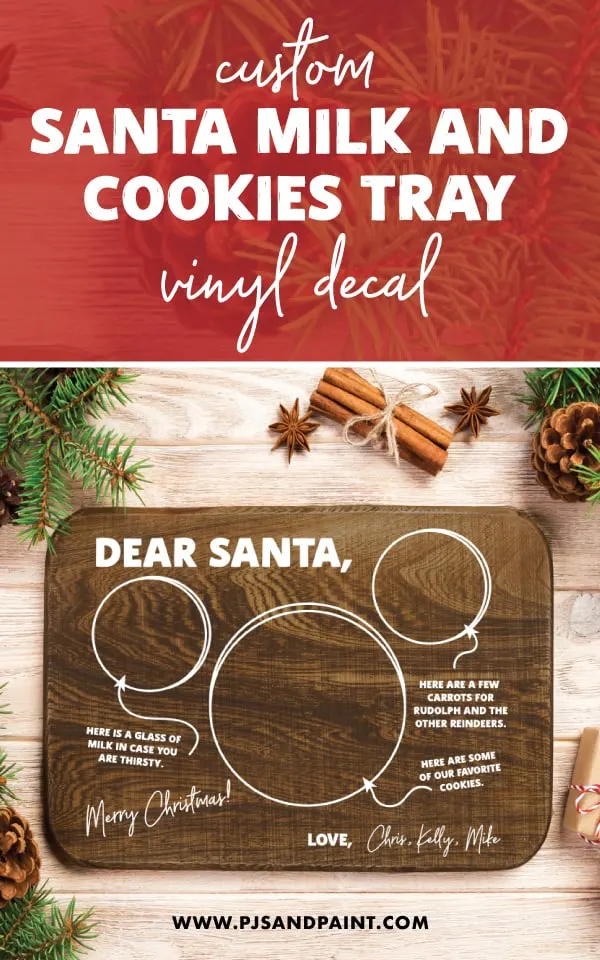 Disclaimer: This post contains Amazon affiliate links. This means that at no extra cost to you, I may earn a small commission if you decide to make a purchase.
Leaving out cookies and milk for Santa is a fun tradition to take part in with your kids every year. I remember it was also so exciting to come downstairs and see how many cookies Santa ate and if he drank any of the milk that my brothers and I had left out the night before.
This is definitely a tradition I want to continue on with my kids so I thought instead of printing out a placemat every year, I'd go for something a little more durable and long lasting. That's when I teamed up with Chris from Stahley Customs to create a vinyl decal from my original design. And now I wanted to share that with you!
This decal can easily be applied to wood, plastic or glass trays that you can reuse every Christmas Eve.
The dimensions of the sticker measure 13 inches wide by 10 inches tall. You can also separate the stickers to rearrange to fit any other size tray you have.
These trays are also the perfect way to DIY a meaningful gift for friends or family this holiday season. Did anyone on your Christmas list move into a new house or have a new baby? A personalized Santa milk and cookies try would be such a sweet and unique gift that they will surely get use out of for years and years to come. Once your custom vinyl decal arrives, all you need to do is apply it to any surface you'd like and your thoughtful Christmas gift is good to go!
This dark woodentray measures approximately 16×12 inches.
Click here to view on Amazon
This light wooden tray measures about 16×12.5 inches.
Click here to view on Amazon
Santa milk and cookies tray custom vinyl sticker
There are spaces to include a glass of milk (in case Santa is thirsty after a long night of deliver presents around the word!), some of your family's favorite cookies, and a few carrots for Rudolph and the rest of the reindeers.
Each sticker will be customized with your children and/or family name. The stickers can be made in a range of colors, all cut from high quality vinyl.
If you'd like to learn more about applying, caring for or removing vinyl decals, check out the post: The Ultimate Guide to Vinyl Decals. It is full of resources and expert tips on how to apply vinyl stickers and make sure they continue to look great for years to come.