Today, I spoke with the very talented Chris from Stahley Customs about his top recommendations for installing, caring for and removing vinyl decals. Stahley Customs is a New York based vinyl graphics company that serves businesses and individuals throughout the country. With a background in graphic design, Chris not only has the equipment and knowledge to professionally manufacture custom die cut stickers, but he also has the skill to assist in all aspects of design.
Vinyl decals are are made with a strong adhesive that can last for years. They provide a fantastic way to quickly and affordably spruce up any blank wall in your home; living rooms, nurseries, bedrooms, etc. Decals can be applied to water bottles and tumblers, great for weddings and bridal shower gifts! Pantry labels can help organize your kitchen cabinets like a pro. Not to mention stickers for your car window, the possibilities are truly endless.
Continue reading to learn all about how to install, care for and if need be, remove vinyl decals. Be sure to scroll all the way down to the bottom to enter the giveaway to win a $50 credit towards any custom vinyl decal(s). ***Giveaway is now over! Congrats to our winner, Nicole!*** Don't forget to check out Chris on Etsy and his main website.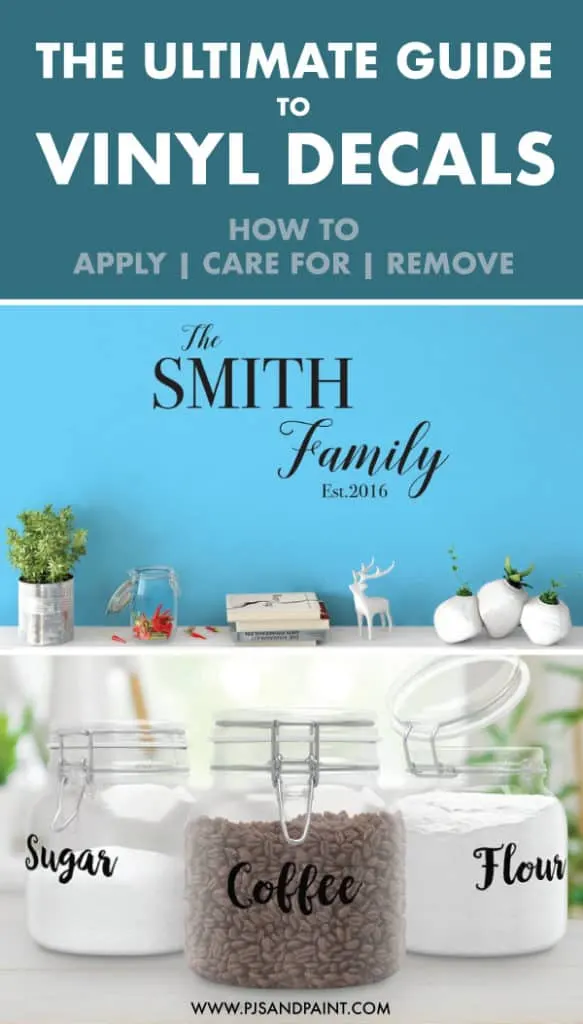 Disclaimer: This post contains Amazon affiliate links. This means at no cost to you, I may earn a small commission if you decide to make a purchase
How to Install Vinyl Decals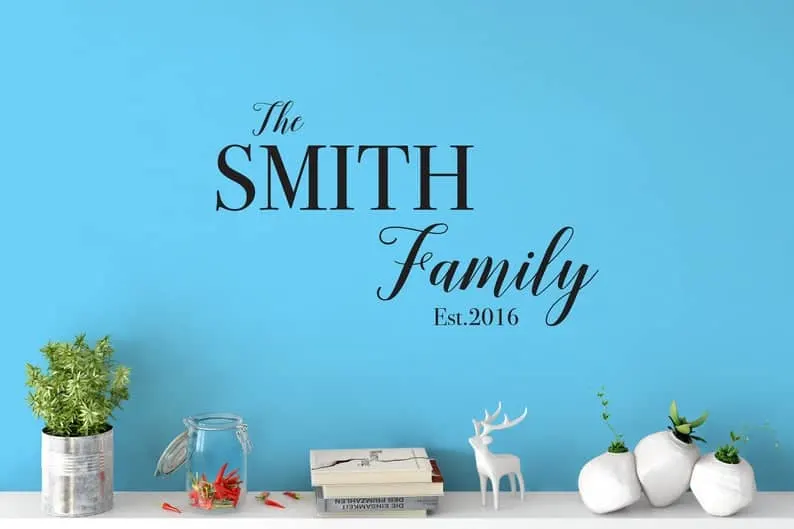 Step 1: Remove Air Bubbles
The first thing you'll want to do is place the decal/sticker on a hard surface. Take a vinyl squeegee or credit card and firmly rub the decal, beginning at the center and working out towards the edges. This step is to ensure that all the air bubbles have been released from underneath the application tape.
Step 2. Clean the Surface
It is very important to first clean the surface that you want to put the decal on. After cleaning, make sure that the surface is smooth and completely dry before applying the decal.
Step 3. Separate the decal from the backing paper
The next step is to flip the decal over and very carefully separate the backing paper from the transfer tape. Keep in mind that your decal will now be stuck to the transfer tape. Don't throw away the backing paper just yet!
Step 4. Place the decal on the desired surface
Starting with one side and slowly working your way to the other, apply the decal to the surface. While doing this, make sure that no air is trapped below the surface.
Step 5. Remove Air Bubbles
To remove any air bubbles, you can use a vinyl squeegee or credit card. Starting from the center of the decal, and working your way towards the edges, apply firm pressure at approximately a 45 degree angle. You may need to repeat this step a few times until all of the air bubbles have been worked out.
Step 6. Remove Application Tape
The next step is to lift one edge of the application tape and slowly remove it from the decal. Try and keep the tape as close to the surface as possible to ensure that the decal doesn't lift up. Make sure to remove the application tape completely before finishing up the installation.
Step 7. Make sure the decal is properly adhered
Place the backing paper from step 3 back over the decal and rub firmly. This step will ensure that the decal is properly adhered to the surface.
Additional tips to a successful vinyl decal installation
If you notice that any air bubbles are found within the newly applied decal, you can use a pin to gently puncture the bubble. After doing so, rub the decal towards the pin hole in a circular motion, in order to release the trapped air.
Make sure to thoroughly prepare the surface that you want to apply your decal to. Just like with painting, prep work is the key step in ensuring that the sticker not only looks good, but adheres properly.
If your sticker is particularly large, a mixture of soap and water can be sprayed to certain materials to help apply and delay the adhesive properties of the sticker. However, be sure to do this sparingly as too much soap and water can ruin the sticker. Once applied, it is also very important to squeeze all the water out from behind the decal. You should start from the center of the design and work your way towards the edges. Don't forget to have paper towels handy because this could get a little messy!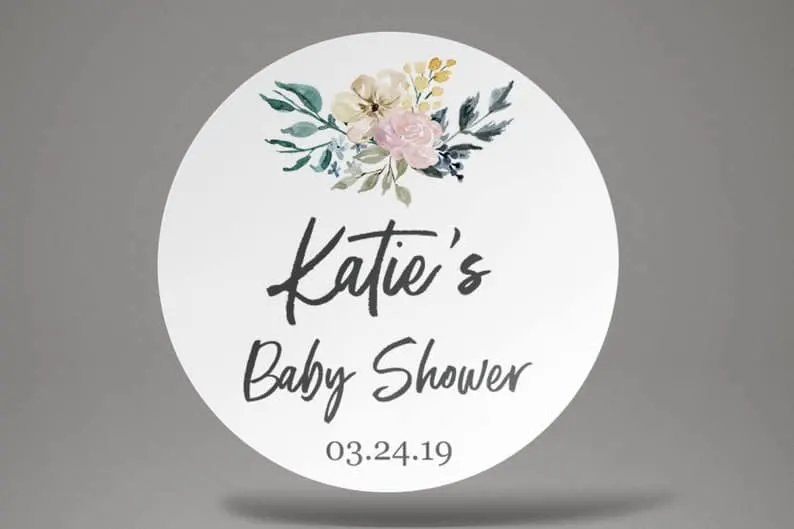 What to Avoid while Applying Vinyl Decals
Folding the stickers
Folding the decals would crease the design and in turn, the vinyl would become permanently damaged.
Installing the sticker too fast
Take your time and make sure that you apply the decal smooth. Start from either the center of the sticker or move from one edge to the other.
Not taking the time to squeegee
Be sure to take your time while squeegeeing the sticker. If you rush, you'll end up creating air pockets that will inevitably ruin your decal.
Applying the decal in extreme temperature conditions
You'll want to apply the decal in normal temperature conditions. Extreme variations in temperature can affect how well the sticker will adhere to the surface.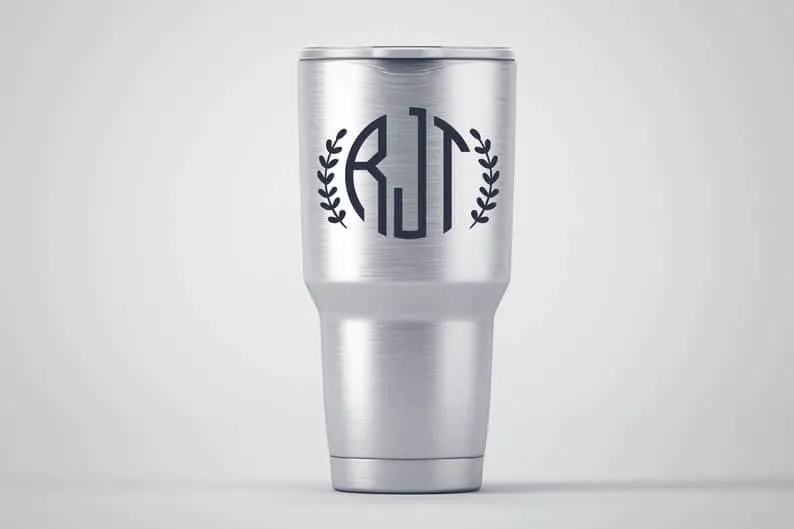 How to Care for Vinyl Decals
I asked Chris for his top two rules to keep your vinyl decals looking as good as the day they were installed. Here is what he said:
Rule 1: No direct scraping or hard scrubbing. Decals are tough, but not indestructible!
Rule 2: Hand wash only (This is super important if your decal is applied to water bottles, mugs or tumblers).
How to Remove Vinyl Decals
You may love your stickers now but you never know how you'll feel about them in the future. The great thing about high quality vinyl decals are that they can be removed without damaging the surface.
The best way to remove your decals are to find an edge and peel the sticker off in a smooth motion. Sometimes, stickers may leave a little residue. If this happens, you can use any cleaner that is appropriate for the surface that it was applied too. Adhesive removers or rubbing alcohol will work great. Just work carefully as to not damage the surface below.
Do you have any other questions for Chris? If so, leave them down in the comment section and we will be sure to get back to you!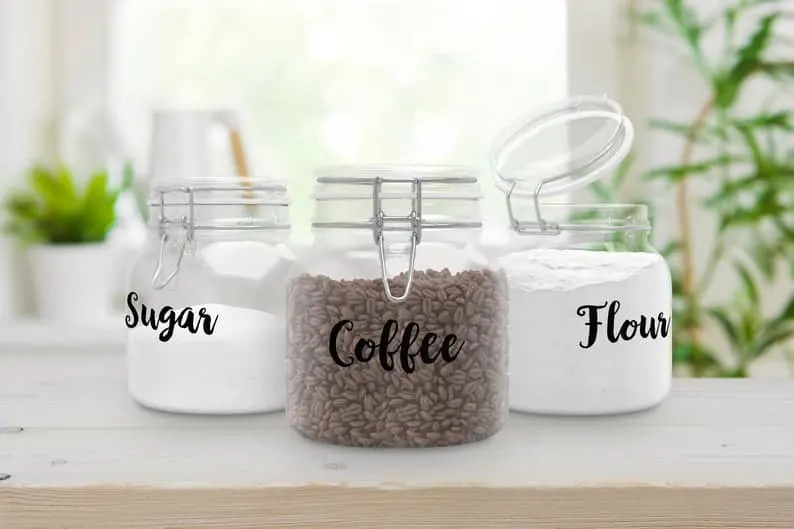 Free Custom Vinyl Decal Giveaway!
***Giveaway is now over! Congrats to our winner, Nicole!***
A big thanks to Chris for sponsoring this awesome giveaway! Enter below to win your chance for $50 worth of vinyl decals. Anything from your logo on stickers, car window decals, mug or tumblr graphics, or even custom wall art. In order to be entered to win you'll need to comment on this post with what you would order with your $50 decal voucher. There are also multiple other ways to earn more entries such as sharing this post, and following StahleyCustoms on social media. The winner will be announced via Pjs and Paint's Twitter account two weeks from now on Wednesday, September 4th, 2019. Good luck!!