Learn how to make a DIY Fall porch sign with this easy step by step tutorial. I have also created an SVG cut file that you can download if you would like to make your very own!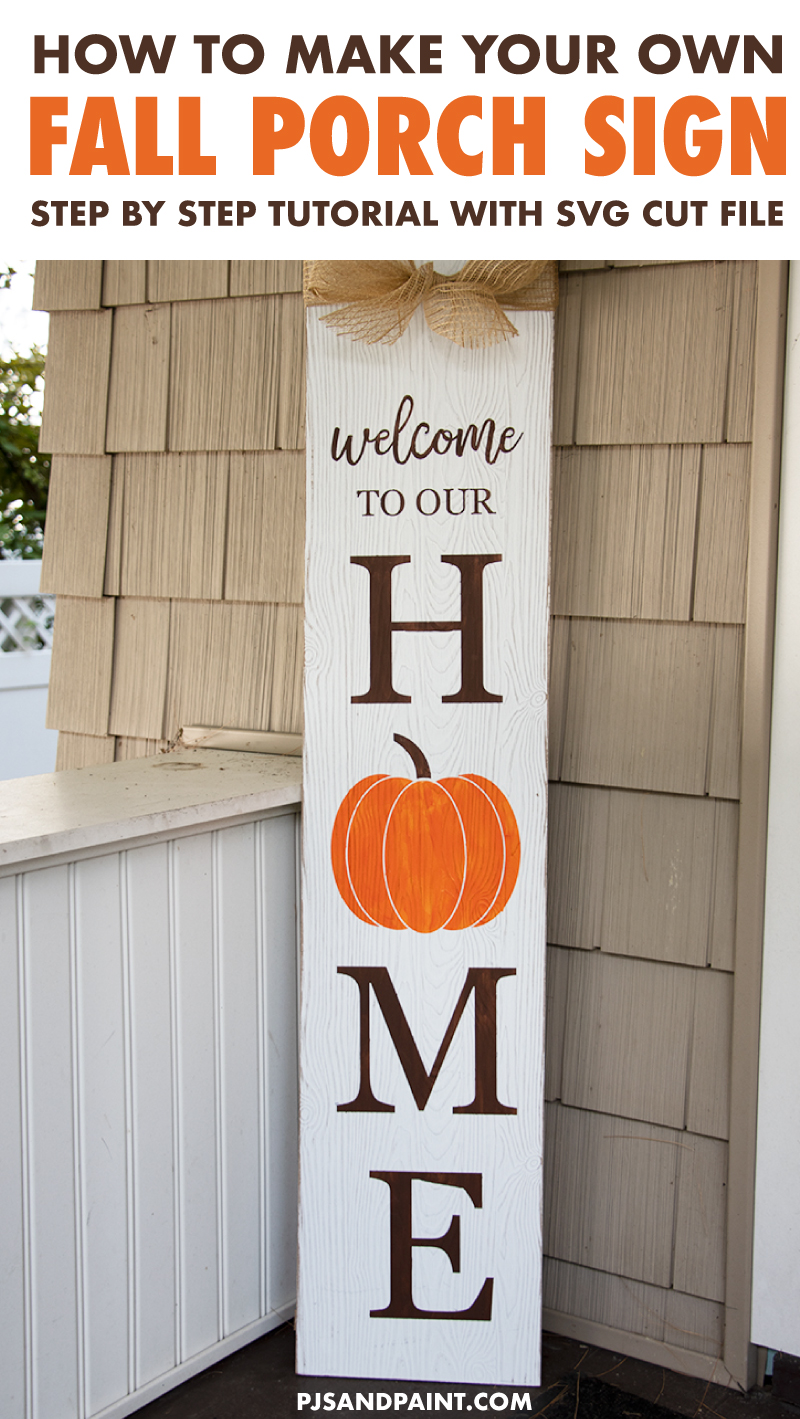 Disclaimer: This post contains affiliate links. This means that at no additional cost to you, I may earn a small commission if you decide to make a purchase. For more information, please feel free to read through our affiliate disclosure.
Just about every day, my kids and I go for a walk through the neighborhood. It is a great way to break up the day, spend some time outdoors and get some much needed fresh air.
My older son loves to pack the bottom of the baby's stroller with leaves, rocks, sticks and anything else he finds. While he is busy doing that, I look around at all the houses. Recently, I have been noticing a big trend of porch signs. Large mostly hand painted signs saying things like "Welcome" and the like.
One block we walked down, almost every house on the street had the same "Welcome" sign out front. It was a cute sign but I laughed thinking they must have all gotten them at the same place.
Anyway, this got me thinking that I wanted to hop on the porch sign trend as well. And with Fall coming up before we know it, I decided to make this cute DIY Fall porch sign to display by my own front door.
It was a lot easier to make than I had initially thought, and I think it came out really nice! If you make your own porch sign following this tutorial, feel free to email me or tag me on Instagram. I would LOVE to see how yours came out!
Supplies needed to make your own DIY Fall Porch Sign: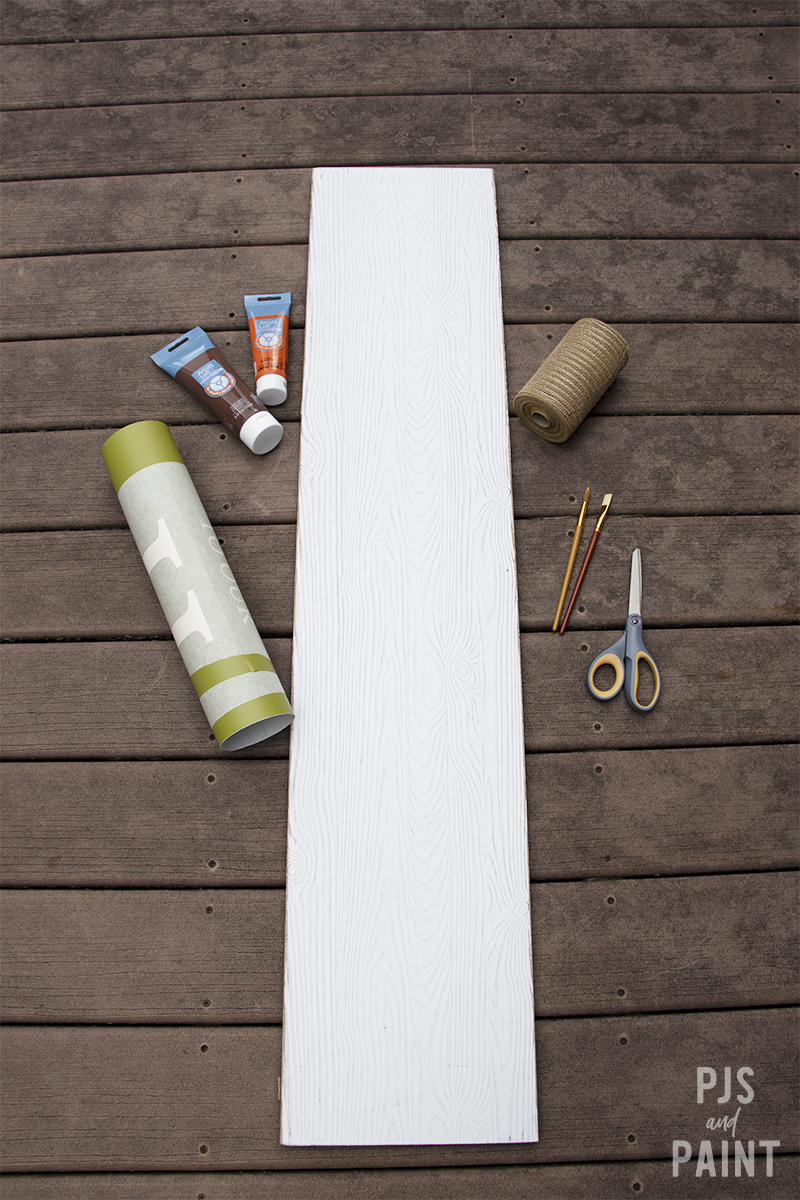 Before we get started I just wanted to mention a few things about the wood I used for the base of this project.
You might think that being the daughter of a contractor that I might have even just a little bit of workworking skills in me. You would be wrong. And while I am sure it is not too difficult to cut a piece of wood, I'm definitely more of the "I'll just go buy it at the store" type.
And so that's what I did! I went to my local craft store to see that they had these beautifully finished wood planks. I picked up a bunch in a variety of colors and chose to use the white one for this project.
Feel free to use any color wood, or paint your panel white beforehand. Be creative!
Anyway, if you are following along exactly, the dimensions of my wood panel was 48×10 inches.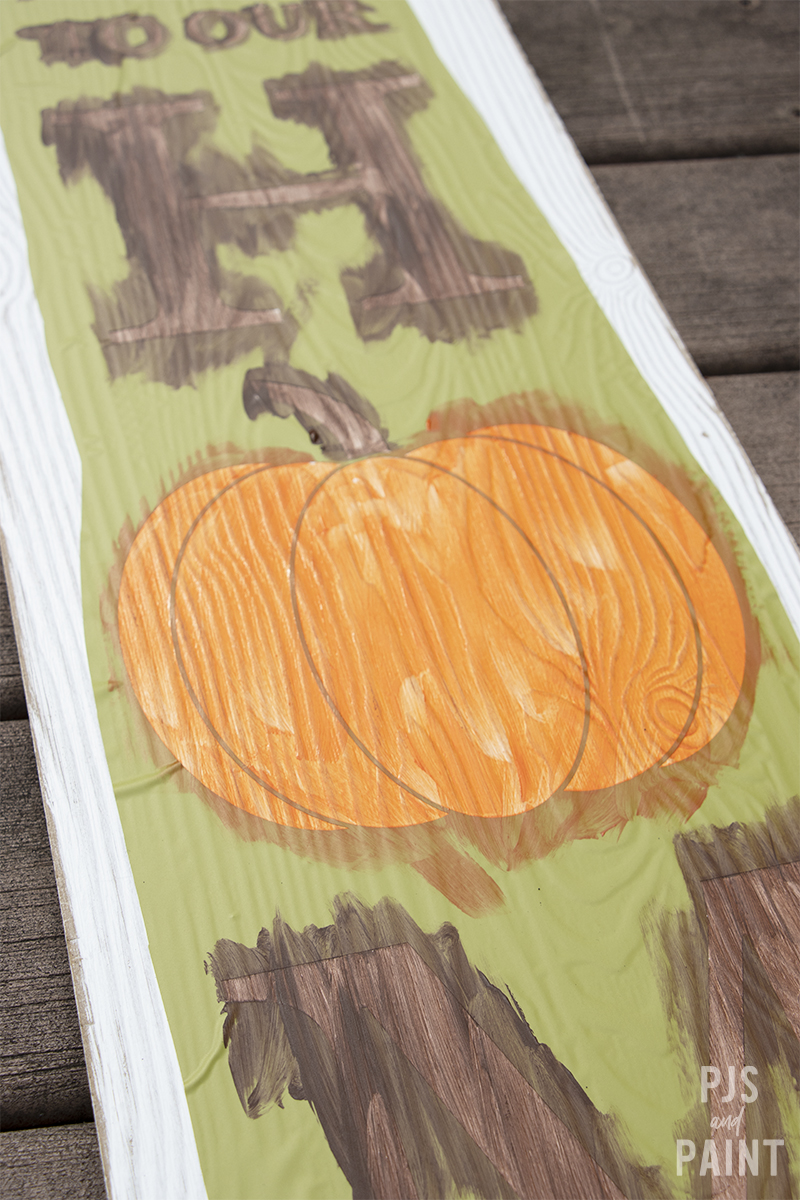 Once you have your wood panel all ready to go, it is then time to start the stencil. You have a few options here. If you would like to cut the letters and pumpkin out in vinyl and stick it right on there, that would definitely work. However, I personally wanted to go with the hand painted look.
I have always loved the look of wood grain showing through paint and with this rustic sign I thought it would look great hand painted.
If this is the look you are going for as well, you are going to want to cut a stencil out of vinyl. A Cricut or Silhouette machine would be perfect for this. You can load the Welcome to our Home SVG file into your design program and cut out the letters using removable vinyl or stencil vinyl.
My younger brother actually has a professional vinyl cutter at his house so I enlisted him to create my stencil for me. I sent him the SVG file and then he cut the stencil out on removable wall vinyl.
Once you have laid the stencil down in place on the wood plank then it is time for the fun part, painting! I painted the words brown and the pumpkin orange. However, feel free to mix up the colors and choose any color combination that you'd like.
I used acrylic paint and found that I needed to paint two coats to make sure it was opaque enough. I loved how the pumpkin came out and how you can still see the beauty of the wood grain showing through.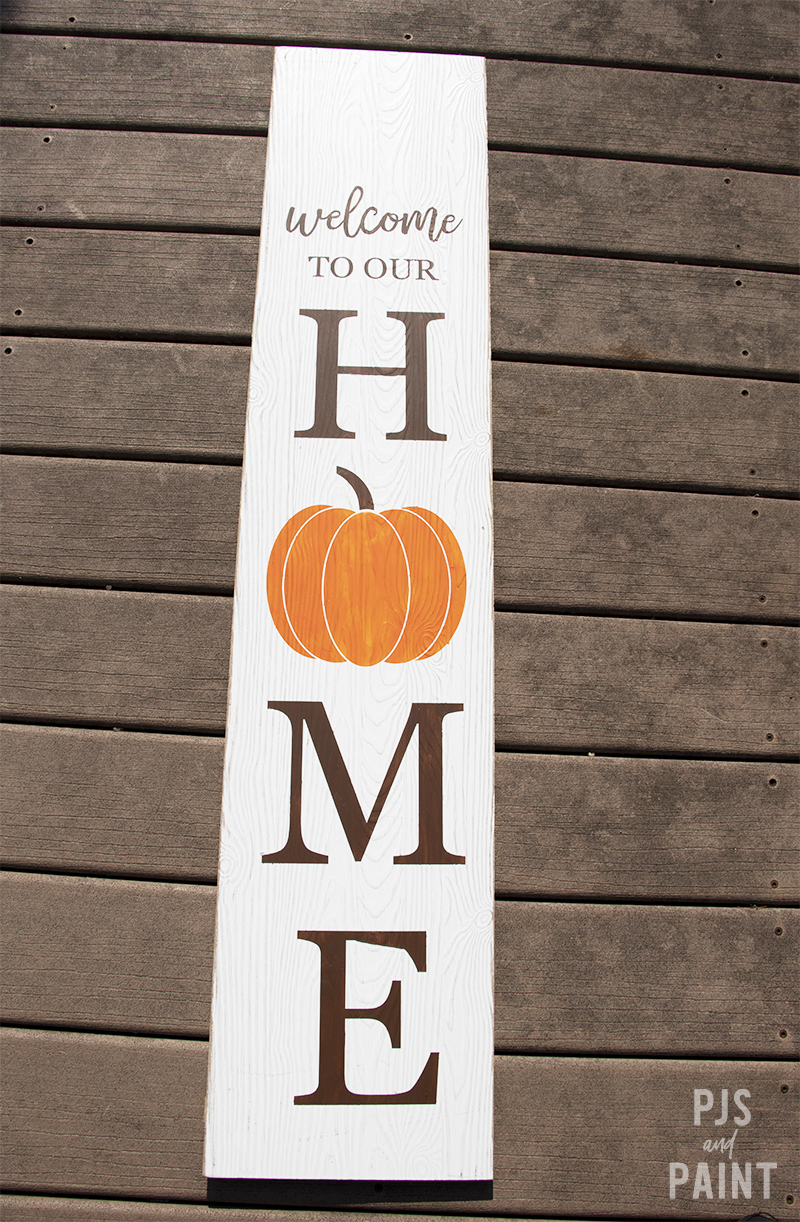 Once the paint has dried, you can then very carefully pull back the stencil to see your sign come to life!
Next, I went back in with some white paint and touched up any little areas where the paint bled through the stencil.
Finally, I cut a piece of burlap and tied a bow at the top of the sign. If you'd like, you can also place a dab of hot glue underneath the bow to make sure it stays in place.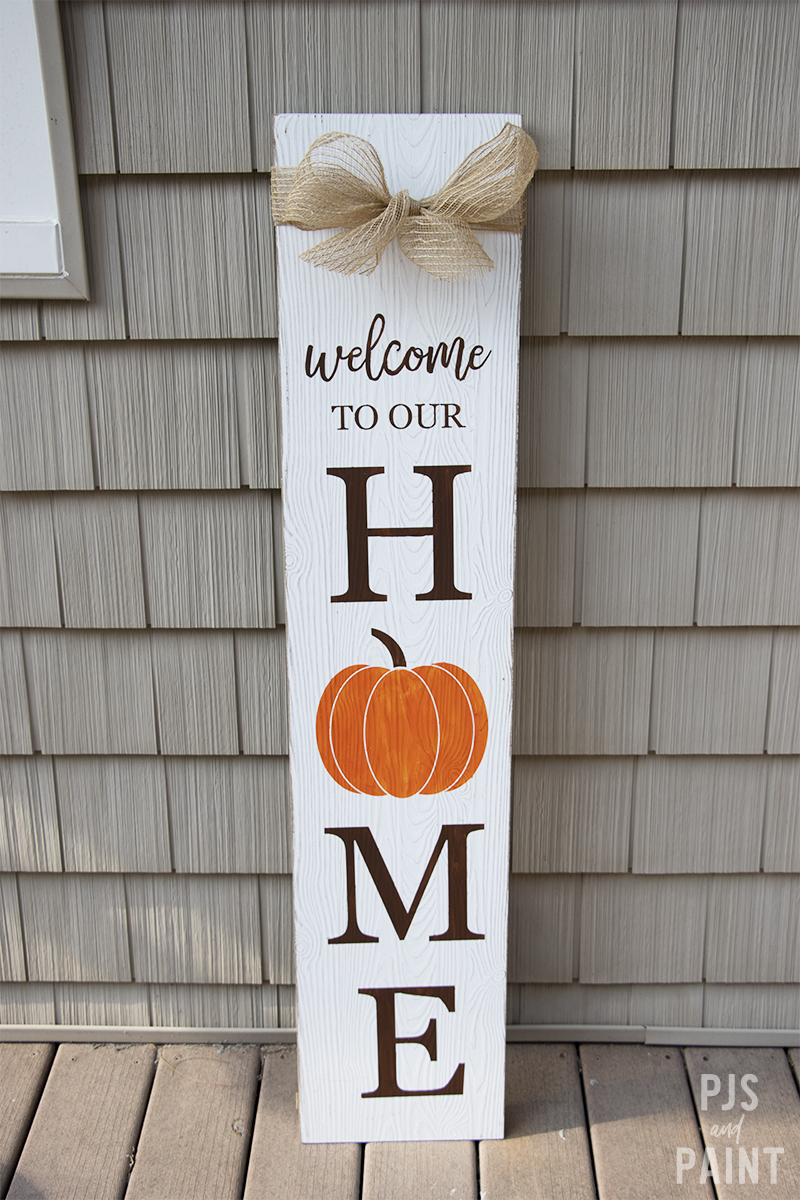 Now that your DIY Fall porch sign is complete, you can display it on your porch, inside, or anywhere else you feel needs some fun fall decorations.
And that is all there is to it! I never knew how easy and fun these signs were to create until I made one myself. But I am already brainstorming tons of other sign ideas that I'm super excited to get started on so stay tuned for more!
Have a Cricut or Silhouette machine? Grab the SVG file for this design here and make your own DIY fall porch sign!