With all the freelance job posting websites available, you as a contractor need to work a lot harder to stand out. I've had a lot of success with Upwork.com. I've become a top rated freelancer and to date, have made over $200,000 on the platform. Today I wanted to share 10 simple things you can do today to improve your own profile, and increase your chances of getting hire more often. Note: These tips are geared towards graphic design freelancers, however many of them will apply to other fields as well. Be sure to check out this post on how to create a graphic design portfolio if you're just starting out.
Disclaimer: This post contains Amazon affiliate links. This means that at no cost to you, Pjs and Paint may earn a commission if you make a purchase.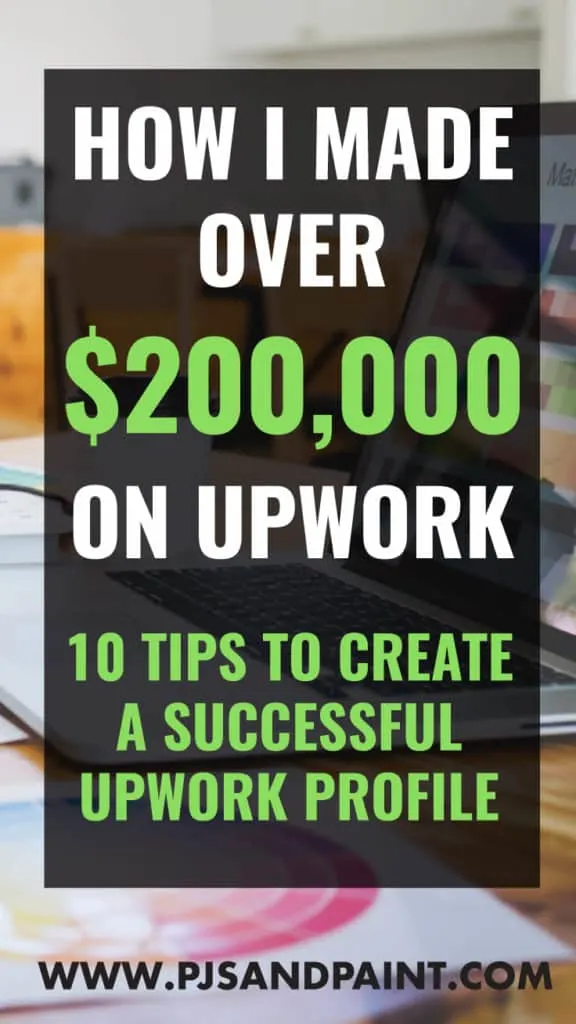 1. Find your niche.
Are you currently offering web design, coding, copywriting, print design, video editing and logo design on your freelancer profile? Try offering only one or two services. Figure out what you're really good at, and become an expert at it. You'll generate much more interest by being known as the "go-to person" for logos for example, rather than trying to do it all. Check out this post for a simple exercise you can do to figure out what services you should be offering to your potential clients.
2. Write better descriptions for your portfolio pieces.
Having great visuals are essential to landing graphic design jobs. However, a good description can set you apart from other designers. Instead of just labeling something "Brochure Design," go into detail. Here are a few questions you might want to answer in your descriptions:
Who was the client?
What industry is the client in? What is their mission?
Which programs did you use?
What requirements did the client have? Did they present you with with any challenges?
What role did you play in the design? Did you work on the layout, source the photos, create custom icons etc.
If applicable, how did the brochure help the client, did their sales go up, did their marketing material play a part in their success?
3. Mockup your work.
Using photoshop mockups to present your work can make a huge difference in your portfolio. It shows clients how the end product will look and makes your work look extra professional. There are mockups available for virtually everything, brochures, business cards, logos, package design etc.
[su_button url="https://amzn.to/32B2sm3″ target="blank" style="flat" size="6″ center="yes"]Click here to buy a 1 year subscription to Adobe Creative Cloud[/su_button]
Here are a few of my favorite sources for mockups:
4. Don't include every design you've ever done.
Does your portfolio currently include that first logo you designed for a friend, or tons of student work? Depending on how many pieces you have, remove some of the early samples. A common misconception is that you need to show potential clients every piece of work you've ever done. This could actually harm you more than be beneficial. Chances are, you've improved as a designer since you started out, if you're not 100% in love with a portfolio piece, it probably shouldn't be included. And if all your work is on the same level, still try and knock it down a few pieces, pick a handful that best represent your talent and showcase those. (Don't have a portfolio put together yet? Check out this post on How To Build a Graphic Design Portfolio When You're Just Starting Out).
5. Add relevant work experience.
Many freelance websites, such as Upwork, allow you a space for you to include previous or current work experience. You should definitely be taking advantage of this. Not only will it show potential clients that you're a reliable person and a good asset to a team, but it will show them that you have a broad range of knowledge in other topics. Maybe a medical company will be looking for a freelancer to design their brochure and see that you've previously worked in doctors offices. While they wouldn't necessarily be hiring you solely on that, it would definitely be a plus to know their graphic designer has a medical background and understands the content they would be working with.
6. Add relevant education and certifications.
Make sure to include any schools or colleges you attended and list what you studied. Even though art/design are definitely the most relevant, as mentioned in tip number 5, seeing a freelancer has a knowledge base in their industry will only help you land the job. This is also the perfect place to list any certifications you have or awards you may have won.
7. Rewrite your overview section.
The overview section of your portfolio is most likely the first thing a potential client will read. Make sure it is up to date and very clear on what you do. This is something that should be updated on a regular basis as you and your business evolves. Some things you may want to include in your overview section:
What type of work do you specialize in?
Any special certifications you have or awards you've won
What programs are you good at and most comfortable with
Your mission and what you strive to achieve with every project
What type of work you enjoy most
8. Add a professional profile photo.
Adding a photo of yourself to your profile is one of the best things you can do. Just as you wouldn't buy anything online without seeing a picture first, people will be weary to hire you if they can't see you. Potential clients want to put a face to a name and get a better sense of who they'll be working with. Some tips for a great profile picture:
Lighting is everything. Natural light outdoors is typically best. If indoors, let as much sun in as possible and avoid overhead lighting.
Look directly at the camera instead of away and zoom in on your face. Also, make sure to smile! It makes you appear much for approachable and friendly.
Have a clean, simple background. Standing against a blank wall or outside with an uncluttered background make for the best freelancer headshots.
9. Verify your account.
Most freelancer websites allow you to do some type of verification process. Verifying a phone number or drivers license etc. It might seem like an insignificant step to take, but since so much of our work is done remotely, it might put a client a bit more at ease knowing the identify of their designer has been verified and is in fact a real person.
10. Raise your prices.
This tip usually requires some experimentation. Your prices need to reflect the experience you have and what you're worth. Many freelancers are undercharging for their services thinking that they're more likely to get hired if they work for much less than their competition. This just isn't true. While there are clients just looking for cheap work, those are probably the clients you can afford to lose. You want to work with people who value your skills and expertise and are willing to pay a little higher for them. Higher prices are also generally associated with higher value. When scrolling through a long list of freelancer profiles, an hourly rate of $50/hr for example will more likely land the higher quality work as opposed to if you were charging $10/hr.

Let me know in the comments if you've made any changes to your freelancer profile and what worked for you!