You opened up your Etsy shop with the intention to sell your handmade items. So what happens when you're not making the sales you had initially hoped for? You'll have to take a close look at your shop, items and marketing techniques and figure out what's working, and more importantly, what's not.
I've opened a bunch of Etsy shops over the past 6 years. I've sold everything from handmade jewelry to digital products. Some shops have succeeded and others have completely failed. I have learned a lot throughout this time and have put together my top 8 reasons why you might not be making sales on Etsy.
Disclaimer: This post contains Amazon affiliate links. This means that at no cost to you, Pjs and Paint may earn a small commission if you decide to purchase.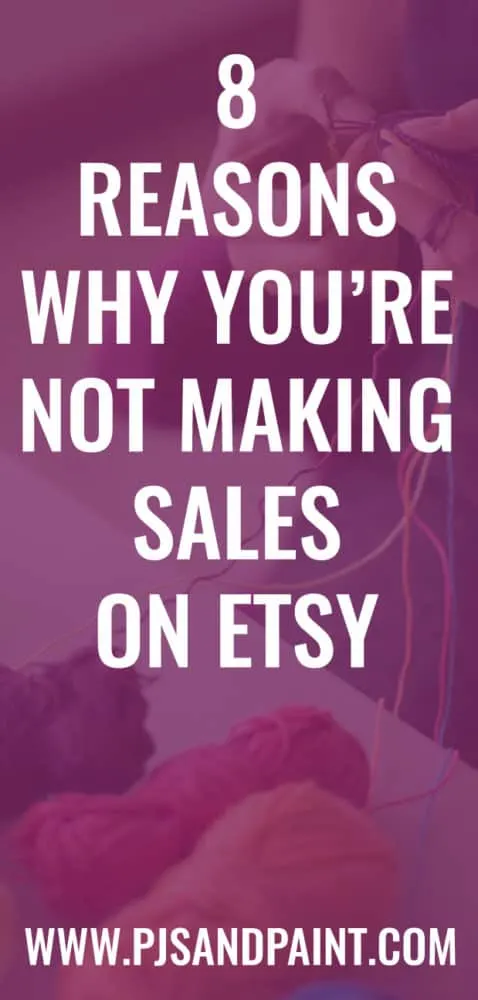 1. Your product descriptions aren't doing your items any justice.
In my opinion, good photos are the most important aspect to selling online, but second to that comes writing informative descriptions that tells the potential buyer exactly what they will be receiving. For more detailed information on writing product descriptions that sell, check out this article.
2. You're trying to do too much.
I know how hard it can be to narrow down what you want to create and sell, but there's nothing stopping you from opening multiple shops. Having digital products, crocheted scarves, art prints and clothing all in one shop is just overwhelming for your buyers. What you need to do is find your niche. (Read more about finding your niche here). You should be an expert in your craft. And if you have multiple things you're great at, that's wonderful. But it'll do you a world of good to separate them. Have one shop for your art prints, and have another for crocheted items. Not only will it help you analyze how well each individual handmade item is selling, but people are more likely to buy from you if you have a specialty shop.
3. Your photos need work.
You don't have to be a photographer by any means in order to take good pictures. A decent camera (or cell phone!), good lighting and a clean background is really all you need. Even if you have an amazing product, you're going to lose a lot of customers if your pictures don't do it justice. Photos are a crucial part of selling online. People can't see or touch your item in person, all they have to go by is what it looks like in pictures. Step up your game when it comes to product photography and it will definitely show in your sales. Read more about product photography here. And check out this post for creating a clean backdrop.
4. Nobody knows about your shop.
There are tons of items listed on Etsy. You need to make yourself known. Get your product and voice out there. Start up social media accounts for your business, have business cards printed up and promote promote promote! However, there is more to marketing than just putting your products in front of your followers. Tweet relevant articles pertaining to your craft, ask questions, respond to your followers posts, and interact with other shops. There is a lot that goes into successful marketing and promotion, but the first step is getting your name out there.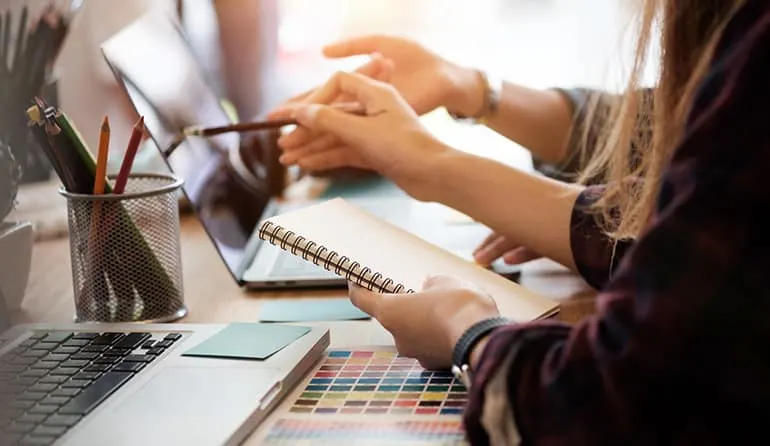 5. You're over promoting.
I know, I know, I just told you to "promote, promote promote!" However, there is such a thing as overdoing it. I see it all the time, a Twitter feed or Facebook page that has no content other than self promotional posts. Constantly bombarding your followers with your items or services will annoy them and usually end up with them clicking the unfollow button. I'd definitely recommend sharing new items in your shop or sales you have going on, but try and put a little more creativity into it. For example, instead of simply posting a picture of a scarf and writing "SALE TODAY ONLY. HURRY AND BUY NOW!" try saying something like, "Stumped on what to buy for Mother's Day? Take a look at this handmade scarf. Use coupon code for 20% off." By starting with a question, people will read it and think, "hey I do need to buy a Mother's Day gift." This will increase your click through rate much more than just saying "BUY TODAY."
6. You're trying to be someone you're not.
It's not easy to find your niche. But even if it takes you a long time to find it, taking someone else's won't do you any good. If you see someone successful, I know it can be tempting to just copy exactly what they're doing. If they can do it, you can too, right? Not exactly. You need to be different. Think about something unique that only you can offer. Coming up with your own creative ideas will make you much more successful than just trying to mimc someone else.
7. Your product isn't that great.
This one is probably hardest one to accept, but sometimes it's the truth. I came to realize this about my earliest Etsy shop. I was creating handmade jewelry and I kept getting emails saying that my products were falling apart. Unfortunately, I had lost interest in jewelry and wasn't putting in my best work, and it definitely showed. If you're doing everything right from a customer service and marketing standpoint, it might just be that your items aren't the best quality, or there isn't a large audience for your products. But by no means does this mean give up! You just need to take a hard look at your shop and figure out what's going on. Maybe you've gotten busy and don't have the time to create the quality products you'd like, so you're not listing your best work. Or maybe the market for your item is very small and even if it's great quality, not enough people are interested in purchasing.
Take your time to evaluate your business and find out whats going wrong. It might be hard initially, but if you're serious about building your business and selling on Etsy, it'll be worth it.
8. You're your own worst enemy.
Give yourself some credit! Maybe you're not selling 15+ items per day, but you are consistanly selling one item a week. That's totally okay! If you're making sales, and have happy customers, then you're doing great. Consistency is just as important. Also remember that sales can happen in cycles. People will be much more likely to buy around the holidays, so if you see a huge jump in sales in December and then they decline around January, don't freak out. You clearly were doing something right to see that jump in the first place, so just make sure to keep that up and you'll see your numbers steadily increase.
Hopefully some of these tips will help you evaluate whats going right and wrong in your Etsy shop, so you can improve and watch your business grow!
SaveSave
SaveSave