Both kids and adults alike will have fun working on this free printable Father's Day word search game. Be sure to check out our other printable Father's Day games as well to make sure your family gathering is extra fun this year!

Disclaimer: This post may contain Amazon affiliate links. This means that at no additional cost to you, I may earn a small commission if you decide to make a purchase. For more information, please feel free to read our affiliate disclosure.
In this Father's day themed word search game you will be searching for fifteen words such as:
father
dad
family
fishing
parent
sports
love
strong
caring
roll model
holiday
laughter
protect
special
funny
Words can be found horizontally, vertically or diagonally. Some words may also overlap. Circle each word in the puzzle as you find them and then cross it off of the word bank at the bottom of the page.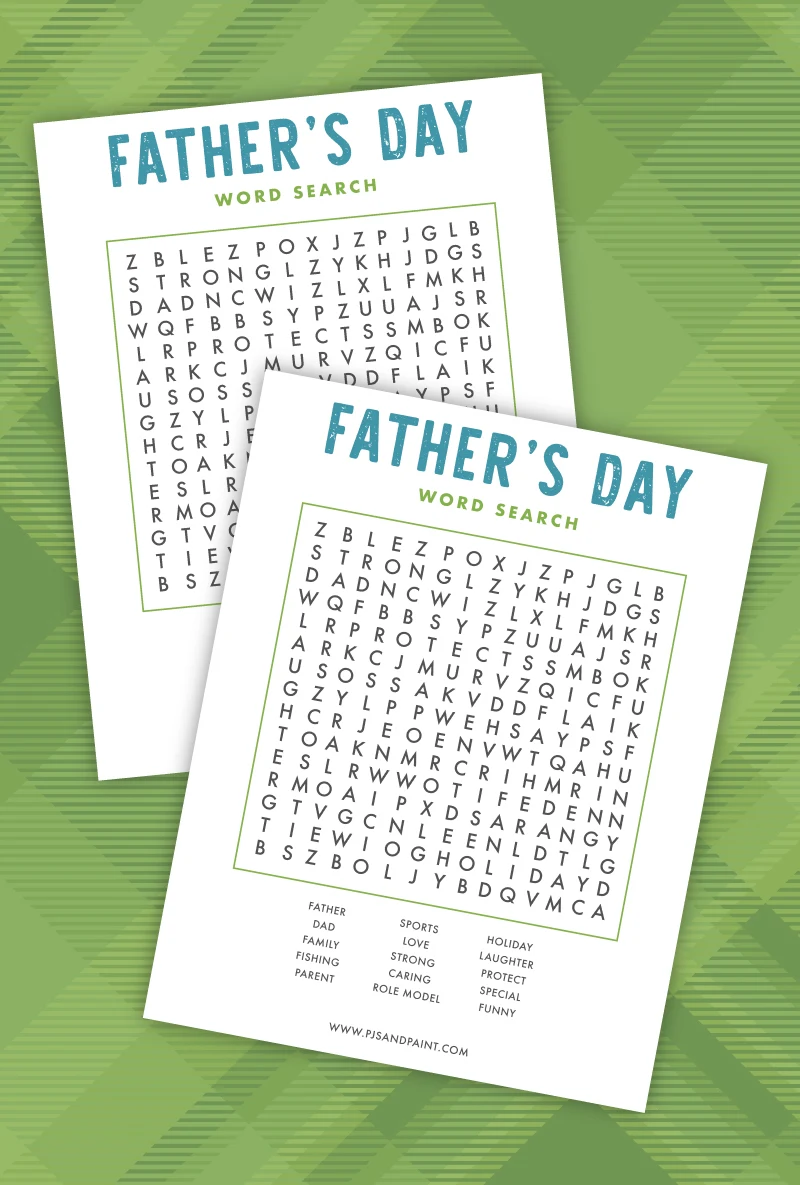 What are some benefits of working on word search games?
Improve spelling and vocabulary
While working on word search games you may learn some new words and become more familiar with the spelling of those words. This can be very beneficial for younger children just learning how to read.
Time away from screens
With so much of our lives being on screens these days, it can feel really great to take a much needed break and put the phones and laptops away. A word search is a great activity to put pen to paper and give your eyes a break from the screen time!
Stress reduction
Personally, I always find working on word games very calming. It keeps me thinking and is a great distraction from whatever worries have been occupying my mind lately.
Beat boredom during long trips
Whether it is a long car ride, a flight or train ride, you will probably need something to entertain yourself during the trip. Taking out a word search game is a great activity that will help pass the time quickly.
Satisfaction of completing something
How great does it feel when you finally solve something you have been working on? Word searches can be challenging and completing the puzzle will give you a great mood boost and sense of accomplishment.
Have fun
Plain and simple, word games are fun! And word searches are no exception! They are a great activity to play at home, in the classroom or even outdoors!
Free Printable Father's Day Word Search
This game was designed to be printed onto an 8.5×11 inch piece of paper or cardstock. One game will print per page.
Please feel free to download and print as many copies of the activity as you would like. However, please do not edit or redistribute the files in any way. This game was crated for personal or classroom use only.
If you enjoyed this activity, you might also like to take a look at some of our other fun free Father's Day games below:
How many words can you make out of Father's Day activity – Free Printable
This is a fun activity where you have to try and come up with as many different words that you can using only the letters found in Father's Day.
Free Printable Father's Day Word Scramble
In this game, you will be working to unscramble fifteen holiday themed words. With both long and short words, this game is perfect for both children and adults.
Free Printable Father's Day Scattergories Game
In this fun game, you will have to try and come up with answers for each of the eight categories that begin with each letter of the word BEST. Once completed, compare your answers with friends and family. Whichever player has the most unique words, is the winner!
Free Printable Father's Day Maze
Here, you will be working your way through the maze to reach the present in the center. This is a great activity for kids of all ages.

Download Link:
Download the Father's Day word search.