Congrats, you're engaged! Now it's time to ask your closest friends and family to be a part of your big day.
Maybe you've been talking about your future wedding since you were a little girl. Or maybe you and your best friend are just two peas in a pod. Whatever the case, there are some people in your life who already know they are going to be a part of your bridal party. But that doesn't mean you don't need to ask!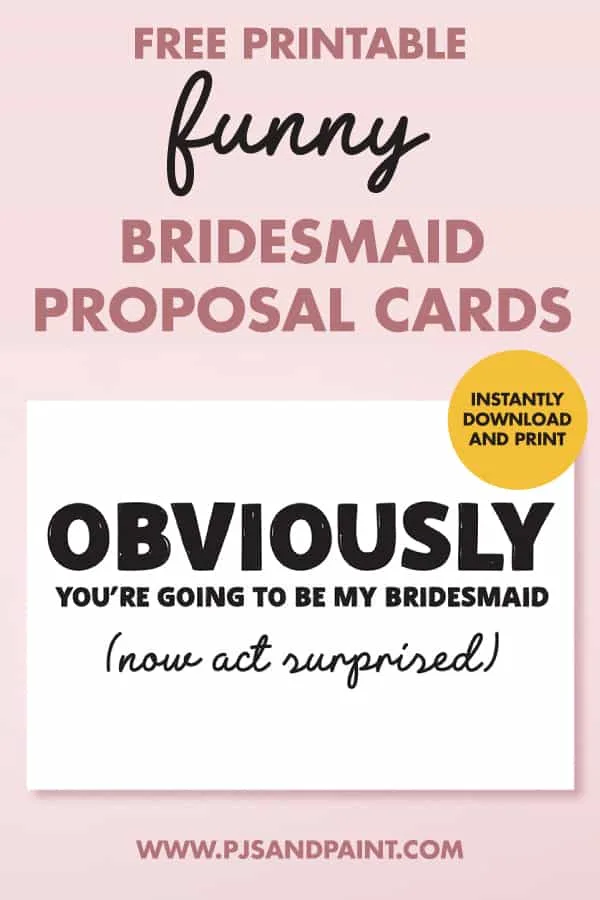 Disclaimer: This post contains Amazon affiliate links. This means that at no extra cost to you, I may earn a small commission if you decide to make a purchase.
I've created these free printable funny bridesmaid proposal cards for those special people in your life that already know they are going to be a part of your bride tribe.
The card is available for a bridesmaid, maid of honor or matron of honor. Each pdf is sized to fit an 8.5×11 inch piece of paper. For the best quality, I would recommend printing on white cardstock, or even a light brown kraft paper like this one, would look great!
Once trimmed, each card will measure 4×6 inches. The inside of each card will be blank.
Funny Bridesmaid Proposal Cards

Have your bridal party laughing when you give them these funny bridesmaid proposal cards.
Looking for a unique bridal shower gift?
Check out these awesome custom t-shirts and tank tops from Papa and Parker. Custom items area available!
Use code: BRIDE for 10% off your order! Check it out here.
Be sure to check out our other free printable bridesmaid proposal card designs: