If you are currently planning a graduation party or just want some fun decor to celebrate your grad at home, then you are in the right place! Today, I'm happy to share with you these free printable graduation cap templates that you can use for a wide variety of fun projects.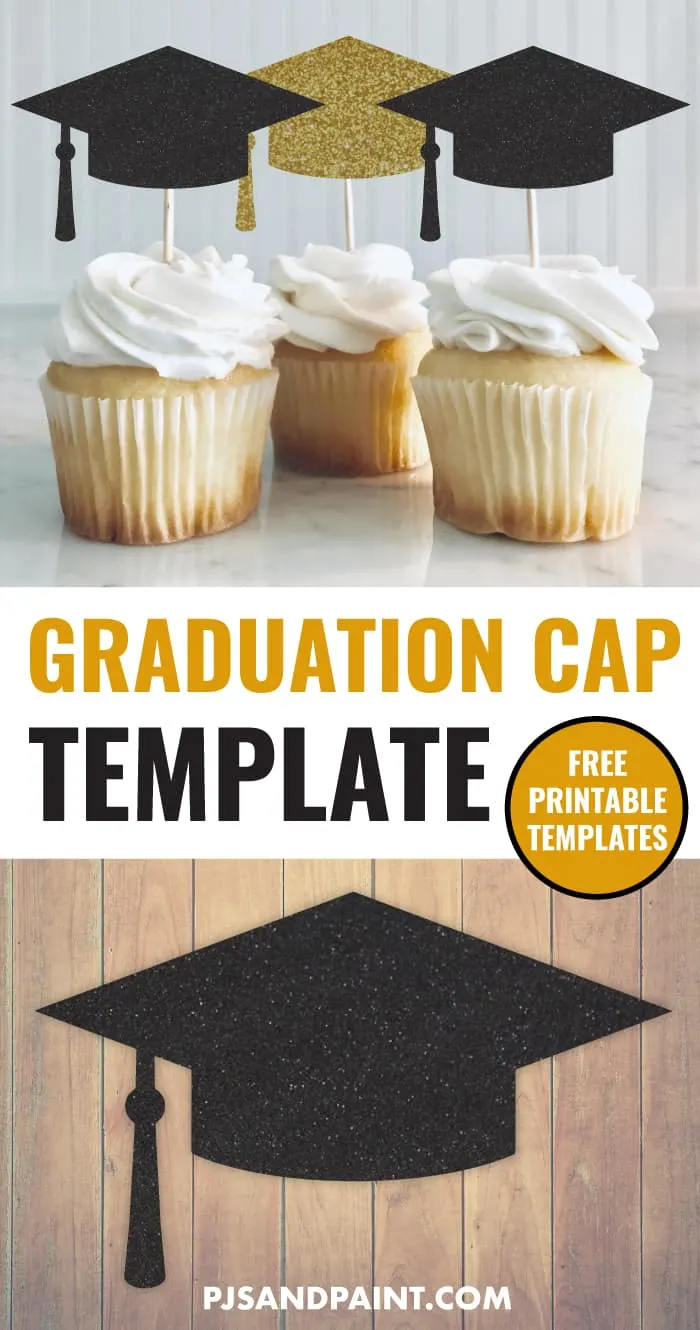 Disclaimer: This post contains Amazon affiliate links. This means that at no extra cost to you, I may earn a small commission if you decide to make a purchase.
Whether you are celebrating an elementary, high school, college grad or beyond, we can all agree that school is expensive. I wanted to make sure that you have all you need to create some super cute graduation decor with free printable and items you probably already have at home.
These graduation cap templates will help you get started on your DIY graduation party decorations. I have created two different size templates that would be great for a wide variety of projects.
Free Printable Graduation Cap Template – Small Size:
The small graduation cap template is designed to fit onto a standard 8.5×11 inch piece of paper or cardstock. Once cut out, each graduation cap will measure about 3.5 inches wide. 8 graduation caps will print per page.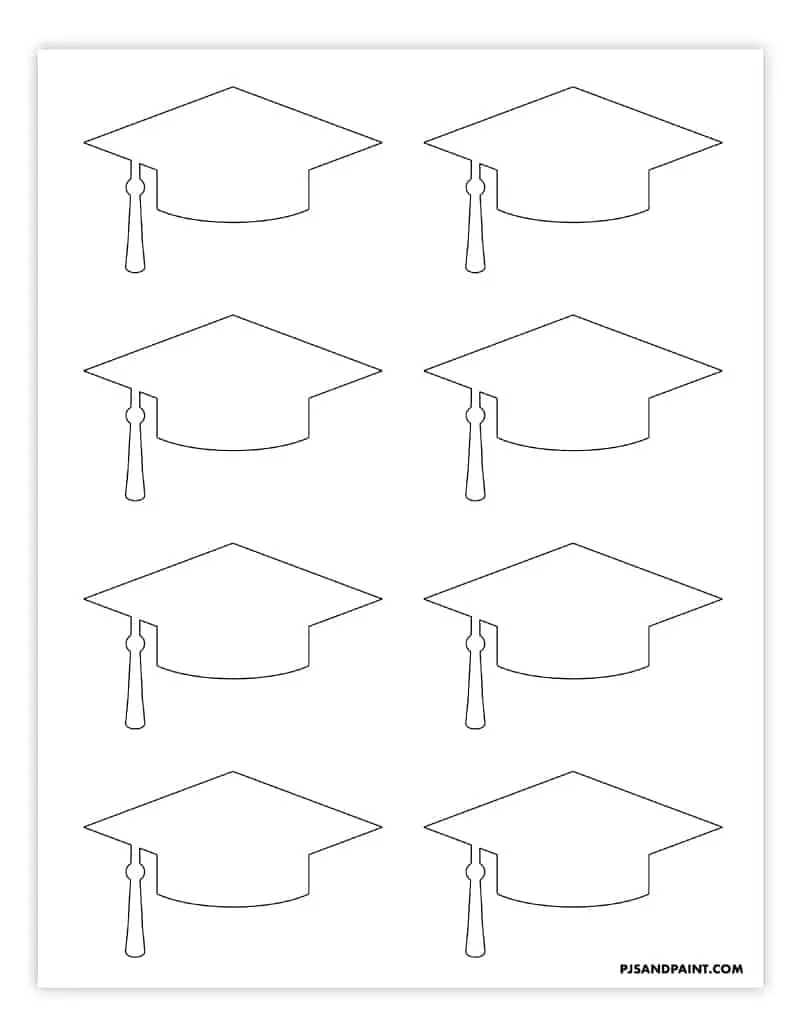 Template download link is located at the bottom of this post.
How to use the small pattern to create cupcake toppers:
First, print out the template for the small graduation cap on 8.5×11 inch cardstock. You may also be able to print directly onto the final paper you are using, depending on the color and thickness of the paper you choose.
Here are a few fun glitter cardstock paper packs I found that I think would look really great.
After the templates are printed and cut out, you can trace them onto the final paper and then cut out again.
Next, you can tape toothpicks or small lollipop sticks to the back of the graduation cap and then stick them into the tops of the already frosted cupcakes.
You can go with classic all black graduation caps, or you can use your school colors for a fun twist.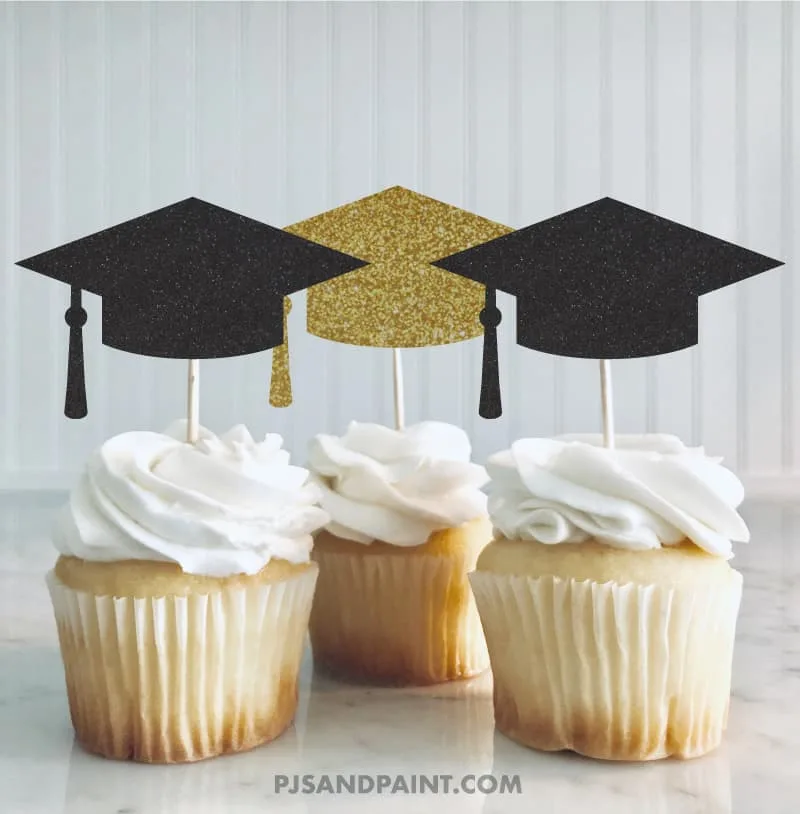 Free Printable Graduation Cap Template – Large Size:
The large graduation cap template is designed to fit onto an 8.5×11 inch piece of paper. For the highest quality, I would definitely recommend printing onto cardstock.
Once the template is cut out, the graduation cap will measure approximately 10 inches wide.
If you would like to create different color graduation caps, you can first print out the blank template and then trace the pattern onto whichever color or patterned paper you would like.
Simply cut out, hang up and enjoy your DIY decor!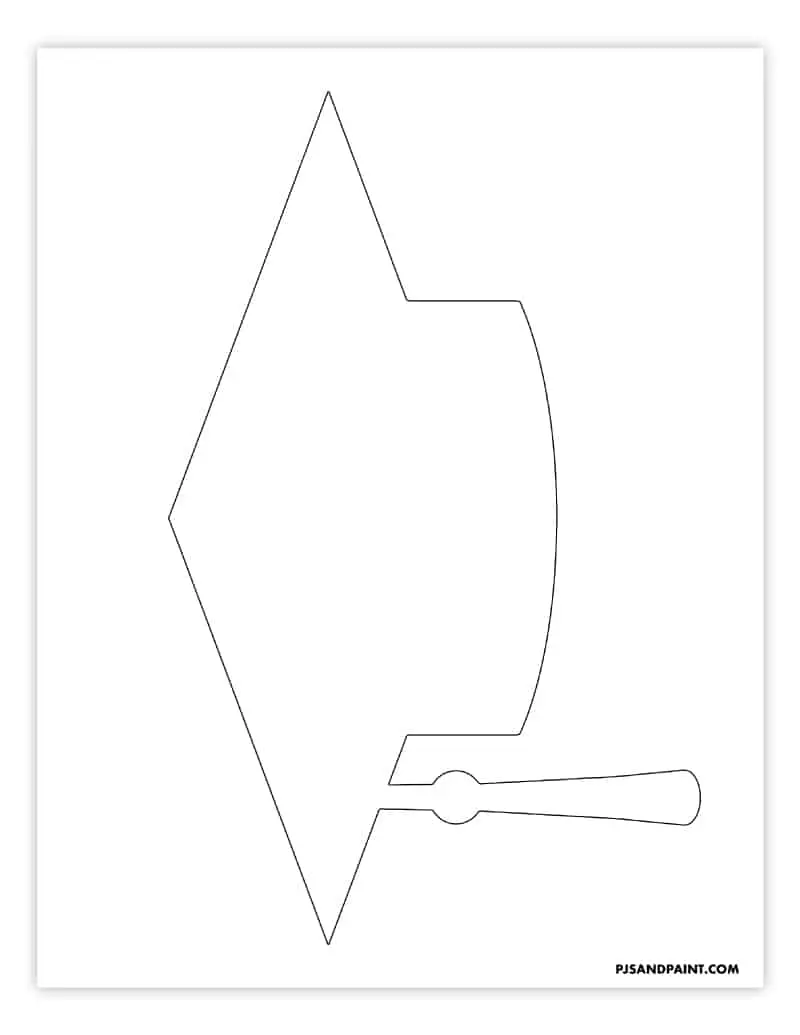 Template download link is located at the bottom of this post.
Other ways to use the templates:
You can use the large template as a coloring page for kids:
If you are planning a graduation party that kids will be attending, you are probably going to need some activities to keep them entertained and having fun.
One idea would be to print out a bunch of copies of the large template and put them on a table with crayons, markers, colored pencils and any other art supplies you have on hand.
Little kids will have a great time decorating their very own graduation caps.
Use the small template for gift tags:
Whether you need a gift tag for a graduation gift or are in need of some tags for party favors, the small graduation cap templates would be perfect for just that. You can either print out the small patterns onto cardstock and write on them by hand, or download the pdf template and upload it into a design program. There, you can type in your custom text and then print out the personalized favors.
Use the graduation caps as table numbers:
These patterns would also be great for table numbers at your party. You can download the patterns and then either hand letter or use a design program to add numbers onto the graduation caps. These are some cute table number stands that you could stick them into. This is a great way to add a personal touch to your party decor.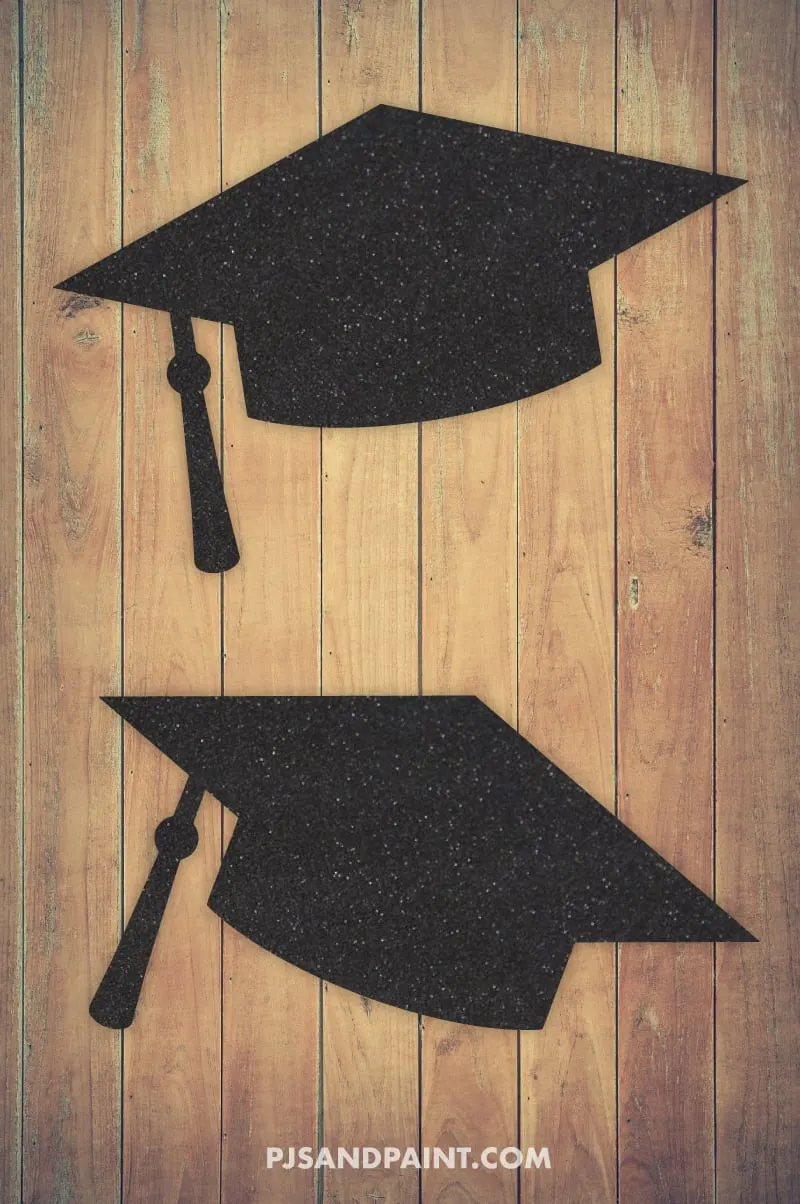 Template Download Links:
Click here to download the free small graduation cap template.
Click here to download the free large graduation cap template.