Have fun searching for fifteen graduation and education themed words in this free printable Graduation word search game.

Disclaimer: This post may contain Amazon affiliate links. This means that at no additional cost to you, I may earn a small commission if you decide to make a purchase. For more information, please feel free to read our affiliate disclosure on our privacy policy page.
Games are a great ice breaker to get guests talking at a graduation party. Today, I'm excited to share this free printable Graduation word search game.
There are fifteen words you will be searching for in this puzzle. Words can be found forwards, backwards, horizontally, vertically or diagonally.
You will be searching for the following words:
Academics
Accomplishment
Celebration
Ceremony
Congratulations
Diploma
Education
Friends
Future
Graduation
Learning
School
Success
Teacher
University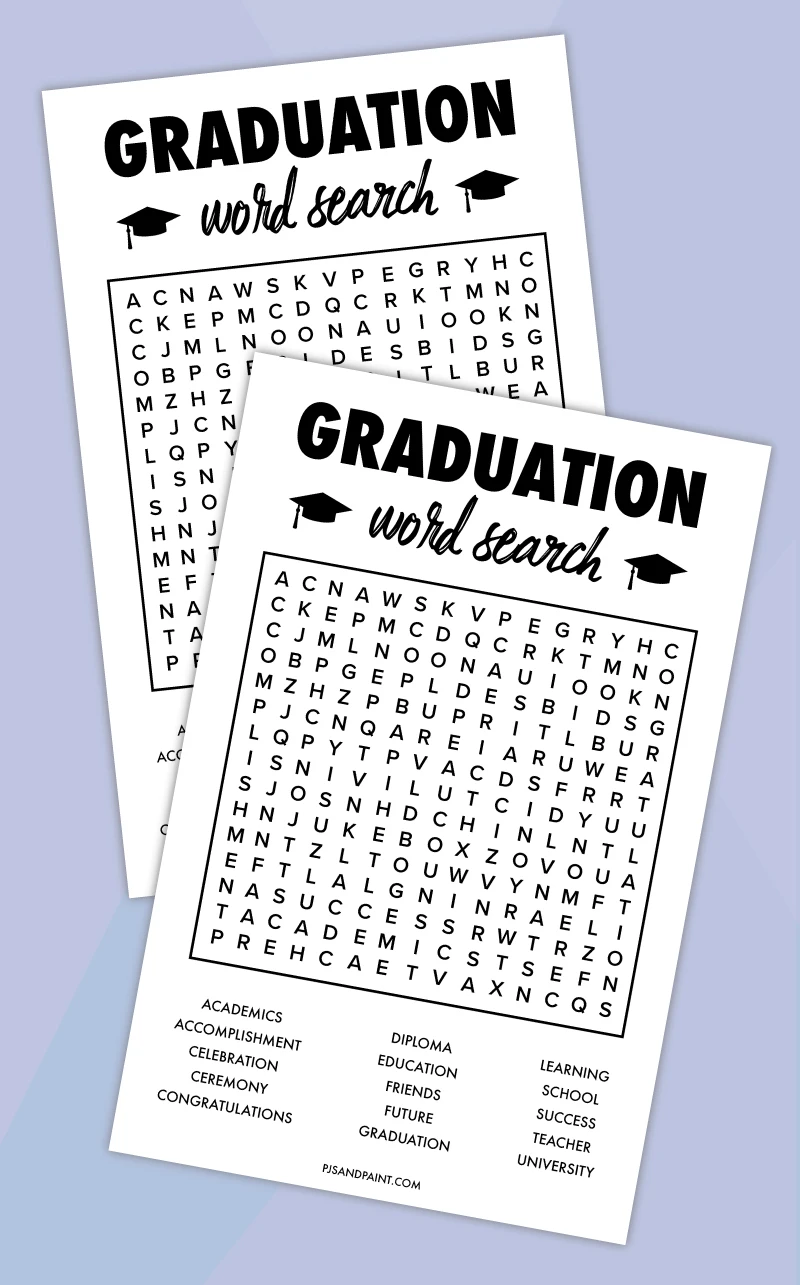 Are there any benefits to working on word search puzzles?
Helps with word recognition and spelling
Word search puzzles can be a great way to help children learn some new words. It also allows them to work on improving their spelling skills as well as improve their vocabulary.
Word search puzzles can be relaxing
Working on puzzles like word searches can be a great way to reduce your stress level. They are also good for distracting you from a stressful situation that may be weighing on your mind. Word searches can also a nice activity to help you unwind after a long day of school or work.
They are great way to pass the time.
Instead of taking out your phone, tablet or laptop the next time you are on a long train ride, car trip or flight, try working on a word search puzzle instead. Time will pass by fast and your eyes will definitely love getting a little break from screens.
You might feel a sense of accomplishment after completing the puzzle.
While it may only be for a short while, I know I always get a small boost in mood when you I find that word I have been searching struggling to find.
Free Printable Graduation Word Search
This game is designed to be printed onto a standard 8.5×11 inch piece of paper or cardstock. Two games will print per page.
After printing, simply cut the two games apart using scissors or a paper cutter. This is the paper cutter that I am currently using and I definitely can recommend it.

If you enjoyed this post, you might also like to take a look at some of our other free graduation printables below:
Free Printable Wishes and Advice for the Graduate Cards
Write down your well wishes and advice for the new graduate on these free printable cards. Four cards will print per page.
How many words can you make out of Graduation – free printable game
In this fun activity, you will have to see how many different words you can make using only the letters found in graduation. Hint: There are 419 words!
Free Printable Graduation Word Scramble
Have fun trying to unscramble these twelve graduation and education themed words in this word scramble game.
How well do you know the graduate – free printable game
This is a fun activity where party guests have to answer questions about the graduate. Whichever player gets the most points, wins!
Free Printable Graduation Scattergories
In this game, you will have to come up with answers for eight categories and each must being with a letter in the word "Grad." It is a fun and challenging way to break the ice with party guests!

Download Links:
Download the free printable Graduation Word Search game.
Download the Graduation Word Search answer key.