Whether you are looking for a fun coloring page to entertain your kids this holiday season or would like a safe way for them to follow along as you light the candles each night, this free printable menorah is just what you are looking for!

Disclaimer: This post contains Amazon affiliate links. This means that at no extra cost to you, I may earn a small commission if you decide to make a purchase. For more information, please feel free to read our affiliate disclosure.
Here are a few fun ways you can use this menorah coloring page:
You can use the menorah coloring page as an activity for a Hanukkah party.
Print out a bunch of menorahs and place on a table along with a variety of art supplies. Markers, crayons, colored pencils, paint and even glitter would be fun! Kids can come over to the table and color and decorate their very own menorah. Afterwards, you can display around the house for everyone to admire all holiday season long.
Have your kids follow along when you light a candle each night.
I know that lighting candles each night can be very exciting for little kids! So much so that they might want to light the candles themselves. If your kids are small and aren't ready for the responsibility of lighting a candle just yet, you can have them follow along with you each night by coloring in a flame on the menorah as you light one on the real thing. This is a great way to make sure everyone feels involved while also staying safe!

Download link is located at the bottom of this post.
Free Printable Menorah Coloring Page
This coloring page is designed to be printed onto a standard 8.5×11 inch piece of paper or cardstock. One menorah will print per page
Feel free to download and print as many copies of the menorah as you would like. However, please do not edit or redistribute the files in any way. This coloring page was created for personal or classroom use only.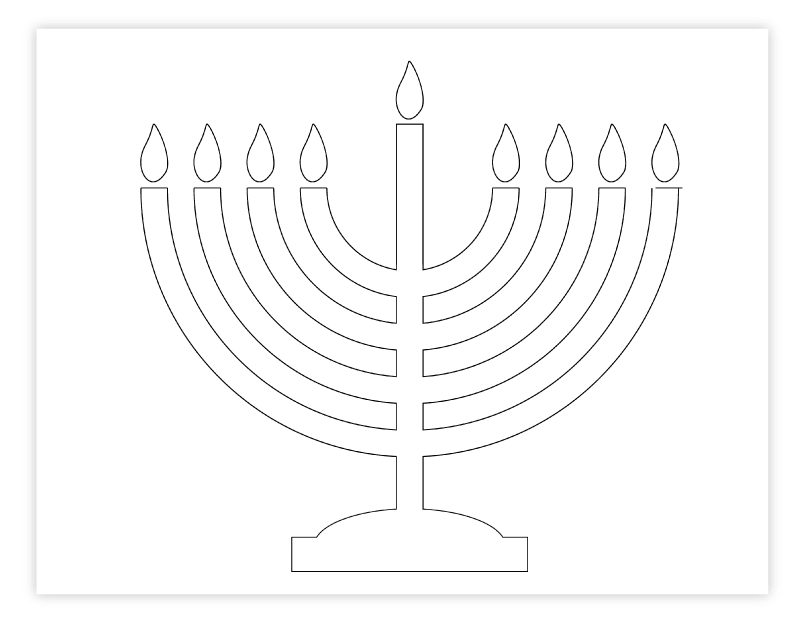 Download link is located at the bottom of this post.
If you enjoyed this coloring page, you might also like to take a look at some of our other fun free Hanukkah printables:
Free Printable Word Scramble
In this fun activity, you will be trying to unscramble twelve Hanukkah themed words. With long and short words to figure out, it is a great game for both kids and adults.
Hanukkah Maze – Free Printable
In this Hanukkah themed maze, you will be working your way through the puzzle to reach the dreidel in the center. This is a great activity for kids of all ages.
How many words can you make out of Menorah game – Free Printable
Challenge yourself to see how many words you can make using only the letters found in the word menorah. Here is a hint, there are 121 different words you can come up with!
Free Printable Dreidel Template
Whether you would like to use this dreidel template as a coloring page or a pattern for a variety of Hanukkah themed projects, this template is a great creative starting point.
Hanukkah Word Search – Free Printable
In this word search game, you will be trying to find twelve Hanukkah themed words. Word searches are great for relaxing at home or playing at a party!
Free Printable Dreidel Template
This template is perfect to get your started on a wide variety of fun projects this holiday season. Whether you would like to use the template as a coloring page or a pattern to trace onto other paper, our large and small dreidels are a great jumping off point for many creative projects.
If you would like to download all of our printable Hanukkah games and activities at once, you might like to check out our printable Hanukkah bundle below:

Download Link: