If you are in the process of saving for a big item, a home renovation, a wedding or vacation, tracking how much you are saving can be an excellent way to visually see the progress you are making toward your goal. Download this free printable savings tracker today and get started!
I am definitely a big personal finance nerd in my spare time. There is just something about budgeting and saving that I really enjoy. It helps me feel more in control of my money and future.
Today I'm excited to share with you this free printable savings tracker that you can use to help you save for tons of different items, events and experiences.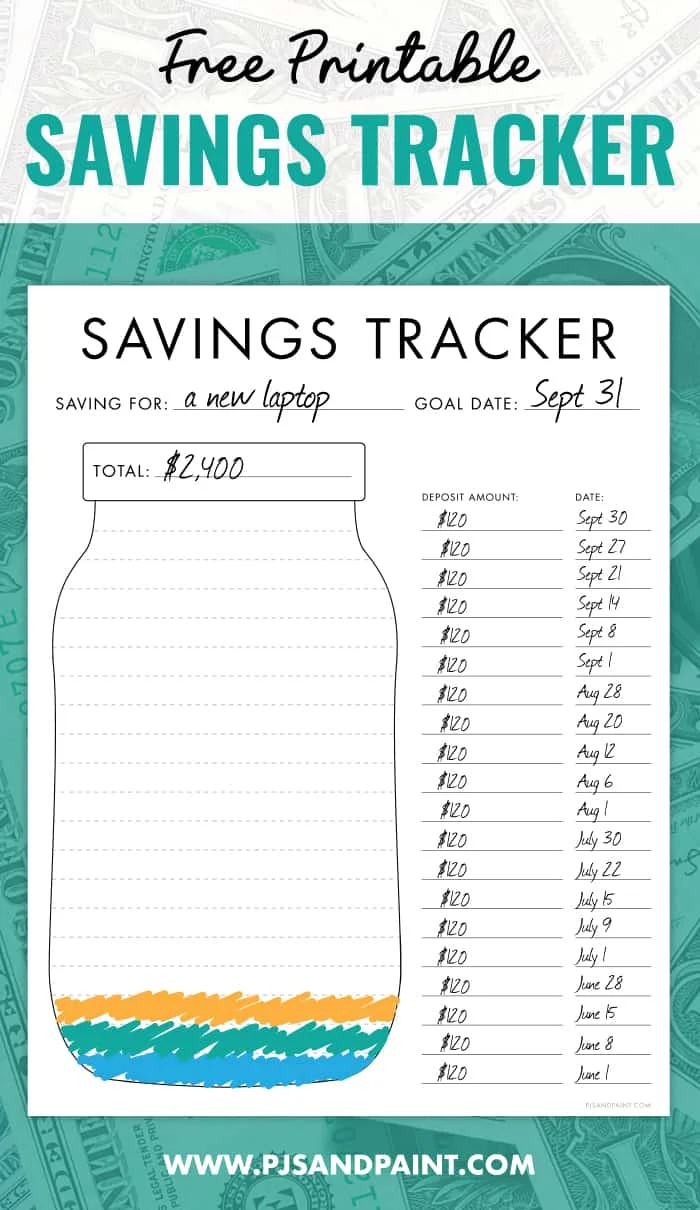 Disclaimer: This post contains Amazon affiliate links. This means that at no extra cost to you, I may earn a small commission if you decide to make a purchase.
What is a savings tracker?
A savings tracker is a printable tool that helps you plan out your savings deposits and creates a really cool visual to get you excited about your progress. It's super fun to be able to color in more of the jar every time you make a deposit and watch that jar fill up as you get closer to your goal.
A few ideas of what to save for:
I'm sure if you stumbled across this post you already have an idea of something you would like to save for. But in addition to that, I challenge you to think outside the box a bit!
There is something that I have been doing for a number of years now that I highly recommend to anyone who would like better control of their money. And that is saving for things that you don't need or want immediately.
Here's a personal example. When my husband and I first moved into our house we knew that due to its age we were going to have to do quite a bit of home renovation as time went on. One of the things we knew would need replacing sooner than later was the central air conditioning unit. It wasn't anything that needed to be replaced any time soon but it would be a significant expense when the time did come.
And so little by little I started putting any extra money I had into a separate savings account. Small amount here, small amount there, it really starts to add up over a while. 4 years of that go by adding what we could to that account. And then one day, as luck would have it one of the hottest days of the summer… the night before a big family party we were hosting, the air conditioning unit stopped working.
After having someone look at it, we knew it was time to finally replace the air conditioner. Thankfully since we had been slowly saving for this very expense, we were able to schedule the new unit to be installed right away and it didn't affect or regular budget or emergency savings.
I know that it's not always easy to save money and there are times when it's just not possible. But planning ahead and thinking about what you may need in the future, could really help lessen the burden when it comes time to buy. And that's where a savings tracker can definitely help!
Here are just a few ideas of what to save for:
A new car

Computer or laptop

Replacement air conditioner

Down payment on a house

Weddings

Vacations

Home renovations
Kids activities or camps
New appliances
An expensive piece of clothing, jewelry or accessories
An emergency savings fund
Free Printable Savings Tracker
This savings tracker is designed to print onto a standard 8.5×11 inch piece of paper or cardstock.
Feel free to download and print as many copies of the tracker as you would like. However, please do not edit or redistribute the files in any way. This savings tracker was created for personal use only.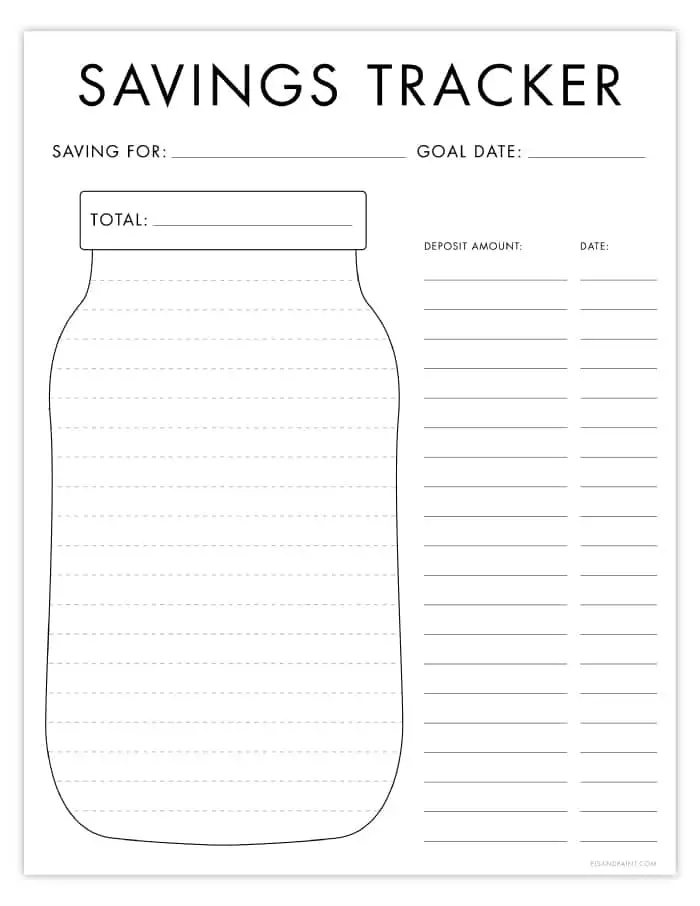 Savings Tracker Download Link: