Spring is almost here! To celebrate the upcoming warm and sunny weather, I've created this free printable Spring word scramble game which is a great activity for both kids and adults.
I think its a toss up between Spring and Fall being my most favorite seasons. For me, winter is way too dark and cold (and who really likes shoveling snow anyway?). And Summer can get a little too hot and humid for my taste.
To me, Spring and Fall are just the perfect temperatures, not too hot and not too cold. If I had to choose, I would probably pick Fall as my number one season, but Spring is most definitely a very close second.
However, I am really looking forward to this upcoming Spring. It's been a rough winter for a lot of people and I think we all need some sunshine in our lives!
To celebrate coming out of Winter, I wanted to create a few fun free printable games to help everyone get a little spring in their step! (See what I did there?)

Disclaimer: This post contains Amazon affiliate links. This means that at no extra cost to you, I may earn a small commission if you decide to make a purchase. For more information, please read our affiliate disclosure.
This word scramble game features ten Spring themed words to try and unscramble. It is a great activity for both kids and adults to play.
Personally, I love word scramble games. They are fun, challenging and in a way relaxing to me. I tend to find myself glued to screens way too often throughout the day and printable word games are a great escape from the phones and computers. They let you slow down for a little while, while also challenging your brain.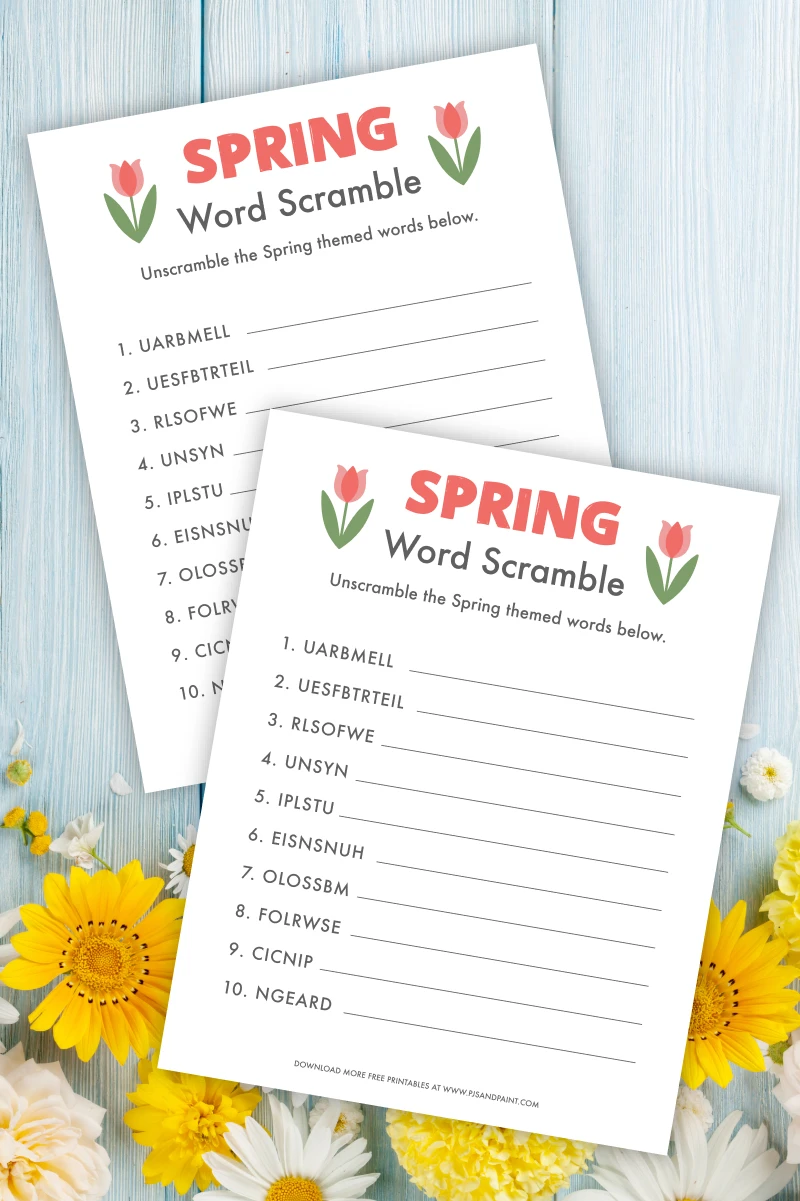 The game download link and answer key are located at the bottom of this post.
Free Printable Spring Word Scramble Game
This word scramble game is intended to be printed onto an 8.5×11 inch piece of paper. One game will print per page.
Feel free to download and print as many copies of the word scramble game as you would like. However, please do not edit or redistribute the files in any way. This game was created for personal or classroom use only.
Here are a few little tricks to unscrambling words:
If you are having trouble figuring out a certain word, don't immediately look for the answer key, or the internet! These are a few common strategies that may help you get unstuck!
Start by looking for some common prefixes and suffixes.
A prefix is placed at the beginning of a word. Here are a few examples of prefixes:
auto
hyper
pre
un
pro
anti
micro
A suffix is placed at the end of a word. Here are a few examples:
age
able
end
action
ory
ily
Once you find a potential suffix or prefix, you can cross off those later and you'll be left with the remaining bits of the word. This will make it a little easier to unscramble the word.
And unlike generic word scramble games, with holiday or season word scrambles you already know the general category that the word should fall in. In this particular game, all words should be Spring themed!
Find all of the vowels.
Another trick is to pick out all of the vowels in the word. Write them above the scrambled word and then it should be easier to see the remaining letters that you have to work with.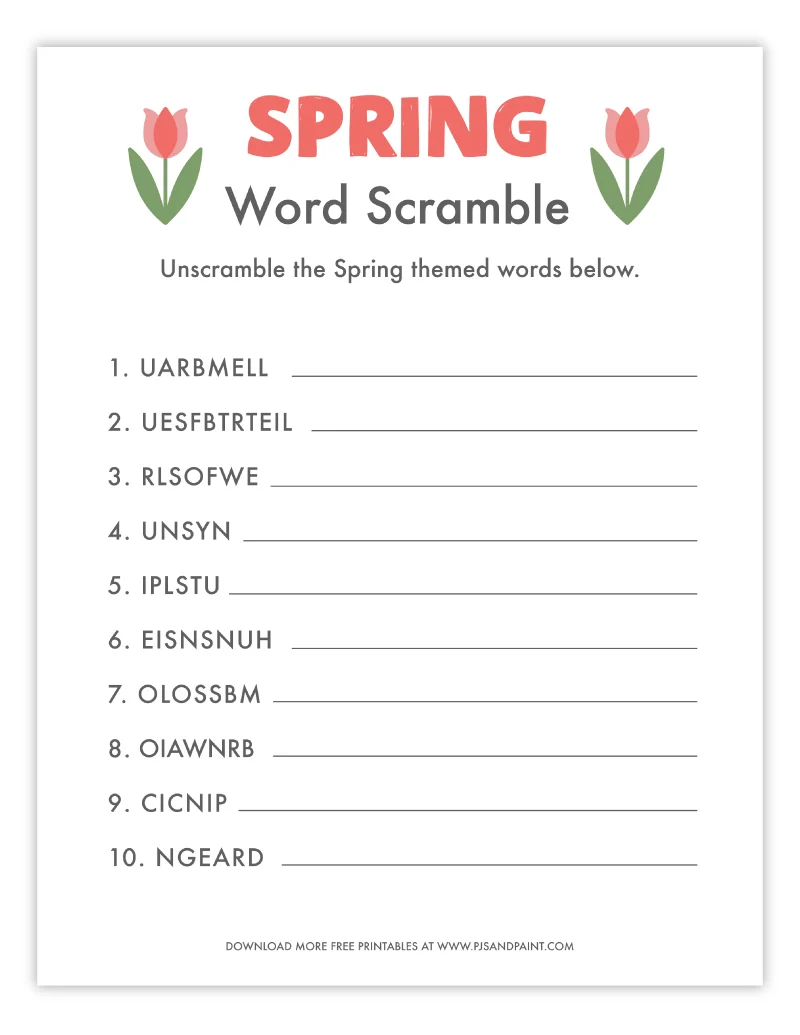 The game download link and answer key are located at the bottom of this post.
If you enjoyed this activity, you may like to check out some of our other fun free Spring printables below:
Free Printable Easter Scavenger Hunt
This fun free printable scavenger hunt features eight simple clues to solve that will lead you to find your special Easter treat!
Free Printable Spring Word Search
Search for twelve Spring themed words in this fun word search game. Word can be found forwards, backwards, horizontally, vertically and diagonally.
Free Printable Spring Maze
Find your way through the maze to reach the pretty pink flower in the center. A simple activity for kids of all ages.
Download Link:
Download the Spring word scramble.

Answer Key:
1. Umbrella
2. Butterflies
3. Flowers
4. Sunny
5. Tulips
6. Sunshine
7. Blossom
8. Rainbow
9. Picnic
10. Garden