Spring is almost here! Get more excited about the upcoming warm and sunny weather by working on some fun printable activity! Today, I'm excited to share with you this free printable Spring word search game.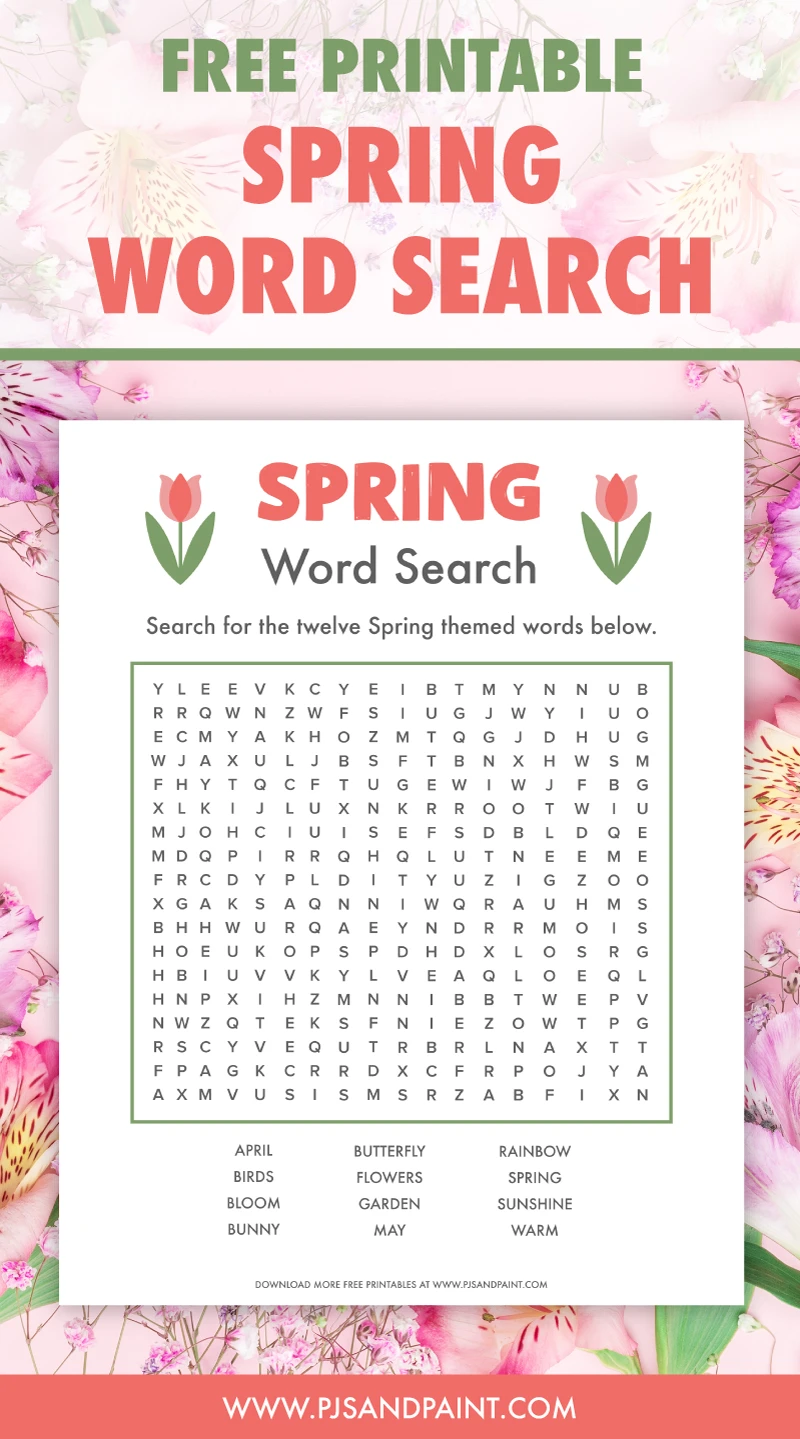 Disclaimer: This post contains Amazon affiliate links. This means that at no extra cost to you, I may earn a small commission if you decide to make a purchase. For more information, please read our affiliate disclosure.
This past summer I decided that I wanted to start an at home preschool curriculum with my son. My husband and I decided we would send him to in person preschool the following year, but we still wanted to start some type of semi-formal education with him.
A good friend had recommended a preschool curriculum she had found online. I purchased it also and tried to get into teacher mode!
At the beginning, my son and I were both having a lot of fun. Every morning he would be very excited to sit at the dining room table, sing songs, read books and learn whatever was on the agenda for that day.
It only took a few weeks however, for his excitement to wear off and he did not always want to sit and learn with me.
After a while, I started supplementing the curriculum with other activities that he found enjoyable. We also took our lessons outside which definitely helped with his attention span.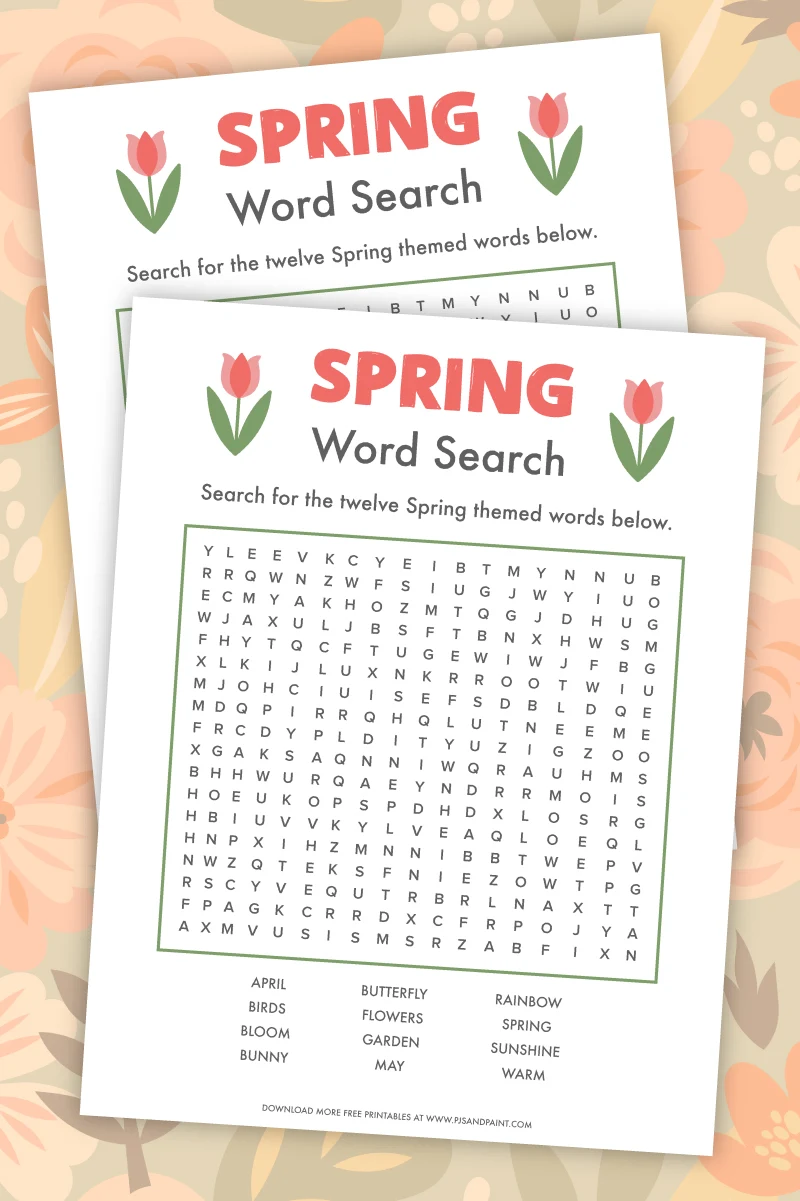 Download link can be found at the bottom of this post.
Now that it is winter time and we are stuck inside for the most part, I have had to try and think of new ways to entertain him in an educational way. One of these ways has been creating simple word games for him like this word search activity.
At first, I thought that since he cannot yet read, a word search game might be out of the question. But I have found that with my help, it was actually a very successful learning tool.
With very young kids, you can start by having them find the first letter of the word you are searching for. Then you can help them go through the letters next to that first letter and see if it is what you are looking for.
If nothing else, it is a great way to start introducing letters and the very basics of spelling. Sometimes thinking outside of the box can be really fun in terms of finding new and exciting activities that help kids learn!
In this Spring word search game you will be searching for the following twelve Spring themed words below:
April
Birds
Bloom
Sunny
Butterfly
Flowers
Garden
May
Rainbow
Spring
Sunshine
Warm
Words can be found horizontally, vertically, diagonally, forwards and backwards.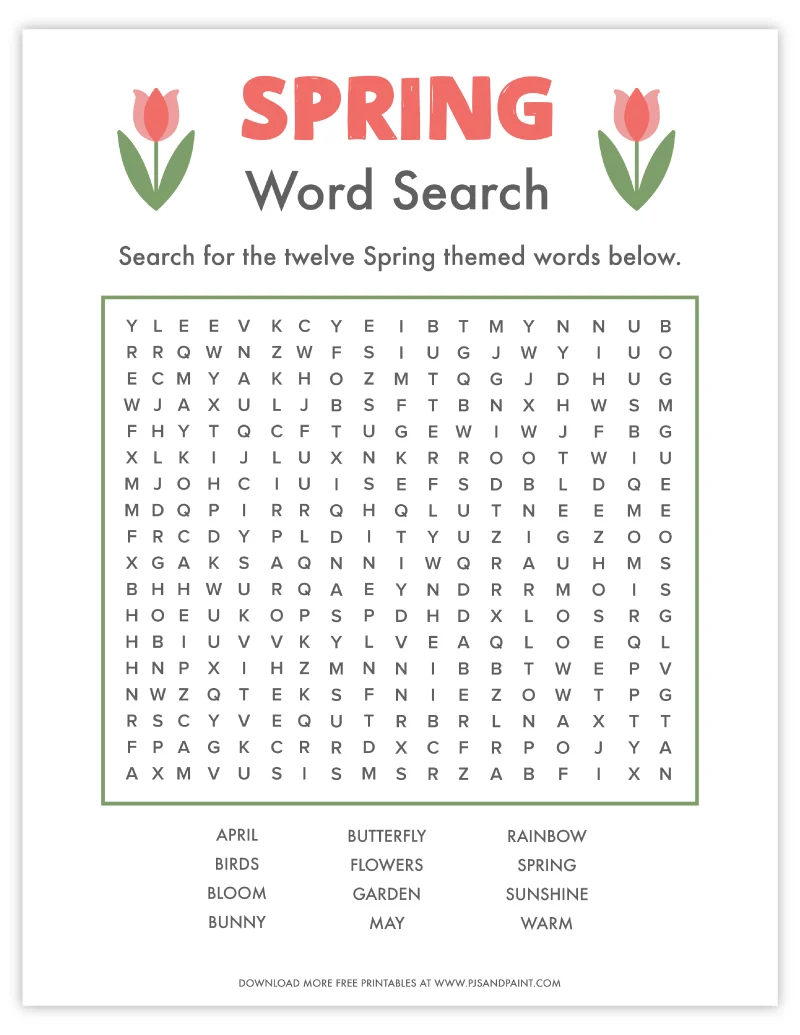 Download link can be found at the bottom of this post.
Strategies that may help you solve word searches:
There are a bunch of different techniques you can use to work on word search puzzles. Here are a few of the ones I personally use.
Take a quick glance at the whole puzzle.
Usually, what I'll do first is very simple. I'll just take a look at the word search game and see if any words initially pop out at me. This isn't very unique trick but oftentimes there are at least a few words that I can immediately see jump out
Find the beginning letter.
After I do a quick scan to see if any whole words jump out at me, I will usually choose one word from the word bank and then go row by row to find the first letter. Once I find that letter I look all around it to see if the rest of the word follows. I continue this way until all the words have been found! This may not be the quickest way to search for words, but it definitely works!
If you enjoyed this Spring word search game, you might like to check out some of our other fun free printable Spring themed games and activities below:
Free printable Spring word scramble
In this free word scramble activity, you will have to try and unscramble ten Spring themed words. Word scrambles are fun and challenging for both kids and adults. These types of games are great for rainy days, play dates, classroom parties and more!
Free printable Spring maze
Here, you will be working through the maze to reach the pink flower in the center. Mazes are simple, fun and can really get you thinking! Perfect for younger kids to work on at home or in the classroom.
Free printable Easter scavenger hunt for kids
Make finding their Easter baskets even more fun by having your children finish this fun scavenger hunt first. It features eight simple clues that will lead them to find their special Easter treat!
Download Link:
Download the Spring word search.