This free printable Thanksgiving activity and coloring book is an easy and fun way to keep kids entertained while waiting for their dinner this turkey day!
Simply print out the booklets, assemble and then put one on each place setting at the kids table. Have a container of crayons or markers nearby and let all the children enjoy.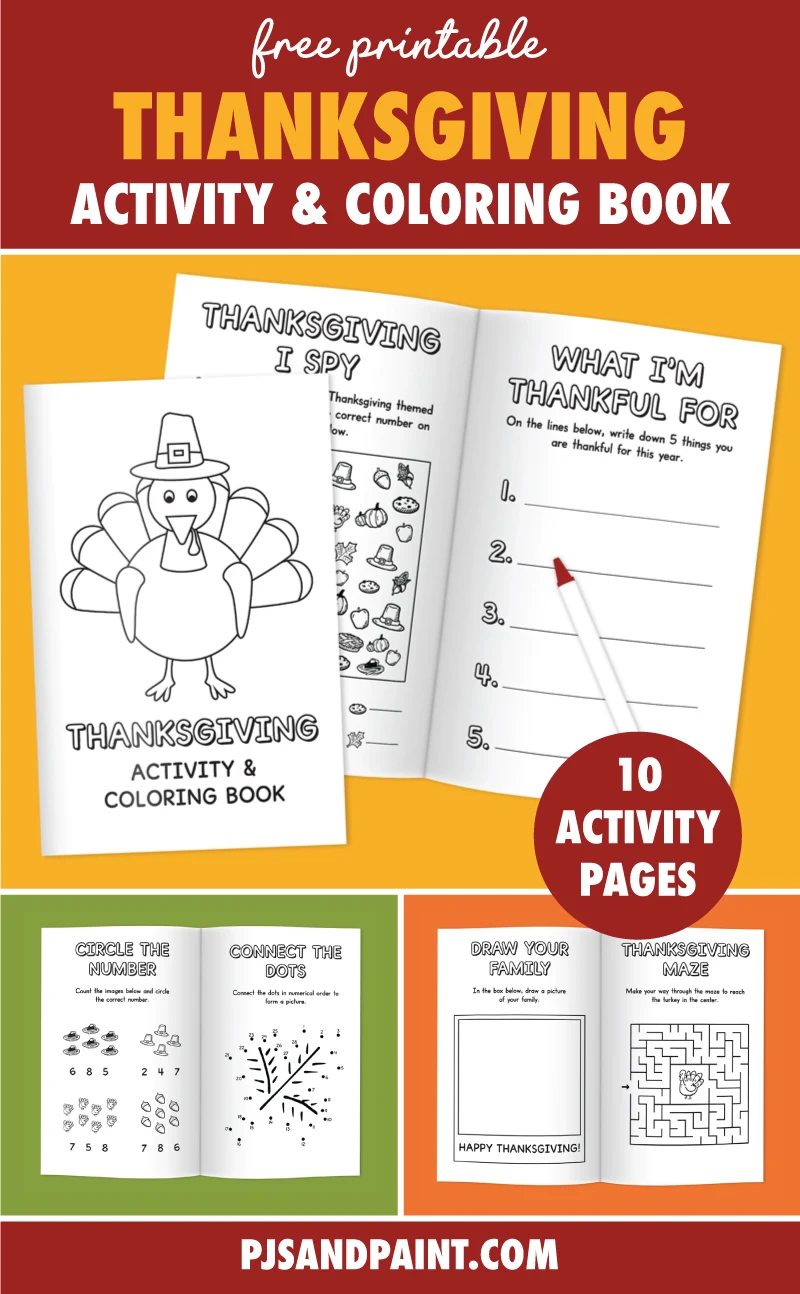 Disclaimer: This post contains Amazon affiliate links. This means that at no additional cost to you, I may earn a small commission if you decide to make a purchase. For more information, feel free to read the affiliate disclosure on our privacy policy page.
If you're hosting Thanksgiving this year, you've got enough on your plate (pun intended!). Entertaining all of the kids can be hard, but an easy solution is this Thanksgiving activity and coloring book that is great for the little ones.
Just think of them like those coloring placemats you see at restaurants but better, because there are 10 activities included in a cute little booklet. And best of all they are totally free to download and print out instantly.
Supplies needed:
Free printable booklet (the download link is located at the bottom of this post)
White printer paper or white cardstock
Stapler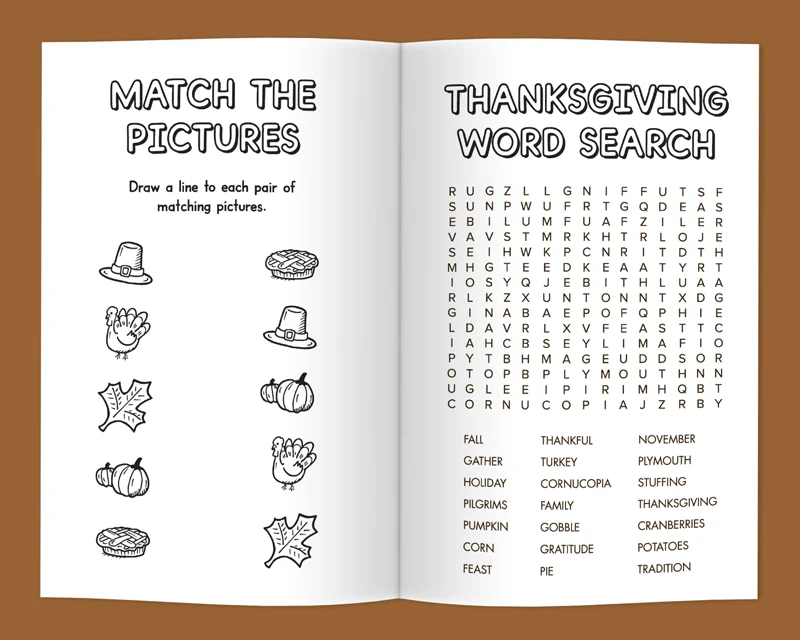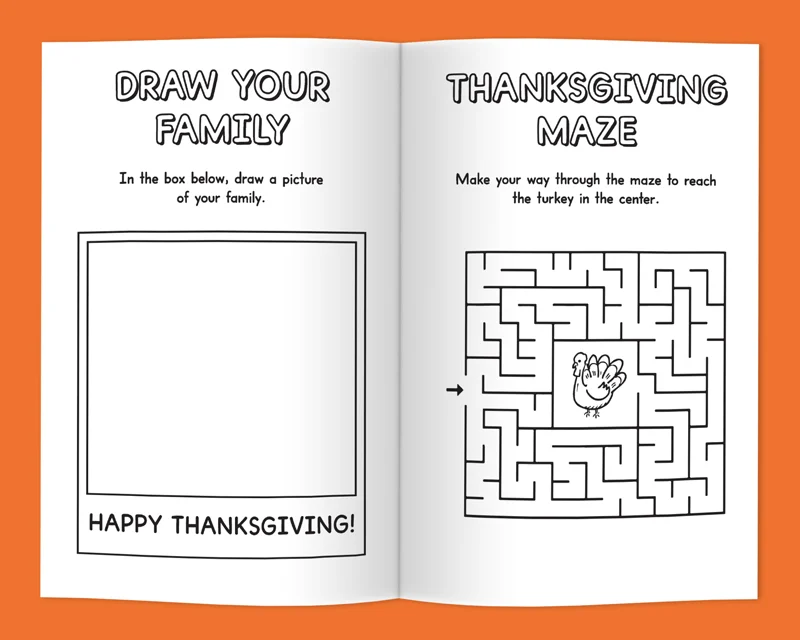 What is included in this activity booklet:
Front cover and back page
Match the pictures
Draw a line to each pair of matching pictures.
Thanksgiving Word Search
Search for 21 Thanksgiving themed words in this word search game.
Draw your Family
In the box included, draw a picture of your family.
Thanksgiving Maze
Make your way through the maze to reach the turkey in the center.
Draw your Dinner
On the plate included, draw what you will be eating for dinner.
Tic Tac Toe
Five tic tac toe boards to play.
Circle the number
Count the images below and circle the correct number.
Connect the dots
Connect the dots in numerical order to form a picture.
Thanksgiving I spy
Count how many of each Thanksgiving themed item you see and write the correct number on the lines.
What I'm thankful for
On the lines below, write down 5 things you are thankful for this year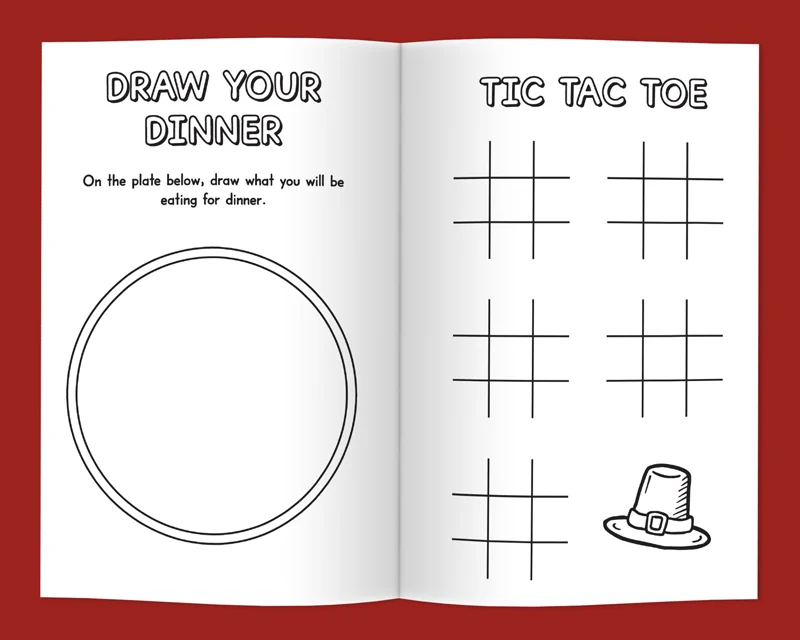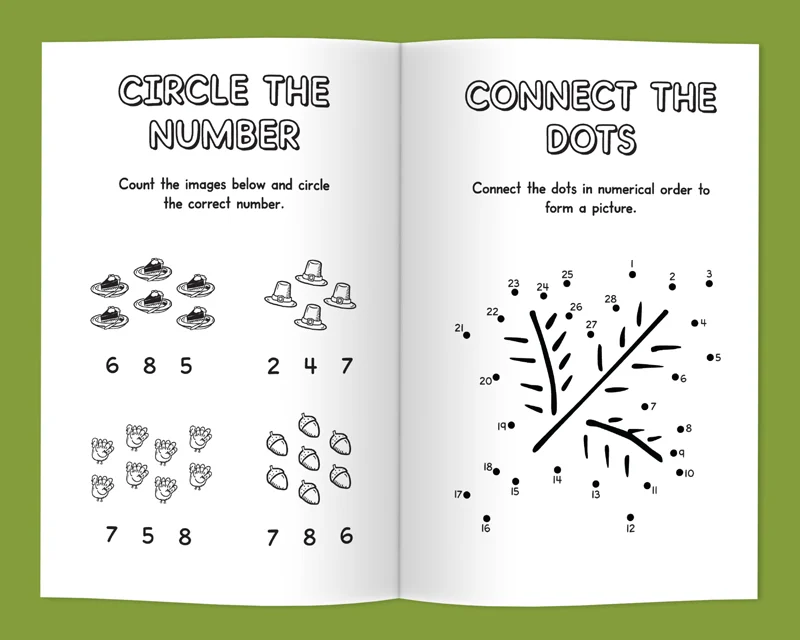 Free Printable Thanksgiving Activity and Coloring Book for Kids
This activity book is designed to be printed onto 3 or 6 pieces of 8.5×11 inch white printer paper or cardstock.
If you'd like, you can print one sided and use 6 pieces of paper. Alternatively, you can also uses 3 pages and print on both the front and the back.
How to print and assemble the activity and coloring book:
How to print the booklet double sided:
Print out the first 3 pages of the pdf and then place those pages back in the printer and print out the second 3 pages on the back of the paper.
Stack all of the pages together ensuring that the cover is on the front, fold the booklet in half and then staple the edge.
I would definitely recommend doing a test print to make sure that the pages are corrected aligned before printing out a bunch of booklets at once.
How to print the booklet single sided:
Alternatively, you can also print out all of the pages individually and use 6 sheets of paper. Stack them together, fold in half and then staple.
With this version, the backs of each activity will be blank. This may be a good option if you wanted to include some more coloring space for kids to do some extra drawings and doodles.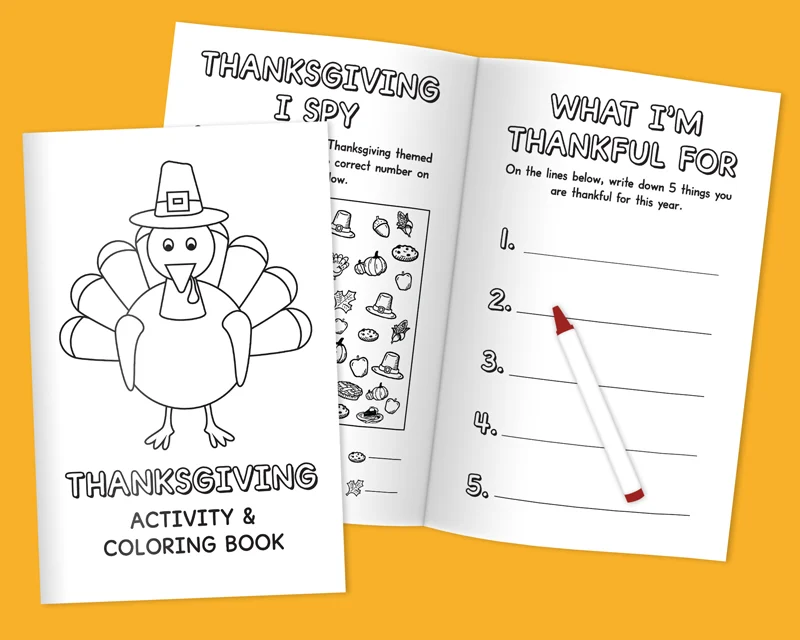 Favorite Printable Supplies:
These are a few of my favorite supplies that I use for printable games and activities:

By entering your email address you will be receiving the free digital file as well as subscribing to our weekly email newsletter. You may unsubscribe at any time.