This free printable who knows the bride best game is a great activity to play at bridal showers. It is a great ice breaker game that will get everyone chatting about the guest of honor's likes, dislikes and more! Be sure to check out the matching free printable wedding mad libs game as well!
Games are always a great way to break the ice amongst guests at a bridal shower. Often, there are people from all walks of life at these types of events and sometimes it can be hard when not everyone already knows each other. There may be family, old friends, new friends, coworkers and more attending a bridal shower. Playing games is a great way to make sure everyone is entertained and having fun!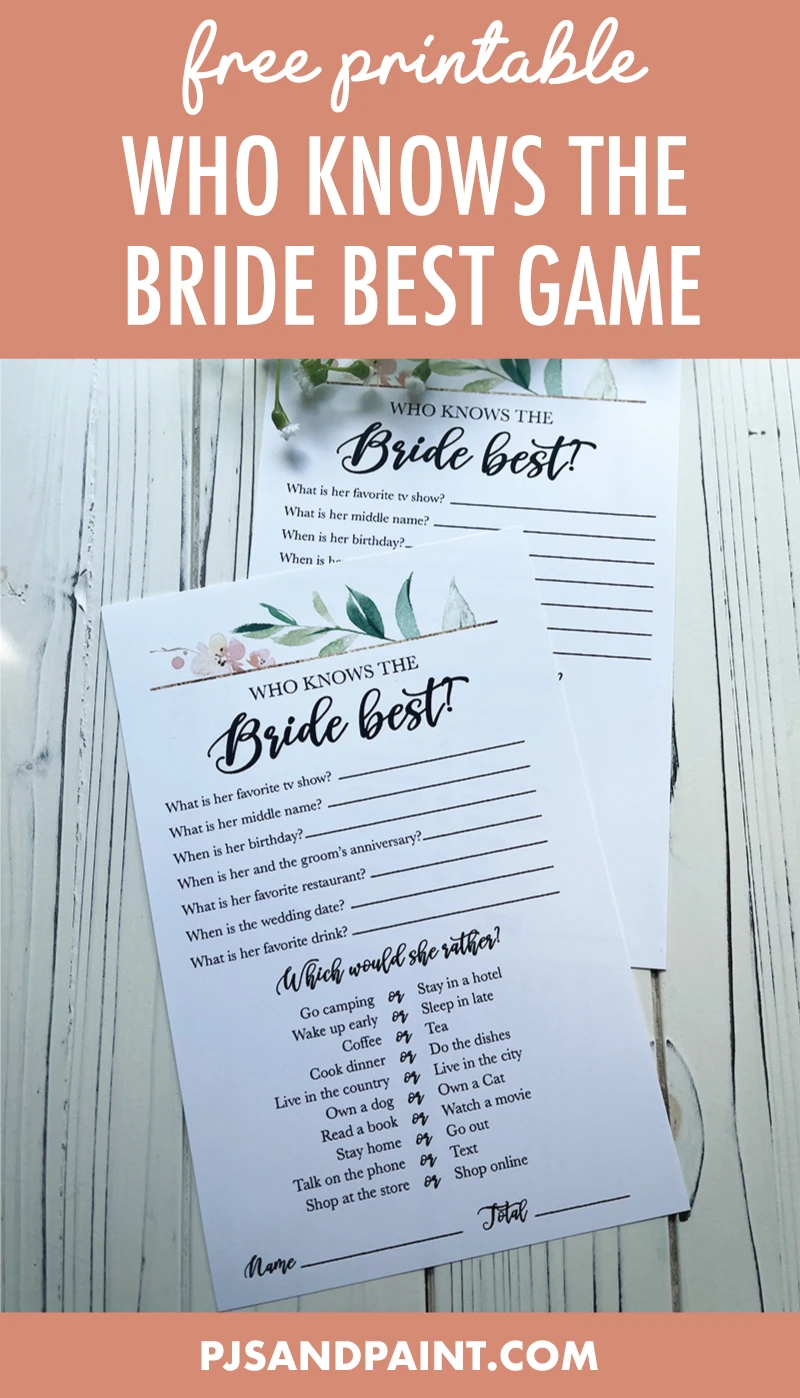 Disclaimer: This post may contain Amazon affiliate links. This means that at no additional cost to you, I may earn a small commission if you decide to make a purchase. For more information, please feel free to read our affiliate disclosure on our privacy policy page.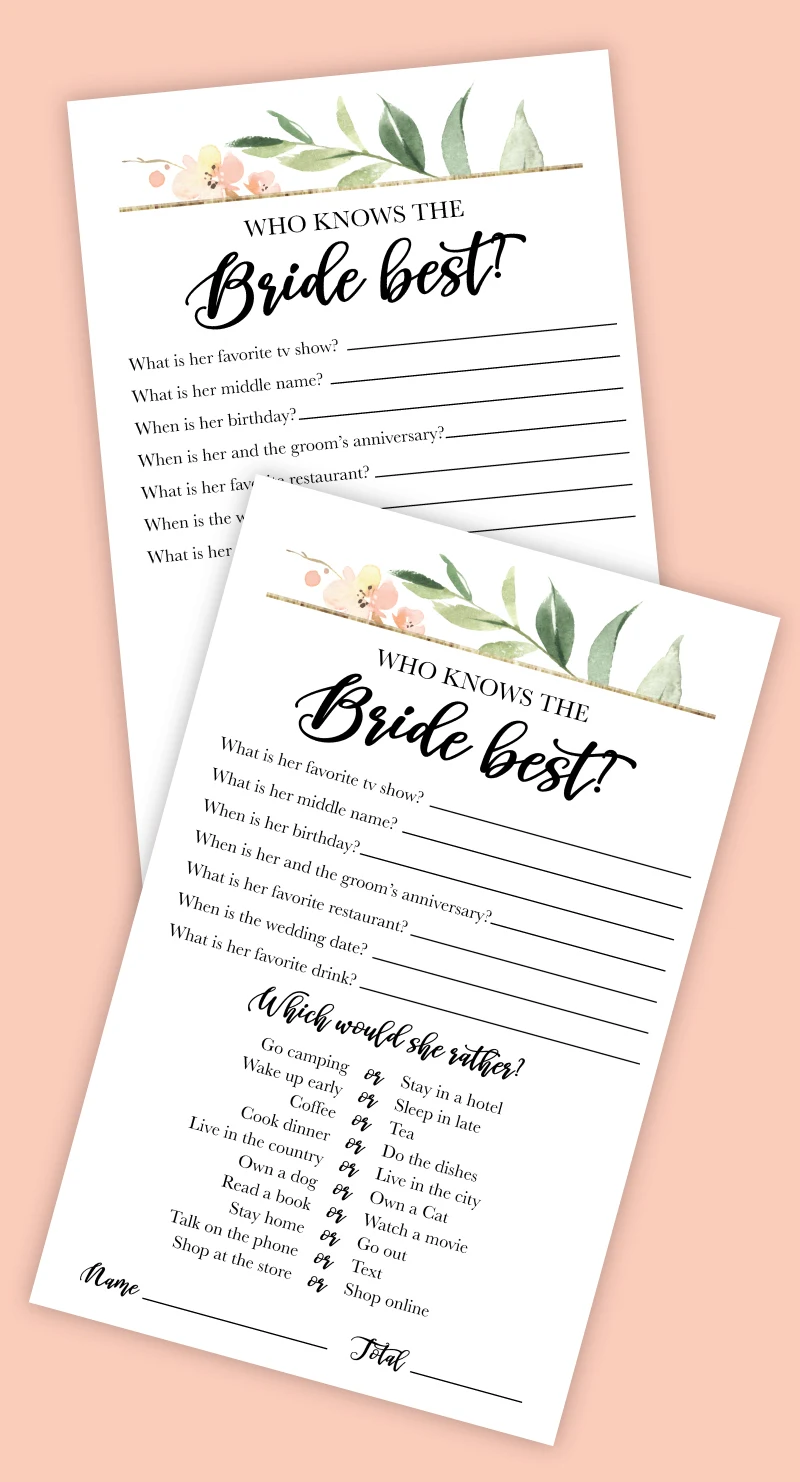 These are the questions you will be answering about the bride-to-be:
What is her favorite tv show?
What is her middle name?
When is her birthday?
When is her and the groom's anniversary?
What is her favorite restaurant?
When is the wedding date?
What is her favorite drink?
Which would she rather…
Go camping or Stay in a hotel?
Wake up early or Sleep in late?
Coffee or Tea?
Cook dinner or Do the dishes?
Live in the country or Live in the city?
Own a dog or Own a Cat?
Read a book or Watch a movie?
Stay home or Go out?
Talk on the phone or Text?
Shop at the store or Shop online?
Before starting, make sure to have the bride-to-be fill out the game with her answers to create the answer key.
To play, give each guest a questionnaire to fill out. Everyone will have to fill in the answers that they think the bride-to-be would say. Afterwards, you can have one person announce the answers and instruct everyone to count how many questions they answered correctly. The guest with the highest score, wins!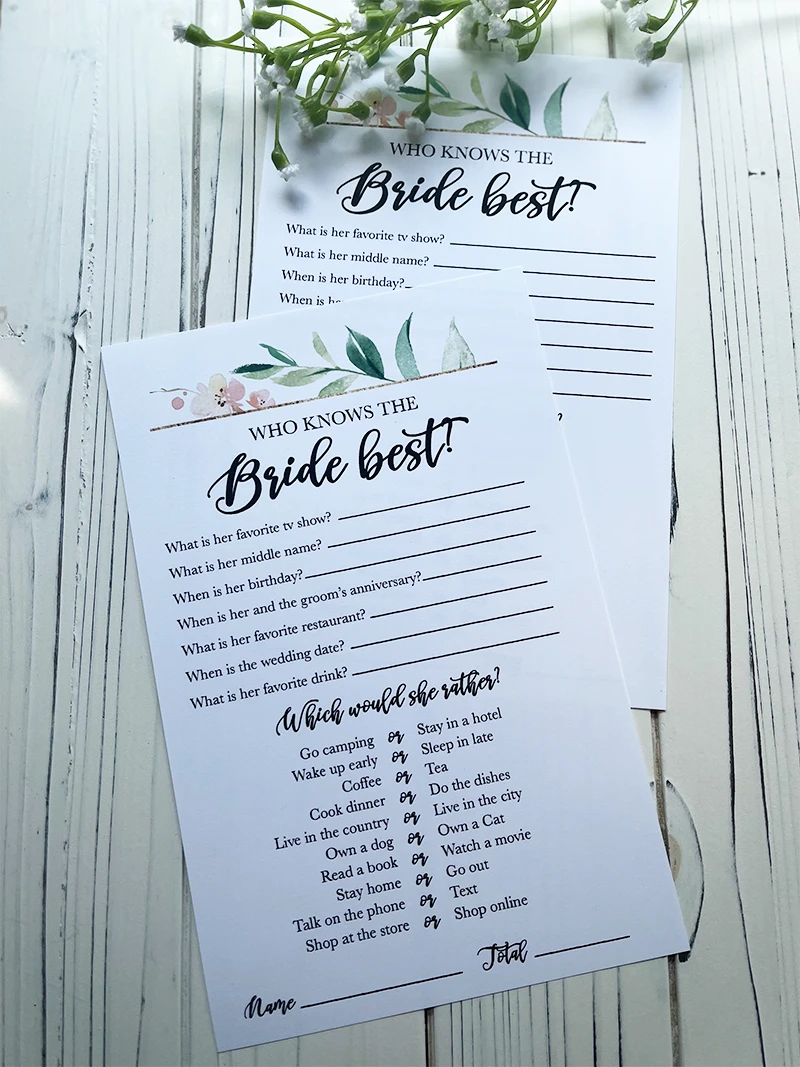 Free printable who knows the bride best game
This game is designed to be printed onto a standard 8.5×11 inch piece of printer paper or cardstock. Two games will print per page. Simply print out the games and then use regular scissors or a paper cutter to trim the games into two.
This is the paper cutter that I am currently using and I can highly recommend it.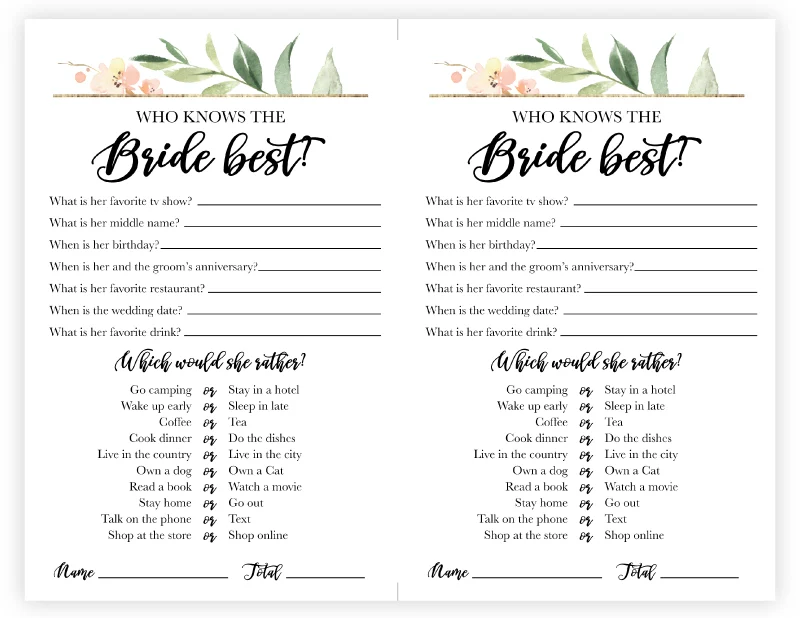 If you enjoyed this game, you might like to check out the matching wedding mad libs game below.
Free printable wedding mad libs
This fun free printable bridal shower game will keep all of your guests laughing as they try to write vows for the bride to be.
Download Link:
Download the free printable who knows the bride best game.