Have fun trying to unscramble twelve holiday themed words in this Hanukkah word scramble game. With both short and long words, this game is not only fun, but challenging as well! Be sure to check out all of our other free printable Hanukkah themed games to help make sure that this holiday season is the most fun yet!

Disclaimer: This post contains Amazon affiliate links. This means that at no extra cost to you, I may earn a small commission if you decide to get a purchase. For more information, feel free to read our affiliate disclosure.
Whether you are looking for some Hanukkah themed games to help get the kids in the holiday spirit this winter, or need some fun activities to play at a classroom or family party, this word scramble game is a great place to start!
Simply download, print and play!

Download link and answer key is located at the bottom of this post.
Free Printable Hanukkah Word Scramble
This game is designed to print onto a standard 8.5×11 inch piece of paper. One game will print per page.
Feel free to download and print as many copies of the word search game as you would like. However, please do not edit or redistribute the files in any way. This activity was created for personal or classroom use only.
How to make the Hanukkah Word Scramble Game Reusable:
If you throw an annual holiday party, you may want to save paper and reuse the word scramble game year after year.
Something I would highly recommend are these super cool dry erase pockets. All you have to do is print out the games and then place them into the pockets. Simply use a dry erase marker to write down the unscrambled words and then wipe everything off when done!
Tip: If you're planning on reusing the games I would suggest printing onto white cardstock to ensure that the paper is sturdy enough to withstand being written on multiple times!
How to play the Hanukkah word scramble in a group setting:
While working on a word scramble game by yourself can absolutely be both fun and relaxing, they are also great activities to play at holiday parties with friends or family.
Here are a few ways to make playing word games in a group more fun:
Use a timer:
Set a timer for a designated amount of time. Have everyone start with their word scramble page face down on the table. When the timer begins, everyone can flip their pages over and begin unscrambling. Whoever has the most words figured out by the time the timer goes off, wins!
Unscramble as fast as possible:
Once again, have each person start with their game page face down on the table. When someone says "GO," each player will flip their pages over and start unscrambling words. Whoever can unscramble all twelve words the fastest, wins!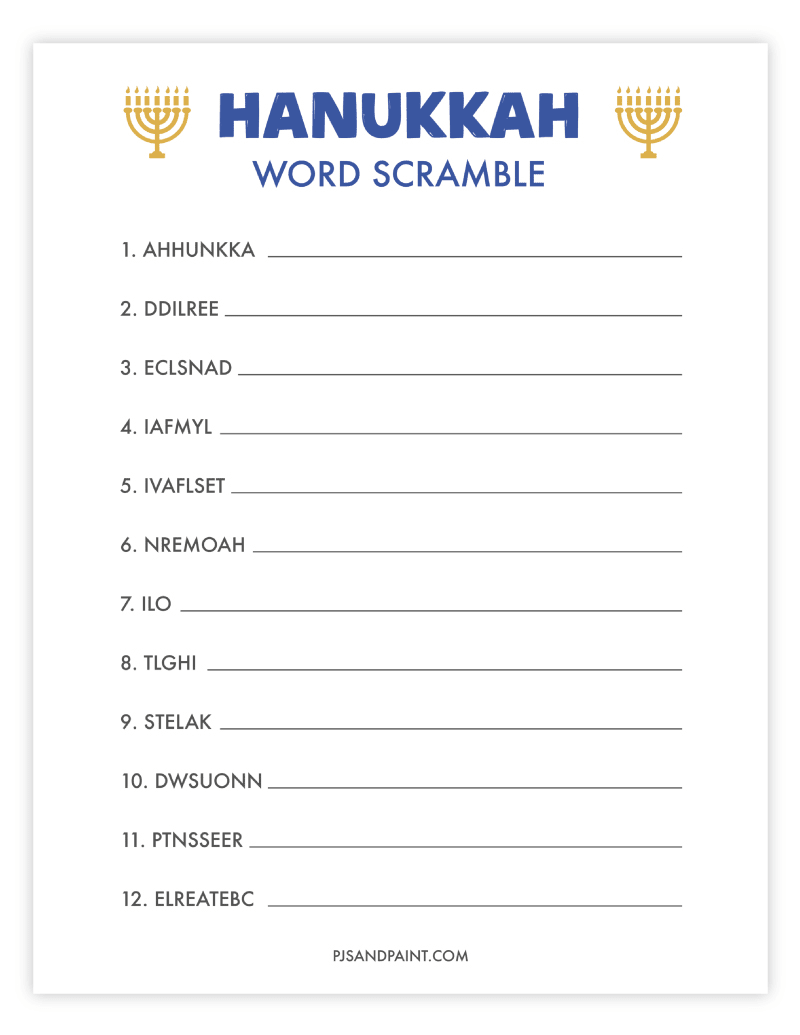 Download link and answer key is located at the bottom of this post.
Be sure to check out our other fun free printable Hanukkah games and activities below:
Free Printable Dreidel Template
If you're looking for a dreidel pattern to use for your craft projects this holiday season then look no further! We've got printable dreidel templates available in two sizes. Simply print, cut out and start decorating!
Free Printable Menorah Coloring Page
This printable menorah coloring page is the perfect way to help the kids to celebrate each night of Hanukkah this year. While you light the candles, have your child color in a candle on the coloring page along with you!
How many words can you make out of Menorah game
This is a fun game where you have to try and see how many words you can come up with using only the letters found in the word menorah. You can play this activity by yourself, or make it into a challenge while playing with friends and family.
Hanukkah I Spy – Free Printable Game
In this I spy game, you will be searching for six Hanukkah themed images in the box above. Count of many of each image you see and write down the correct number on the lines below.
Hanukkah Maze – Free Printable Game
Make your way through the maze to reach the dreidel in the center. A great classic game for both kids and adults alike.
Free Printable Hanukkah Word Search
In this fun word search game, you will be searching for twelve Hanukkah themed words. This is a great activity to play on your own or at a holiday party!
Looking to download all of our Hanukkah themed printable games, activities and coloring pages at once? Check out our bundle below!

Hanukkah Word Scramble Download Link:
Download the Hanukkah Word Scramble.
Answer Key:
1. Hanukkah
2. Dreidel
3. Candles
4. Family
5. Festival
6. Menorah
7. Oil
8. Light
9. Latkes
10. Sundown
11. Presents
12. Celebrate