Today I am sharing this fun free printable How many words can you make out of Menorah game. It is a simple, yet challenging activity where you have to try and come up with as many words as you can using only the letters found in the word Menorah.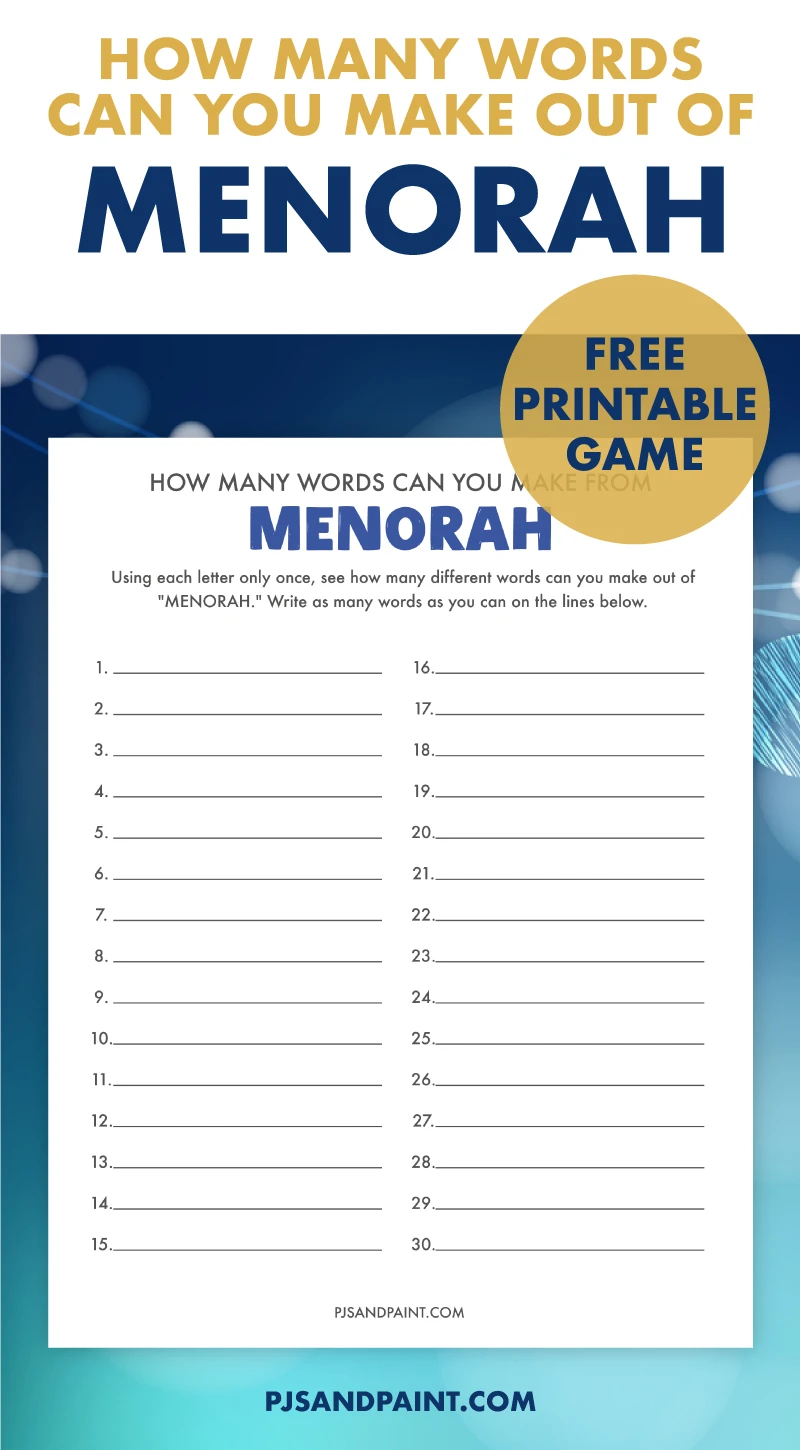 Disclaimer: As an Amazon Influencer, I earn from qualifying purchases. This means that at no additional cost to you, I may earn a small commission if you decide to make a purchase. For more information, please feel free to read the affiliate disclosure on our privacy policy page.
What is the "How many words can you make" game and how do you play?
This simple, yet challenging word game is perfect for playing in classrooms, at holiday parties, or just as a fun activity at home. Here is how you play:
At the top of the page, there is a word or a phrase. In this activity, the word is "Menorah." Using each letter only once, the goal is to see how many different words you can come up with using the letters M,E,N,O,R,A,H.
Here are a few examples of some words you can make:
home
hero
more
hear
roam
one
man
near
her
Write down as many words as you can on the numbered lines on the page. There are 30 lines provided on the page. However, if you can continue to come up with more words, you can turn the page over and keep going!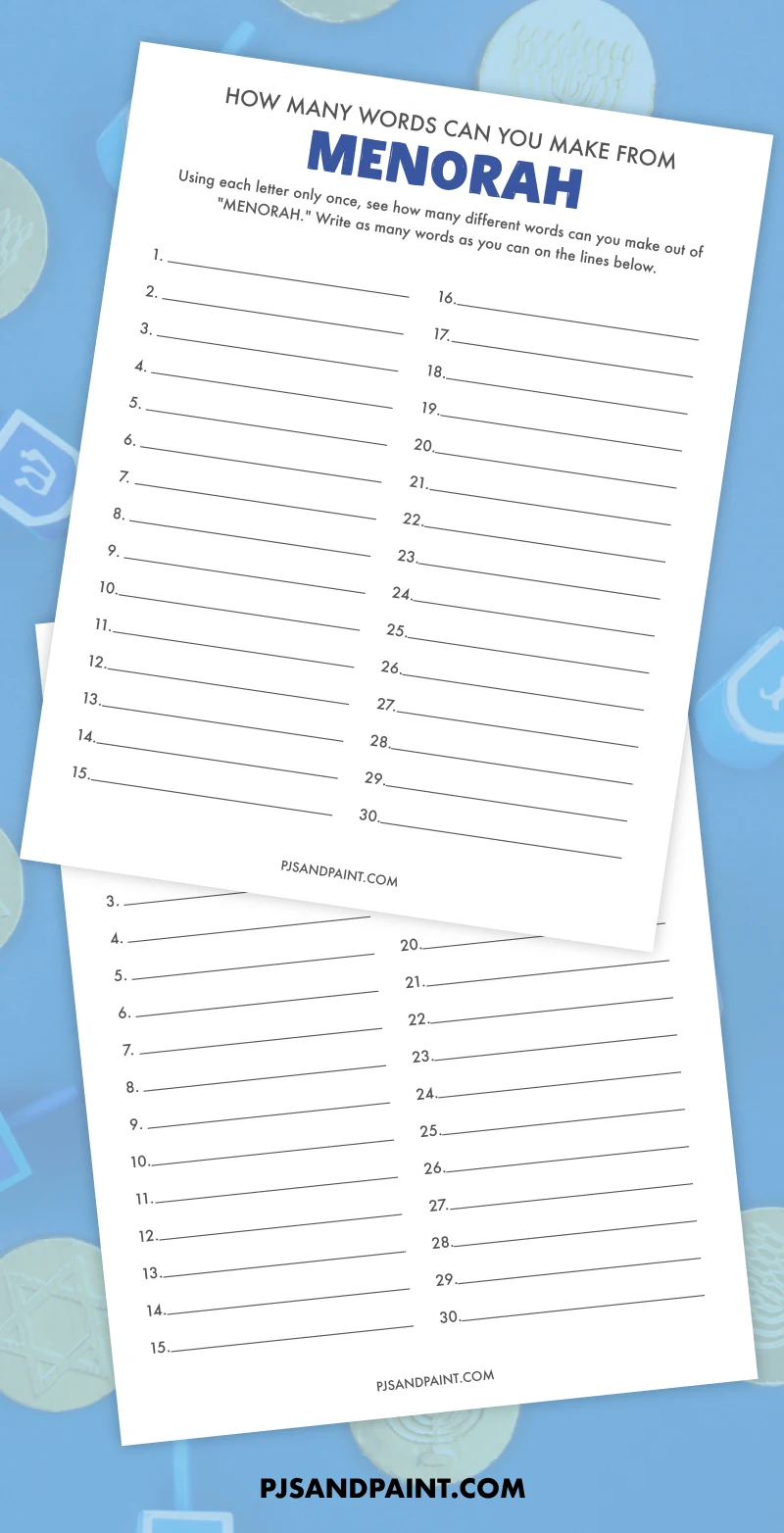 Is there a way to win the "How many words can you make" game?
You can absolutely play the game on your own, and try to come up with as many words as possible.
Or, if you are playing in a group setting there are a few ways you can make it more challenging and competitive.
Especially if you are playing the game at a holiday party, you may want to make things a little more interesting! Here are a few ideas:
You can make it a timed competition:
First, set a timer for somewhere around 3-5 minutes. If you have younger kids playing you may want to set the timer for a longer duration.

When someone says "START," each person has to try and come up with as many words as they can think of before the timer runs out. Once time is up, whichever player has come up with the most amount of words, wins!
You can turn the game into scattergories:
For this fun and challenging twist, each player will still have to come up with as many words as they can. Make sure they are as unique as possible!

After the timer runs out, each player can go around the room and read out their words and compare them. If there if another player that has the same answer as you, you both have to cross that word off of your list. Whoever has the most unique answers at the end of the game, wins!
Free Printable How many words can you make our of Menorah game.
This activity is designed to be printed onto a standard 8.5×11 inch piece of printer paper or cardstock.
Feel free to download and print out as many copies of the game as you would like. However, please do not edit or redistribute the files in any way. This activity was created for personal or classroom use only.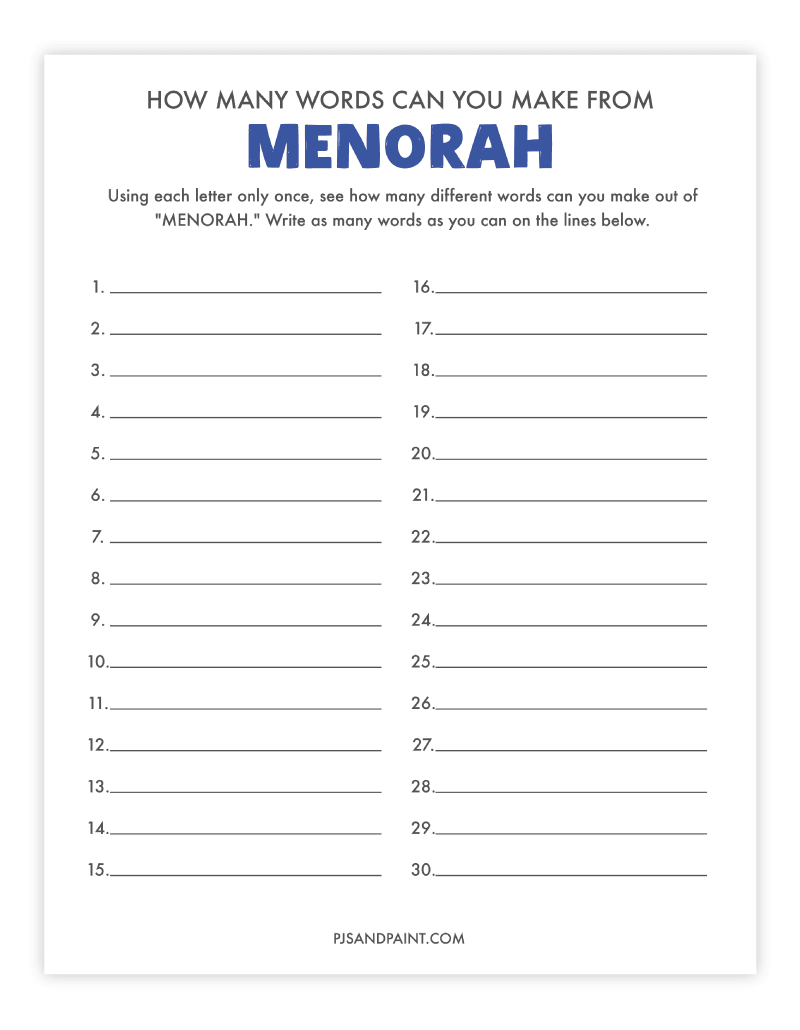 How to make the activity reusable:
You can use dry erase pockets.
Simply print out the activity pages and place into one of these super cool dry erase pockets. All you have to do is use a dry erase marker to write down all of the words that you come up with. Once you are done, you can easily wipe away the answers and reuse over and over again!
Be sure to check out some of our other fun free printable Hanukkah games and activities below:

By entering your email address you will be receiving the free digital file as well as subscribing to our weekly email newsletter. You may unsubscribe at any time.