This is a sponsored post in collaboration with LulaRose. All reviews and opinions expressed in this blog post are completely my own.
There are so many magical moments in childhood. Waiting for the Easter Bunny to leave you a gift basket, trying to stay up late enough to catch Santa come down the chimney, the list goes on.
One magical character that had always stood out for me as a child was the Tooth Fairy. Losing a tooth can be a big deal for a kid and sometimes it might be a little bit scary. I remember one tooth in particular that just would not come out. I would wiggle it, eat hard foods and even considered tying a string to it to pull it out!
It had gotten to the point where I was getting so worried that I would have to live with this wiggly baby tooth forever. And then one day, I was eating dinner and without even thinking about it, the tooth had fallen out on its own.
After that semi stressful experience, I was really looking forward to what the Tooth Fairy would bring me that night. I placed the tooth under my pillow and went to bed full of excitement to wake up the next morning to see if the Tooth Fairy had come.
Sure enough, she had!
Some of my baby teeth had fallen out quite easily, and some took a bit of effort. In any case, I had always really looked forward to the Tooth Fairy's visit.
Whether it is your child's first lost tooth, or their fifth, you still want to make it a special experience for them.
Today I'm very excited to share with you this wonderful personalized Tooth Fairy gift set that I received from LulaRose.
Be sure to use coupon code PJSANDPAINT10 at checkout for

10% off your order!

Check out all of the fun products here.
The quality of everything in this gift set was really just fantastic! When I first opened up the box I immediately noticed how well packaged and how well made everything was. The attention to detail was really special and something I truly appreciate.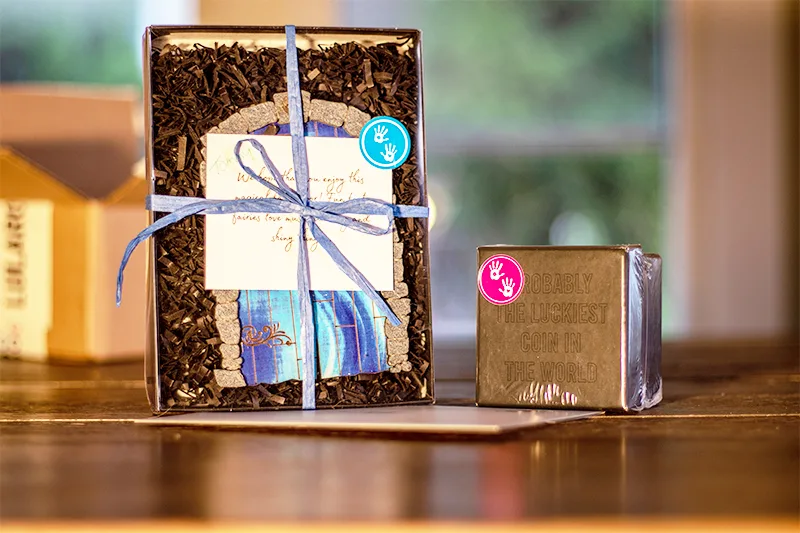 What is included in the Tooth Fairy Gift Set?
I have to admit, opening this box brought back so many childhood memories for me and I'm so excited that I now get to share in that experience with my own kids.
Included in this set was:
A magical silver coin featuring glow in the dark fairy handprints
A personalized letter from the Tooth Fairy herself
An enchanted fairy door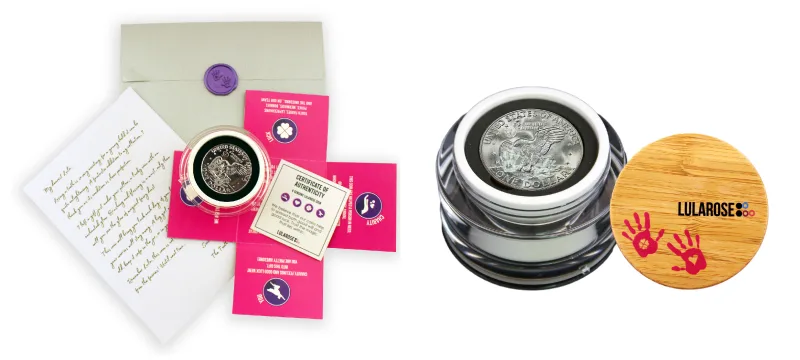 The first item I opened up was the silver coin. I again want to point out the outstanding quality.
But what really stood out to me were the Tooth Fairy's two little handprints on the coin. They make the coin so magical and even glow in the dark! How cool is that?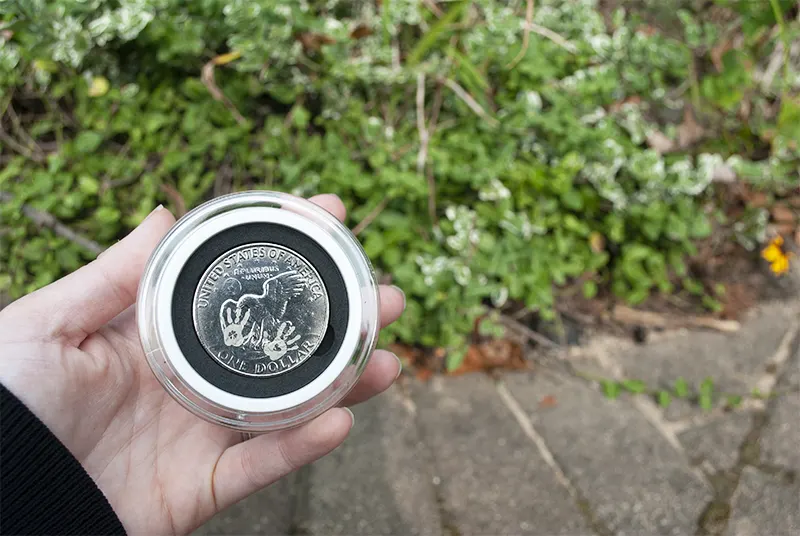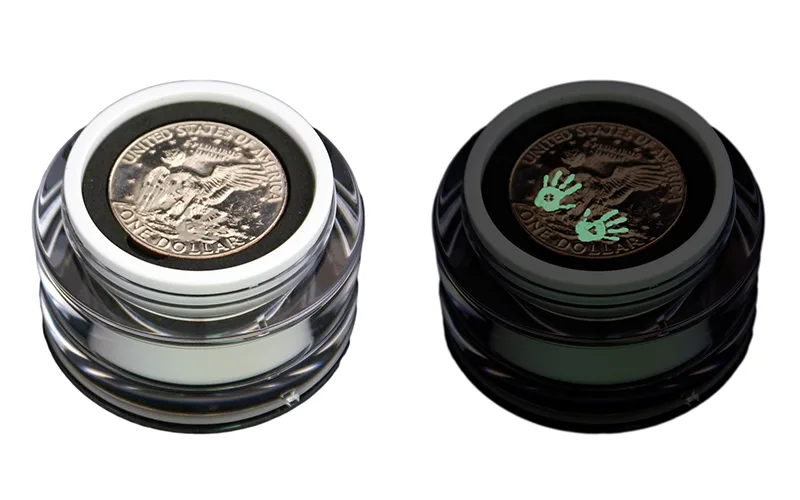 The next item I opened up was the letter addressed to my son. Even before I opened it I was very impressed with the attention to detail. The back of each letter contains a wax seal with the Tooth Fairy's handprints pressed in.
The letter itself was so sweet and personalized to my son. It is a great addition to the coin and adds a another level of magic to the Tooth Fairy's visit.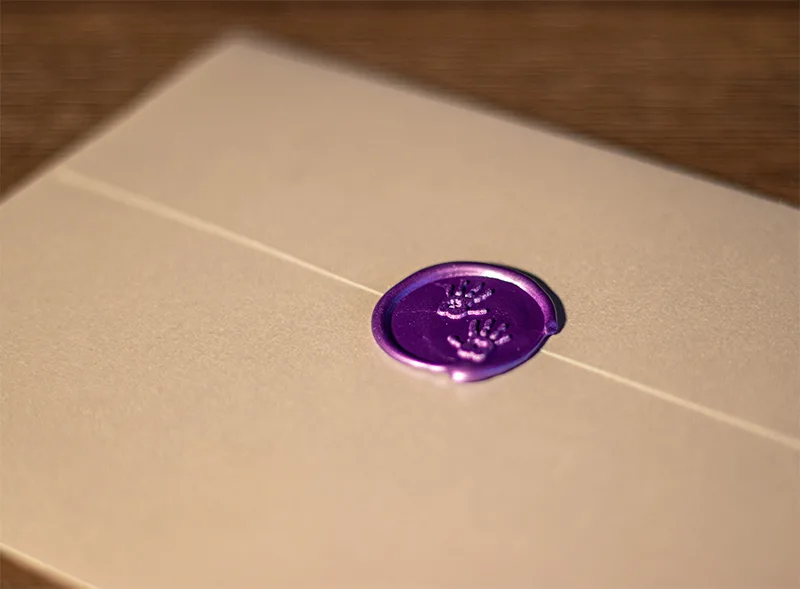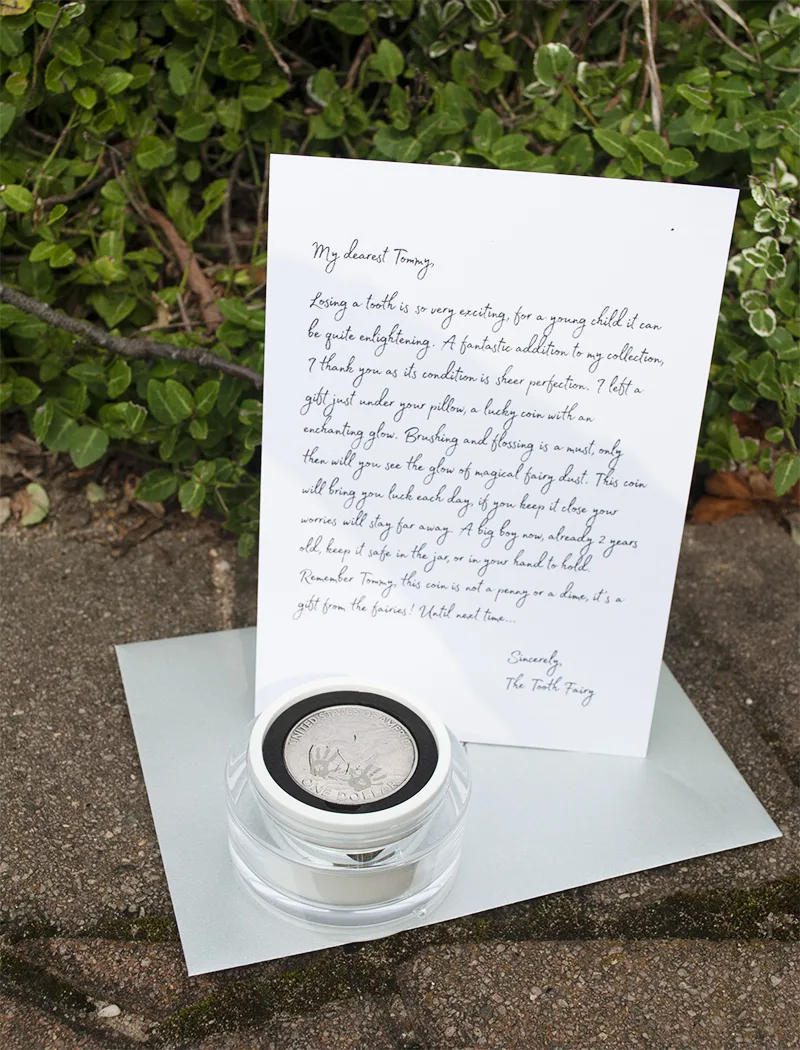 Now as you probably know, kids ask A LOT of questions! My son's favorite word right now is definitely "why?" More likely than that, you are probably going to get the question "Where did the Tooth Fairy come from, how did she know where I live?"
And the answer to that can be, through this magical door!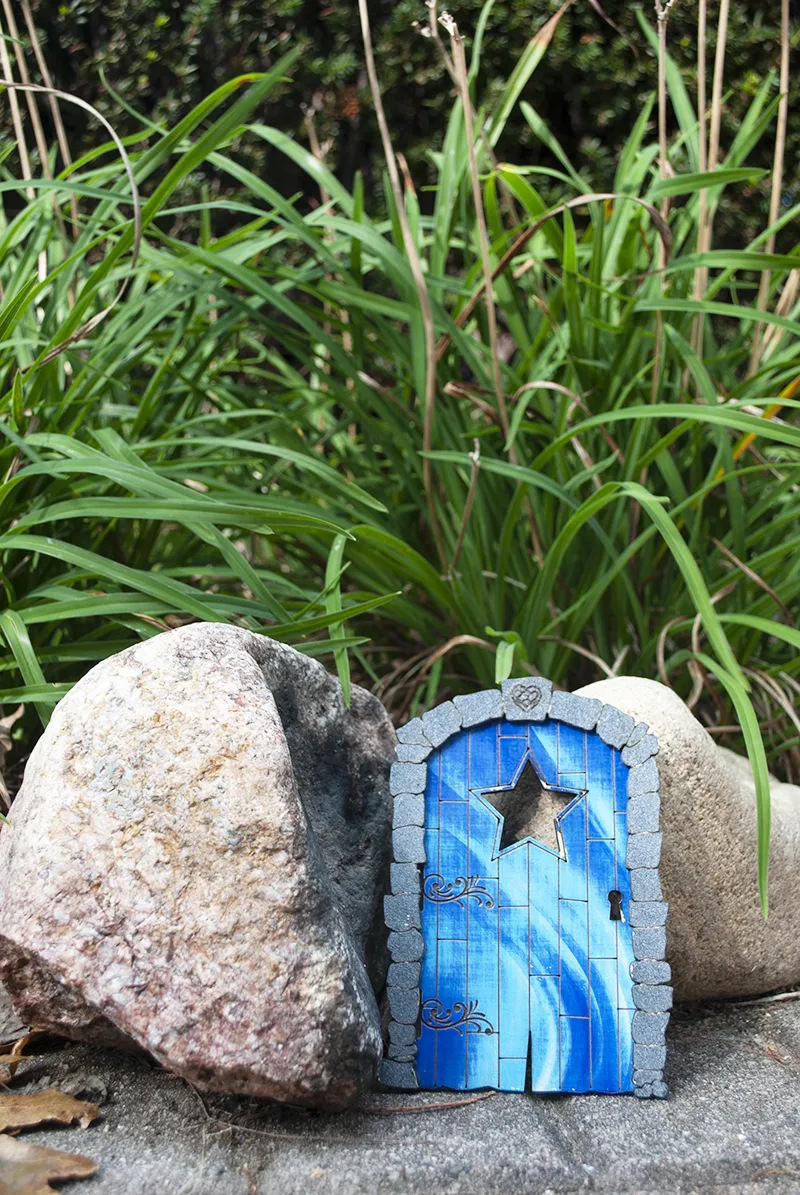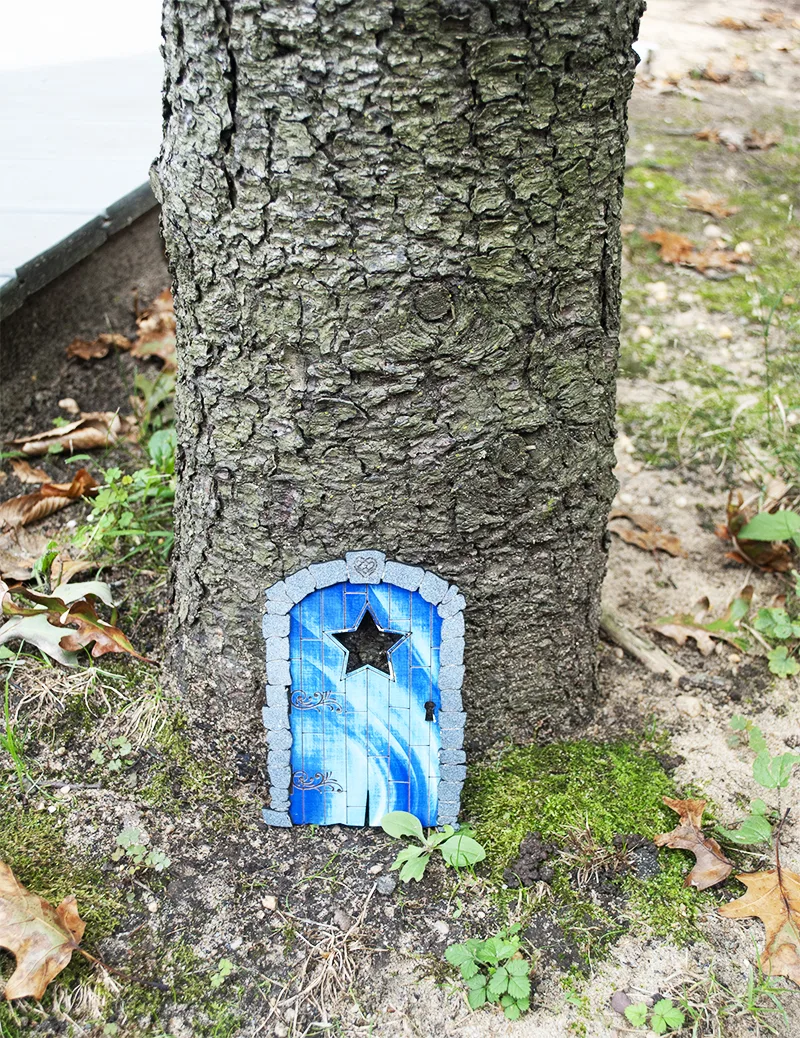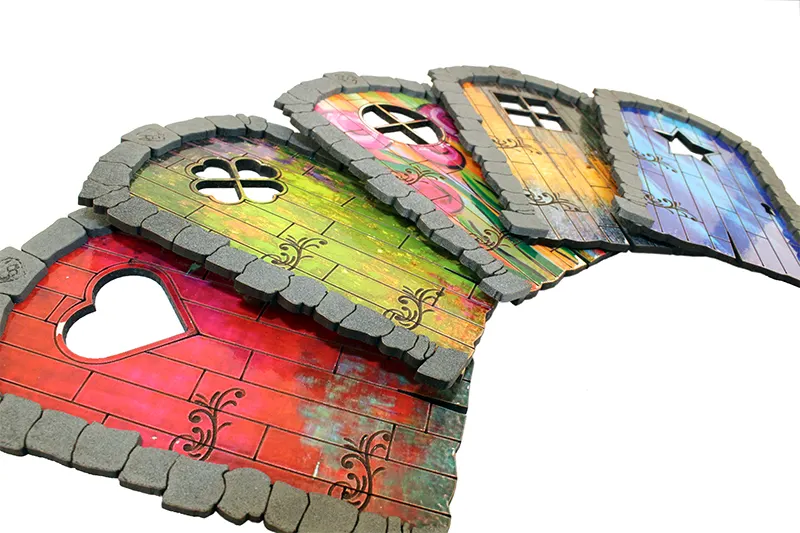 The night that the Tooth Fairy is supposed to arrive, you can set up the magical fairy door in your child's bedroom, around the house or even outside like I did. This magical door activates the portal into the fairy world!
I thought this door was an adorable touch and makes the Tooth Fairy's visit that much more exciting. The enchanted fairy door also comes in a variety of different fun colors.
The Tooth Fairy gift set is absolutely something I would highly recommend to ensure that your child's Tooth Fairy visit is a special and memorable experience!
Do you think your kids will love the magical Tooth Fairy coin?
This Tooth Fairy gift set featured is the Premium version. However, there are also Standard and Pure Silver sets available as well. There is something for every budget!
And if you love the Premium coin set along with the Fairy door combo, there is also a bundle available.
Check out all of the fun Fairy Bank options here.
Be sure to use coupon code PJSANDPAINT10 at checkout for

10% off your order!

Check out all of the fun products here.
But what if you're not quite ready for the tooth fairy yet?
For those times that a tooth has come out, right before bed and you are not prepared, you might be wondering what the Tooth Fairy can bring at the very last minute.
I've created this free printable letter that is a quick and easy way to let your child know that the Tooth Fairy has not forgotten about them and that their special surprise is on the way.
Simply print out this letter the night the Tooth Fairy is supposed to come, leave it by your child's pillow and it will buy you some time to get an extra special gift ready in exchange for their lost tooth.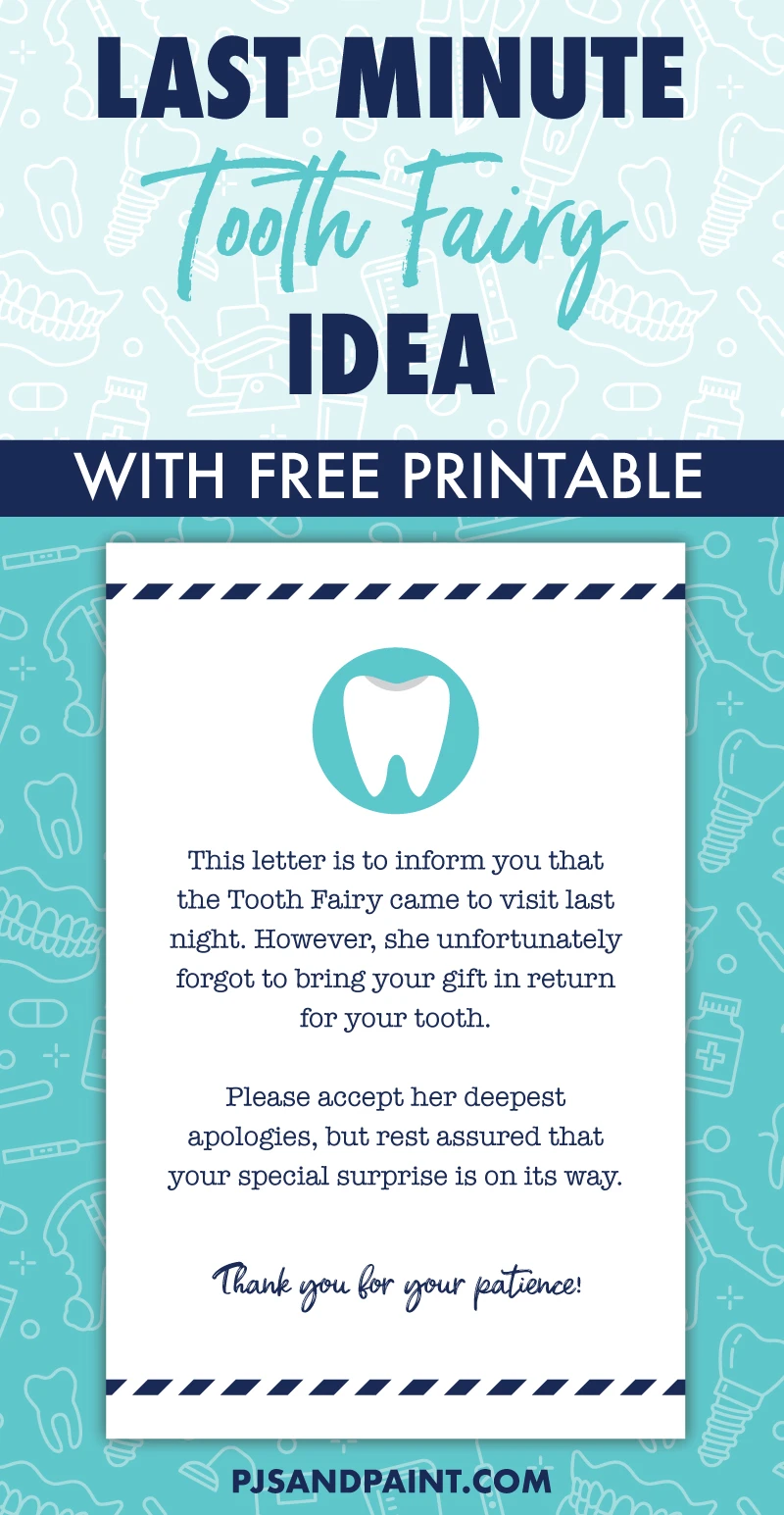 Last Minute Tooth Fairy Idea – Free Printable Letter
This last minute Tooth Fairy letter is designed to print onto a standard 8.5×11 inch piece of paper. Two copies of the letter will print per page. Once trimmed each letter will measure 8.5×5.5 inches. The download link is located at the bottom of this post.
Please feel free to download and print as many copies of the letter as you need. However, please do not edit or redistribute the files in any way. This letter is intended for personal use only.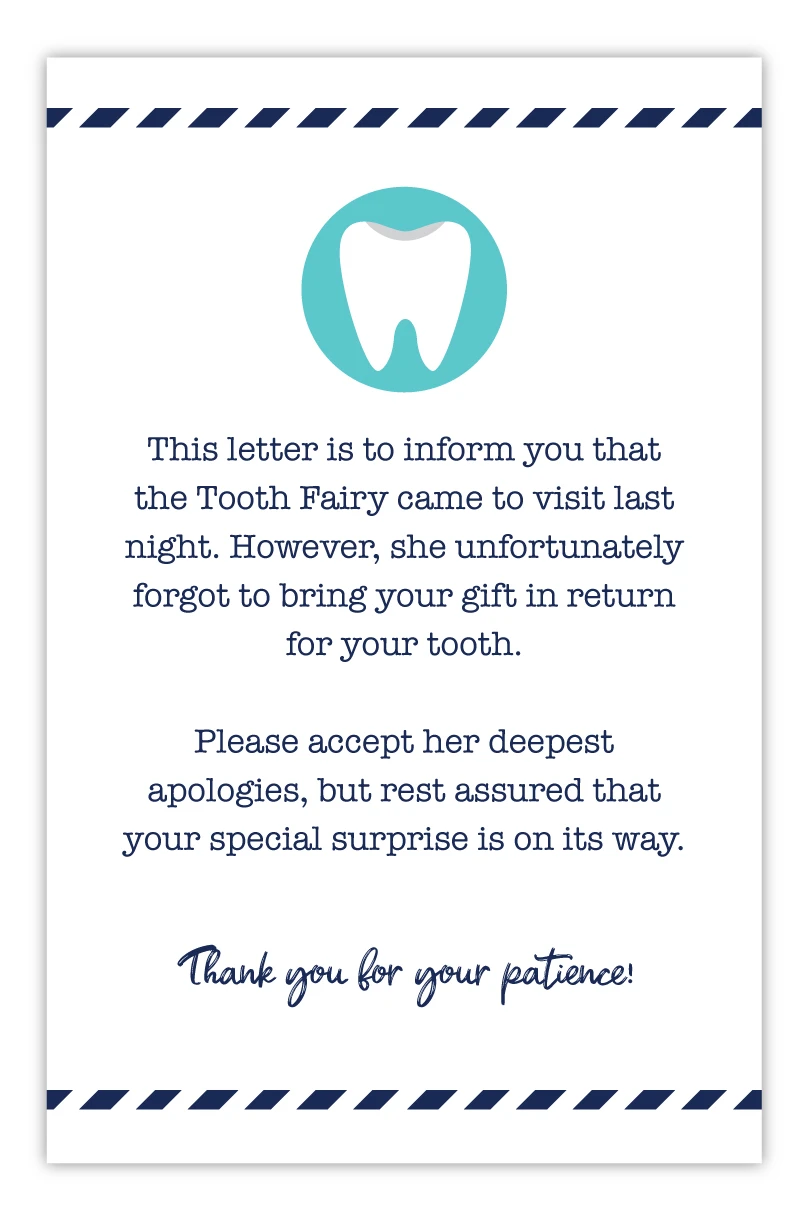 Download link is located at the bottom of this post.
Download Link