This easy pom pom rainbow craft is a great project for kids that not only allows them to be creative, but helps teach them a variety of useful skills such as sorting and hand eye coordination.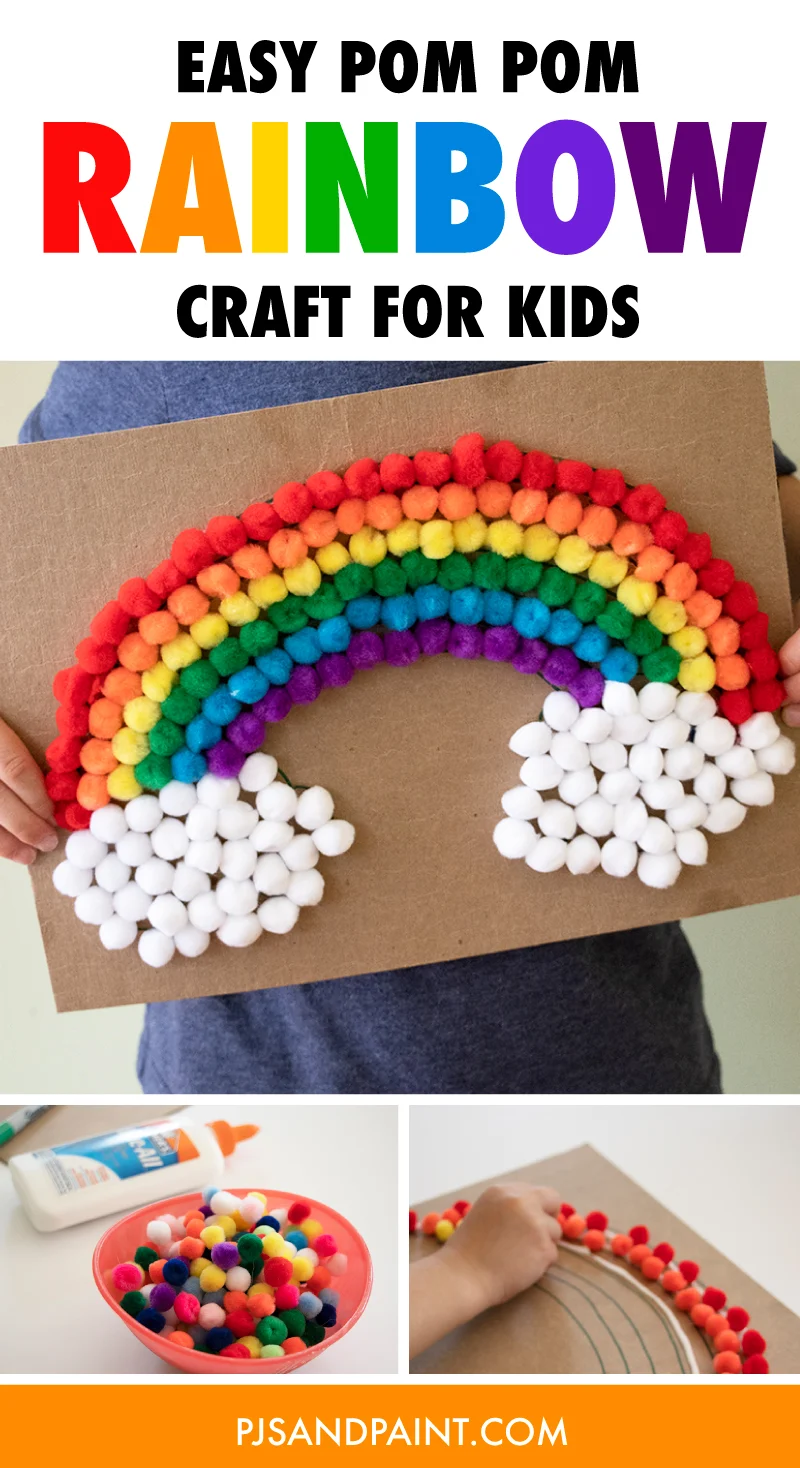 Disclaimer: This post contains Amazon affiliate links. This means that at no extra cost to you, I may earn a small commission if you decide to make a purchase. For more information, feel free to read our affiliate disclosure.
Ever since I had my second son, I have been finding it a little bit challenging to balance spending time with both kids equally.
The baby obviously needs a ton of attention and I often feel guilty telling my older son to wait while I change or feed his little brother. And so whenever I have a few extra moments I love to try and come up with a fun new activity my older son and I can do together.
The other day, while the baby was napping, I quickly ran up to my office to see what types of extra craft supplies I had. As I opened up a drawer I was overwhelmed by the amount of mini pom poms I had.
Why did I buy so many? What was I intending on using them for? I still have no idea but I was pleasantly surprised to find such a big supply!
Under pressure to make the most of nap time, I wanted to come up with a fun activity we could do together with the supplies I already had.
With some extra cardboard, pom poms and some glue I decided we would make a cute rainbow project.
This was a totally impromptu project idea but I was surprised at how many additional learning opportunities this craft offered such as sorting and hand eye coordination.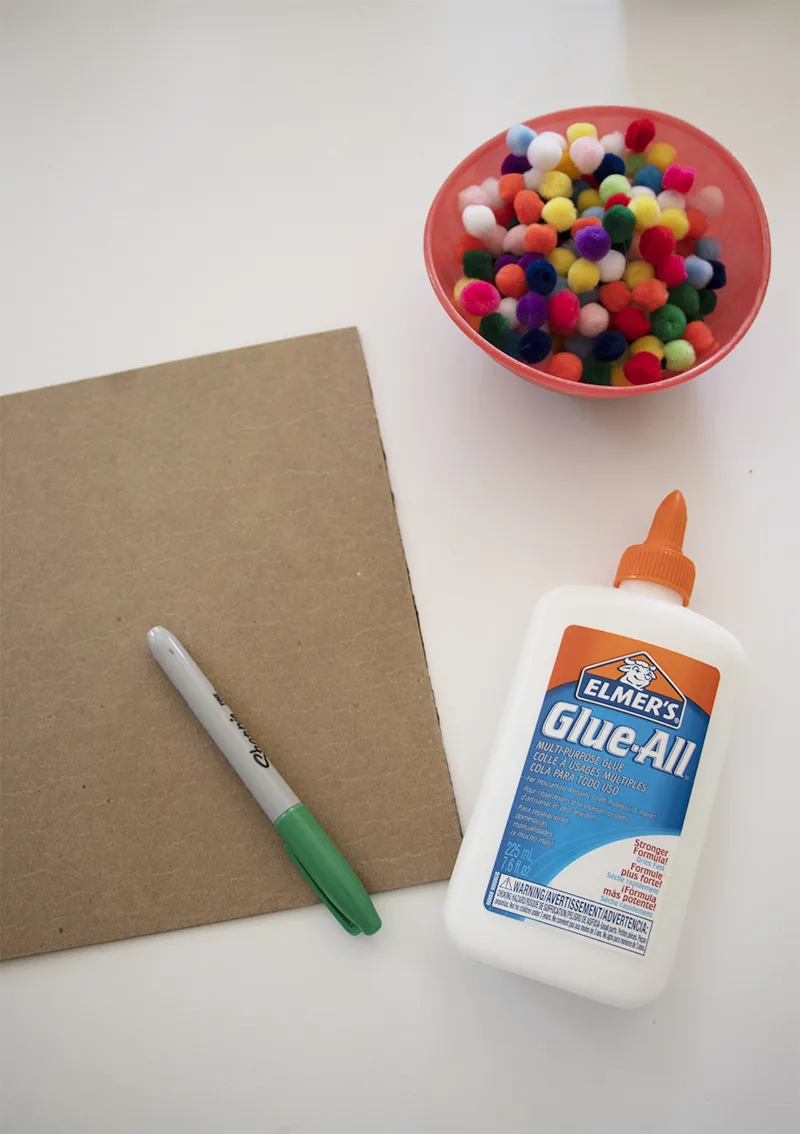 Supplies needed to make a pom pom rainbow craft:
Piece of cardboard (We used the back of a pack of construction paper but you can use any type of cardboard you have available)
Mini pom poms in red, orange, yellow, green, blue, purple and white (For our project we used .5 inch pom poms)
A marker, pen or pencil
Glue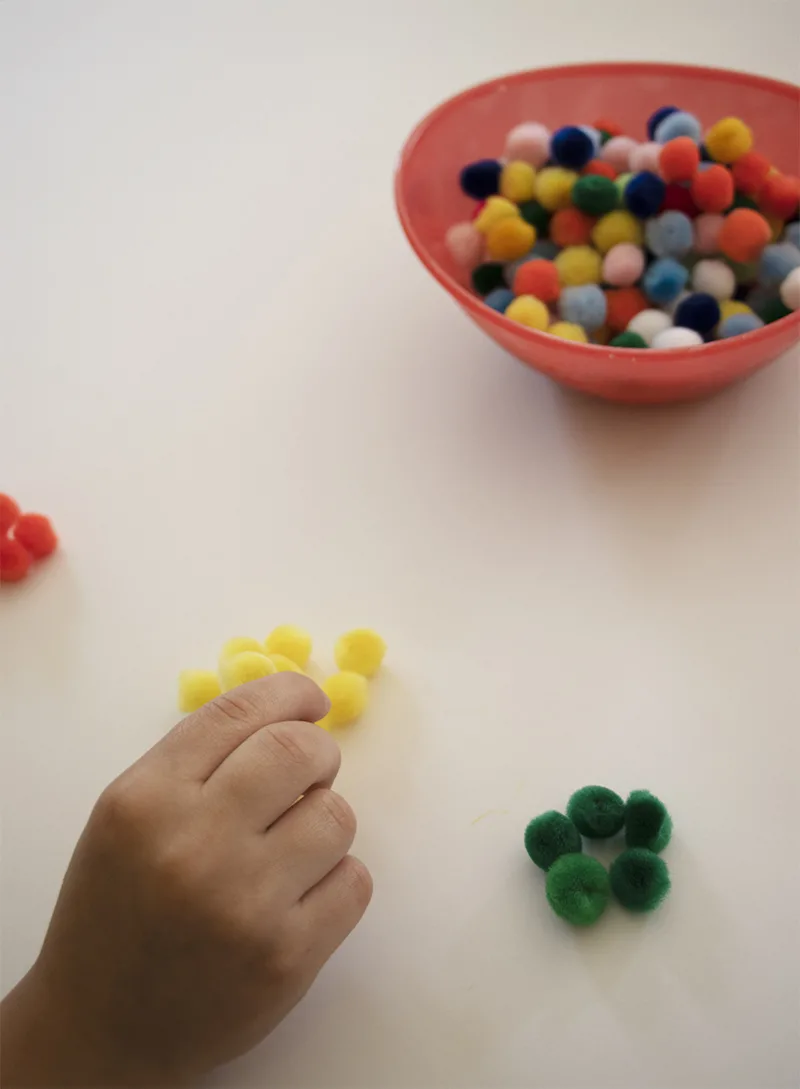 The first thing I had my son do was sort out all of the pom poms into piles. I placed all of the pom poms into one bowl and color by color had him go through the bowl and pick out each color.
I kind of thought he would find this to be the boring part but I was surprised how much he really enjoyed the sorting process.
He actually enjoyed it so much that as soon as we finished the craft, he pulled all of the pom poms off of the rainbow because he wanted to start over and sort all of the colors again!
While my son was busy sorting, I took the cardboard and began drawing out the outline of the rainbow and clouds.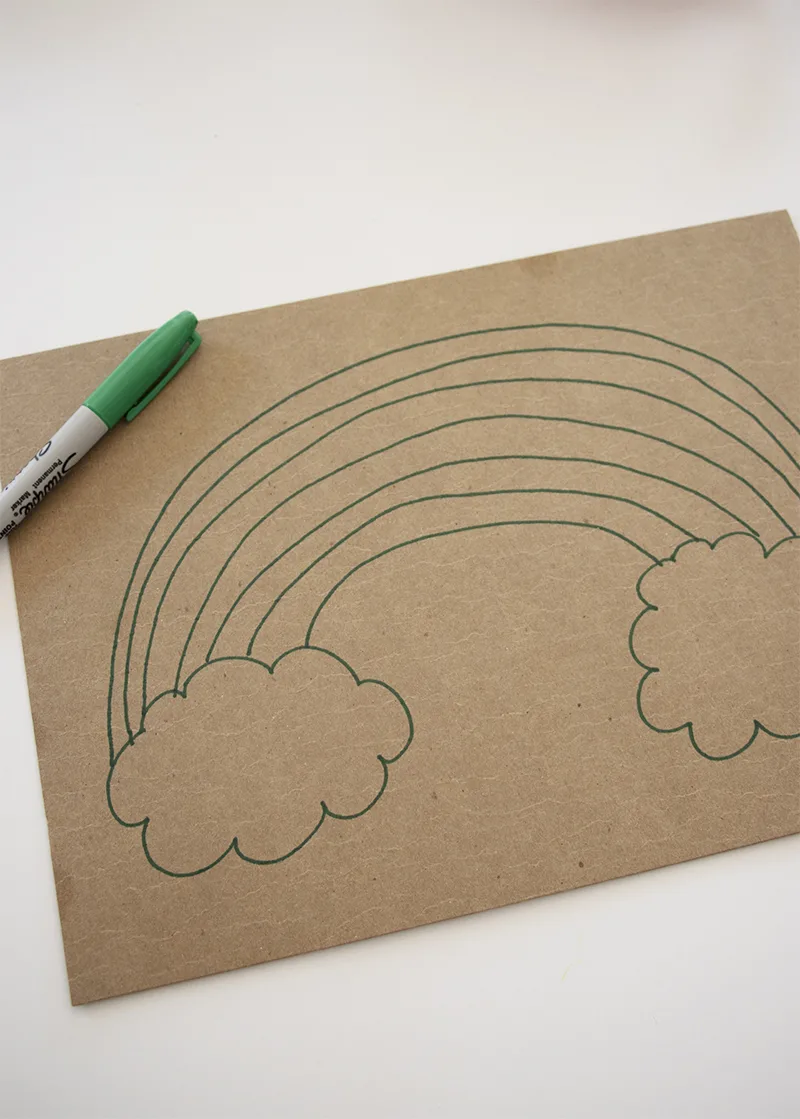 Don't worry if the rainbow isn't perfect. Pom poms will be covering all of the lines anyway. As long as you have six spaces and two clouds, you are good to go!
With all of the colors sorted out, I put a line of glue in the top space of the rainbow. My son then begin sticking on all of the red pom poms.
Once the red was complete, I placed another line of glue underneath for him to fill up with orange pom poms.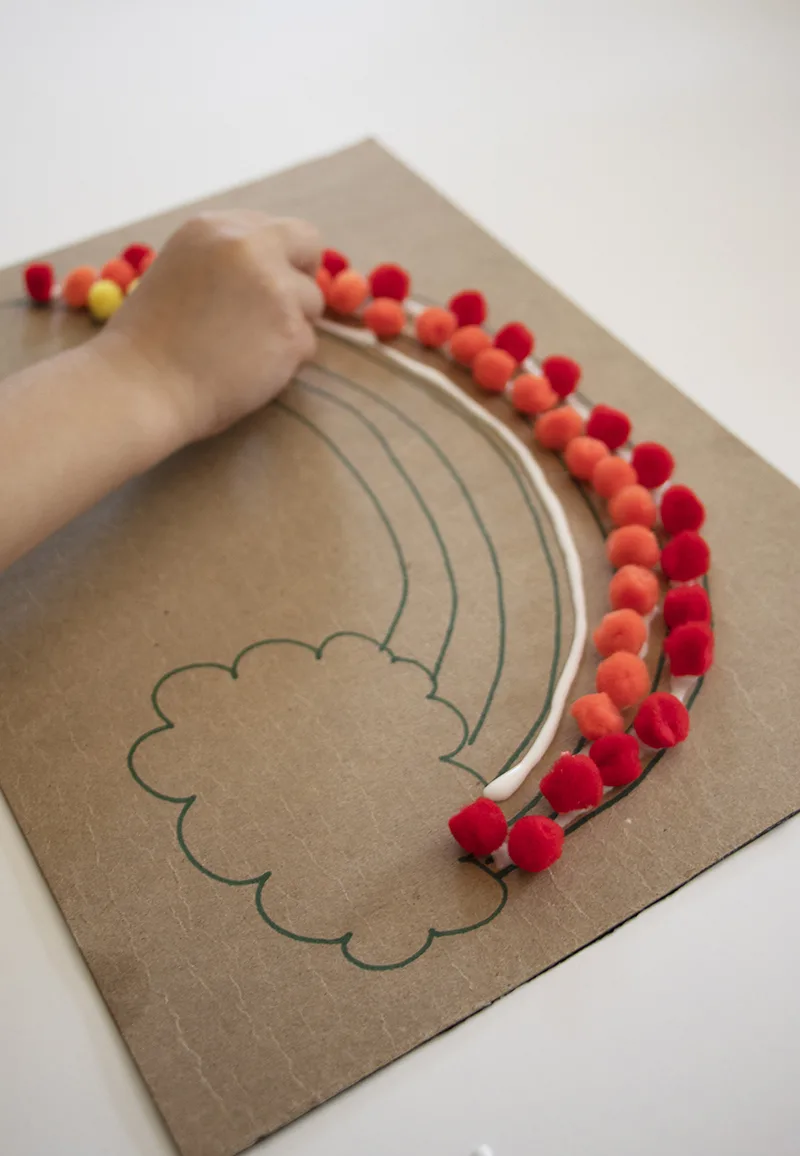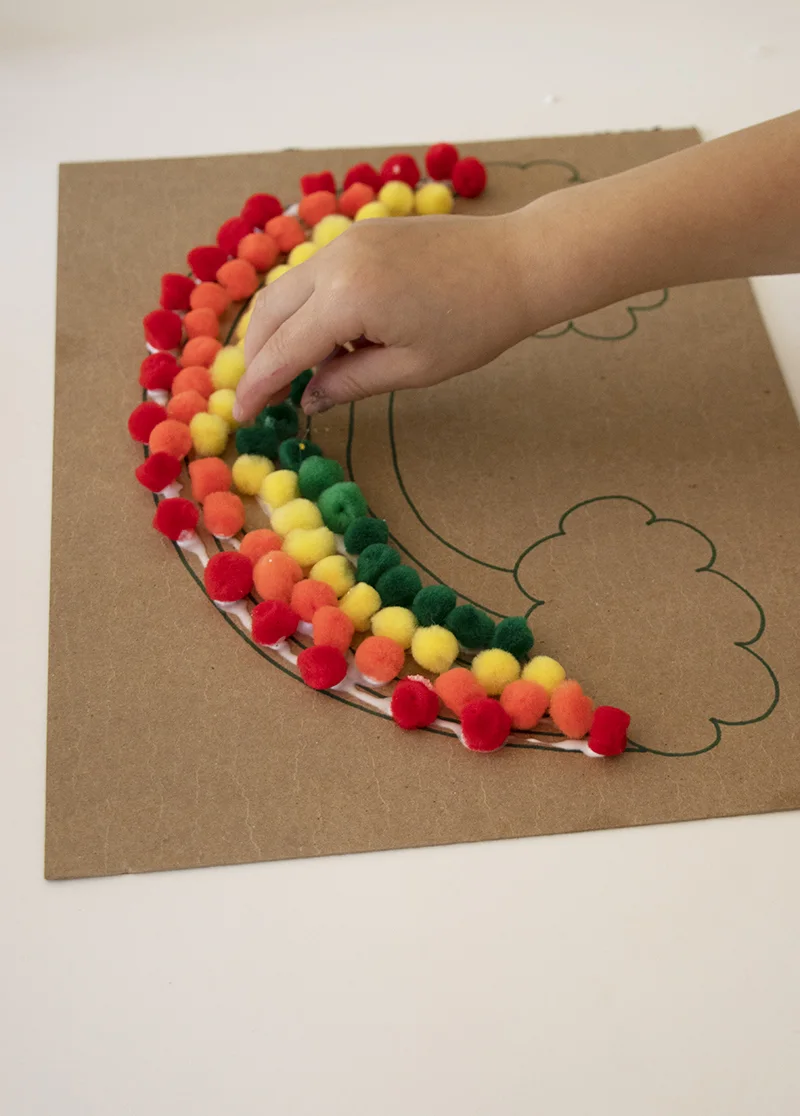 I found that by only putting down one line of glue at a time made things a lot easier, rather than putting glue all over the rainbow at once. It also helped make sure that each color pom pom remained in their proper space.
What order do the rainbow colors go in?
Red
Orange
Yellow
Green
Blue
Purple
We continued on like this to fill up the whole rainbow and the white clouds as well.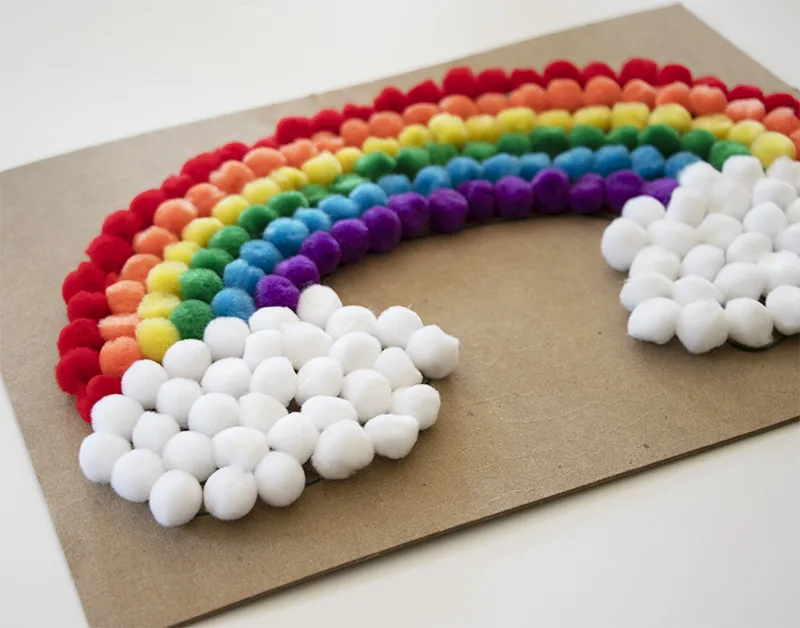 And that is all there is to it! Simply let the glue dry and you will have a beautiful piece of child made art that is ready to be stuck to the fridge, or to be hung on the wall, proudly displayed for everyone to see!
My son and I really enjoyed working on this craft together. We got to find a use for all of those pom poms, work on sorting skills and be creative all at the same time.