In this free printable Hanukkah I Spy game, you will be searching for six holiday themed images. This is a great activity for both kids and adults and will be sure to help everyone get more in the holiday spirit this year!

Disclaimer: This post contains Amazon affiliate links. This means that at no extra cost to you, I may earn a small commission if you decide to make a purchase. For more information, feel free to read our affiliate disclosure.
How do you play Hanukkah I Spy?
I spy is a simple, yet fun game where you will have to count how many of each holiday themed image you see in the box above. Next write down the correct number of images that you see on the lines provided.
It is a great way to keep the kids entertained and also working on their counting skills!
How to make I Spy games easier for little kids:
My oldest son is three years old. When I first printed out an I spy game like this one, I wasn't sure that he would be able to complete it. With some help and a few little tricks, he ended up having a ton of fun searching and counting for the images.
Here are a few ways to help kids work on I spy games:
Have your child circle or draw an X through each image as they count them.
Set out a cup of crayons or markers and start circling and counting!
Draw a tally as they are counting each picture instead of counting outloud or in their head.
Using a separate piece of paper, your child can draw a line tally every time they count an image. This may help if your child can't yet count that high. They can then with help count each line afterwards.
If you are looking for some non holiday themed I spy games for kids you might like to check out some of our other free printables: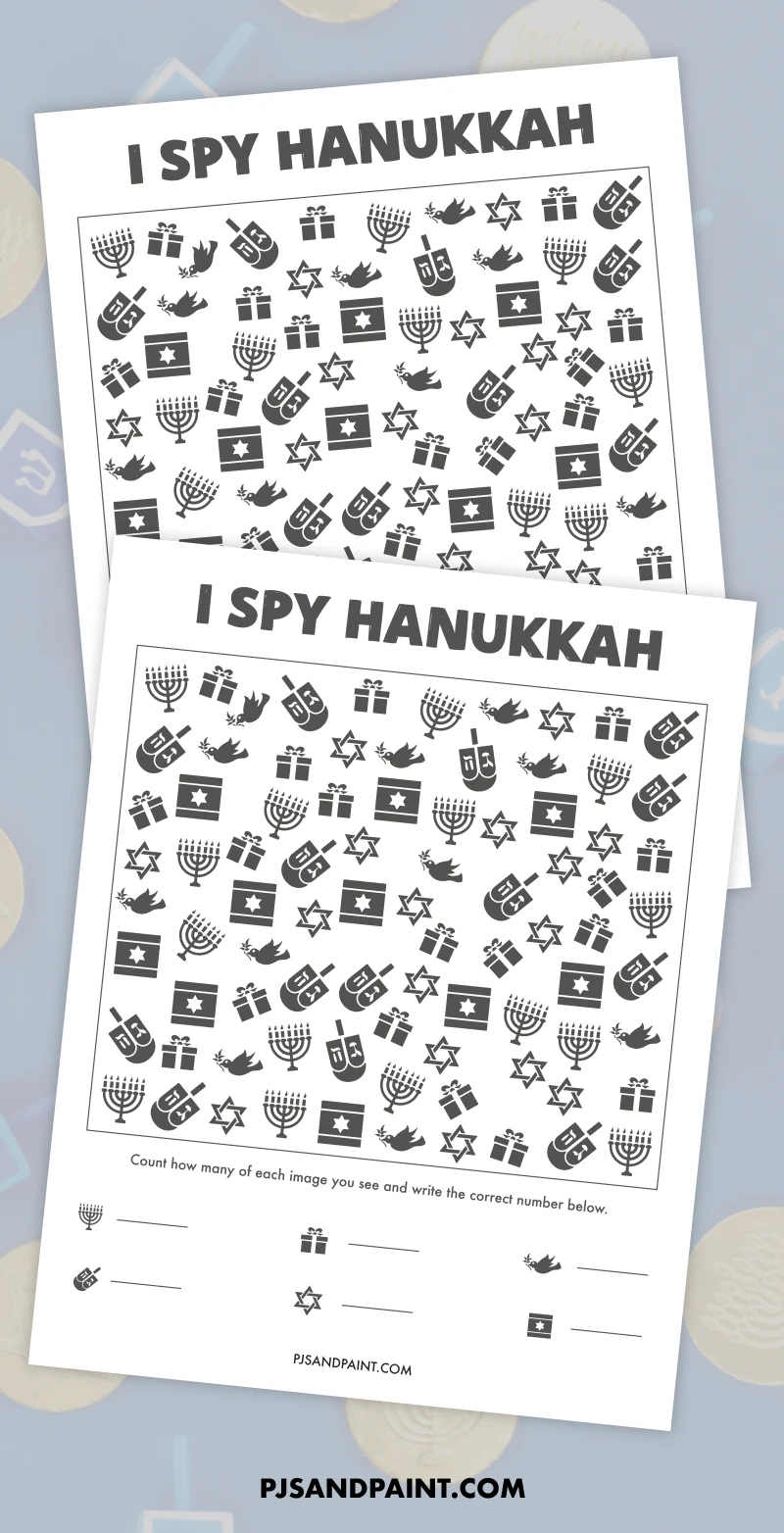 Game download link and answer key are located at the bottom of this post.
Free Printable I Spy Hanukkah Game
This I Spy game is designed to be printed onto a standard 8.5×11 inch piece of printer paper or cardstock. One game will print per page.
Feel free to download and print as many copies of the I Spy game as you would like. However, please do not edit or redistribute the files in any way. This game was created for personal or classroom use only.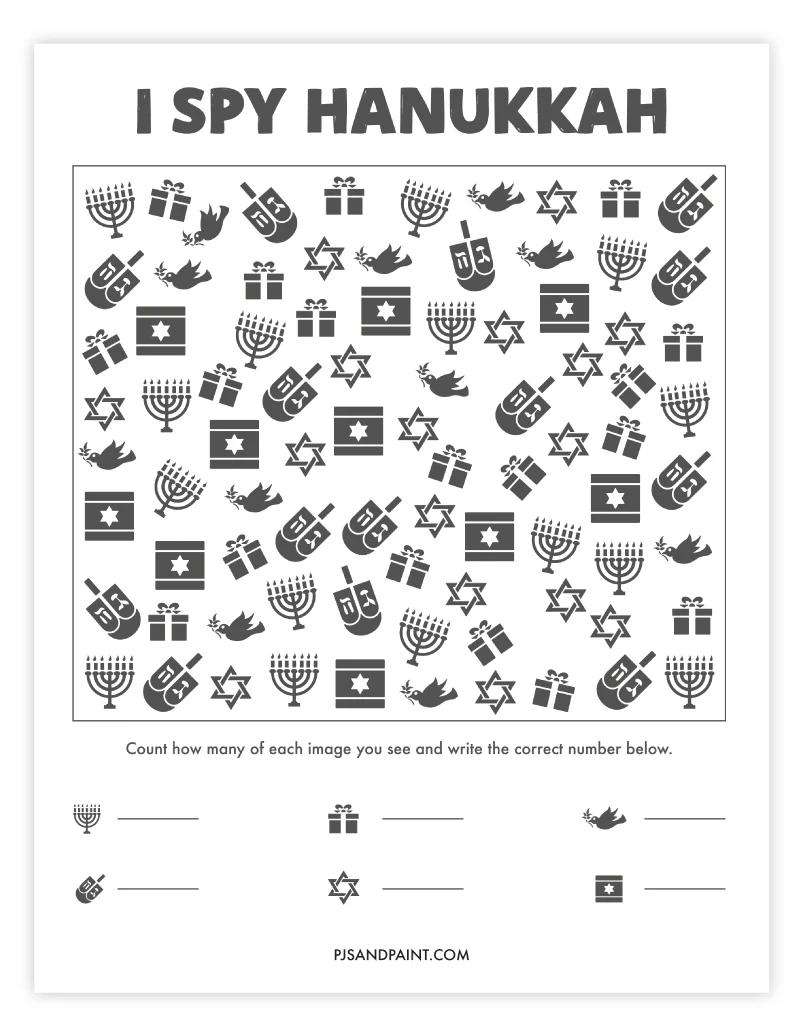 Game download link and answer key are located at the bottom of this post.
Be sure to take a look at some of our other fun free printable Hanukkah games and activities below:
Free Printable Word Scramble
In this fun activity, you will be trying to unscramble twelve Hanukkah themed words. With long and short words to figure out, it is a great game for both kids and adults.
How many words can you make out of Menorah game – Free Printable
Challenge yourself to see how many words you can make using only the letters found in the word menorah. Here is a hint, there are 121 different words you can come up with!
Free Printable Dreidel Template
Whether you would like to use this dreidel template as a coloring page or a pattern for a variety of Hanukkah themed projects, this template is a great creative starting point.
Hanukkah Maze – Free Printable
In this Hanukkah themed maze, you will be working your way through the puzzle to reach the dreidel in the center. This is a great activity for kids of all ages.
Free Printable Menorah Coloring Page
This coloring page is the perfect way for younger children to follow along as you light the menorah each night of Hanukkah.
Hanukkah Word Search – Free Printable
In this word search game, you will be trying to find twelve Hanukkah themed words. Word searches are great for relaxing at home or playing at a party!
If you would like to download all of our printable Hanukkah games, activities and coloring pages at once, you might like to check out the Hanukkah bundle below.

Download Links:
Download the I Spy Hanukkah game.