With father's day coming up, don't forget about grandpa! Have the grandkids fill out this printable grandpa father's day questionnaire for an easy DIY gift he will be sure to treasure. Also check out the "All about my Dad" printable father's day gift.
Disclaimer: This post contains Amazon affiliate links. That means at no extra cost to you, I may earn a small commission if you decide to make a purchase. This commission comes at no extra cost to you and helps keep Pjs and Paint up and running! For more information, please read our affiliate disclosure.
I am so thankful for the fact that my kids are very close to my dad. We live so close to each other that if my dad is out in his backyard and happens to sneeze, my older son will yell "BLESS YOU PAPA!"
Not a day goes by that my kids don't at least see my dad on video chat and I'm so glad that they have such a great relationship with him.
And so when it comes to Father's Day, I always make sure that my kids make their Grandpa a little gift as well.
One gift that is super easy (and free!) to make is an all about my Grandpa questionnaire. With a little help from an adult, they can give Grandpa a special gift to look back on for years to come.
My favorite part about these types of questionnaires is that you usually get some pretty funny answers!
Since Father's Day is coming up within a few days, I recently sat down with my older son to fill out the questionnaire. When I asked him how old he thought Papa was he sweetly says "Hmm.. I'm not sure.. Let's go with 9!"
And when I asked him to fill in the question, "What do you love Papa more than?" He quickly and confidently said "MOMMY!" Hey, at least he's honest right?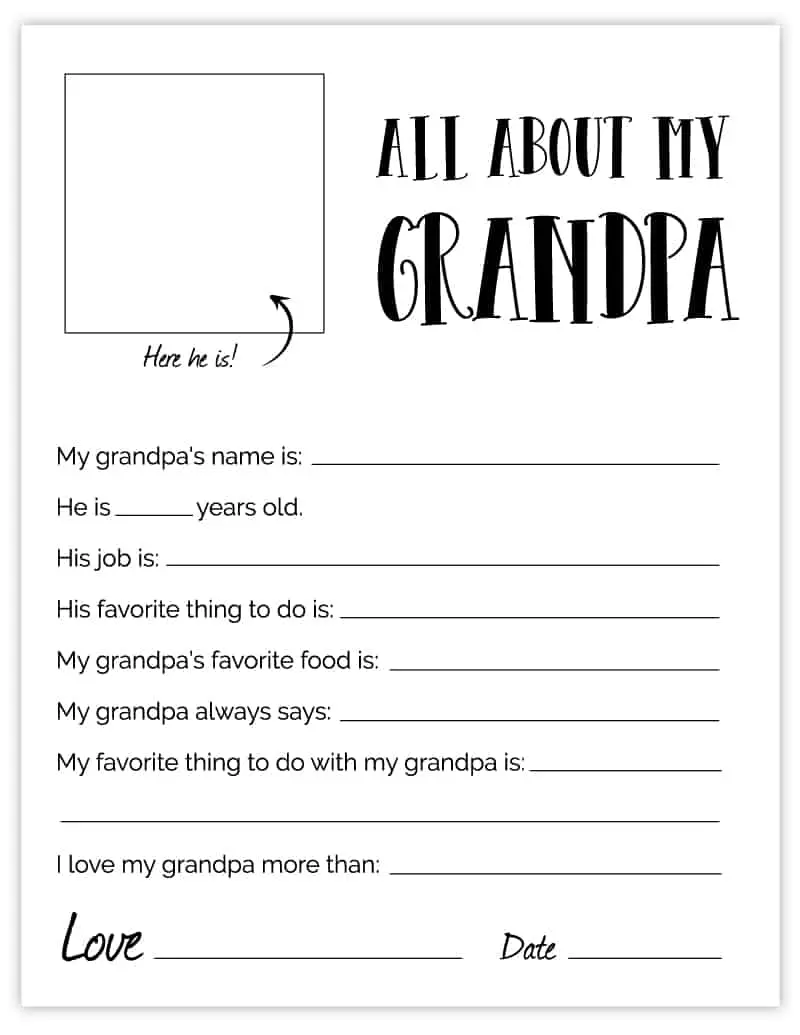 Download link is located at the bottom of this post.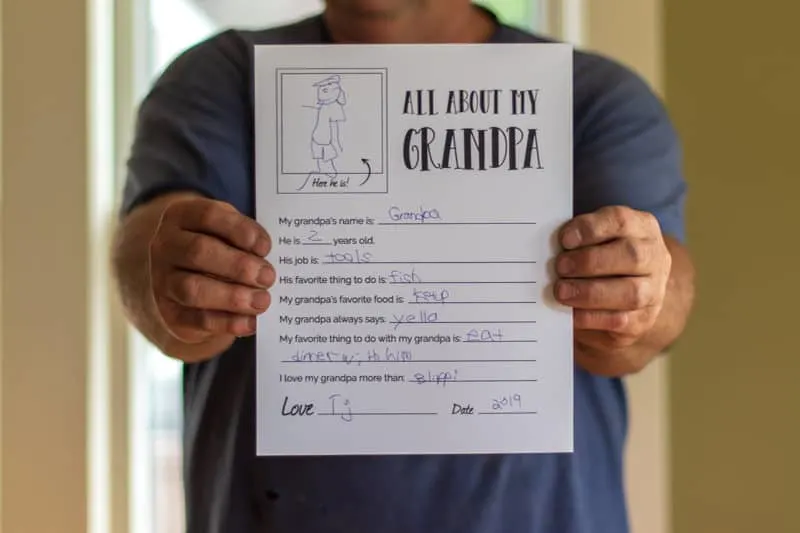 Download link is located at the bottom of this post.
Free Printable All about my Grandpa questionnaire
Have your kids fill out the father's day questionnaire, or if they are too little, ask them the questions and help them write down their answers. Have them draw a picture of their grandpa or tape a photo of him to the top of the page. This will be a Father's Day gift grandpa will treasure!
The questionnaire is sized to 8.5×11 inches. For the best quality print, I would suggest printing on white cardstock.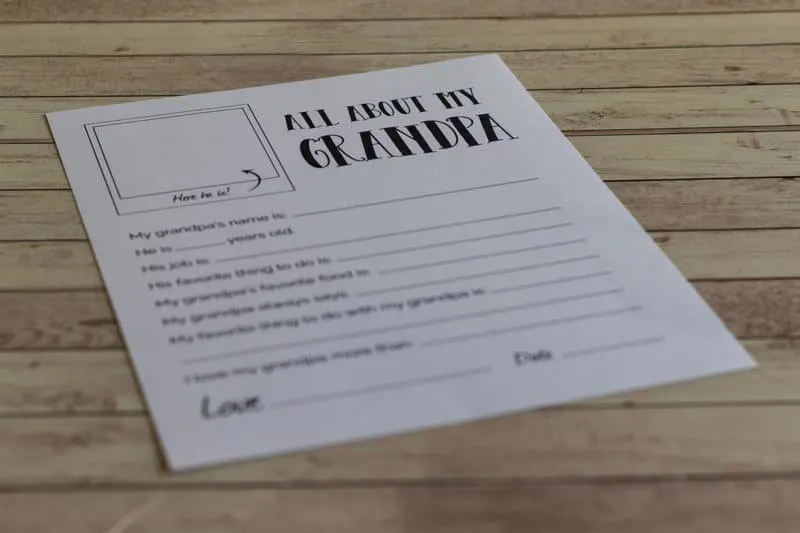 Download link is located at the bottom of this post.
Don't forget to check out the "
All about my Dad
" printable Father's Day gift.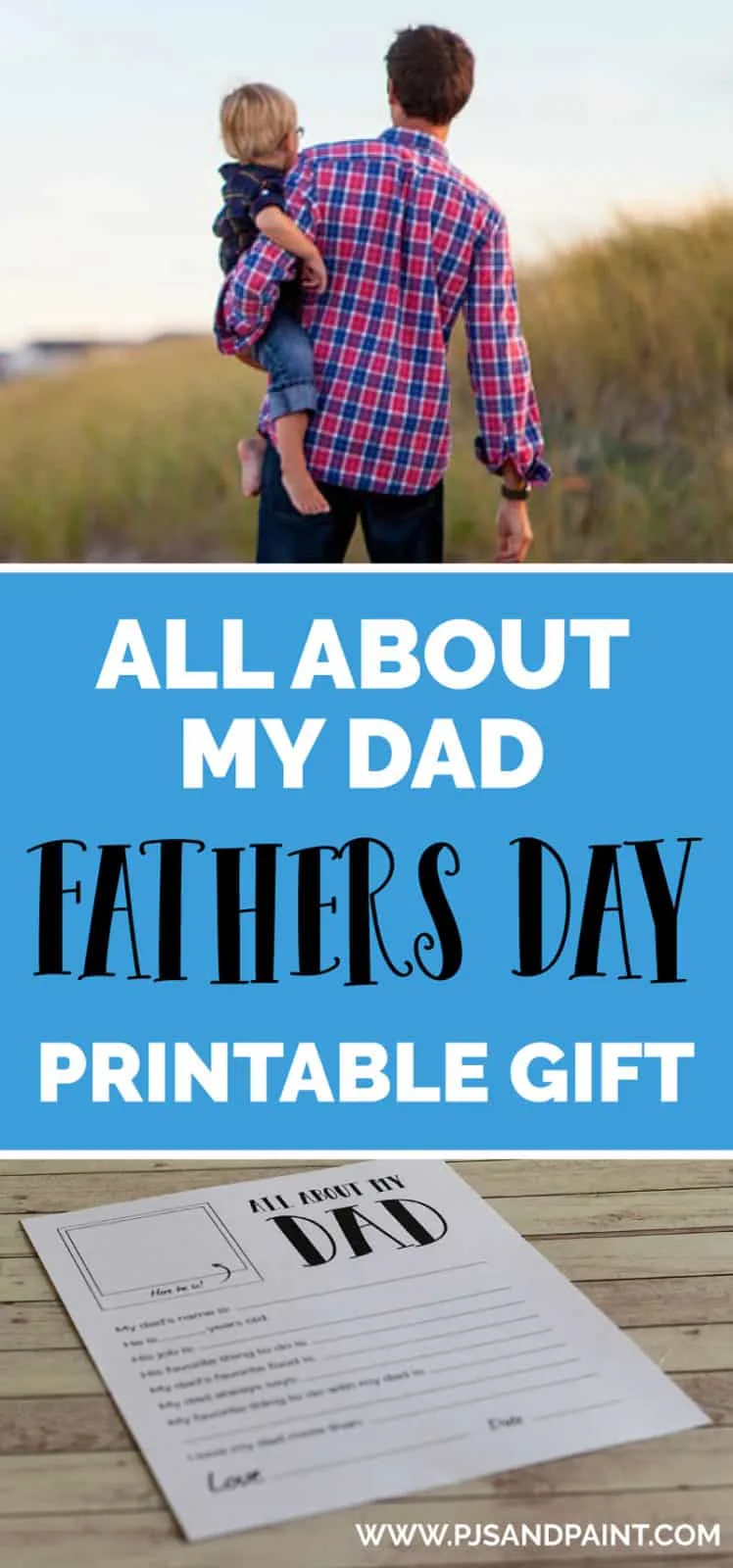 Download Link:
Download the free printable All about my Grandpa Father's Day questionnaire here.