This free printable birthday coupon book is a great way to give your loved ones a unique and personalized gift that they will be sure to love.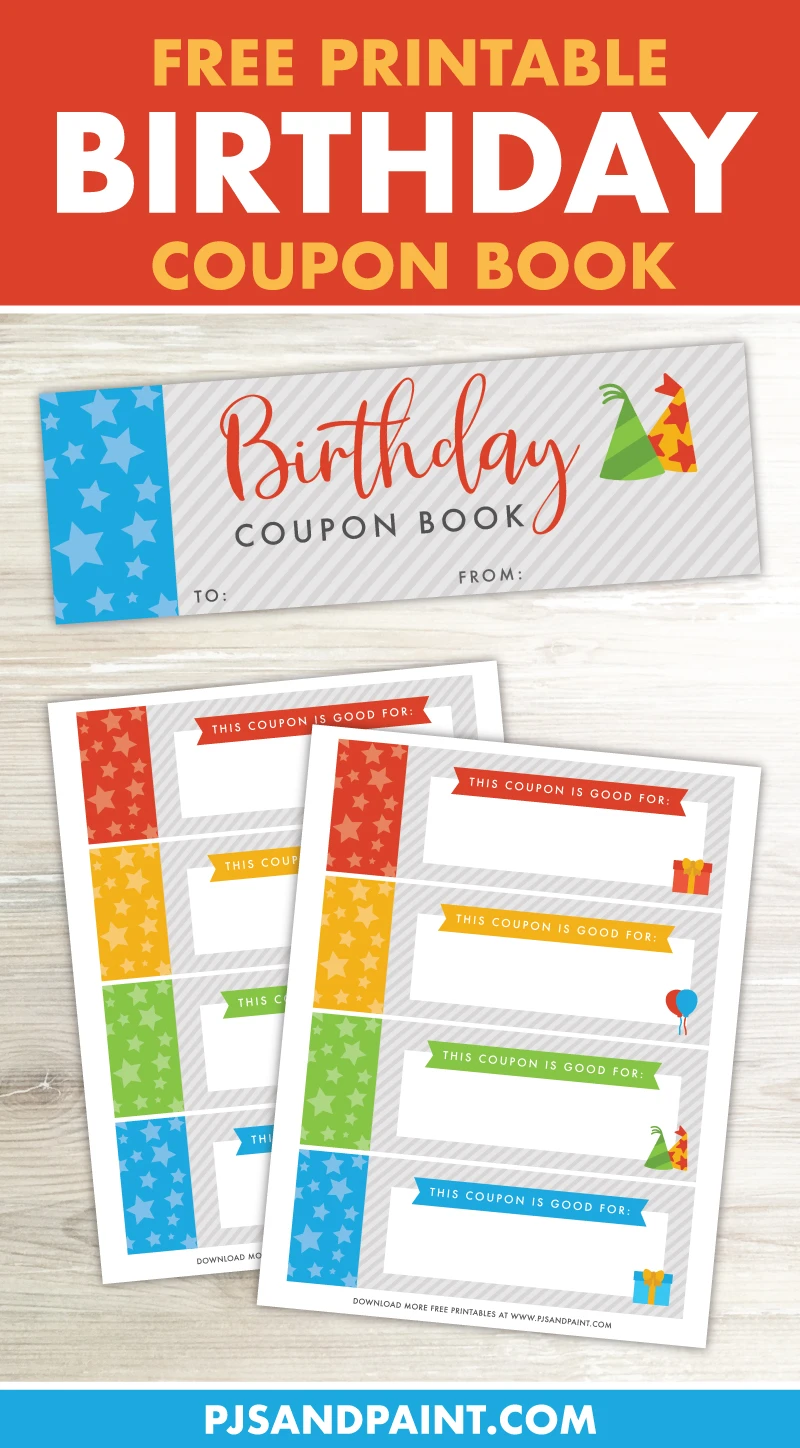 Disclaimer: This post contains Amazon affiliate links. This means that at no extra cost to you, I may earn a small commission if you decide to make a purchase. For more information, please read our affiliate disclosure.
This past year has been difficult for everyone to say the least! With special events being cancelled, group gatherings restricted, and limits on things to do and see, it was challenging to make sure birthdays felt special.
With so many restrictions still in place where I live, I have been trying to come up with a fun gift to give my kids and give them a sort of IOU to do all the fun things we would have liked to do this past year.
I have created this free printable birthday coupon book so that I could write down a bunch of different coupons to activities I know my kids will enjoy participating in once things open back up.
And hopefully, if you are reading this blog post in the future, everything has gone back to normal by now!
In any case, these coupon books are wonderful for creating a DIY gift for family and friends that is totally unique and personalized to them.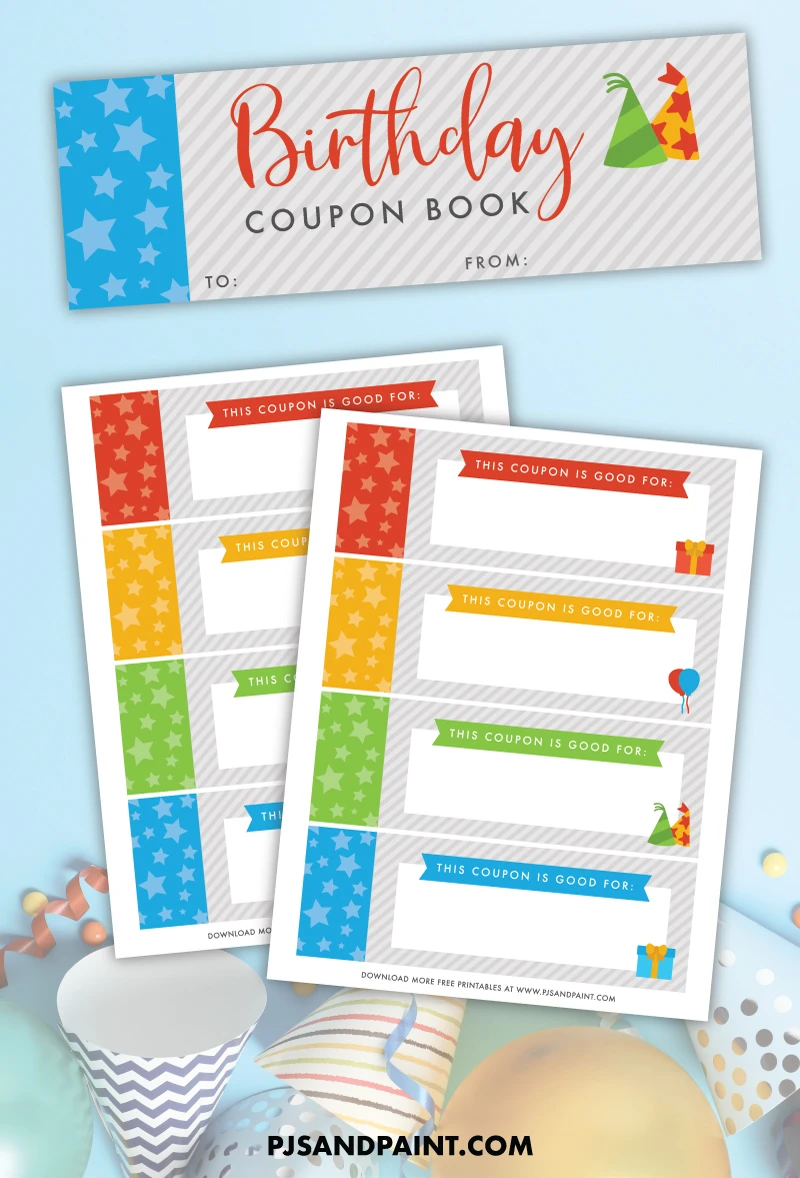 Download link is located at the bottom of this post.
What is a coupon book?
Each page of this printable book has a blank coupon for you to fill out with something that you will do for the recipient, or somewhere you will take them as a special treat. I have suggested a few fun examples of coupons you could include a little later on in this post.
Why are coupon books such great birthday presents?
They are unique and thoughtful.
Because you will be filling out each page of the book with all of your own ideas, you can really customize the coupon book to fit your family and friends' personalities very well.
You can put them together at the very last minute.
Maybe you forgot about an upcoming birthday, or maybe you were invited to a last minute get together and need to find a quick gift. In any event, this coupon book can be printed, filled out and put together in just a few short minutes. All while not looking like a last minute gift!
Coupon books are a great gift idea for when you need to stick to a budget.
Don't feel like you need to spend a ton of money or go over your budget just to give a meaningful gift to your friends or family members. Putting together this coupon book is a wonderful way to give something personal while not breaking the bank.
Sometimes the birthday boy or girl has enough stuff!
One of my son's birthday falls very close to Christmas. Because of this, he is usually bombarded with tons of toys in the wintertime. This year for his birthday, I was going to skip buying excess toys and give him a coupon book full of fun places we will be taking him!
Free Printable Birthday Coupon Book
This free printable is designed to be printed onto 8.5×11 inch pieces of paper or cardstock.
I would highly recommend printing out the first page (front and back cover) onto white cardstock to give it a heavier feel similar to an actual book.
All of the coupon pages will measure 7.5×2.5 inches once printed and trimmed.
Personally, I love using a
paper cutter
to trim these types of projects. They ensure that your cut lines are straight and that all of the pages line up perfectly. However, if you don't happen to have one on hand, a regular pair of scissors will work just fine!
Feel free to download and print as many copies of the coupon book as you would like. However, please do not edit or redistribute the files in any way. This coupon book was created for personal use only.
Materials needed to assemble one birthday coupon book:
Printable coupon book (Download link is located at the bottom of this post)
8.5×11 inch white cardstock and/or printer paper
Scissors or a paper cutter
Pens, pencils or markers
A stapler or a hole punch and string, ribbon or twine (this depends on how you would like to bind your book together)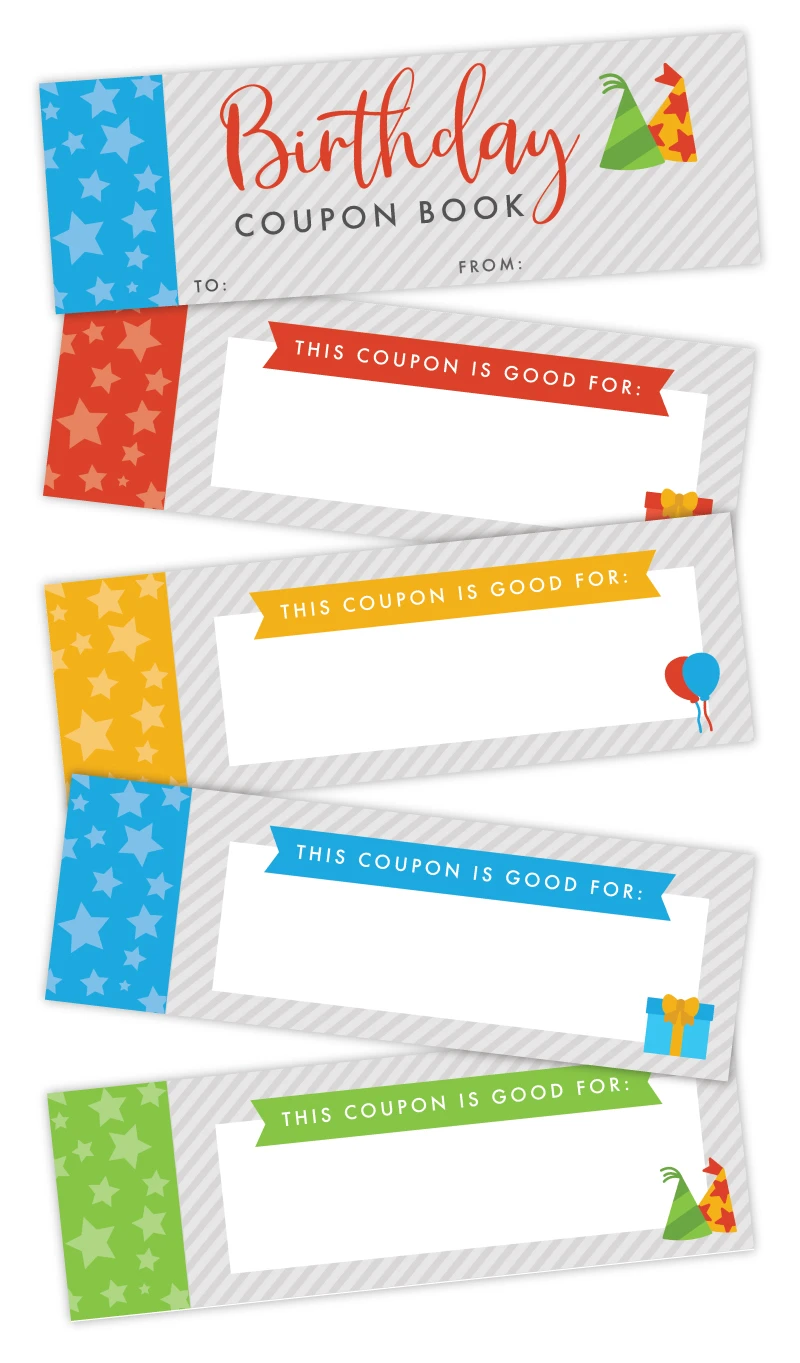 Download link is located at the bottom of this post.
How to assemble the coupon book:
First, download the pdf file that is located at the bottom of this post.
The pdf includes a front and back cover and three pages of 4 blank coupons for a total of 12 coupons. If you would like to add more coupons, feel free to print more of the blank coupon pages.
Next, print out the coupon book and then cut all of the pages out.
Write down what each coupon will be good for. I have some suggestions of ideas below if you need some help!
Once all of the coupons have been filled out, stack everything together with the front cover on top and the back cover at the bottom.
You can now use a stapler to staple one edge of the book together.
Another option would be to use a hole punch to punch holes into the sides of the book. You can then tie string or ribbon though the holes to hold the book together.
Here are a few birthday coupon ideas:
These ideas are geared toward children but the coupon book is great for both kids and adults!
Feel free to use some of these suggestions or create your own!
A trip to get ice cream
A trip to the park
Alone time with mommy or daddy
Getting out of chores for one day
Being allowed to stay up past bedtime
A trip to the amusement park
Having dessert before dinner
Download Link: