If you're in need of some fast, easy Christmas gift packaging that still looks professional, you'll definitely want to take a look at these free printable Christmas pillow boxes. I've created 3 easy to put together pillow box designs that would be great for wrapping any small gift or gift card.
I can't believe Thanksgiving is already less than two weeks away. This year just seemed to fly by! And while Thanksgiving hasn't even passed yet, all of the stores are already in full blown Christmas mode.
I feel like just last week the aisles were lined with pumpkins, bats and spider webs. They pretty much skipped over the Thanksgiving decor and the stores are all now full of Christmas trees, string lights and wreaths. This has got me to seriously starting thinking about everyone on my shopping list this year. Between family and friends, I have a lot of gifts I need to buy or make. And it doesn't stop there! I then have to think about how to wrap everything.
When I was younger I never understood the point of wrapping gifts. I thought that since the wrapping paper was just going to get thrown out anyway, what was the point? But now, I can completely understand and appreciate the point of beautiful gift wrap. For many things, presentation is key, and Christmas gifts are no exception.
Sometimes, you are giving a gift that is on the smaller side, and that can be hard to figure out how to wrap. Instead of sticking something like a gift card in an envelope, I love to use pillow boxes. They are super simple to put together and really make your gift wrap look intentional and thought out.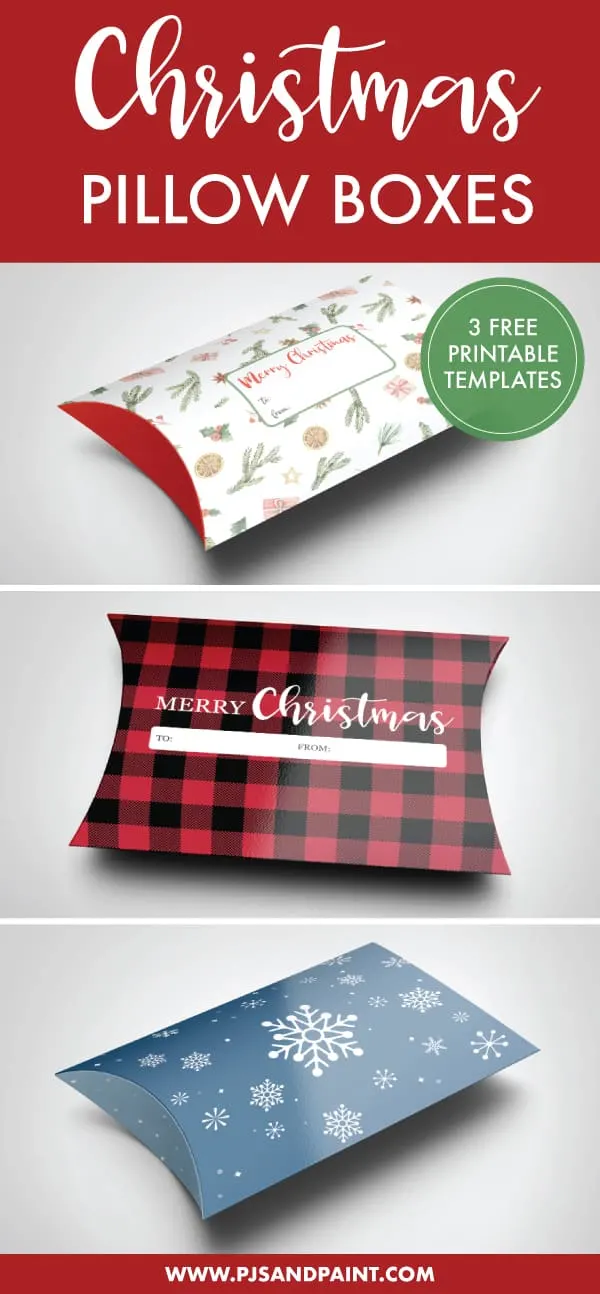 Disclaimer: As an Amazon Influencer, I earn from qualifying purchases. This means that at no additional cost to you, I may earn a small commission if you decide to make a purchase. For more information, please feel free to read the affiliate disclosure on our privacy policy page.
Today, I wanted to share with you three free printable Christmas pillow boxes that are totally free for you to download and print today. Which is especially great for those last minute gifts that you don't want to look like they were a last minute thought!
Free Printable Christmas Pillow Boxes
Each pillow box is designed to print on an 8.5×11 inch piece of cardstock. It is important that you use cardstock instead of regular paper because you need the box to be thicker so that it can properly hold its shape. You can then cut out the template using scissors or an xacto knife. (If you don't want to use one of the designs I have created, you can scroll down to the bottom of this post and download the blank template instead. Keep reading to find out how to use your own scrapbooking paper to create a custom decorative pillow box.)
Once assembled, each box will measure approximately 3×4 inches and have a depth of about 1 inch. To learn how to assemble the pillow box, follow the instructions below.
Feel free to print as many pillow boxes as you would like. However, please do not edit or redistribute the files in any way. These boxes are for personal use only.
Supplies needed:
Free printable pillow box tempalte
Scissors or an xacto knife
Optional: Small stickers or a piece of tape
How to assemble a pillow box:
You would be surprised at how easy these gorgeous boxes are to put together. No one will know that you made them yourself and that they aren't store bought.
First, print out your favorite Christmas pillow box template from the links below and cut out using scissors or an xacto knife.
Score along the dotted lines. For the curved edges, you can use a bowl or a large cup as a guide if needed.
Fold the side tab in and glue to the other side. Gently press the sides together to form a tube.
Fill the box with your small gifts or a gift card.
Fold in the top and bottom flaps of the pillow box to seal it. If you would like you can also add a small sticker or piece of tape to the flaps to ensure that they stay closed.
And it's really that simple! Now you don't have to stress about how to wrap tiny gifts or how to make a gift card seem a bit more personalized.
Merry Christmas Pillow Box
This pillow box features a festive pattern with gifts, stars, tree branches and berries. It has a pop of color on the sides and would be perfect to hold a gift card or any other small item you are planning on gifting this holiday season. It also includes a spot to write who the present is to and from.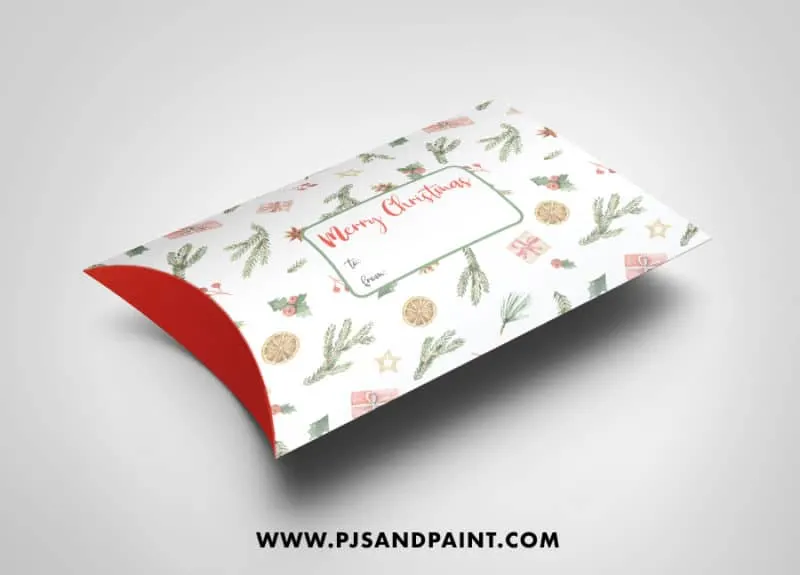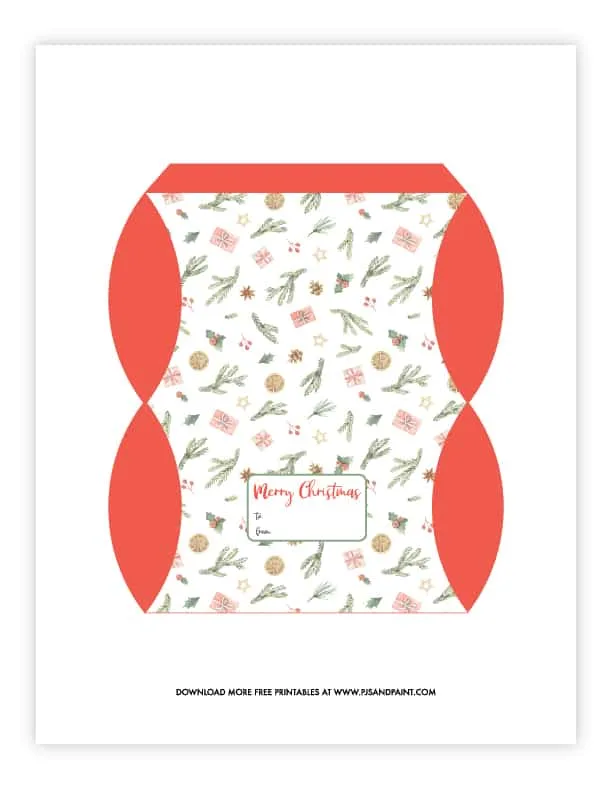 Buffalo Plaid Pillow Box
Definitely my favorite of the bunch. This buffalo plaid pillow box screams Christmas! It features a beautiful font paring on top of the plaid, along with spaces to write who the recipient and gift giver is. I know I will most definitely be printing out a bunch of these for some people on my Christmas list this year.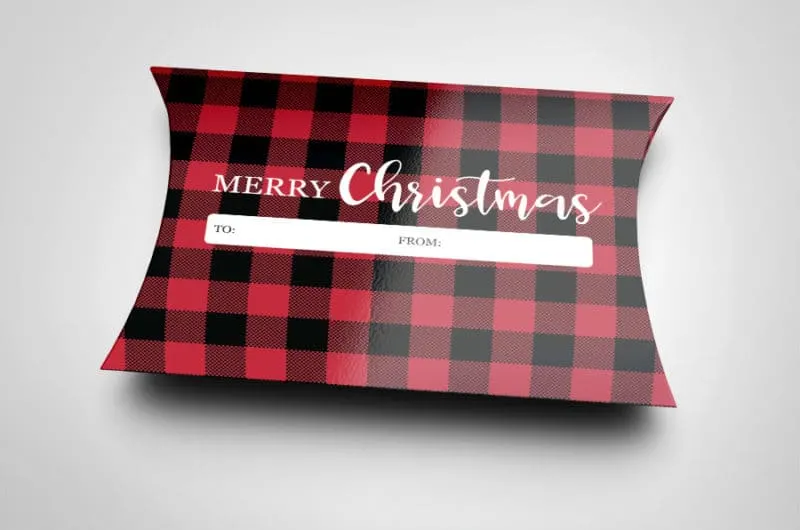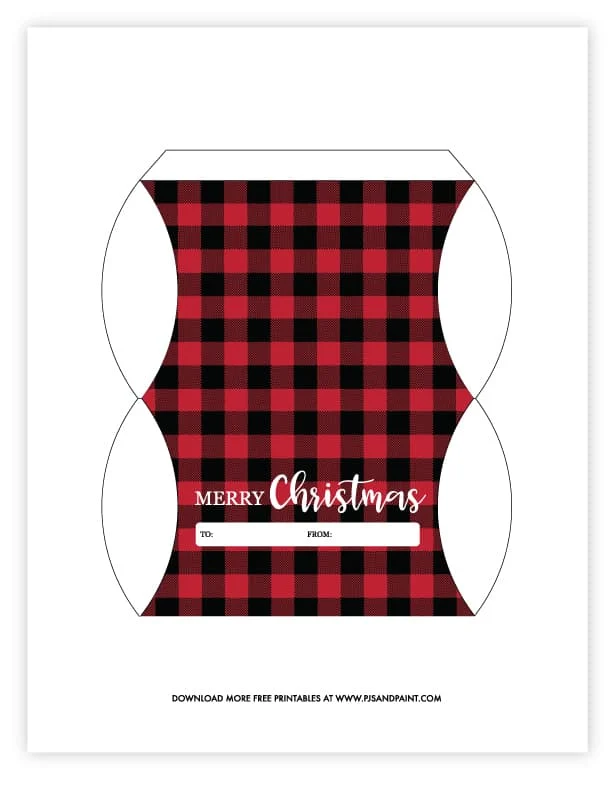 Snowflake Pillow Box
Whether you don't celebrate Christmas or just want to give a non holiday related gift, this snowflake pillow box is the perfect solution. You can either use the box as is, or add your own label on top.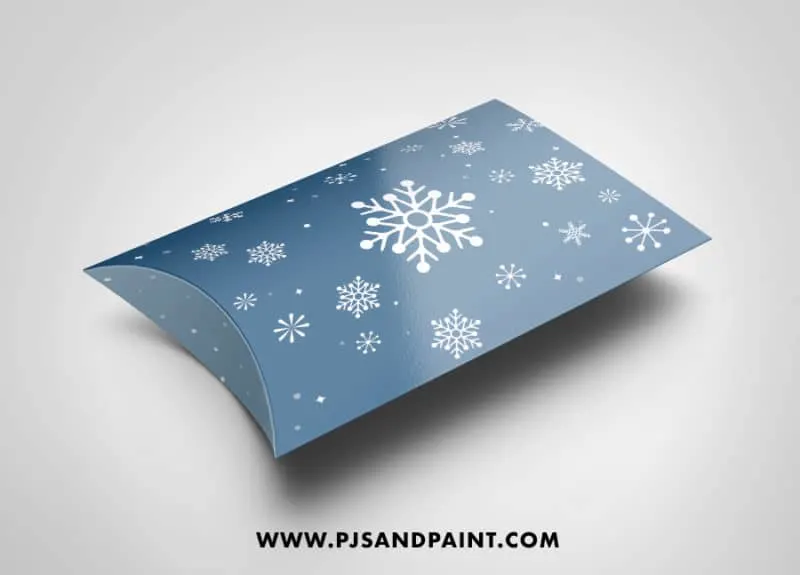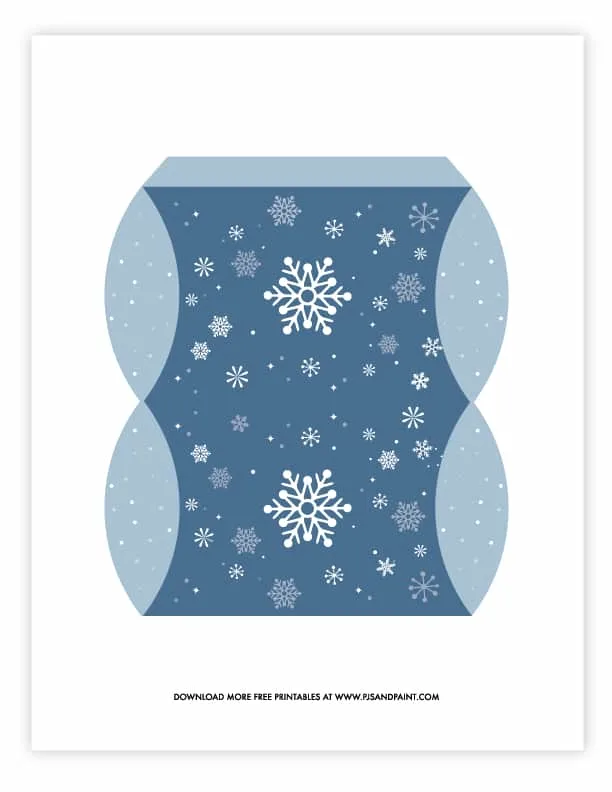 Create your own design!
In case you would like to create your own pillow box design, I've created a blank template for you to use. If you're creating a re usable template, simply print the template out on cardstock and trace onto whatever type of paper you will be using. However, I would recommend that you use some type of fun patterned or colored cardstock instead of regular scrapbook paper. The weight and thickness of the cardstock allows the pillow box to properly keep its shape.