This free printable graduation scattergories game is perfect for entertaining guests at a graduation party this year.

Disclaimer: This post may contain Amazon affiliate links. This means that at no additional cost to you, I may earn a small commission if you decide to make a purchase. For more information, please feel free to read our affiliate disclosure on our privacy policy page.
How do you play Graduation Scattergories?
There are a couple of different ways that you can play the game. If you are playing with a larger group of people, such as in a classroom setting, you may wish to set a timer for 3-5 minutes before handing out the game page.
Note: you can also play the game on your own as well. It is just as fun of an activity!
At the top of the page you will see eight different categories.
Movie
Food
College
Animal
Sport
Career
School Subject
School Supply
The goal is to come up with a word for each of the eight categories that begins with each letter of the word GRAD.
Here are a couple of examples:
Let's take category 2, "food." For G you could say "grapes," for O you could say "raspberries."
Continue on with the rest of the letters and categories and until you fill in all of the blank spaces. Write down as many of the answers as you can before time is up. If you get stuck on a particular category, you can skip over it and come back to it later if you have enough time at the end.
Once time runs out, go around the room and compare your answers with all of the other players. If there is a person that has the same answer that you do, both people must cross that word off of their list.
The player that has the most unique answers at the end of the game, wins!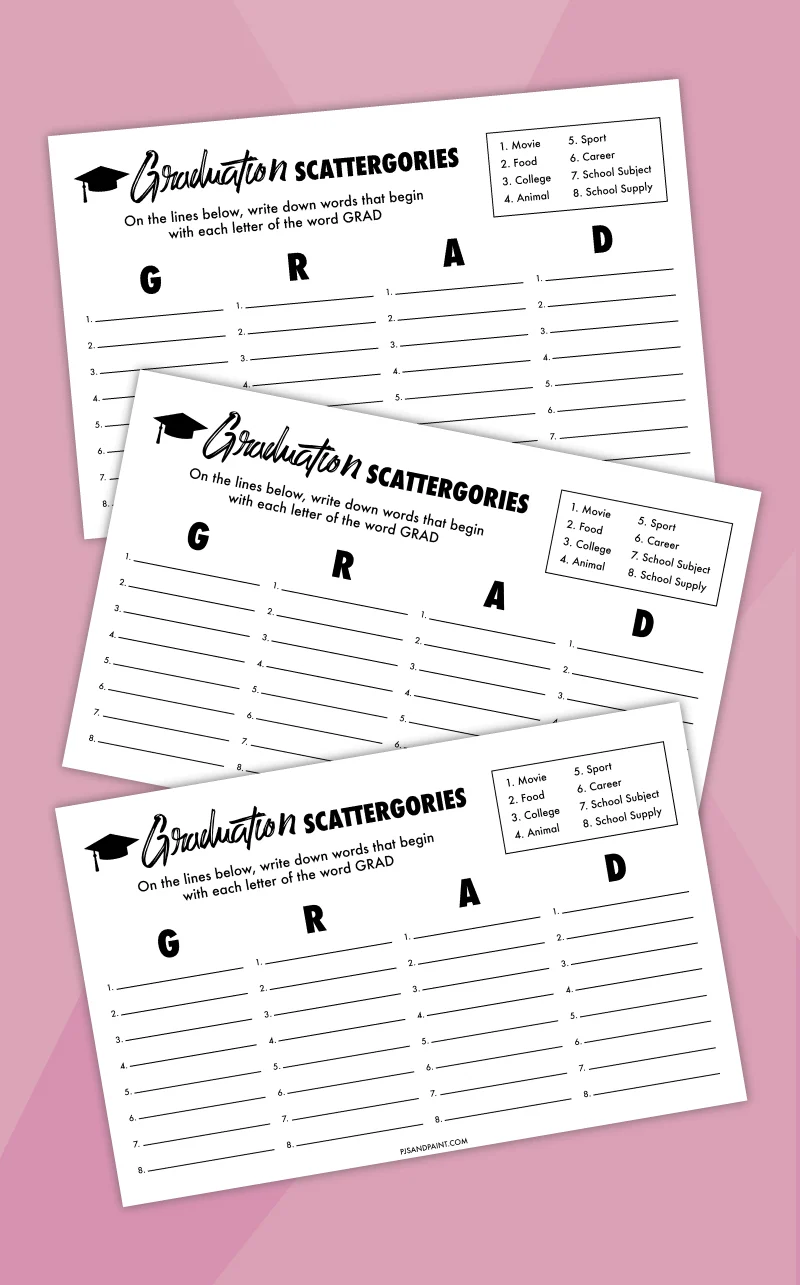 Free Printable Graduation Scattergories Game
This game is designed to be printed onto a standard 8.5×11 inch piece of paper or cardstock. Two games will print per page.
After printing, simply cut the two games apart using scissors or a paper cutter. This is the paper cutter that I currently have on my work desk and I definitely can recommend it.

If you enjoyed this post, you might also like to take a look at some of our other free graduation printables below:
Free Printable Wishes and Advice for the Graduate Cards
Write down your well wishes and advice for the new graduate on these free printable cards. Four cards will print per page.
How many words can you make out of Graduation – free printable game
In this fun activity, you will have to see how many different words you can make using only the letters found in graduation. Hint: There are 419 words!
Free Printable Graduation Word Search
In this game, you will be searching for fifteen graduation and school themed words. Words can be found horizontally, vertically, diagonally, forwards and backwards.
Free Printable Graduation Word Scramble
Have fun trying to unscramble these twelve graduation and education themed words in this word scramble game.
How well do you know the graduate – free printable game
This is a fun activity where party guests have to answer questions about the graduate. Whichever player gets the most points, wins!

Download Link:
Download the free printable graduation scattergories game.