All of your party guests will have a great time playing this super fun free printable Mother's Day scattergories game.
I have such fond memories of playing scattergories when I was a kid. My friends and I would take out the game during playdates or sleepovers and have a ton of fun coming up with words for categories and then comparing our answers with one another.
Now that I have kids myself, I'm excited to share with them the fun of playing scattergories. Today, I have created this fun free printable Mother's Day scattergories game that you can play at your family party or classroom this Spring.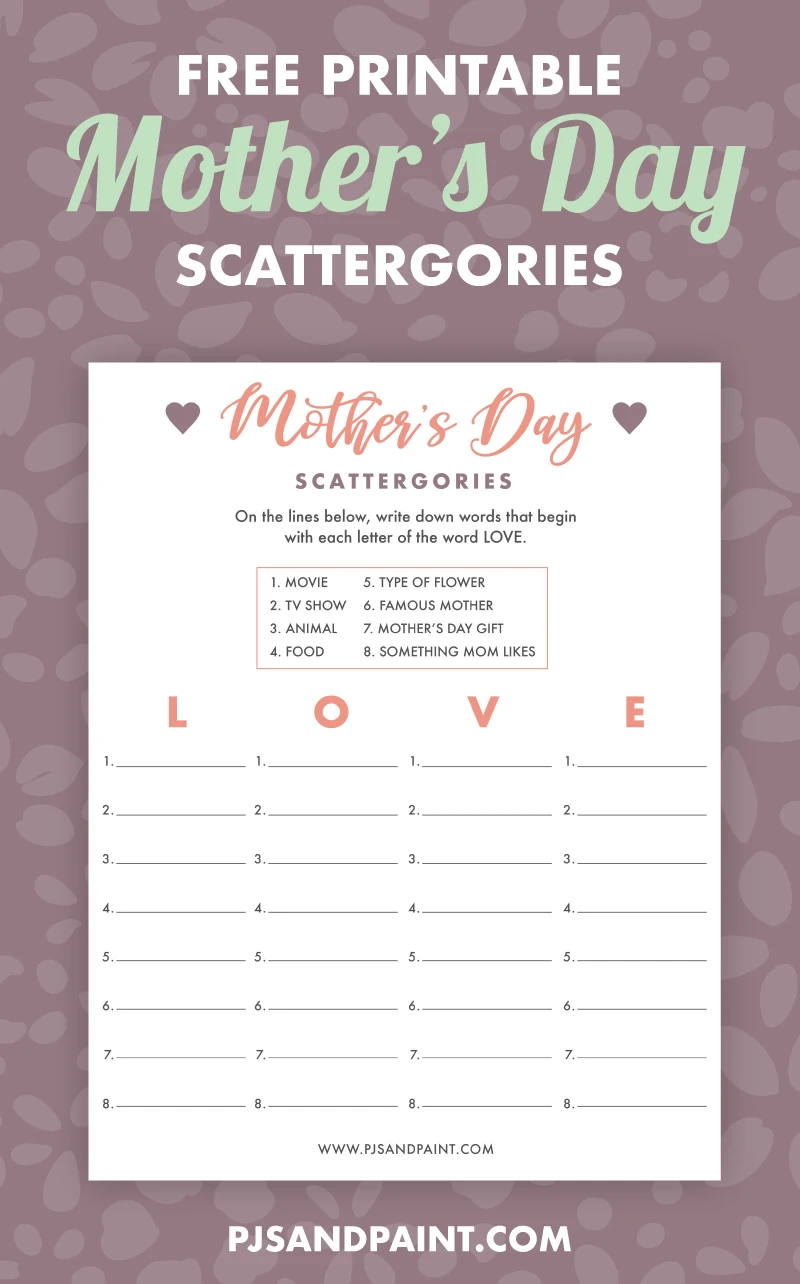 Disclaimer: This post may contain Amazon affiliate links. This means that at no additional cost to you, I may earn a small commission if you decide to make a purchase. For more information, please feel free to read our affiliate disclosure.
How do you play scattergories?
There are a few different ways you can play. If you are playing in a classroom setting or with a larger group of family and friends, you may wish to set a timer for 3-5 minutes prior to giving everyone their scattergories game page.
However, you can also play it on your own as well!
At the top of the page you will see eight different Mother's Day themed categories. What you have to do is come up with a word for each category that begins with each letter of the word LOVE.
Here are a few examples:
Let's take category 3, "animal." For L you could say "lion," for O you could say "ostrich."
Continue on with the rest of the letter and categories and until you fill in all of the blanks. Write down as many answers as you can before the time runs out. If you happen to get stuck on a certain category, you can skip it and come back to it later if you have enough time.
After the timer runs out, go around the room and compare your answers with all of the other players. If there is a player that has the same answer as you do, both of you must cross that word off of your list.
Whichever player has the most unique answers at the end of the game, is the winner!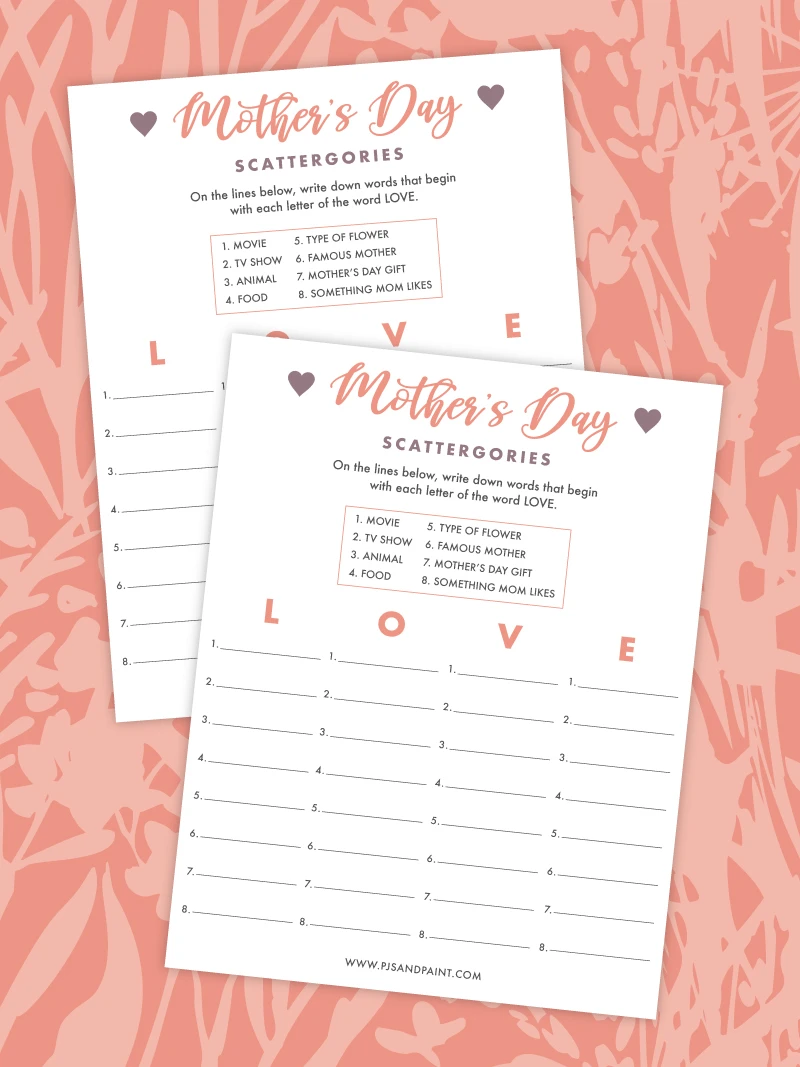 Free Printable Mother's Day Scattergories Game
This scattergories game was designed to be printed onto 8.5×11 inch piece of printer paper or cardstock. One game will print per page.
Feel free to download and print as many copies of the scattergories game as you would like. However, please do not edit or redistribute the files in any way. This game was created for personal or classroom use only.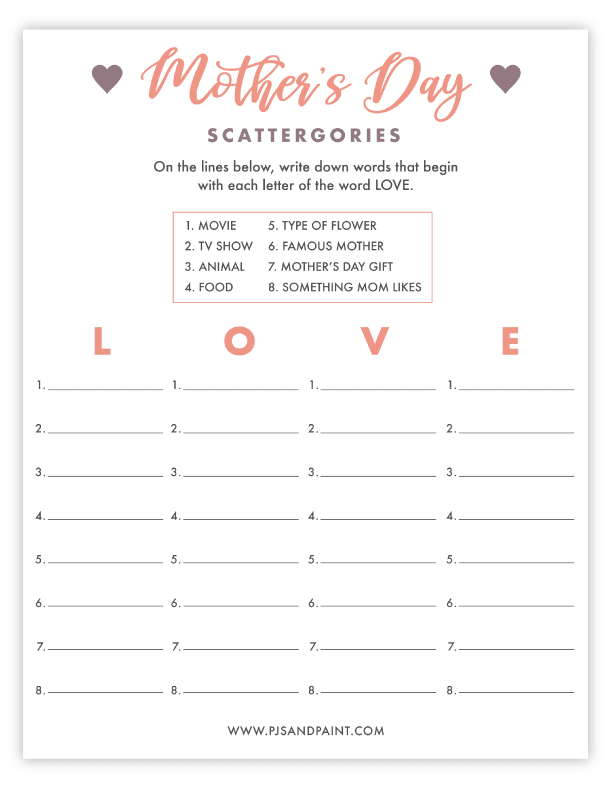 If you enjoyed this post, you might also like to check out some of our other matching fun free Mother's Day games and activities below:
Free printable Mother's Day word search
Here, you will be searching for fifteen Mother's Day themed words in this fun puzzle great for kids and adults of all ages.
Free printable Mother's Day maze
Work your way through the maze to reach the pink flower in the center. A get activity for kids to work on in the classroom or at home.
Free printable how many words can you make from Mother's Day activity
See how many different words you can come up with using only the letters found in "Mother's Day." Hint, there are over 800 words you can make!
Free printable Mother's Day word scramble
In this game, you will be trying to unscramble fifteen holiday themed words. This activity is perfect for home or in the classroom.
Download Link:
Download the Mother's Day Scattergories.