Celebrate dad with this fun free Father's Day word scramble game. Featuring fifteen holiday themed words to unscramble, this game is great for both kids and adults.

Disclaimer: This post may contain Amazon affiliate links. This means that at no additional cost to you, I may earn a small commission if you decide to make a purchase. For more information, please feel free to read our affiliate disclosure.
How do you play word scramble?
All you have to do is look at the grouping of letters and try and unscramble them to form a word. Each word in this activity will be related to dads or Father's day in some way. There is an answer key at the bottom of this post if you get stumped!
How to make the word scramble game reusable:
If you are playing this game with a larger group of people or in a classroom, you may wish to save some paper and make the game reusable. One way to do this is to use a home lamination machine and laminate the games and then use a dry erase marker to solve the word scramble puzzle.
If you don't have access to a lamination machine, these dry erase pockets are also a great alternative. Simply place the game inside the pocket and then use dry erase markers to complete the activity.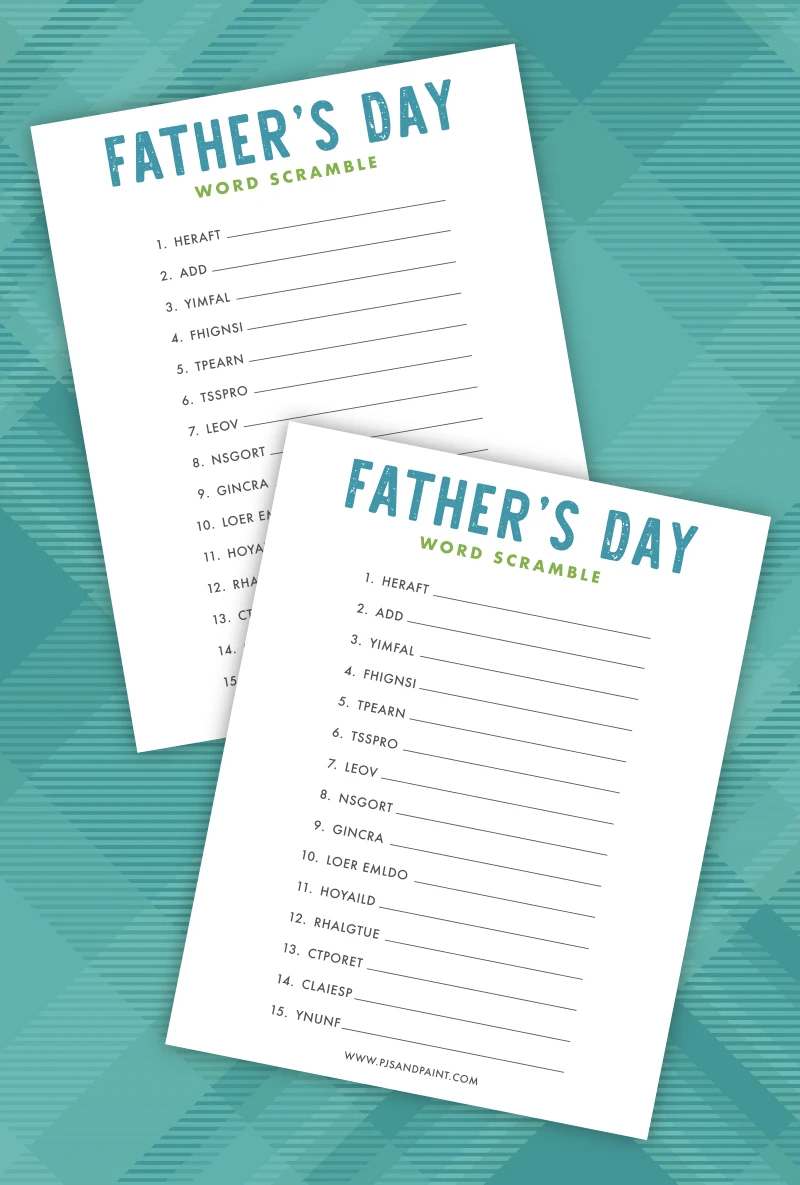 Free Printable Father's Day Word Scramble
This game is designed to be printed onto a standard 8.5×11 inch piece of white paper or cardstock. One game will print per page.
Please feel free to download and print as many copies of the game as you would like. However, please do not edit or redistribute this activity in any way. This word scramble game was created for personal or classroom use only.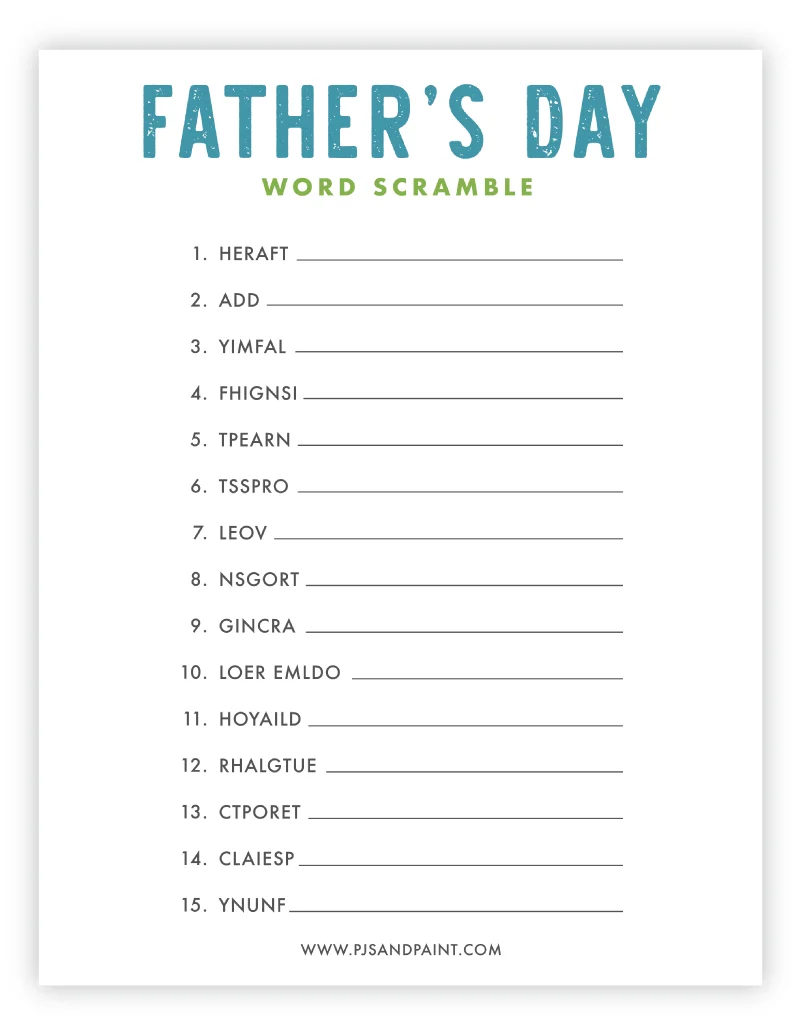 If you enjoyed this post, you might also like to check out some of our other fun free Father's Day games below:
How many words can you make out of Father's Day activity – Free Printable
This is a game where you have to try and come up with as many words as you can using only the letters found in Father's Day.
Free Printable Father's Day Maze
In this game, you will be working your way through the maze to reach the present in the center. A great activity for kids of all ages.
Free Printable Father's Day Word Search
In this activity, you will be searching for fifteen holiday themed words in this fun word search game. Words can be found horizontally, vertically, and diagonally.
Free Printable Father's Day Scattergories Game
In this fun game, you will have to try and come up with answers for each of the eight categories that begin with each letter of the word BEST. Once completed, compare your answers with friends and family. Whichever player has the most unique words, is the winner!

Download Link:
Download the Father's Day word scramble.
Word scramble answer key:
1. Father
2. Dad
3. Family
4. Fishing
5. Parent
6. Sports
7. Love
8. Strong
9. Caring
10. Role Model
11. Holiday
12. Laughter
13. Protect
14. Special
15. Funny