This free printable Mother's Day word search is the perfect activity to play during your Mother's Day celebration this year. The game is great for both kids and adults alike.
With Mother's Day right around the corner, you might be trying to think of some fun festive ways to celebrate with your family. Today, I am excited to share with you this free printable Mother's Day word search game.
Perfect for at home, classrooms or family parties. With a variety of words to find, this is a great game for all ages.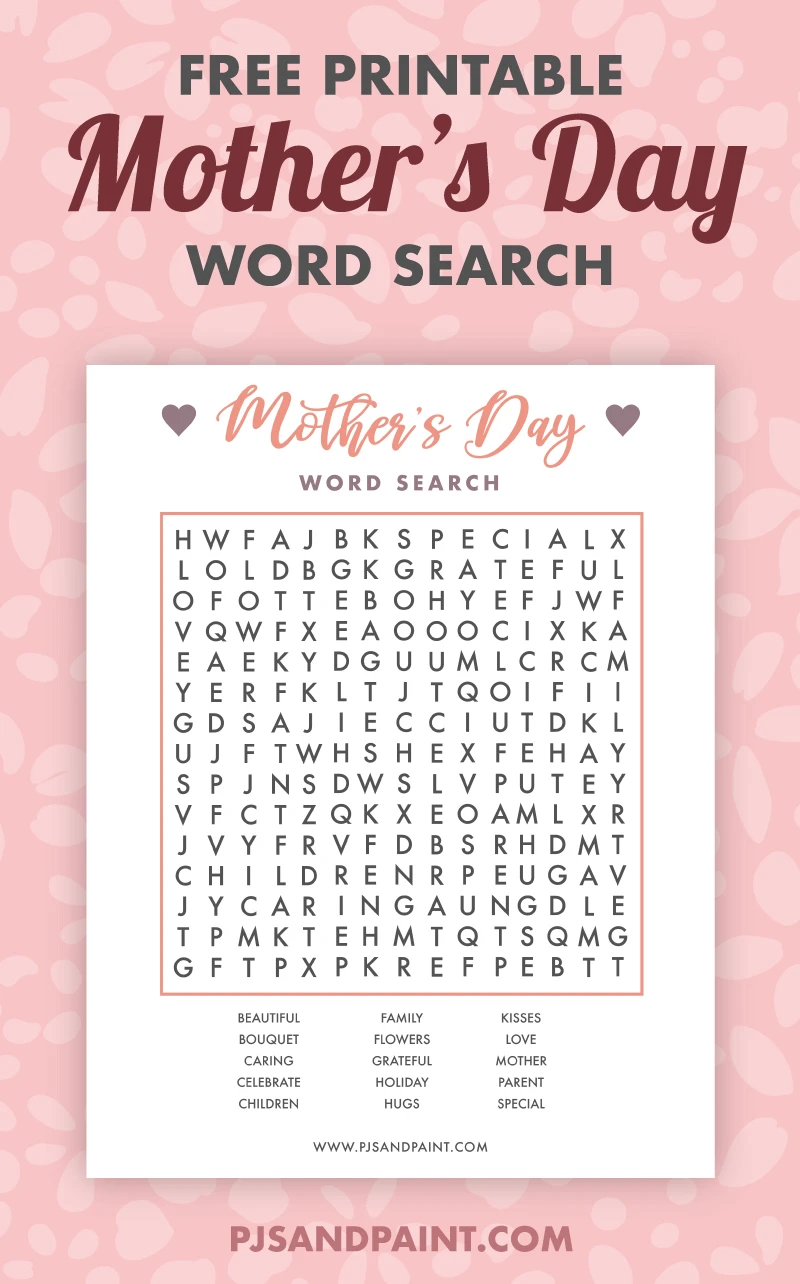 Disclaimer: This post contains Amazon affiliate links. This means that at no additional cost to you, I may earn a small commission fi you decide to make a purchase. For more information, please feel free to read our affiliate disclosure.
In this activity, you will be searching for the following fifteen Mother's Day themed words below:
Beautiful
Bouquet
Caring
Celebrate
Children
Family
Flowers
Grateful
Holiday
Hugs
Kisses
Love
Mother
Parent
Special
The words may be found horizontally, vertically or diagonally.
How to make the word search game reusable.
If you are playing this game with a large group of people you may wish to make the word search reusable.
Simply print out the activity onto white cardstock and then laminate the page with a home lamination machine. You can then use dry erase markers to find the words. When you're done, wipe off the dry erase marker and reuse again and again!
Alternatively, if you don't have a lamination machine you could also use these super cool dry erase pockets.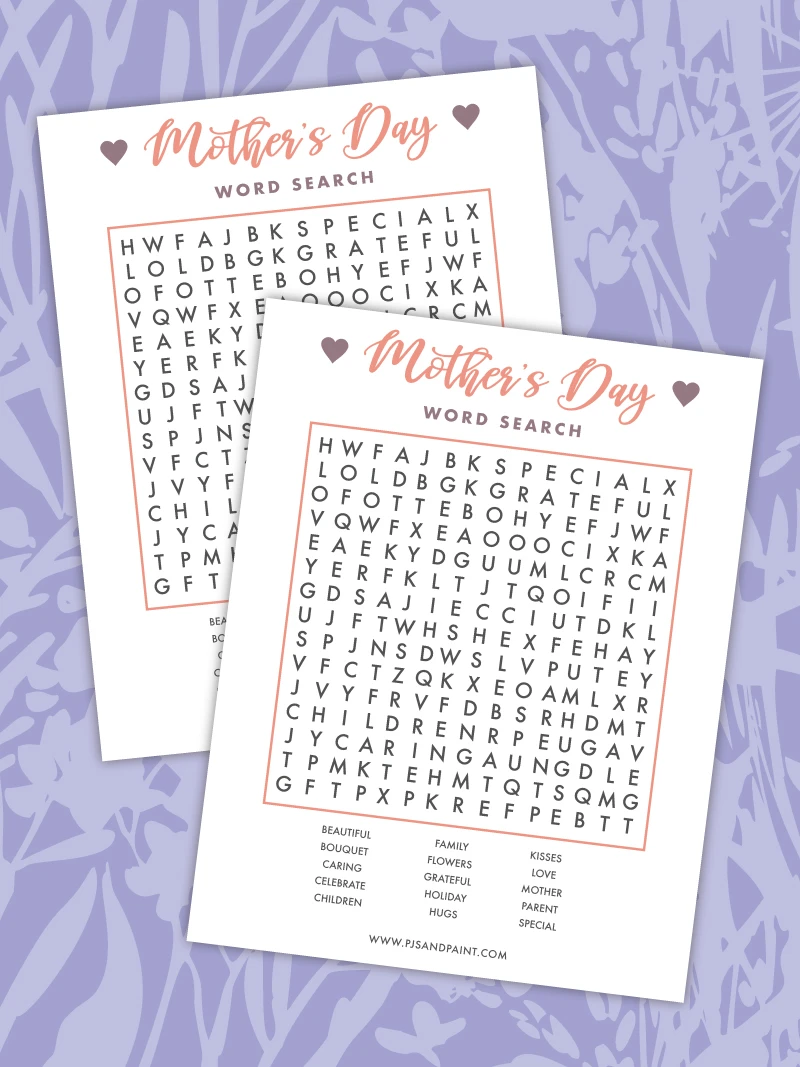 Free Printable Mother's Day Word Search
This game was designed to be printed onto a standard piece of 8.5×11 inch piece of white paper or cardstock. One game will print per page.
Please feel free to download and print as many copies of the Mother's Day word search as you would like. However, please do not edit or redistribute the files in any way. This activity was created for personal or classroom use only.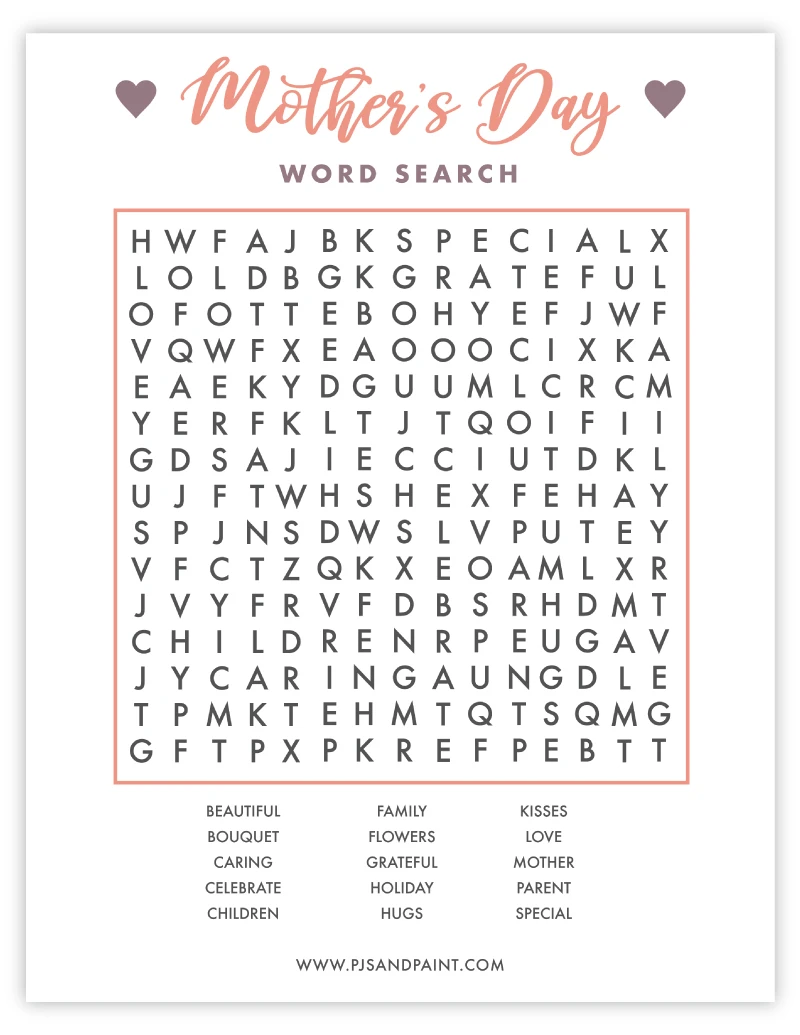 If you enjoyed this post, you might also like to check out some of our other fun free Mother's Day activities below:
Free Printable Mother's Day Word Scramble
In this game you will be working to unscramble fifteen Mother's Day themed words.
Free Printable Mother's Day Scattergories
Here, you will have to try and come up with words that begin with the first letter of the word LOVE. 8 Categories are included in this activity.
Free Printable Mother's Day Maze
Work your way through this maze to reach the pink flower in the center.
How many words can you make out of Mother's day – Free printable game
In this game, you will have to try and make as many words as you can using only the words found in the word "Mother's Day."
Free Printable all about mom activity
This activity would make a great gift for mom. Ask your kids to fill out this questionnaire and it will most definitely be a treasure kept to look back on for years to come.
Download Link:
Download the Mother's Day Word Search.