Whether it is their first time around or their 7th, every mom to a new baby deserves some extra help! This free printable new mom coupon book is a great way to show the new mom in your life that you are there to assist in any way they need.
One of my closest friends is pregnant with her second child. Actually, he is due to arrive just about any day now!
I had a hard time trying to figure out a gift to buy for her and her husband. They are able to reuse basically all of the baby essentials that they already have from their daughter, and it didn't feel personal enough to just bring over some diapers or wipes.
That's when I thought about the things that I wanted when my own son was first born. Diapers and wipes were definitely the last thing on my list! In fact, material things weren't what I wanted at all.
I found that most of the time someone wanted to visit, they just wanted to hold my son. They might say, "you go do what you need to do while I play with him!" And while I completely understand that they are excited to bond with a new baby, I feel like sometimes people forget that just offering to get some household tasks off the new mom's to do list, can go a really, really long way.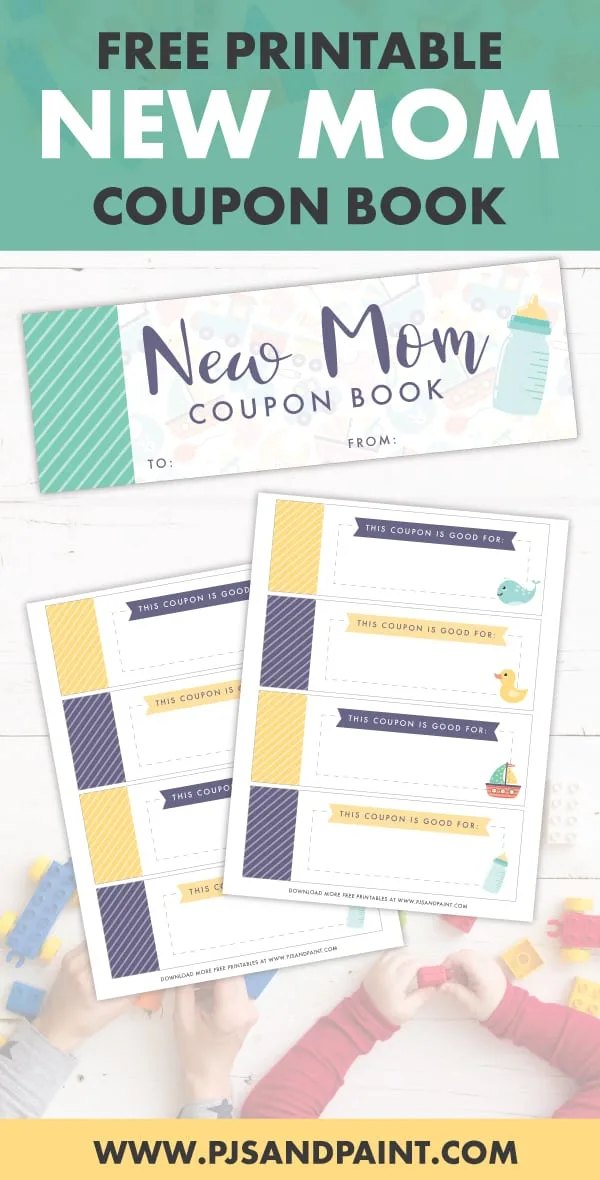 Disclaimer: This post contains Amazon affiliate links. This means that at no extra cost to you, I may earn a small commission if you decide to make a purchase.
Thinking back to the exhaustion of the newborn days, all I really wanted was some help doing boring things like laundry or dishes. I also would have loved someone to sit with me during those long nighttime feeding sessions while my husband was working an overnight shift.
At the same time, I would have felt so guilty asking a friend or family member to come over just to fold my laundry, to wash the kitchen floor, or to stay up all night and keep me company.
And so I decided to create this free printable new mom coupon book that you can fill with tons of things that you can offer to do to make things just a little bit easier, while your friend or family member adjusts to having a brand new little one at home.
Hopefully, if they are anything like me, they won't feel as guilty handing you a coupon as they would simply asking for some much needed help around the house.
What is a new mom coupon book?
Coupon books make great DIY gifts that can be totally personalized to fit whoever you are giving it to. Each page of the printable book has a blank coupon to fill out with something that you are willing to do for the new mom, to make her life just a little bit easier!
Here's an example. I know this is going to sound super silly, but sometimes it's really the small things that go a long way.
As the garbage cans fill up in our house, we usually take them out to the outdoor trash cans right away. Since my husband works overnights pretty regularly, he would usually take the cans out to the street before he went to work. But then the garbage truck would come, and the empty cans would just sit there… and sit there and sit there.
My son was born in the winter and so the weather was very cold and snowy. I didn't feel comfortable leaving him in the house alone while I ran out to take in the garbage cans, but also didn't want him to freeze if I took him out there with me. Not to mention it's hard to do much with your hands while you're holding a tiny baby!
I always felt so guilty asking anyone that came to visit to drag my garbage cans back down my driveway for me. But at the same time, it really bothered me to leave them out there on the street for a day or so. Long story short, I would have loved to have a coupon to redeem for someone to drag them in for me!
Again I know that it probably seems like such a silly dilemma, but I'll blame some of that on the complete lack of sleep during that time!
What make coupon books such a great baby shower gift idea?
They are personal and thoughtful.
Since you have the ability to fill out each page of the coupon book with all of your own ideas, (don't worry, I have a bunch of suggestions for you down below!) you can customize the gift to fit your loved ones very well. It will show the new mom in your life that you put a lot of thought into the gift as opposed to just buying a pack of diapers. (But don't get me wrong, diapers and wipes are always very much appreciated!)
Coupon books can be put together quickly at the last minute
Maybe the baby came early and you didn't have time to pick up a gift before heading over to the hospital or their home. This coupon book can be printed, filled out and put together in just a matter of minutes. All while still being a very thoughtful gift!
Coupon books are a great idea when you need to stick to a budget.
Baby items can get really expensive and things seem to add up so quickly. However, there is no need to feel like you need to totally go over your budget when picking out a meaningful gift for your friends and family. Giving the new mommy a homemade coupon book is an excellent way to give something personal and thoughtful, all while not breaking the bank.
Free Printable New Mom Coupon Book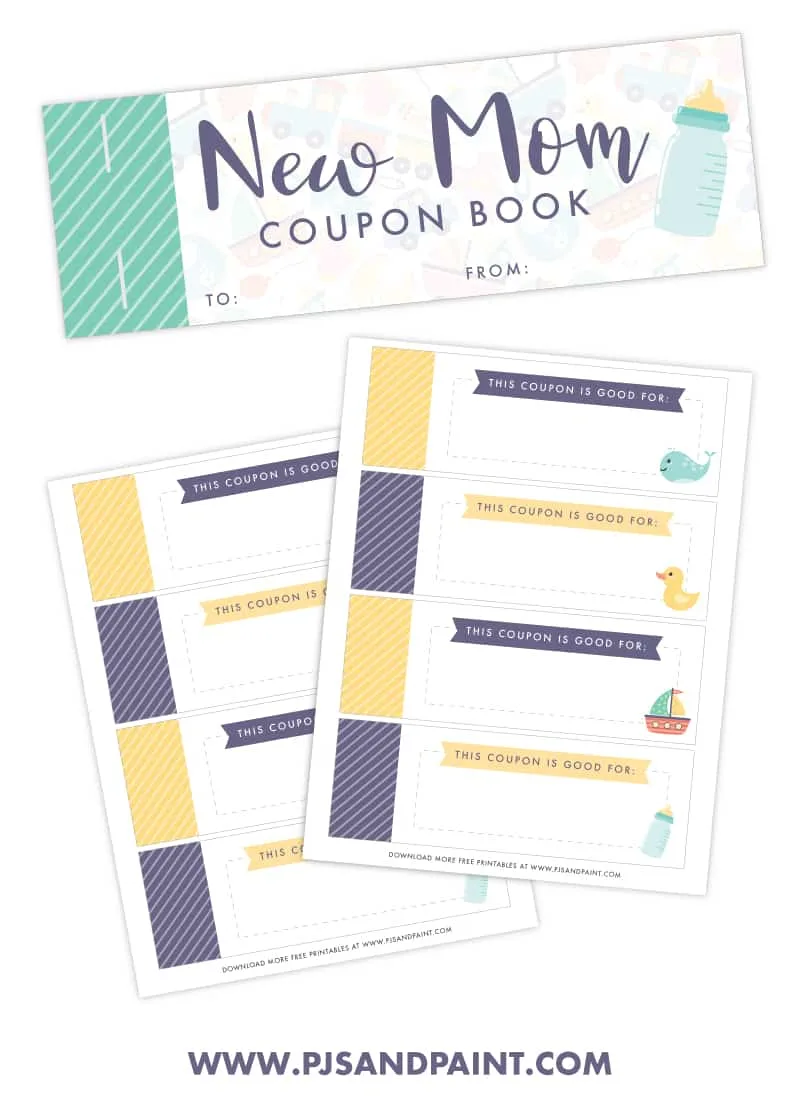 This free printable new mom coupon book is designed to print on standard 8.5×11 inch pieces of paper or yardstick. For the very best quality I would definitely recommend printing out at least the front and back cover onto white cardstock.
All pages of the coupon book will measure 7.5×2.5 inches when trimmed. To make sure that your cut lines are as straight as possible and that all of the pages of your book line up correctly, I would recommend using a paper cutter if you happen to have one. This is the paper cutter that I currently have at my desk and I can definitely recommend it.
Please feel free to download and print as many copies of the coupon book as you would like. However, please do not edit or redistribute the files in any way. This coupon book was is for personal use only.
Supplies needed to assemble the new mom coupon book:
Printable coupon book (Download link is available at the bottom of this post)
8.5×11 inch white cardstock or regular printer paper.
Scissors or a paper cutter
Pencils, pens, or makers
Stapler or a hole punch and string, ribbon or twine (depending on which method you would like to use to put together your book)
How to assemble the coupon book:
The first thing you'll need to do is download the coupon book pdf file from the download link at the bottom of this post.
The pdf will include a front cover, back cover and 3 pages of 4 blank coupons. If you would like to include more than 12 coupons, feel free to print as many more pages of the blank coupons as you would like.
Next, print out the book using either 8.5×11 inch printer white paper or cardstock. Then use scissors or a paper cutter to cut the pages of the book apart.
Write down what each coupon will be good for. I've listed some idea suggestions below.
After all of your coupons have been filled out, stack them together. You can either use a stapler to staple one edge of the book together. Alternatively, you can also use a hole punch to punch holes into the sides of the book and then tie a piece of string or thin decorative ribbon into a bow, to hold the book together.
Note: Depending on how many coupons you include in your book, and the thickness of paper used, you may need to punch the pages a few at a time as to not overload and break the hole punch!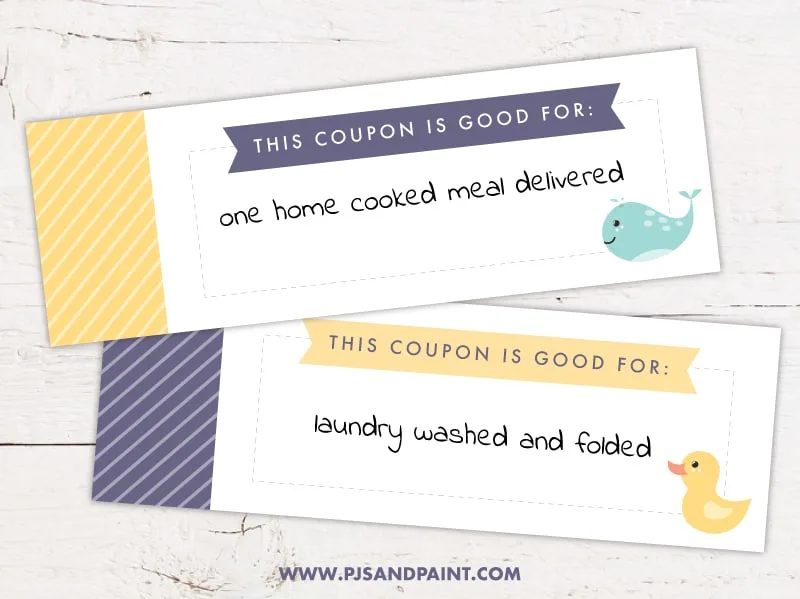 Here are a few great new mom coupon ideas:
Feel free to use these or create your own!
One home cooked meal delivered to your house
Laundry washed, folded and put away
All floors vacuumed
One night to call anytime for some company during late night feedings
One poopy diaper change
One grocery store run
3 hours of babysitting so you can nap
Taking the dog for a good walk
One breakfast in bed delivered to you
One day of taking your older child out for a fun day so you can rest and bond with the baby
All of the dishes washed and put away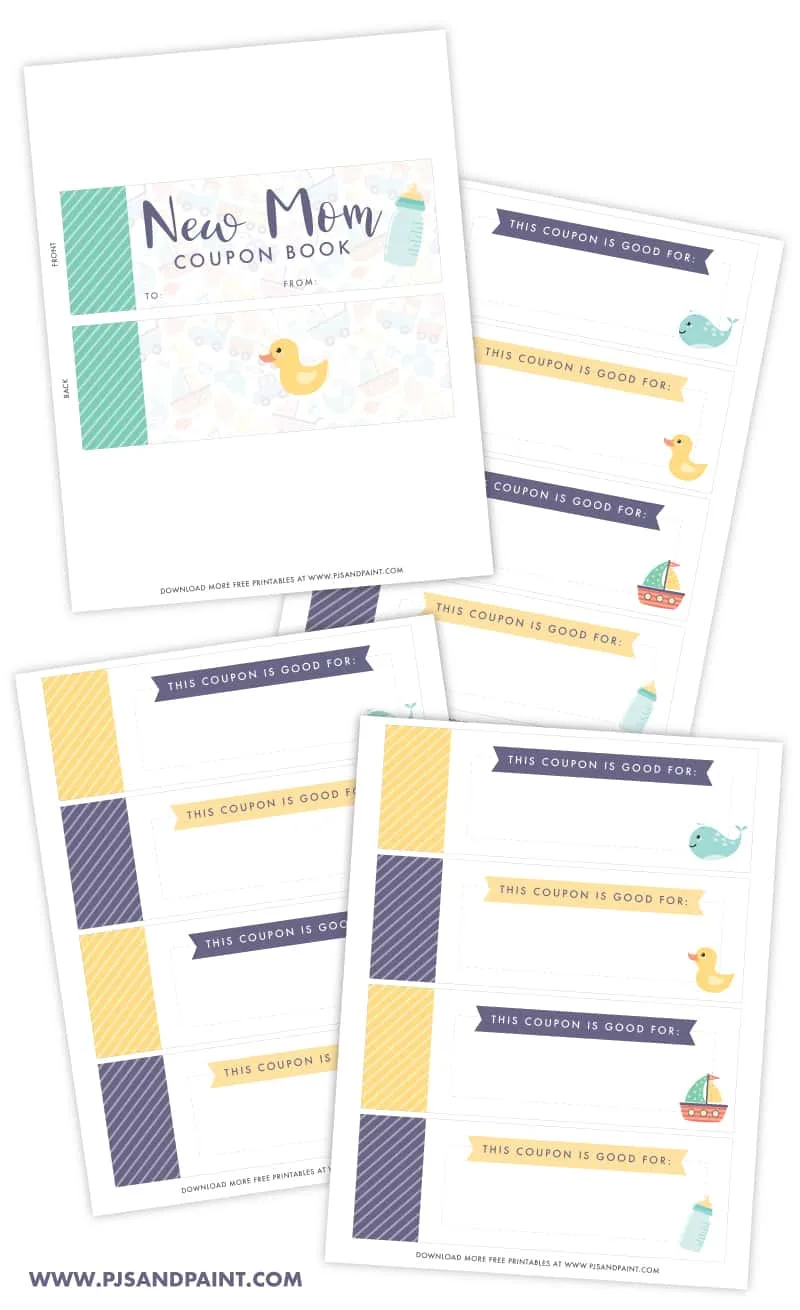 Download Links: