These free printable dinosaur valentines feature the saying "I think you are DINO-MITE!" They would be just perfect for any kids that love dinosaurs and want to share that love with their classmates and friends!
My son absolutely loves dinosaurs. He can't get enough of dinosaur books, toys, puzzles and will even try and make dinosaurs out of his legos.
And so I kept that in mind while creating my series of free printable Valentines!
Today, I am very excited to share these fun dinosaur valentines. They are completely free to print as many times as you would like and I am sure that your kids' friends and classmates will just adore them!
I think the best part about these valentine cards is that your valentine will also get a fun little dinosaur toy to keep and play with.
Another great thing about them is that they don't involve any candy or chocolate. I know what you're thinking, "great?" not including candy or chocolate sounds awful to me! And while I personally agree to a certain degree, having a non candy option for a kids' valentine is sometimes just what you need.
Not every school will allow food or candy to be brought in by students. And some parents may want to limit their child's sugar intake, which can be pretty hard to do in the month of February.
But if that is the case, you don't have to sacrifice any cuteness in your valentine card giving. These dinosaur valentines are DINO-MITE in my book!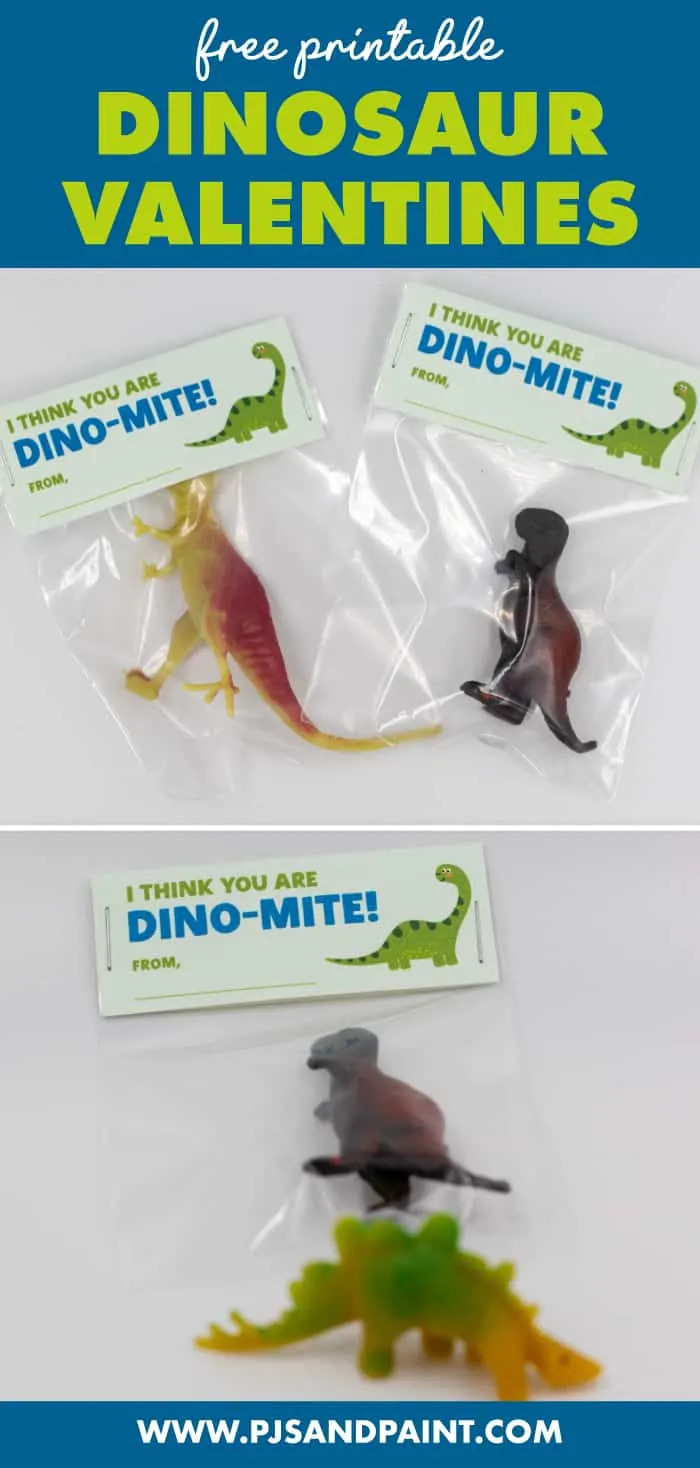 These free printable dinosaur valentines feature the words "I think you are DINO-MITE" on the front, along with a spot to have your child write their name. There is also a super cute green dinosaur!
On the back, there is an equally cute blue dinosaur, along with the words "Happy Valentine's Day!"
These valentines can be put together at the last minute, while not looking like last minute project at all!
Disclaimer: This post contains Amazon affiliate links. This means that at no extra cost to you, I may earn a small commission if you decide to make a purcahse.
Supplies Needed:
Printable bag topper files (Download links are available at the bottom of this post)
Small toy dinosaurs (or any other small dinosaur themed item would work as well)
Scissors or a paper cutter
Stapler and staples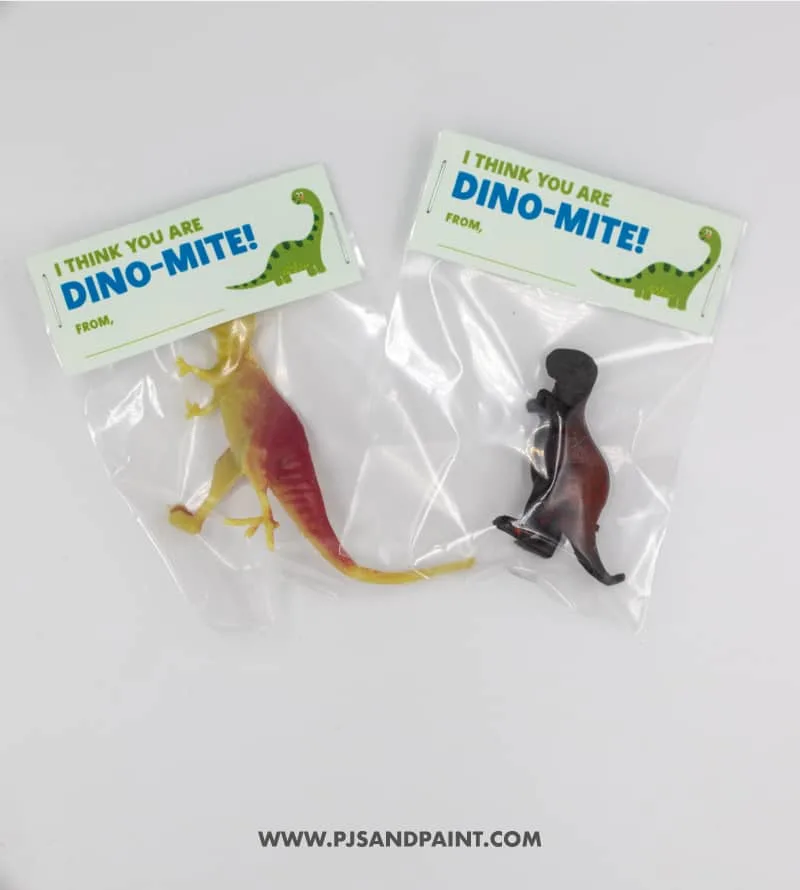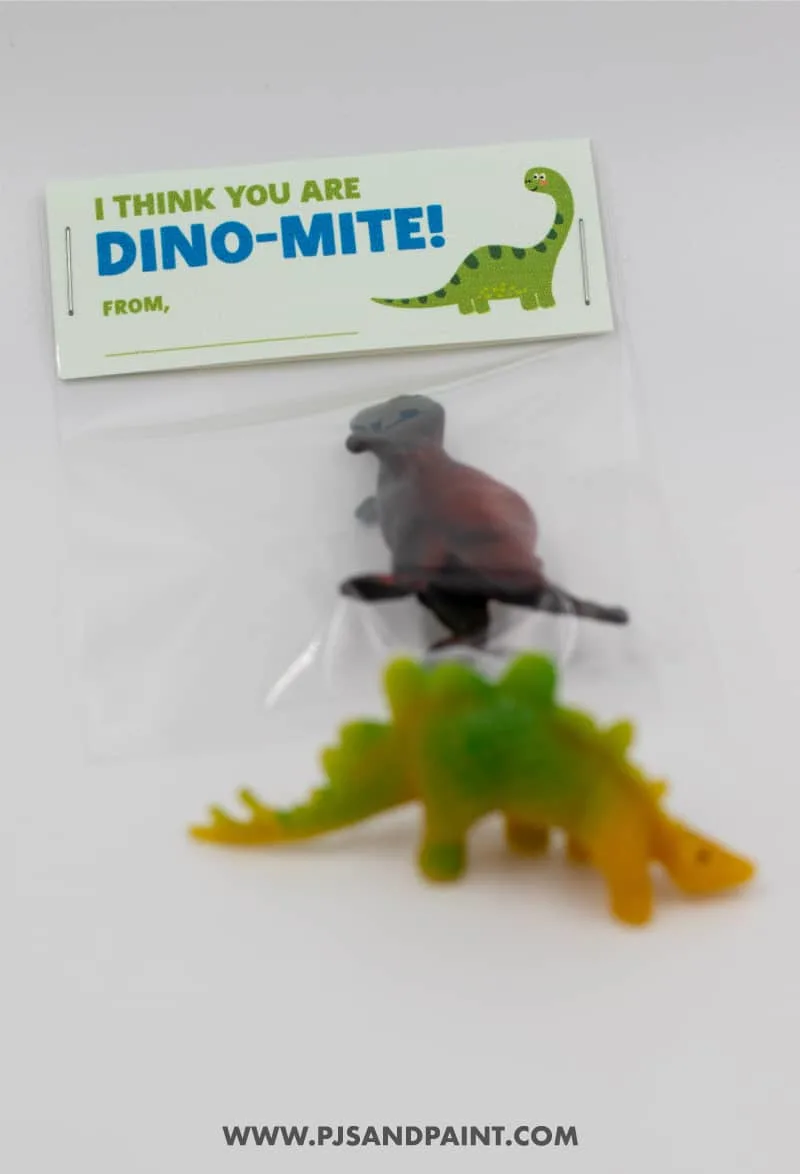 How to Assemble:
The first thing you'll need to do is print out the dinosaur bag toppers onto white printer paper or cardstock. For the best results I would highly recommend printing on white cardstock if you have some available. It will make the bag toppers sturdier and definitely look more professional.
Next, cut out the bag toppers using scissors or a paper cutter. This is the paper cutter that I currently have on my desk and I can highly recommend it as it gets used almost everyday!
Fold the bag toppers in half and set aside.
Place a small toy dinosaur into the plastic bag. Alternatively, you could also use any other fun dinosaur themed items. These dinosaur erasers or dinosaur stickers would also make great options!
Finally, fill out the "from" section on the bag topper and place it on top of the plastic bag. Staple both sides of the bag topper to hold it in place.
Check out some of our other free printable Valentines for kids:
All of these valentines below are totally free to download and print today! From funny fruit jokes to race cars, unicorns to donuts, I'm sure that you will be able to find something that you and your kids will love putting together for your friends and family this Valentine's Day.
Free Printable Valentine's Day Tic Tac Toe Game
Donut Valentines – Free Printable Valentines for Kids
Coloring Page Valentines for Kids – Free Printable
Free Printable Race Car Valentines
Free Printable Pencil Topper Valentines – You're The Write Friend For Me
Fruit Puns Valentines – Free Printable Valentines
Free Printable Candy Bar Wrappers for Valentines Day
Free Printable Unicorn Valentines for Kids
Free Printable Dinosaur Valentines
The dinosaur valentines are designed to fit onto standard 8.5×11 inch printer paper or cardstock. However, I would highly recommend using white cardstock for the best quality. 8 valentine bag toppers will print per page. Once trimmed, each bag topper will measure 3.25×2.5 inches unfolded.
Feel free to download and print as many copies of the dinosaur valentines as you would like. However, please do not edit or redistribute the files in any way. The valentines are for personal or classroom use only.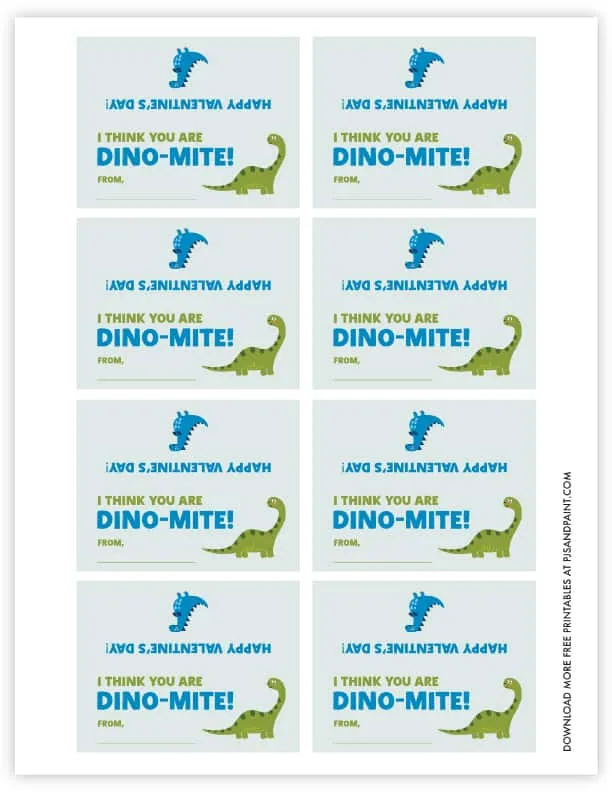 Download Links:
Click here to download the free printable dinosaur valentine files.
Did you use any of these free printable Valentines this year? I would love to see them! Feel free to tag me on Instagram at @pjsandpaint