Start your Summer off right with this free printable Summer word scramble game. It is great activity to work on in the classroom right before Summer break, or as at at home game whenever boredom sets in.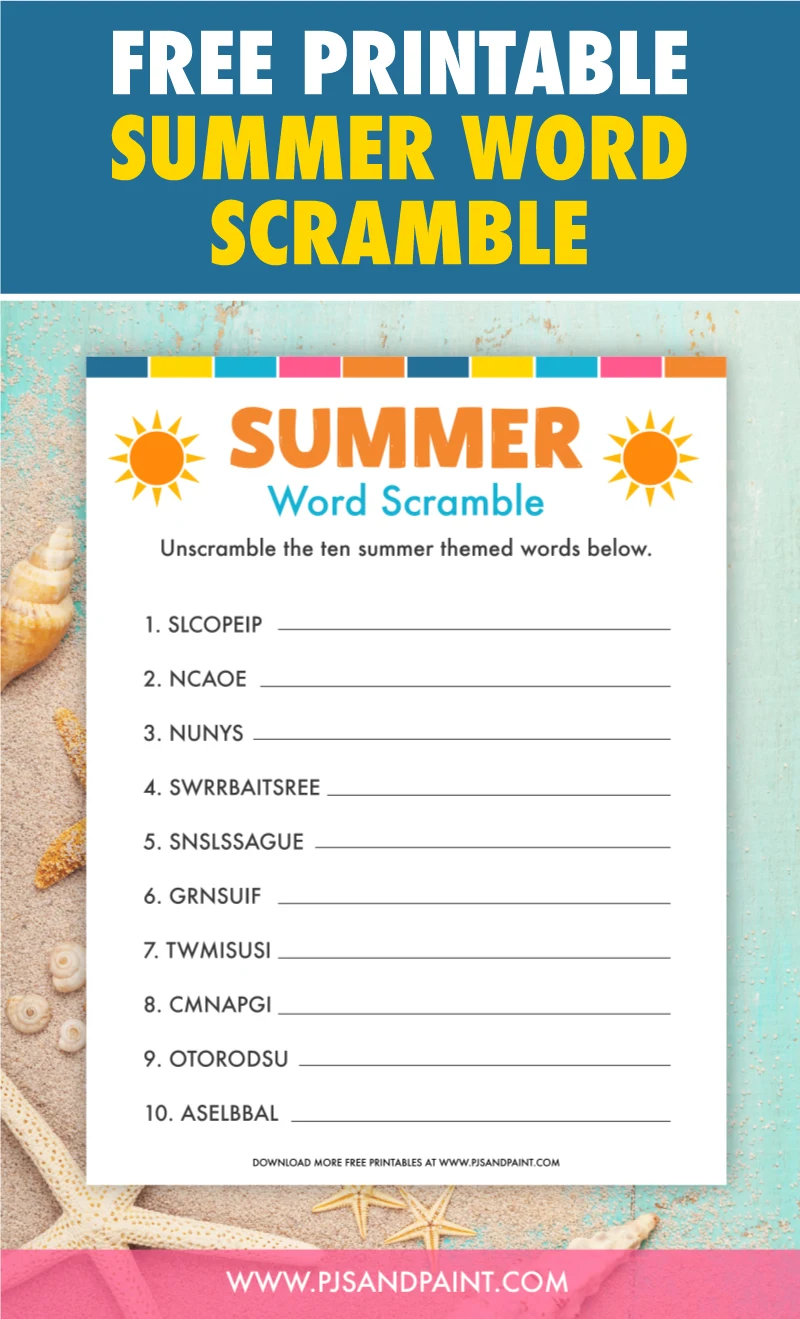 Disclaimer: This post contains Amazon affiliate links. This means that at no extra cost to you, I may earn a small commission if you decide to make a purchase. For more information, please read our affiliate disclosure.
Here is a fun fact about me that not many people know. I actually had not ever been on a plane until my honeymoon!
When I was growing up, my family took plenty of vacations but we always took road trips and often went camping.
I remember the longest road trip we took was driving all the way to Florida. The drive down there we stopped halfway through at a hotel to get a much needed break.
The way home though was a different story. My youngest brother had to have been only a few years old at the time. He absolutely hated being in the car and screamed the entire way home.
My parents were so ready to just be home already that we drove sixteen hours straight! Aside from the occasional bathroom and food break, we just kept going.
It was definitely a difficult trip but we were all so glad when we finally got home and had a good night sleep in our own beds.
The way home I just put my headphones on and listened to a Spice Girls cassette tape (yes, I know, I'm dating myself a bit here!). But the way there was much more enjoyable.
My parents would always make sure we had a ton of fun activities to do while we were driving. That often included puzzle books which I loved!
While my kids are still very young for word games on their own, I thought it would be a great idea to create some fun free printable Summer themed word games.
They are perfect for entertaining your kids on those long road trips during Summer vacation!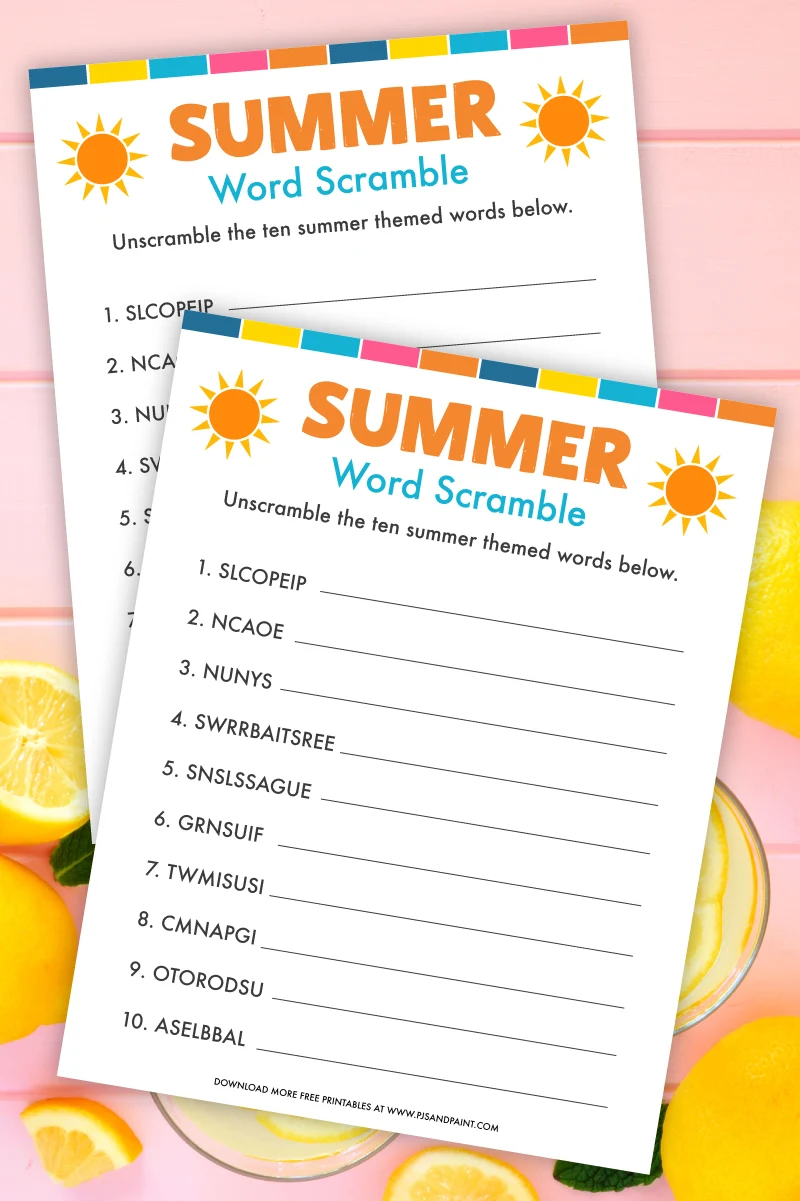 The game download link and answer key are located at the bottom of this post.
Free Printable Summer Word Scramble Game
This word scramble game is designed to be printed onto an 8.5×11 inch piece of paper. One game will print per page.
Feel free to download and print as many copies of the word scramble game as you would like. However, please do not edit or redistribute the files in any way. This activity was created for personal or classroom use only.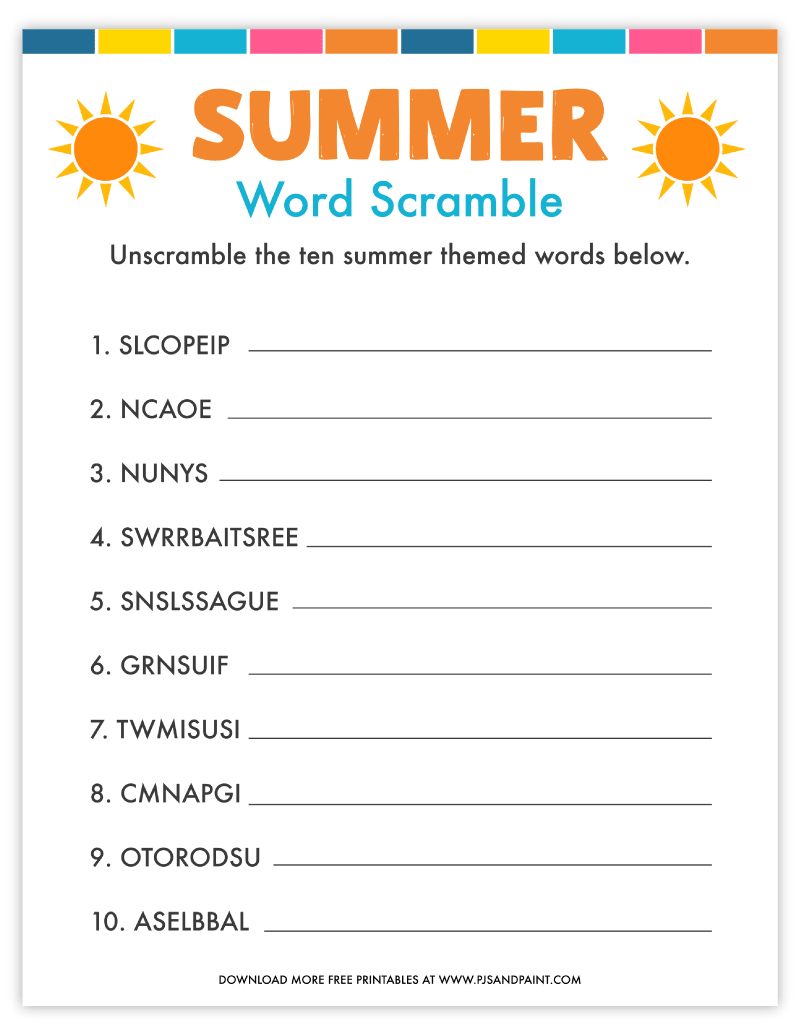 The game download link and answer key are located at the bottom of this post.
Here are a few things you might like to bring on your Summer road trip to make activities in the car even easier!
Plastic Clipboards
These plastic clipboards come in a variety of fun colors and are perfect for working on these printable games!
Travel Tray
This travel tray features a dry erase board, a tablet stand, room for art supplies and snacks. With tons of storage compartments, it is the perfect addition to long car rides to help keep the kiddos entertained.
If you enjoyed this Summer word scramble game, you may also like to check out some of our other fun free printable Summer themed printables below:
Free Printable Summer Word Search
In this word search game, you will be searching for twelve Summer themed words. Words can be found forwards, backwards, horizontally, vertically or diagonally. It is a fun and challenging game for both kids and adults.
Free Printable Summer Maze
This Summer themed maze is great for younger children. They will have to work through the maze to reach the sun in the center. Have an eraser on hand in case you get stumped!
Free Printable End of School Year Summer Bag Toppers
If you are looking for an adorable DIY treat to give out to your friends before Summer vacation, this "Hope you have a sweet Summer" bag topper is just what you need! Simply print out the bag topper and attach to a plastic bag full of goodies!
Download Link:
Download the Summer word scramble game.
Answer Key:
1. Popsicle
2. Ocean
3. Sunny
4. Strawberries
5. Sunglasses
6. Surfing
7. Swimsuit
8. Camping
9. Outdoors
10. Baseball