This free printable Summer word search game is perfect for both kids and adults to work on at home, at a party, or on a long road trip.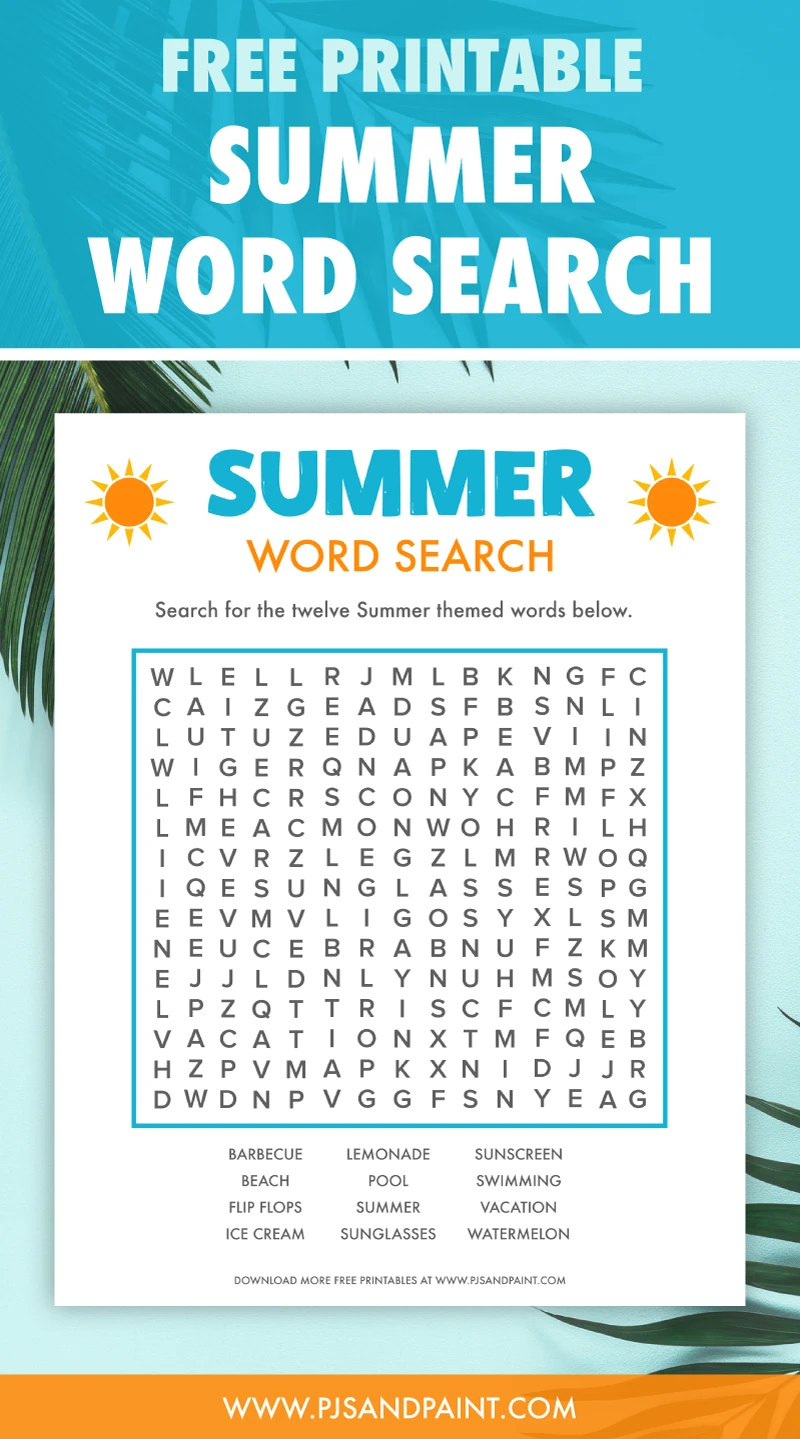 Disclaimer: This post contains Amazon affiliate links. This means that at no extra cost to you, I may earn a small commission if you decide to make a purchase. For more information, please read our affiliate disclosure.
When I was in elementary school, I remember my mom buying my brothers and I these huge workbooks to work during the Summer. She wanted to make sure we retained everything we had learned during the school year and also get a head start on the upcoming year.
Personally, I really enjoyed school so I didn't mind getting some pages of the workbook done. However, there were a few (okay maybe more than a few!) times that my neighbors would come knocking on our door to come outside and play. We would always have to finish our workbook pages before we were allowed to go outside with them.
We were fortunate enough to have amazing neighbors. They were all around the same age as my brothers and I and our Summers were filled with pool parties, water balloon fights and games of tag. We were all so close that our parents even installed gates between our fences so we could easily run between backyards.
Knowing that our friends could show up at the door at any moment, made us try and get our workbooks done as quickly as possible. My mom to this day will still mention how hard it was to keep us at the table to finish our schoolwork!
Now that I have kids of my own, I also want to make sure they get some kind of educational work in during the summers. Since my kids are still very young, I opt for reading and working some basic vocabulary, spelling and math skills.
In my attempt to make at home learning a little more enjoyable for them, I decided that I wanted to come up with a bunch of seasonal games that would not only be fun but they would be learning something at the same time.
Today, I wanted to share with you all my free printable Summer word search game.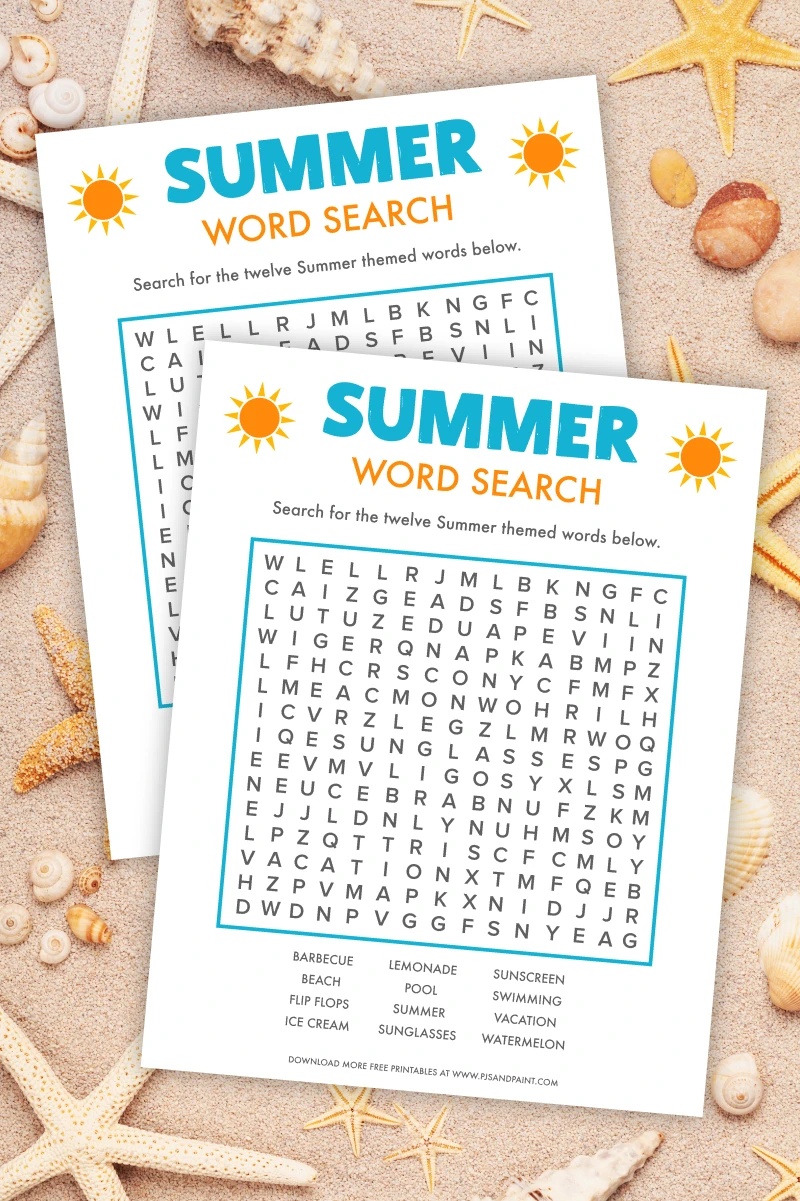 Game download link is located at the bottom of this post.
Word searches are great for word recognition, spelling, vocabulary and overall patience. It may take some time to find a certain word amongst all of the letters, but with some determination, it can always be done!
In this word search game, you will be searching for the twelve Summer themed words below:
Barbecue
Beach
Flip flops
Ice cream
Lemonade
Pool
Summer
Sunglasses
Sunscreen
Swimming
Vacation
Watermelon
Free Printable Summer Word Search
This word search game is designed to be printed onto an 8.5×11 inch piece of paper. One game will print per page.
Feel free to download and print as many copies of the word search game as you would like. However, please do not edit or redistribute the files in any way. This game is intended for personal or classroom use only.
If you are a teacher, you may wish to use this word search game as part of a yearly activity for your students to work on before summer vacation.
If so, you may want to reuse the same game over and over and save yourself some time and paper. I would recommend using a home lamination machine to laminate the word search game and then have your students use dry erase markers to find all of the words. Once they are complete, you can simply have them wipe away all of the circled words and then reuse year after year.
Another option would be to use these really cool dry erase pockets. All you have to do is print out the games, and then place them into the pockets. Use dry erase markers to circle the found words and then easily erase when complete.
For both of these options, I would definitely recommend printing out the games onto white cardstock. Cardstock holds up a lot better than regular printer paper if being used over and over again… especially if being used by kids!
Game download link is located at the bottom of this post.
If you enjoyed this Summer word search game, you may also like to check out some of our other fun free Summer themed games and activities:
Free Printable Summer Word Scramble
In this word scramble game you will be trying to unscramble ten Summer themed words. This activity is fun and challenging for both kids and adults alike.
Free Printable Summer Maze
Here, you will have to work your way though the maze to reach the sun in the center. A simple activity that is perfect for younger children.
Download Link:
Download the Summer word search.