Ensure that your kids' Valentine's Day is super sweet this year with this fun printable Valentine's Day game bundle.
Something I have been trying to do recently is incorporate holiday themed games and activities into our daily routines.
The week or so leading up to a holiday, I like to print out a bunch of holiday games to play with my kids. I think it's a great way to get them in the holiday spirit, all while having fun!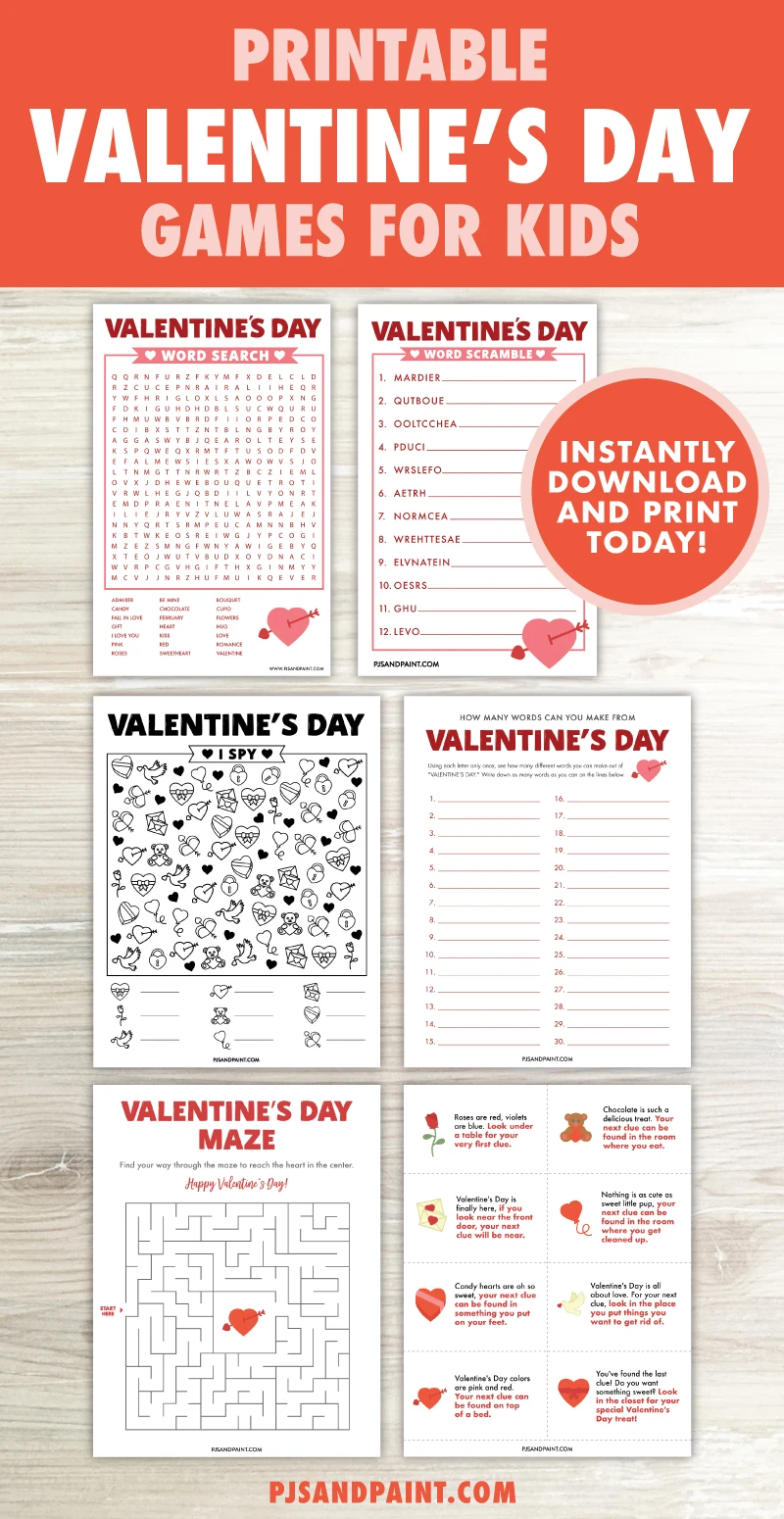 Make sure to use coupon code: WELCOME10 for 10% off your order!
This 6 game bundle is perfect for holiday parties, classroom activities or simply something fun and festive to do with the kids at home.
All of the printable games are designed to be printed onto 8.5×11 inch sheets of printer paper or cardstock. The word search and word scramble files include two games per page that can be cut apart. The rest of the games print one game per page.

What is included in the Valentine's Day Game Bundle?
Valentine's Day I Spy Game
In this fun I spy game you will be searching for and counting nine Valentine's Day themed pictures. Whats especially great about this activity is that it can also double as a coloring page!
How many words can you make out of Valentine's Day
This is a simple, yet challenging game where you have to try and make as many words as you can using only the letters that are found in the word Valentine's Day.
Valentine's Day Maze
Find your way through the maze to reach the hart in the center of this fun printable Valentine's Day maze.
Valentine's Day Scavenger Hunt
Setting up this fun It features eight simple clues to find without even leaving the house!
Valentine's Day Word Search
In this word search game, there are 21 Valentine's Day themed words to find. It is a great activity to help children build their vocabulary, improve their spelling skills and possibly even learn a few new words. Personally, I've always found word searches very relaxing as well.
Valentine's Day Word Scramble
Work to unscramble these twelve Valentine's Day themed words. Ranging from short to long words, this activity is also fun for adults!
Answer Keys for each
This bundle also includes answer keys for each game.
After purchasing this Valentine's Day Game Bundle, the files will be immediately available for you to download, print and start playing!

Make sure to use coupon code: WELCOME10 for 10% off your order!
A quick note about all our our paid game bundles: Many of the activities in our bundles can also be found on our blog as free to download files. Simply use the search bar to see if any files are available for free. By purchasing this game bundle, you will be getting all of the files quickly, easily, ad free, and will be directly supporting our ability to continue making fun printables full time!