Can you believe that you can make this super cute candy holder with items found at the Dollar Tree? This DIY Dollar Tree Halloween candy holder craft is perfect to display all of your treats this upcoming spooky season.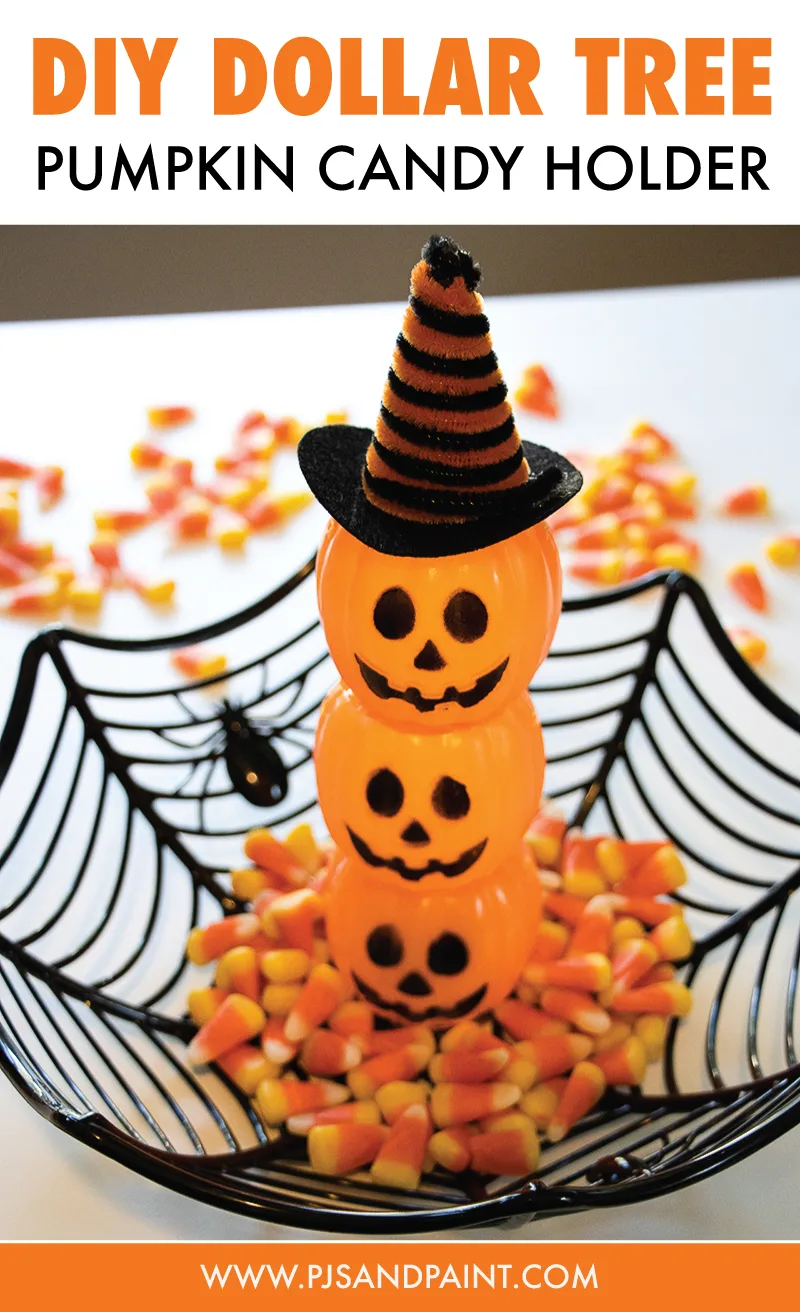 Disclaimer: This post may contain affiliate links. This means that at no additional cost to you, I may earn a small commission if you decide to make a purchase. For more information, feel free to read our affiliate disclosure.
Ever since I had my kids, I have really been trying to step up my holiday decorating game. Previously, my feelings were always "Why bother decorate for a few weeks just to pack everything up again!"
Now maybe this was just me looking for any excuse not to head up to my attic where I kept the decorations that we do have.
But in any case, seeing my kids faces light up when I bring down a box of holiday decorations that they hadn't seen since the year prior just brought just joy to me as well as them. And because of that, I now try to make our home a bit more festive when the holidays roll around.
I started with getting more Christmas decorations because Christmas is basically celebrated for an entire month around here. And now, I'm starting to stock up on other holiday decorating items.
So this year I decided that I'm going to deck the house with Halloween related items, the spookier the better!
I'm the kind of person who would absolutely spend their entire life savings at the craft store if I could. And as much fun as I have walking around trying to narrow down what I'm allowing myself to bring home that day, I wanted to try a less expensive alternative.
And that is when I stumbled upon Dollar Tree crafts. I had seen tons of videos on social media of people going to the Dollar Tree, bringing home items and making something amazing from them. I definitely wanted to hop on this train as well and give it a try.
And so I walked into the Dollar with no plan in mind other than wanted to create something Halloween related. I must say, I was pleasantly surprised with what I ended up creating!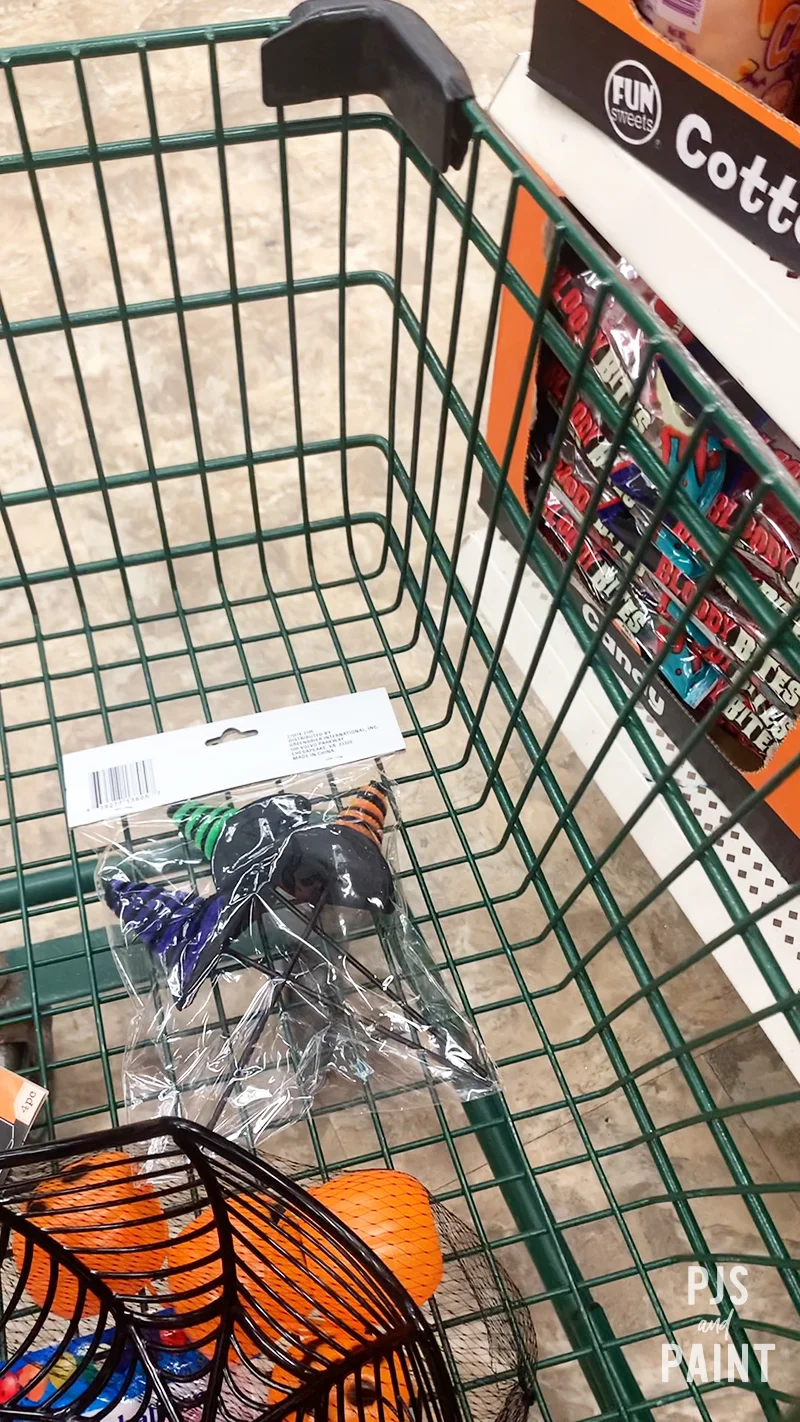 This DIY Dollar Tree Halloween candy holder would make the perfect addition to any holiday themed party you are throwing this spooky season, or as a way to spruce up your home decor.
I don't know about you, but I will never complain about having a nice candy holder out around the house all year long!
Supplies needed to create this DIY Dollar Tree Halloween Candy Holder
(All of the supplies below including 4 bags of candy corn cost me only about $7!)
*Quick disclaimer: I am linking all of the items below from the Dollar Tree website. These are not affiliate links and I do not earn any commission if you make a purchase from these links below.
Hot Glue
Scissors
Candy of any kind!
How to make a DIY Dollar Tree Halloween Candy Holder
So the first thing I did was cut the little handles off of the mini pumpkins. This was pretty easy using regular scissors. The pack came with four pumpkins but I decided to only use three.
I then took a hot glue and glued the three pumpkins on top of one another.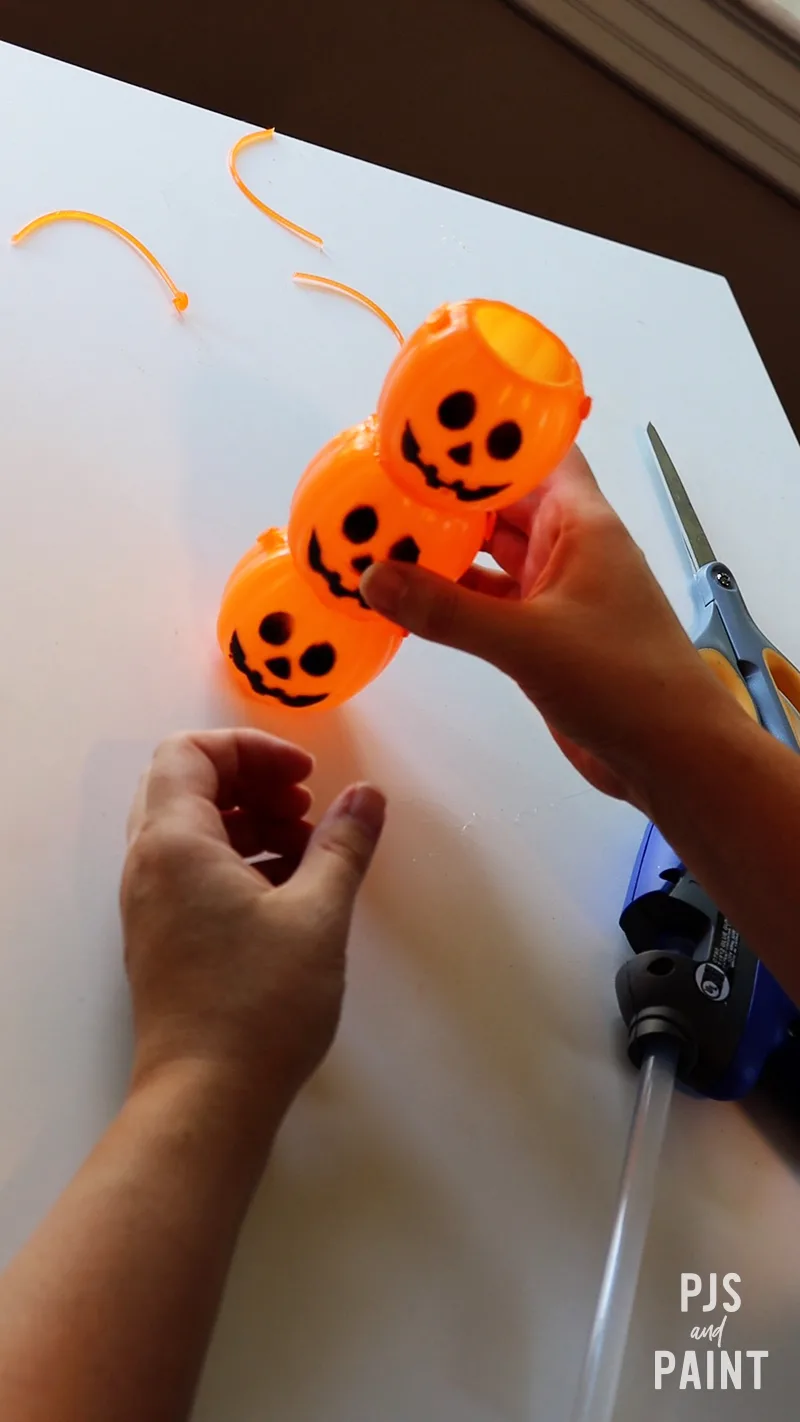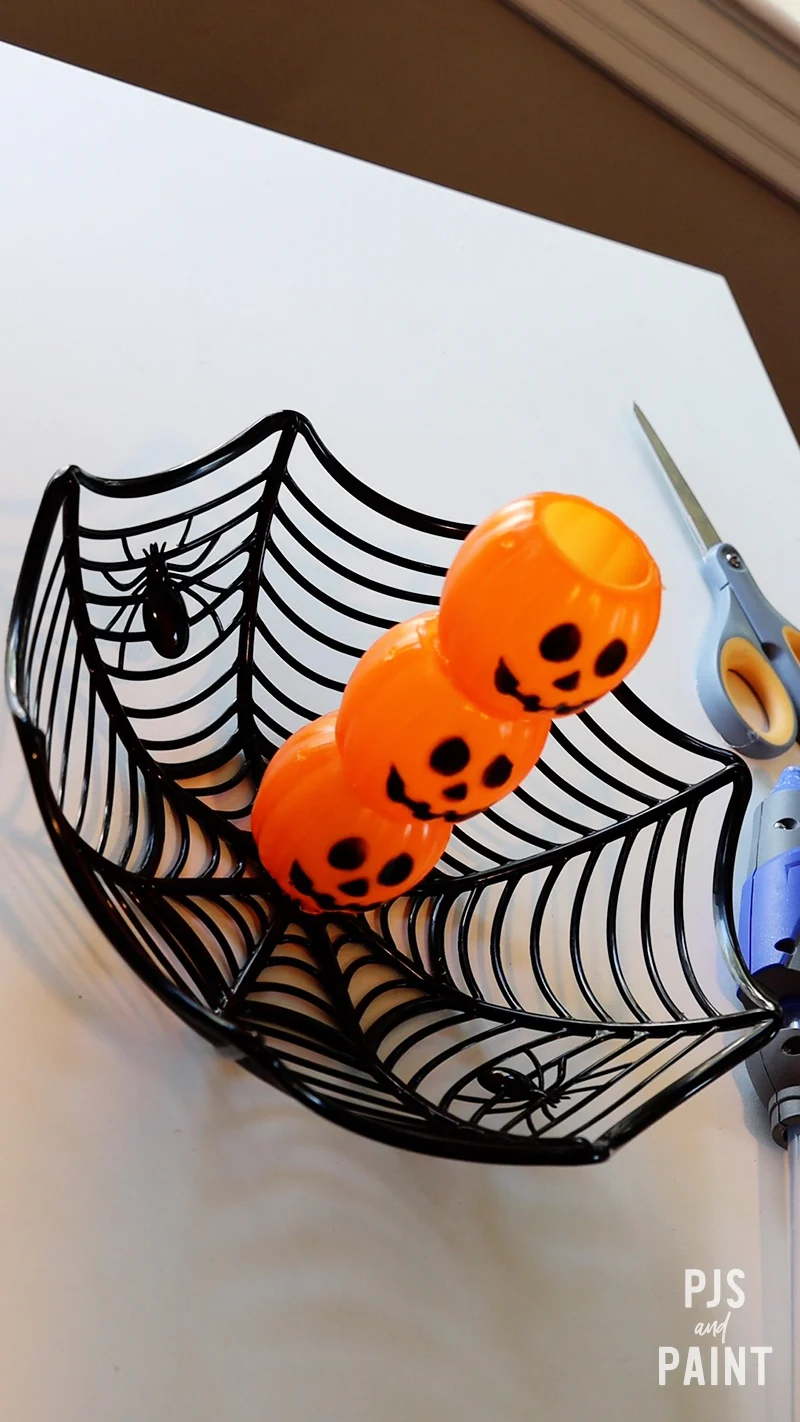 Once that was dry, I used some more hot glue to attach the bottom pumpkin to the center of the spider web tray.
I then took one of the witch hat picks and pulled the stick out of it so I was just left with the hat itself.
Taking a little more hot glue, I attached the witch hat to the top of the top pumpkin.
And believe it or not, that is all there is to it! You now have a super cute and spooky Halloween treat holder, perfect for holding all of your Halloween candy.
I'm thinking that I might even use this as a candy bowl for when trick or treaters come to my doorstep this Halloween.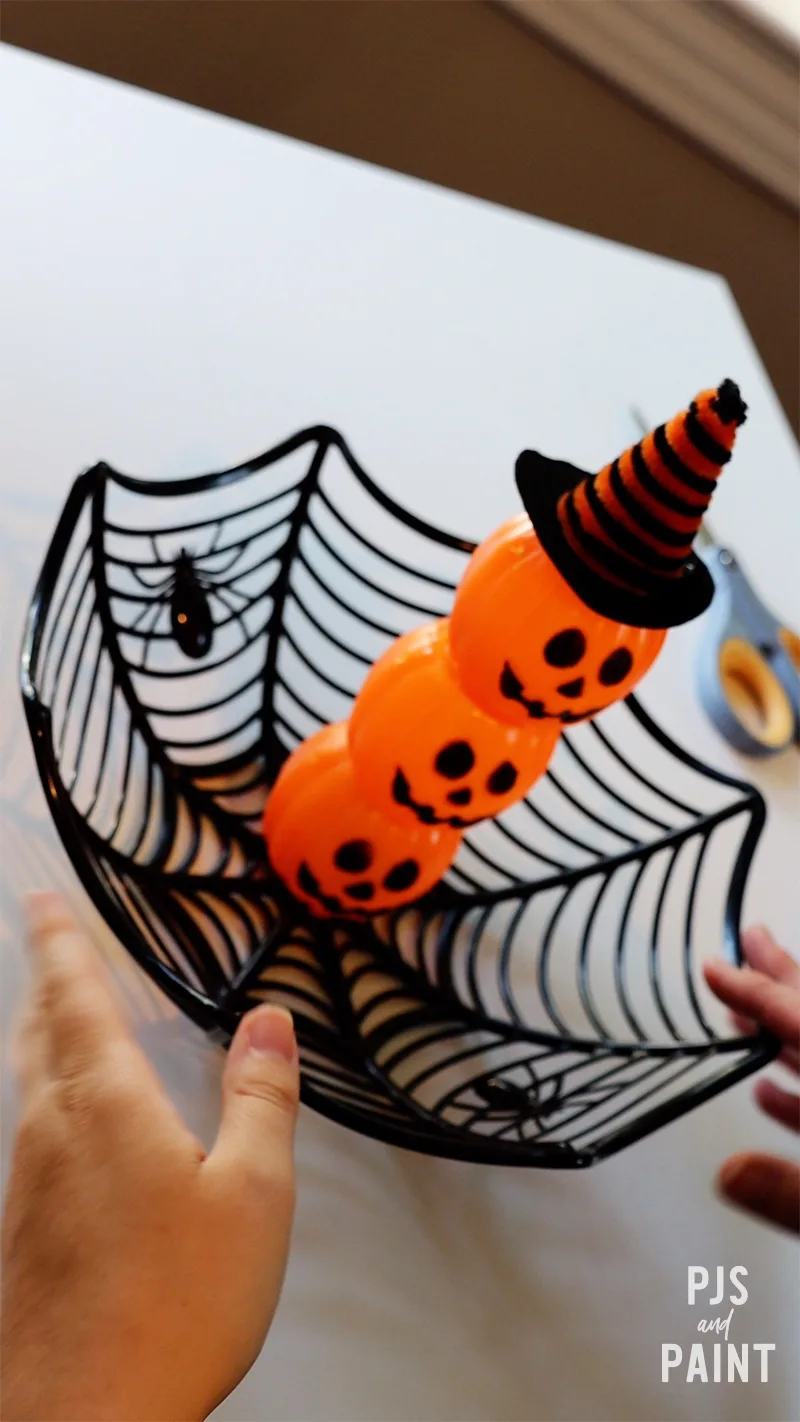 One quick side note I did want to mention. I would actually not recommend using candy corn as I did. If you are leaving the bowl on a table that will not move, it will be okay, but if you are planning on carrying the treat bowl around the house, the little pieces of candy corn may fall through the slots.
For this reason I would recommend larger wrapped candy, which is most likely what you will be handing out to trick or treaters or displaying at a party anyway.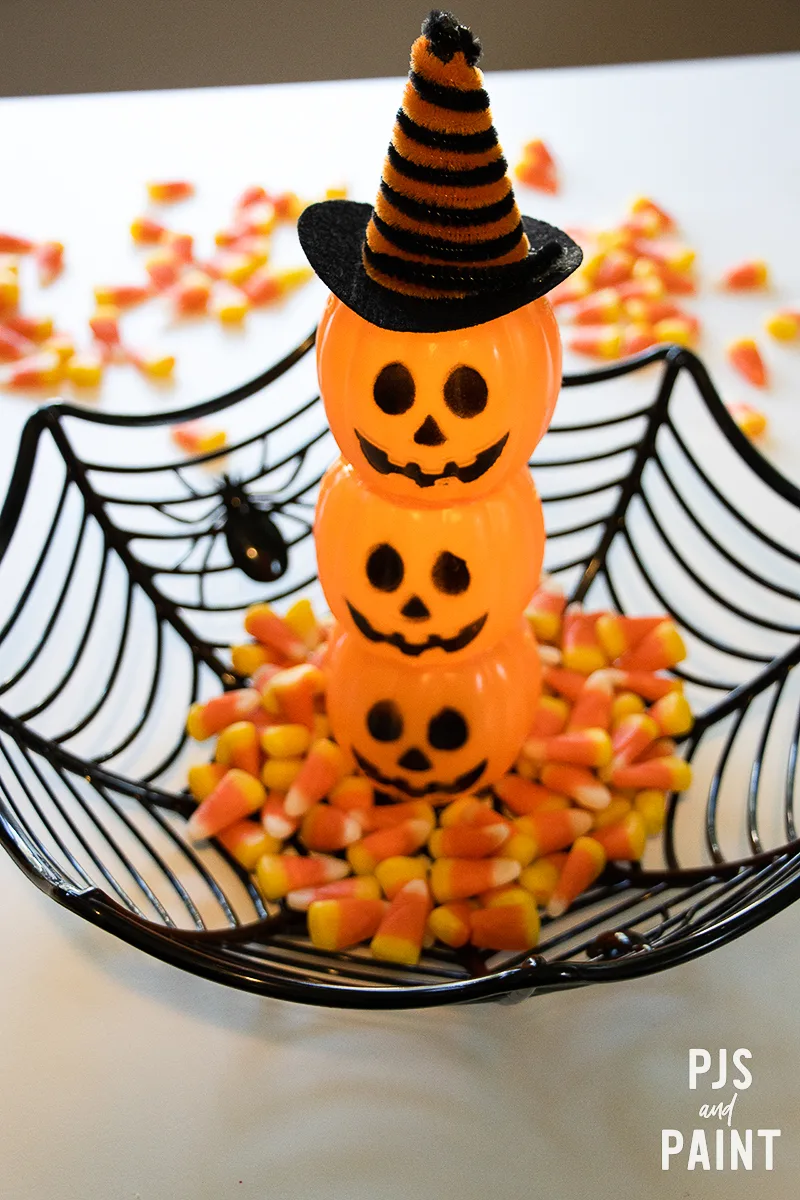 I had a great time strolling around the aisles of the Dollar Tree and coming up with this fun Halloween themed craft. I will definitely be heading back there soon when the Christmas themed items start coming out!