This pumpkin paper chain is a simple yet craft that both kids and adults will enjoy making. Whether you are looking for some DIY Halloween decorations for your home, classroom or just for fun, this craft is perfect for the upcoming spooky season.
Disclaimer: As an Amazon Influencer, I earn from qualifying purchases. This means that at no additional cost to you, I may earn a small commission if you decide to make a purchase. For more information, please feel free to read the affiliate disclosure on our privacy policy page.
I recently went to my local craft store to find that they had a huge display of Halloween decorations available already. My kids were very excited to look at all the spooky decor, however, I was not excited about all of the prices!
While it can definitely be fun to purchase some new holiday decorations each year, it can be just as fun (if not more!) to make some homemade decorations as well.
Paper chains are simple to make and only require a few supplies that you most likely already have in your house. Both kids and adults can have fun creating them and they look great displayed around the house or classroom.
Today I'll be sharing how to make this spooky pumpkin paper chain. Simply follow the steps and you can make one of your very own!
Supplies needed to make a pumpkin paper chain:
Orange construction paper (Or any other color! Feel free to be creative!)
Pencil
Scissors
Free Printable Halloween Paper Chain Template (Optional, download link is located at the bottom of this post).
Video Tutorial:
Below you can follow the written out step by step tutorial. If you would like, you can also watch this video tutorial below:
Step 1: Fold paper in half.
First, begin by folding a piece of construction paper in half longways. Next, cut the paper in half. You will only be using one side of the paper per paper chain. To make the chain longer, you can use the other half of the paper to create a second chain and then attach the two together.
For my example, I used a 9×12 inch piece of paper. However, feel free to use any size paper you have as long as the strip you are making the chain with ends up being a long rectangle.
Step 2: Fold in half three times.
Fold the rectangular strip of paper in half. Fold it in half a second time, and then again once more for a total of three folds.
Step 3: Unfold, and then refold it accordion style.
Next, unfold the strip of paper entirely. Fold it again, but this time accordion style. This means folding one section in, turning the page over and fold the next section in and then repeating until the entire strip of paper is refolded.
Important note: After you have finished folding the paper, make sure that the right side of the top fold opens like a book. The left side of the paper will be the folded side and it should not open.
Step 4: Draw half of a pumpkin.
The next step is to draw half of the pumpkin shape. You can follow my example below, or you can change the Jack-O-Lanterns face to be anything you would like!
Just sure to have one side of the pumpkin run off the side of the page. This will ensure that the pumpkins will connect together, forming the final chain.
I have also created a free printable template that you can use to make the perfect pumpkin paper chain! The download link is at the bottom of this post.
Step 5: Cut and unfold.
Cut along the lines that you just drew. When cutting out the eyes, cut a horizontal line and then cut out the eye shapes. This will make sure that there is some space in between the two eyes.
Finally, unfold the paper to reveal your pumpkin paper chain! Four Jack-O-Lanterns should have been created. If you would like to make a longer chain, simply repeat the process and connect multiple chains together using tape or glue.
More Halloween Paper Chains: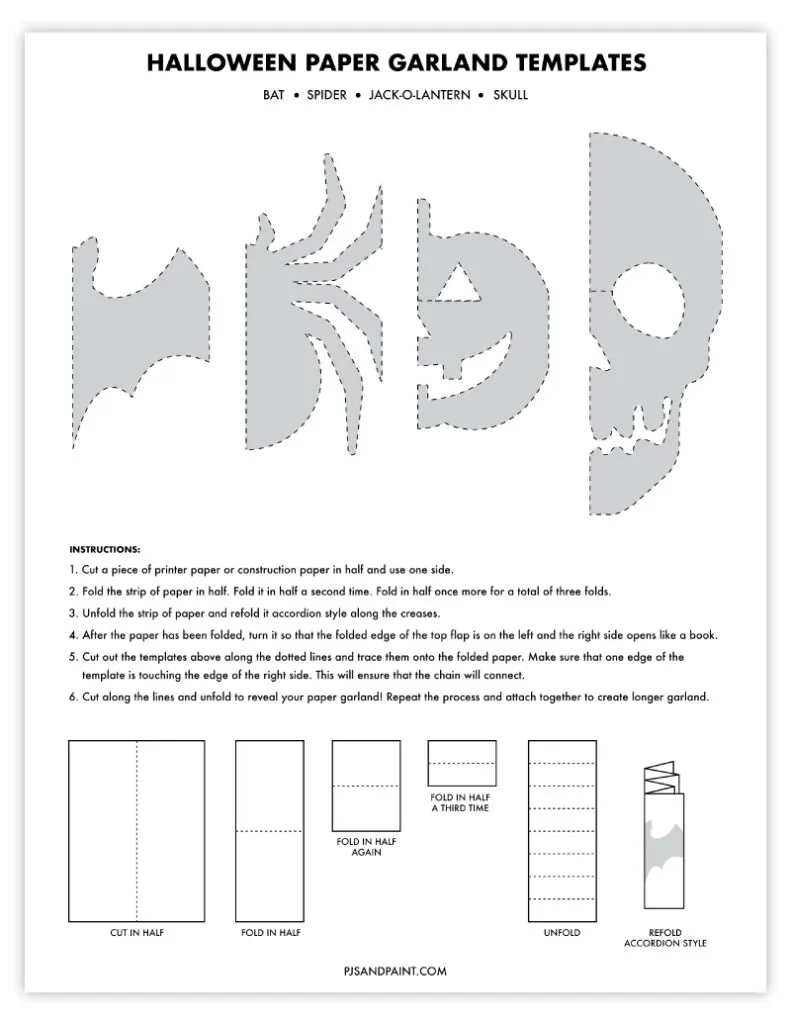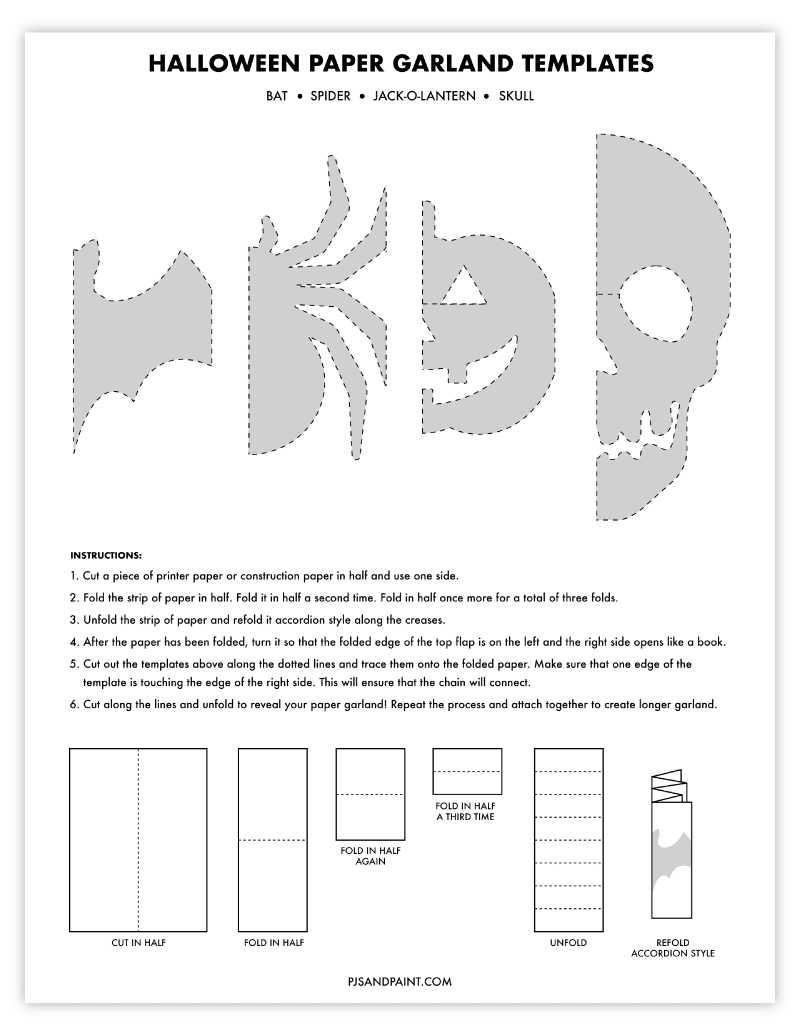 By entering your email address you will be receiving the free digital file as well as subscribing to our weekly email newsletter. You may unsubscribe at any time.