Halloween paper garland is so much fun to make and very easy which means it is perfect for both kids and adults. It is a great Halloween craft that doubles as a DIY decoration!
In this post, I'll show you how to quickly and easily make four different kinds of Halloween paper garlands. I have created templates to make the process much easier as well! You can download the free template page which includes instructions on how to make a bat, spider, Jack-O-Lantern and skull paper garland.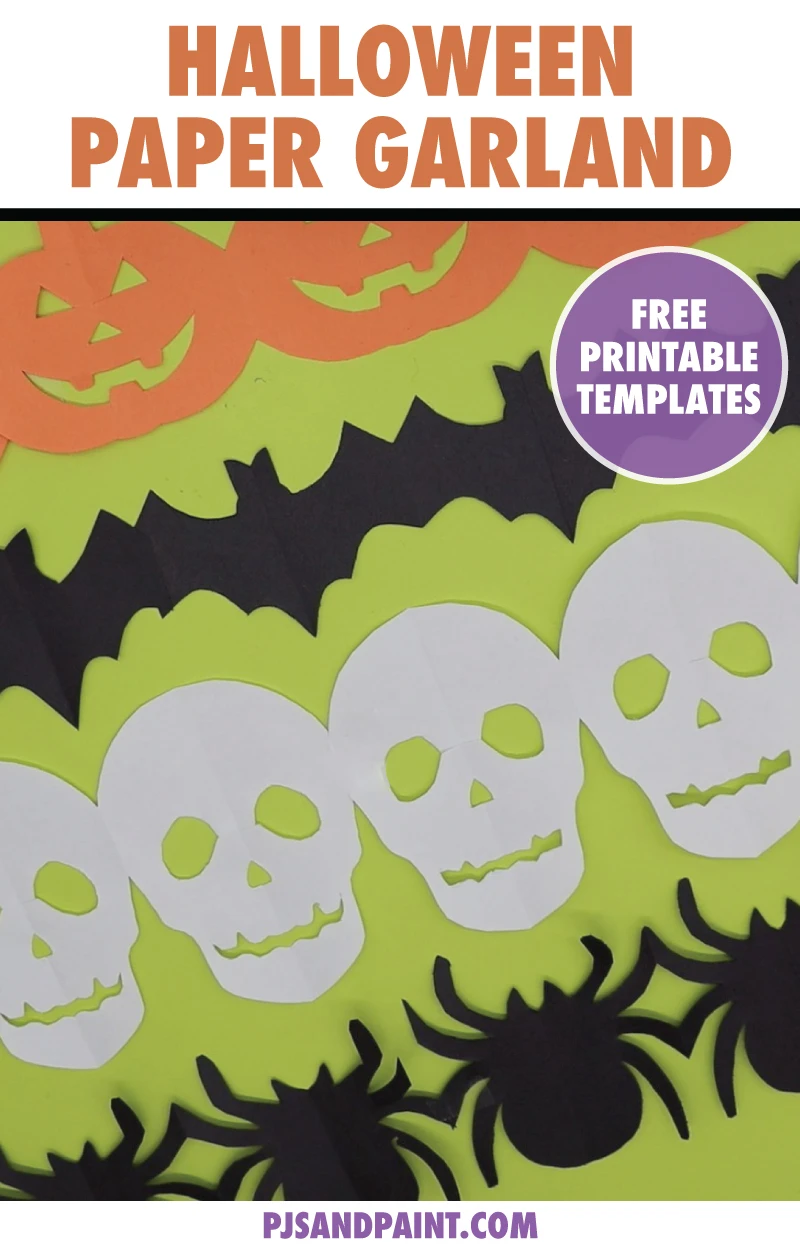 Disclaimer: This post may contain Amazon affiliate links. This means that at no additional cost to you, I may earn a small commission if you decide to make a purchase. For more information, please feel free to read the affiliate disclosure on our privacy policy page.
What is paper garland?
Paper garland is a type of decoration that is made out of paper and hung on a wall or doorway. They can be a wide variety of shapes, colors, textures etc. In this tutorial, I will show you how to make Halloween themed paper garland using regular printer paper or construction paper.
Supplies needed:
Free printable template (The bat, spider, Jack-O-Lantern and skull images are all on the same page)
Construction paper (You can use any color you would like. However for my samples I used black construction paper for the bat and the spider, orange construction paper for the pumpkin and regular white printer paper for the skull.
Pencil
Scissors
Tape (Optional, if you are planning on attaching multiple paper chains together)
How to use the Templates:
I have been making paper garland (or as I sometimes refer to them, paper chains) for years now. They are super simple to make and fun for both kids and adults. My kids love making paper chains as well and has the added benefit of helping them work on their fine motor skills as well as their scissor skills.
The first thing you will need to do is print out the template. I would very highly recommend printing them out onto white cardstock. Standard printer paper would work as well, however the thickness of the cardstock makes tracing the template onto the construction paper much easier.
Cut out each of the template shapes along the dotted lines.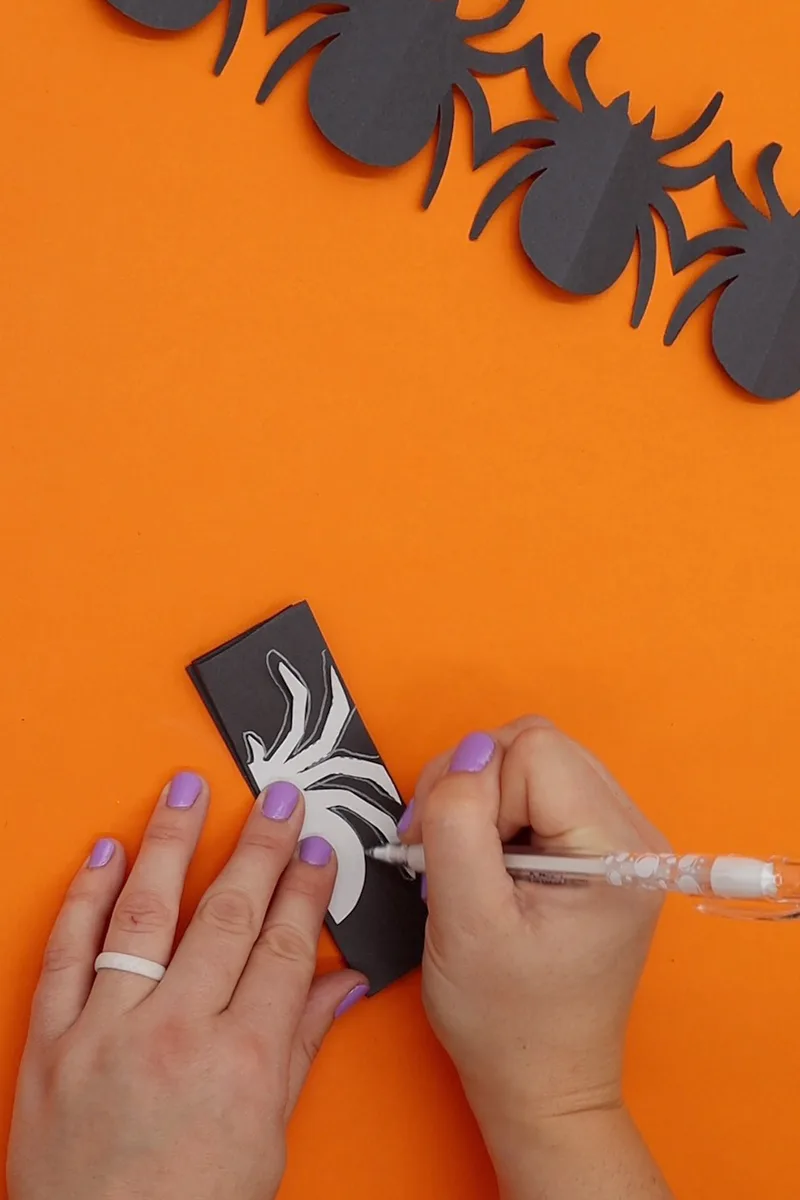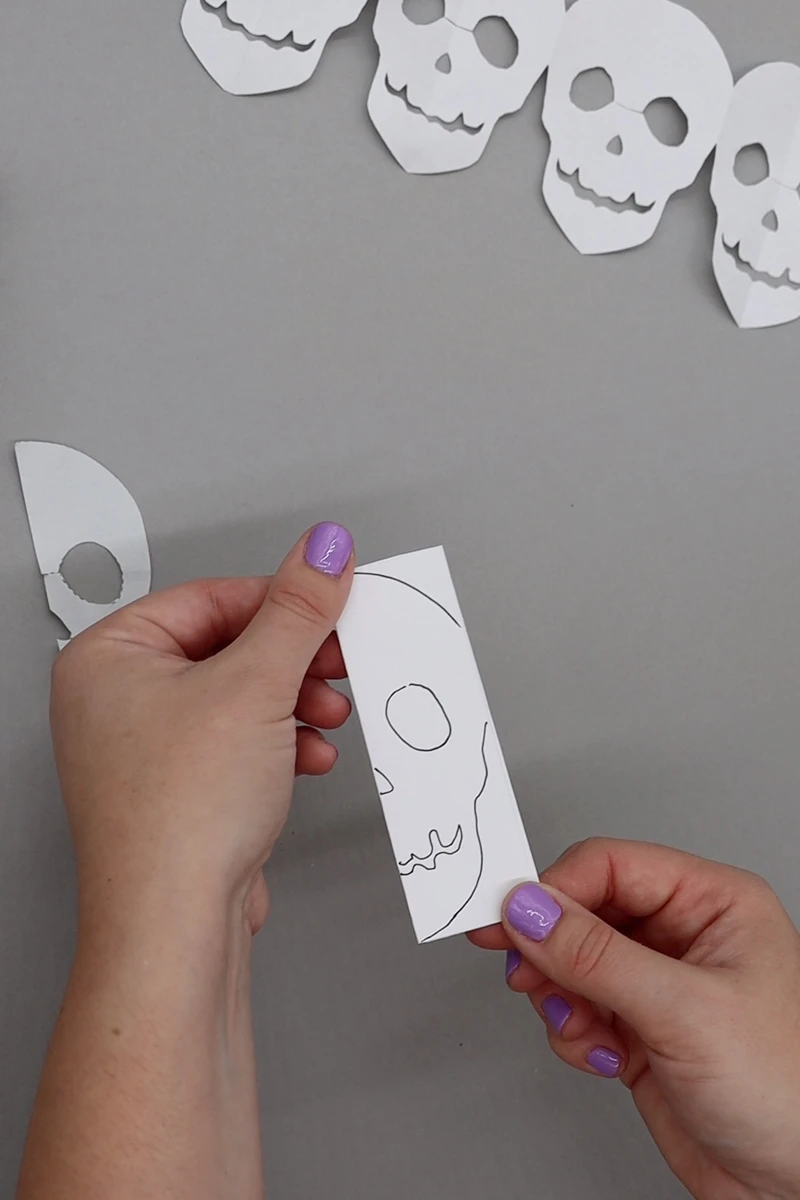 Quick note for the Jack-O-Lantern and skull templates:
Both of these images have eyes. In order to cut out the eyes I recommend cutting a small slit from the side of the page into the eye shape.
Another option would be to use the point of your pencil or scissors to poke a small hole right into the center of the eye shape. You can then cut out the eye from there. While this works, and also has the added benefit of not having a small cut between the two eyes, it is also tricker and not the best idea if young children are making the paper garland with you.
After the templates have been cut out, it is time to fold the paper chain!
How to fold a paper chain:
Step 1: Start with a rectangular piece of paper.
Fold a piece of printer paper or construction paper in half and then cut along the fold so that you now have two rectangular pieces of paper.
Step 2: Fold three times.
Using one side of the paper, (keeping the other side for additional paper chains) fold it in half. Fold it in half a second time. Finally, fold it in half one more time for a total of three folds.
Step 3: Fold accordion style.
Unfold the strip of paper and refold it accordion style along the creases that you just made.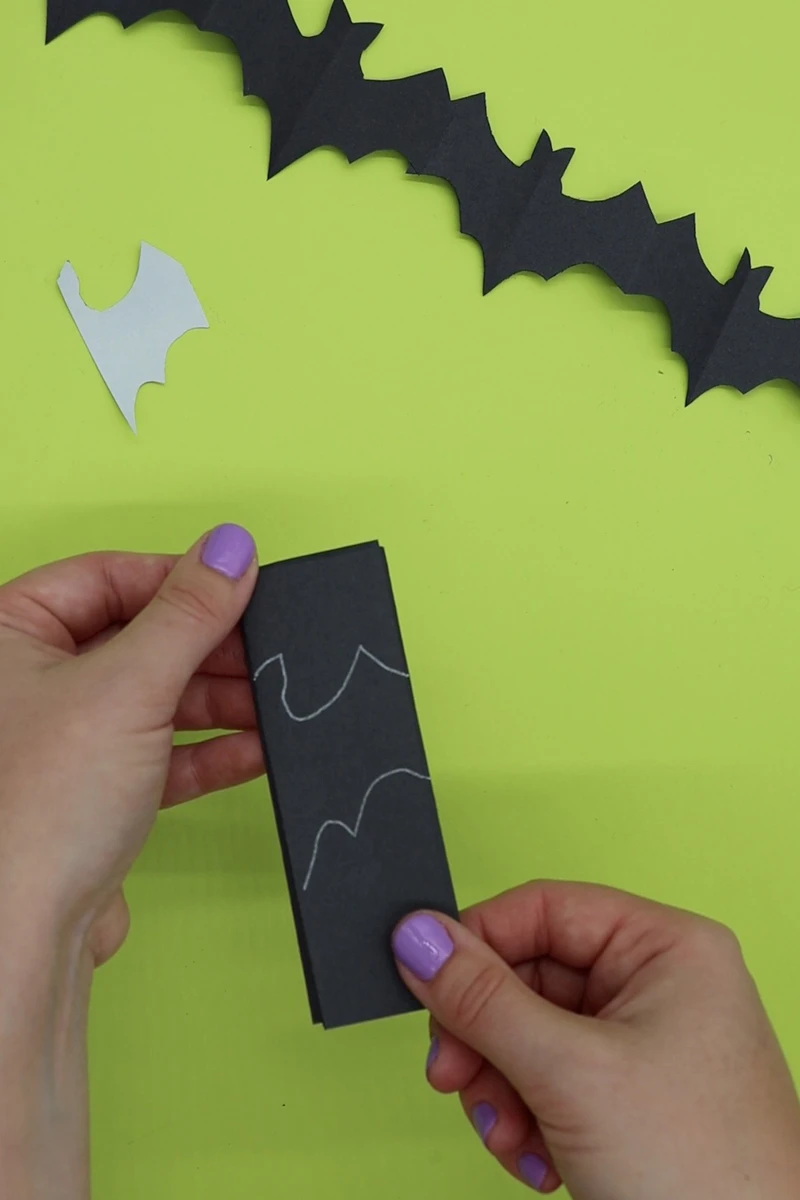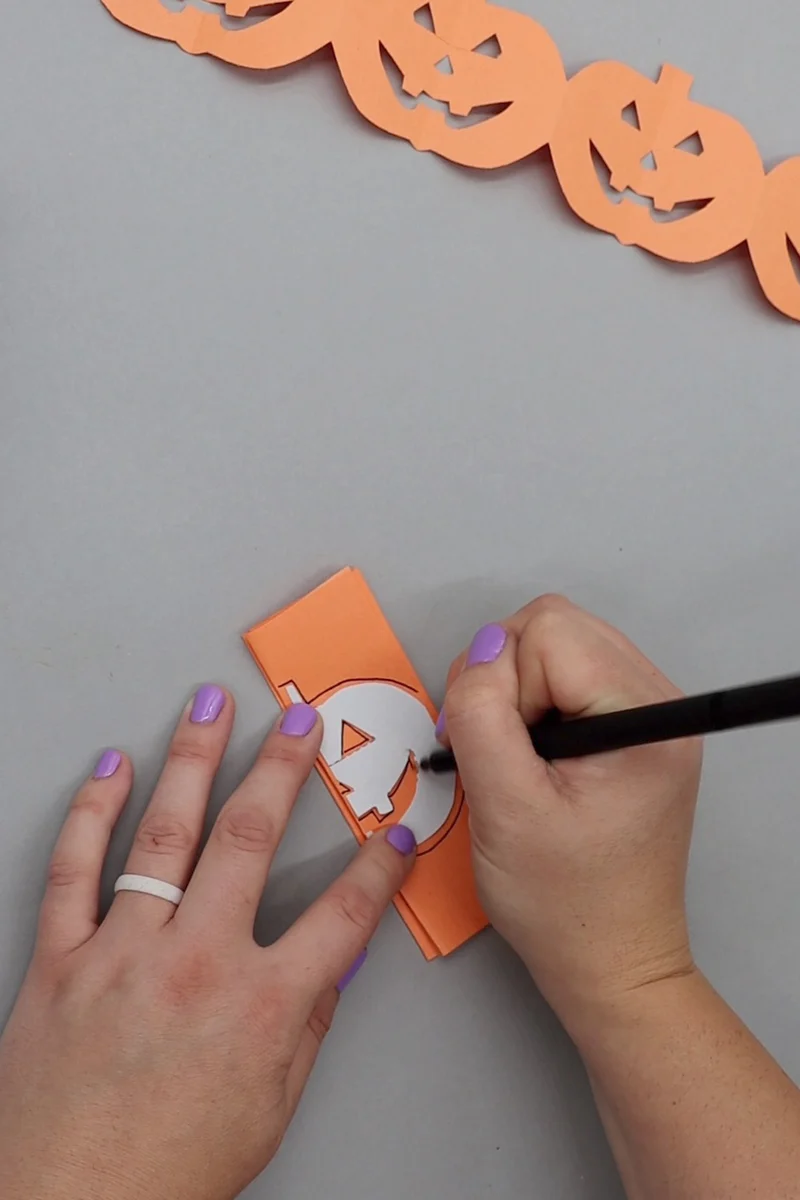 Step 4: Trace the template shapes.
Make sure that the paper is facing so that the folded edge is on the left and the right side opens up like a book. Doing this will ensure that the shapes and chain will connect
Important note: Sometimes, due to printer or paper differences, the edges of the template might not line up perfectly. If this is the case, just make sure to extend the drawing a bit so that the shape hangs off of the right side of the paper. If you don't do this, you will end up with four separate cutouts instead of a connected chain.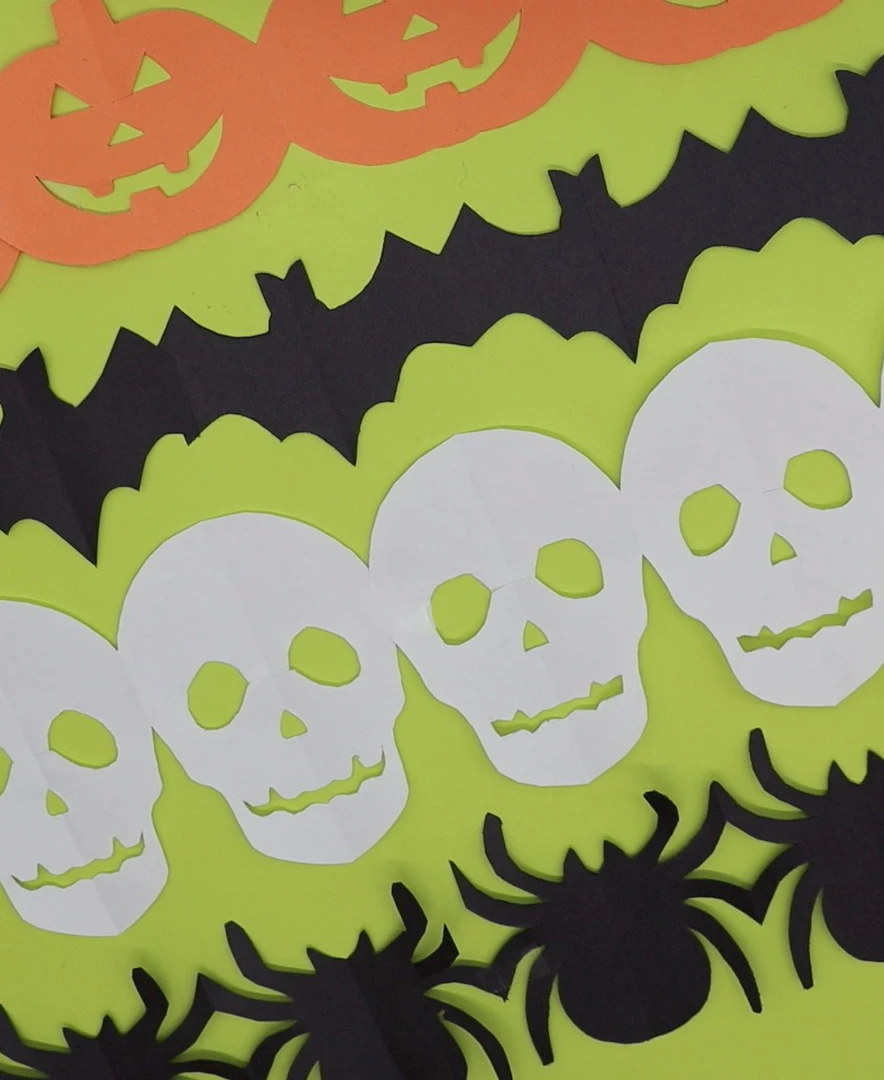 Step 5: Cut and Unfold.
Cut along the lines and then unfold to reveal your paper garland. Repeat the process as many times as you would like to create a longer garland.
Favorite Printable Supplies:
These are a few of my favorite supplies that I use for printable games and activities: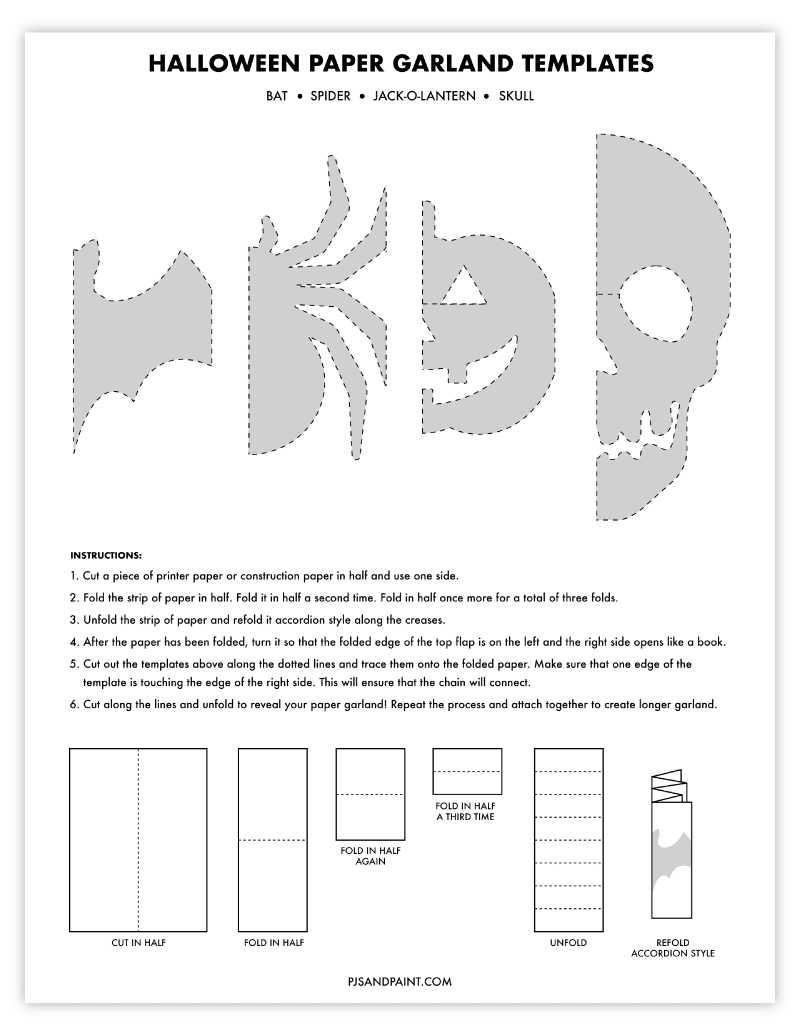 Free Printable Halloween Paper Garland Templates:
This template page has been designed to be printed onto a standard piece of 8.5×11 inch white cardstock or printer paper. I would highly recommend using cardstock if you have some available.
Four template shapes (bat, spider, Jack-O-Lantern and skull) will print on the same page. Folding instructions will also print out on this page.
Please feel free to download and print as many copies of the template as you would like. However, please do not edit or redistribute the files in any way. These templates have been created for personal use or classroom use only.
More free Halloween printable activities and templates:
By entering your email address you will be receiving the free digital file as well as subscribing to our weekly email newsletter. You may unsubscribe at any time.