This mummy lacing craft is a great activity for kids to work on either at home or in the classroom. Included is a free printable template that makes this a very easy project to have your kids or students work on. It not only is fun, but also helps to improve their fine motor skills as well as knowing the alphabet.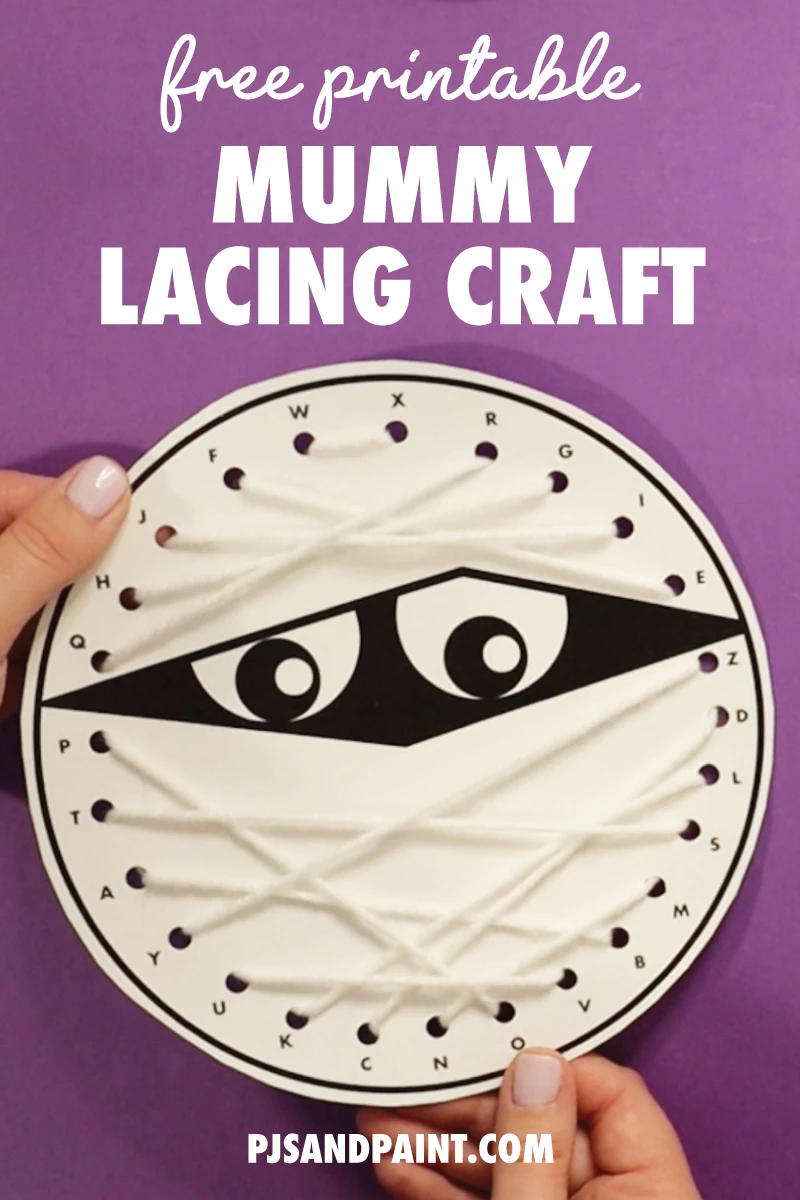 Disclaimer: This post may contain Amazon affiliate links. This means that at no additional cost to you, I may earn a small commission if you decide to make a purchase. For more information, please feel free to read the affiliate disclosure on our privacy policy page.
Knowing the alphabet is of course a very important skill for kids to learn. This free printable mummy craft not only is fun and spooky for Halloween, but also helps kids practice the alphabet.
When you are done with the project, you can display it around the house or classroom for a fun homemade Halloween decoration as well.
Supplies needed to create one mummy lacing craft:
Free printable mummy template (the download link is locate at the bottom of this post)
Scissors
Tape
White yarn or thin white ribbon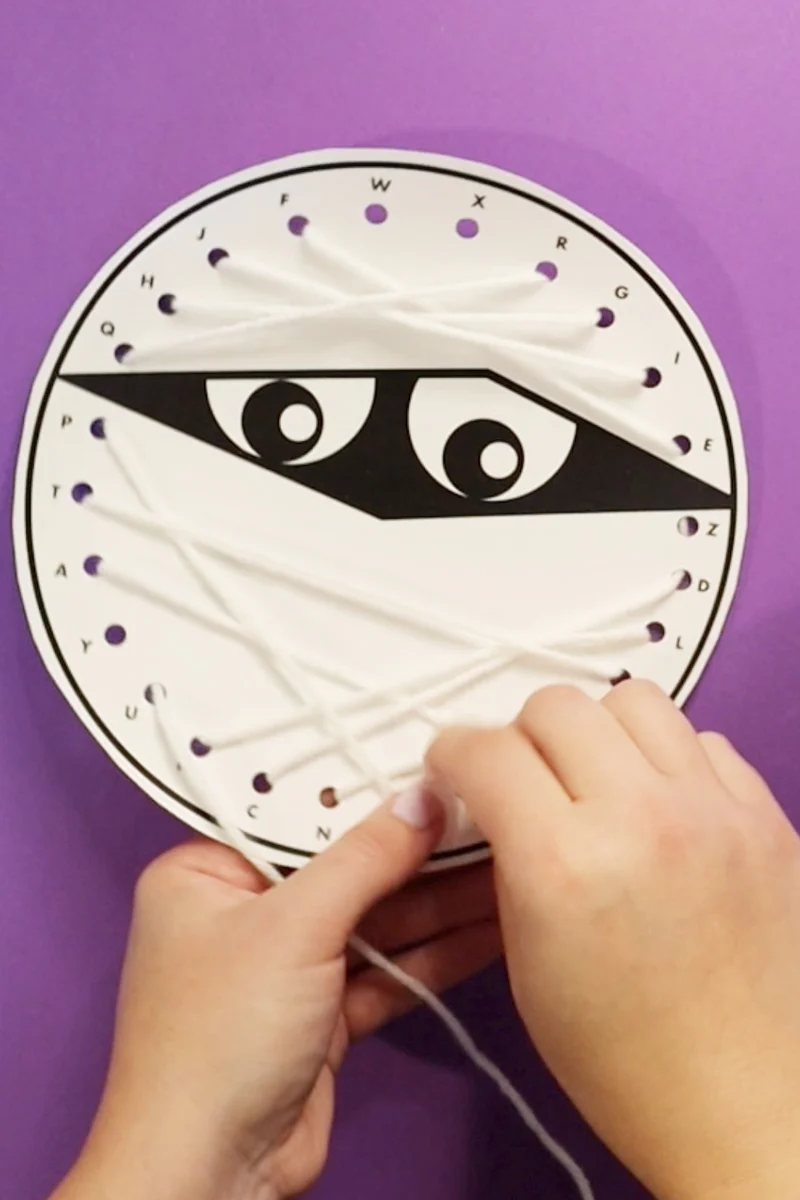 How to set up the craft:
First, print out the mummy template onto white cardstock. I would very highly recommend using cardstock as it is much more durable than standard printer paper and will be less likely to rip as the children lace the yarn through the holes.
After the template is printed out, cut along the dotted lines around the mummy's head.
Next, using a standard sized hole punch, punch out all 26 dots next to each number. If your child is able to, you can also have them punch out the holes. This would make a great additional activity to have them practice their fine motor skills as well as their hand eye coordination.
Use a piece of white yarn (I measured my yarn to be approximately 108 inches) through each letter A-Z in alphabetical order, to create the mummy's wraps.
I began by taping one end of the yarn to the back of where the letter "A" is so that it would be easier for my kids to get started and not have the yearn slide out immediately.
Once all the letters have been laced through you can tape the end of the yarn to the back of where the letter "Z" is to hold it in place.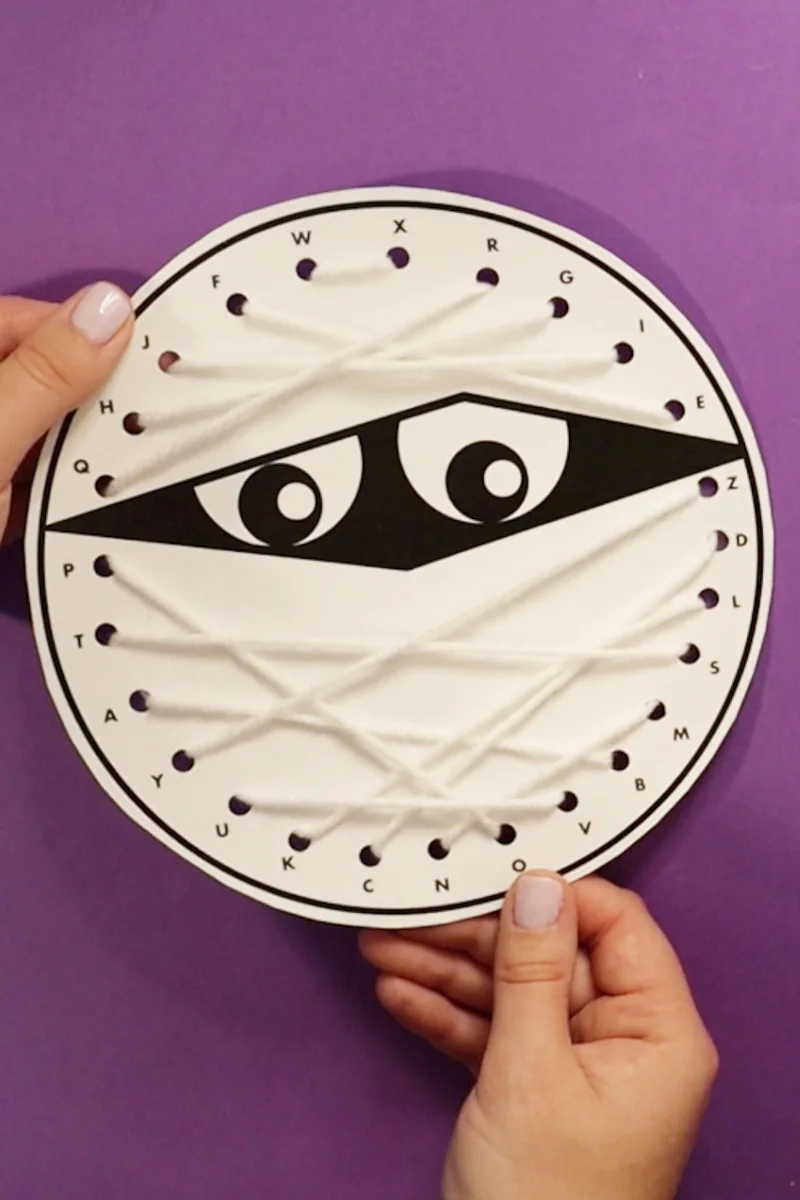 How to make the Mummy lacing craft reusable:
If you would like to reuse this activity multiple times, I would definitely recommend laminating it. This is the lamination machine I currently have and I can definitely recommend it!
First, print out the mummy template and cut out around the dotted lines. Place the circle template into a lamination sheet and run through the laminator.
Cut out around the circle once more and then begin using a hole punch to punch out all of the dots next to the letters.
Laminating the lacing card will ensure that it will be much more durable and able to withstand being used multiple times by multiple kids.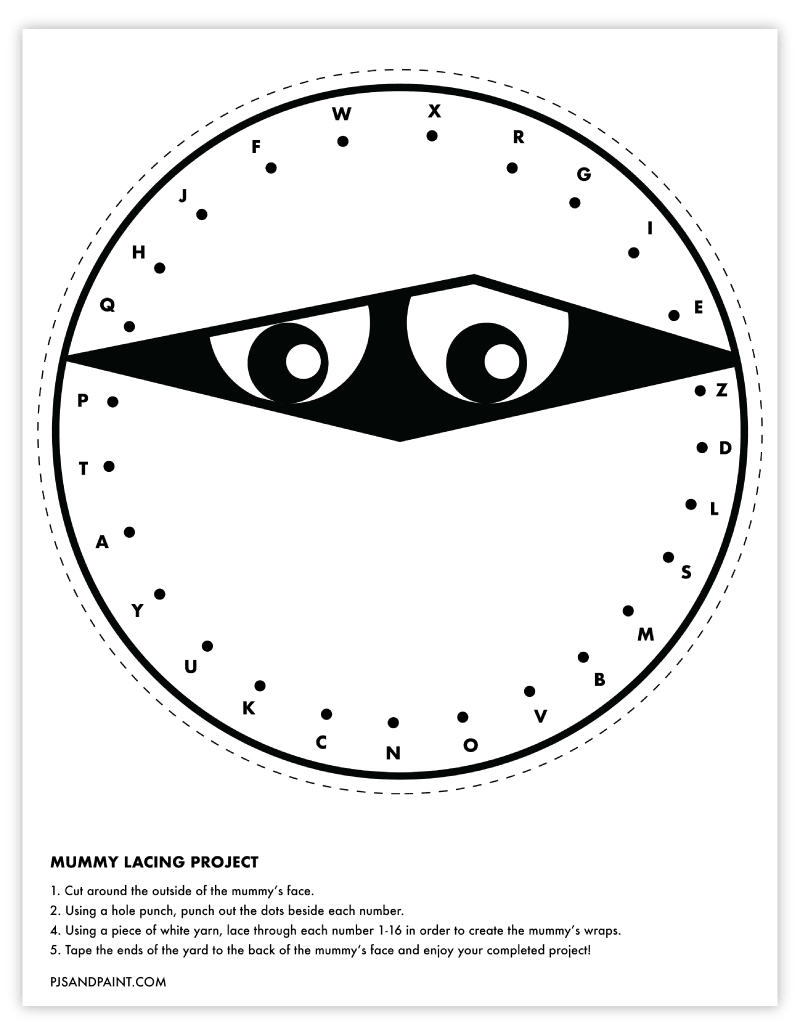 Free Printable Mummy Lacing Craft
This craft was designed to be printed out onto a standard 8.5×11 inch piece of white cardstock. Due to it's durability, I would highly recommend using cardstock as opposed to standard printer paper.
Feel free to download and print out as many copies of the mummy lacing craft as you would like. However, please do not edit or redistribute the files in any way. This project was created for personal or classroom use only.
If you enjoyed this post, you might also like to check out some of our other fun free Halloween lacing activities below:
Download Link:
Download the free printable mummy lacing craft template.