I'm sure you will be attending a whole bunch of Christmas and holiday parties in the upcoming winter months. Make sure you don't show up empty handed!
I have designed these free printable Christmas wine bottle labels that will add a personal touch to any bottle of wine that you gift this holiday season.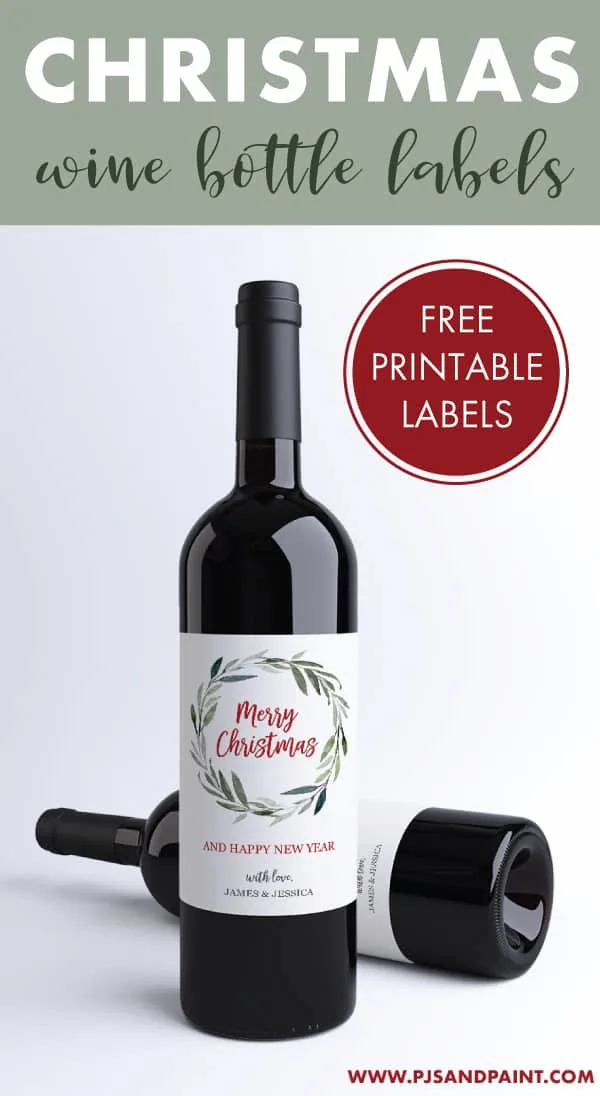 Dislclaimer: This post contains Amazon affiliate links. This means that at no extra cost to you, I may earn a small commission if you decide to make a purchase.
I've always found it a little difficult to come up with gifts to give someone you don't know very well. Maybe it's a coworker, a distant relative, or a neighbor. Whatever the case, the holiday season calls for lots of gift giving. Having a gift idea on hand for the people that you don't know too well, will make things a lot easier on you.
I also like to keep extra "generic" gifts ready to go around Christmastime just in case someone I wasn't expecting to, ends up giving me a present. It can make for a pretty awkward situation if you have nothing to give back.
For the most part, giving someone a nice bottle of wine will go over very well! Instead of simply placing it in a festive gift bag, adding a custom label will show that you put a little extra thought into the gifts that you give. And as the saying goes, it truly is the thought that counts the most!
These free printable Merry Christmas labels will be the perfect addition to just about any wine bottle you are gifting this holiday season. With a space to add your name or a short message, even if this will be a last minute gift, it sure won't look like you planned it last minute!
How to customize the Christmas wine bottle labels:
Download the label pdf from the link down below. Next, open up the file in Adobe Acrobat. You should now see text boxes that are highlighted in blue. Here, you can fill in the boxes with your name or a short message.
While your text will remain highlighted in blue, don't worry, only your custom text will print!
If you are in need of a last minute gift you can absolutely print on a piece or regular printer paper or cardstock. Trim the label and simply glue or tape it to the bottle. However, for the best and most professional looking wine bottle label I would highly recommend printing on white sticker paper. Waterproof sticker paper will definitely hold up the best. Check out waterproof sticker paper here on Amazon. Whether you go for the matte paper or gloss, it will look SO much nicer than plain printer paper!
Once you print out the labels, you can trim them using a paper cutter or scissors. This is the paper cutter that I am currently using on all of my projects and I can definitely recommend it.
You can even use these scalloped scissors to create a fun detailed edge!
Feel free to download and print as many wine bottle labels as you would like. However, please do not redistribute or sell any labels. These files were created for personal use only.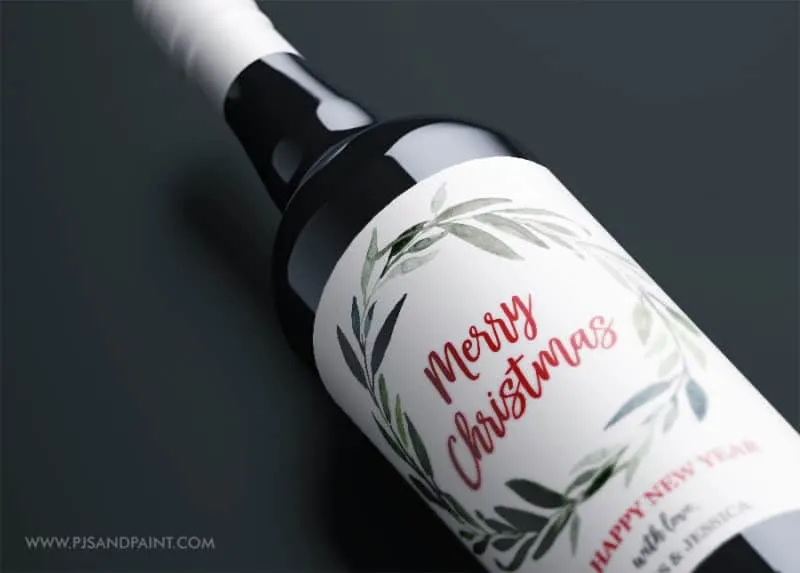 Depending on the size of your original wine bottle's label, you may be able to stick the new label right on top. However, I would definitely recommend taking the original label off of the wine bottle before placing the new custom label on. Check out the instructions below for more details regarding the best way to remove a wine bottle label.
How to remove a wine bottle label:
First, fill up a container with warm water and a few tablespoons of baking soda. Next, place the wine bottle in the container. Make sure that the label is fully submerged in the water. Let soak.
After about 30 minutes, you can remove the wine bottle from the warm water and wipe off the label with a rag or a washcloth. If some of the adhesive material or bits of the label remain on the bottle, you can use a small amount of rubbing alcohol to remove the extra residue.
Once the wine bottle is clean and dry, simply stick your new label on and you're good to go!
Christmas Wine Bottle Labels
4 wine bottle labels will print per 8.5×11 inch page. Once trimmed, each label will measure 3.75×4.75 inches. As mentioned above, you can use regular printer paper, cardstock, or for the very best results, white waterproof sticker paper. Click here to view white waterproof sticker paper on Amazon.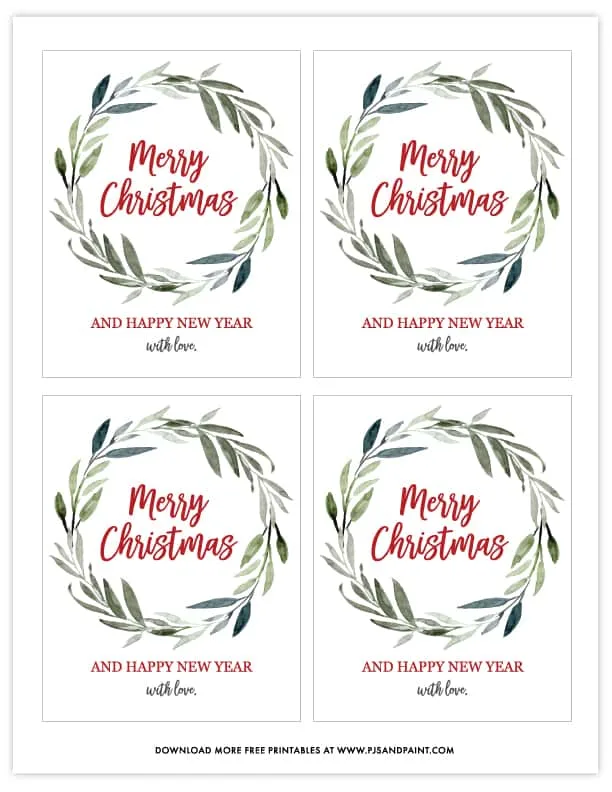 Click here to download the editable Merry Christmas wine bottle labels.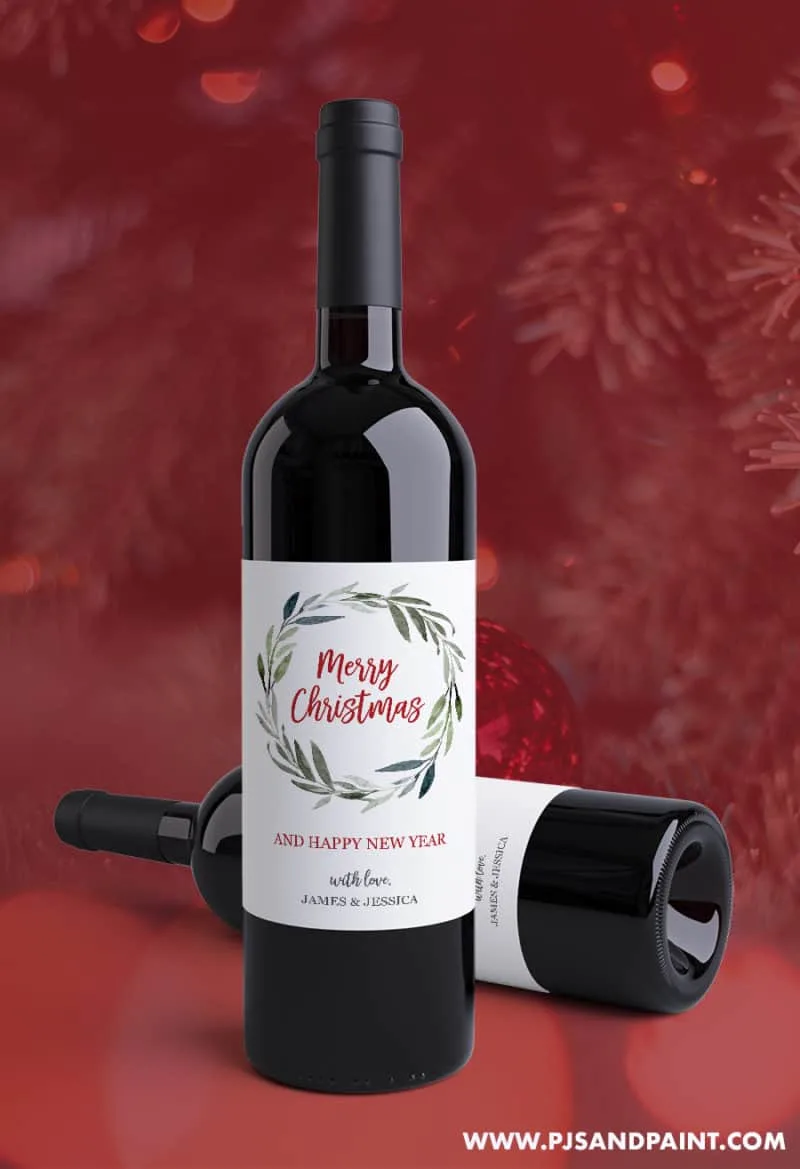 Did you use these Christmas wine bottle labels this year? I would love to see them! Tag me on Instagram @pjsandpaint.
Merry Christmas and Happy New Year!
Like this design? Check out these matching free printable Christmas gift tags:
These free printable Christmas gift tags will not only save you time and money, but will also add a sweet personal touch to all your gift wrapping this holiday season. Featuring a beautiful watercolor wreath, these gift tags will be the perfect addition to your gift wrap. Click here to view the full blog post and download links.
And if you would like to be extra matchy matchy with your Christmas party decor this year, we also have these beautiful (and yes matching!) DIY Christmas utensil pouches.
This free printable Christmas utensil holder would make a fantastic addition to your holiday dinner table this year. Featuring a green wreath and red writing in a fun script font, all of your dinner guests will most definitely appreciate the time and effort you took to make sure that your dinner table looked extra special! Click here to view the full blog post and download links.
Did you happen to come across this post before Thanksgiving? If so, keep reading!
If you're struggling to figure out a good host or hostess gift to bring to Thanksgiving dinner this year, just head to the store and pickup a nice bottle of wine. This free printable Thanksgiving wine bottle labels are a great way to personalize a wine bottle label and turn something ordinary into an extra thoughtful gift. View the full blog post here.