Last Updated on
I'm sure you'll be attending tons of Christmas and holiday parties in the upcoming winter months. Make sure you don't show up empty handed!
I've designed these free printable Christmas wine bottle labels to add a personal touch to any bottle of wine that you gift this holiday season.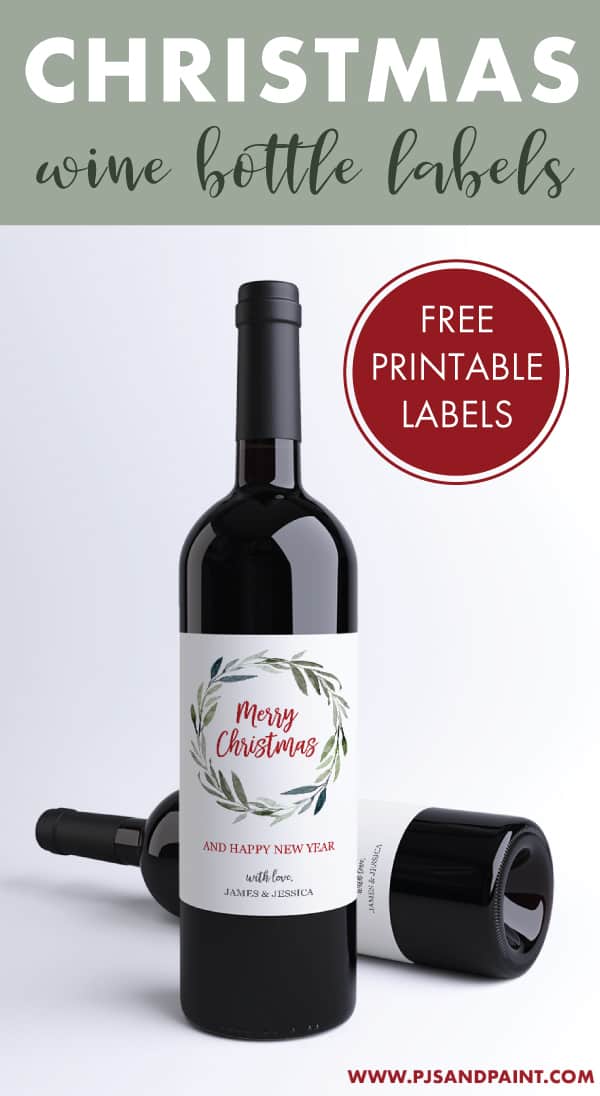 Dislclaimer: This post contains Amazon affiliate links. This means that at no extra cost to you, I may earn a small commission if you decide to make a purchase.
How to customize the Christmas wine bottle labels:
Download the label pdf from the link down below. Next, open up the file in Adobe Acrobat. You should now see text boxes that are highlighted in blue. Here, you can fill in the boxes with your name or a short message.
If you're in need of a last minute gift you can absolutely print on a piece or regular paper or cardstock and glue or tape the label on. However, for the best and most professional looking label I would recommend printing on white sticker paper. Waterproof sticker paper will definitely hold up the best. Check out waterproof sticker paper here on Amazon. Whether you go for the matte paper or gloss, it will look SO much nicer!
Once you print the labels, you can trim them using a paper cutter or scissors. You can even use these scalloped scissors for a fun look!
Depending on the size of your original wine bottle's label, you may be able to stick the new label right on top. However, I'd recommend taking the original label off the bottle first. Check out the instructions below for more details on how to do this.
How to remove a wine bottle label.
First, fill up a container with warm water and a few tablespoons of baking soda. Place the wine bottle in the container, making sure the label is submerged in the water. Let soak.
After about 30 minutes, remove the bottle from the warm water and wipe off the table with a rag or washcloth. If some of the adhesive material or bits of the label remain on the bottle, you can use a little bit of rubbing alcohol to remove the residue.
Once the bottle is clean and dry, simply stick your new label on and you're good to go!
Christmas Wine Bottle Labels
4 wine bottle labels will print per 8.5×11 inch page. Once trimmed, each label will measure 3.75×4.75 inches.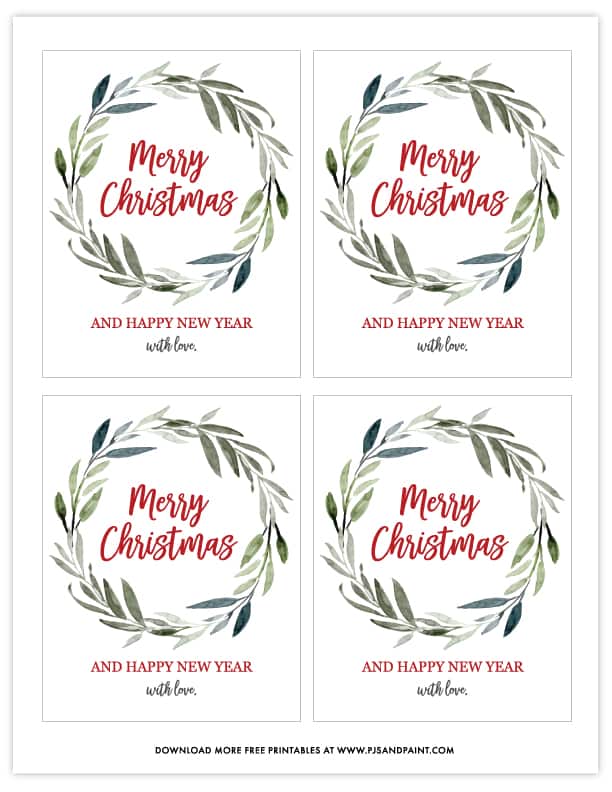 Did you use these Christmas wine bottle labels this year? I would love to see them! Tag me on Instagram @pjsandpaint.
Merry Christmas and Happy New Year!