This free printable Christmas utensil holder would make a great addition to your holiday dinner table this year. Featuring a green wreath and red writing, all of your guests will definitely appreciate the time and effort you took to make your table look extra special!
While my husband's side of the family is made up of lots of aunts, uncles and cousins, my side is definitely more on the smaller side. When we visit my family for the holiday's it is typically just my immediate family and maybe an additional guest or two.
Personally, I love it this way. Intimate family gatherings are often times a lot more special because you get to spend a lot of time with everyone individually.
However, since we don't have many guests over to the house, we don't typically use fun little personal touches like place cards or custom dinner menus. Go do a quick search on Etsy and you'll see what I mean!
Being a graphic designer, I absolutely love creating these types of printable items for others that can make the holidays seem just a bit more special and magical than they already are. So this year, I decided to change things up.
I created these free printable Merry Christmas utensil holders that I will be printing and putting together for Christmas dinner this year. Now, I know that my brothers won't appreciate the small personal touches, in fact I'm sure one of them will even make fun of me. I'm looking at you Mike!
But in any case, it'll make me happy to see these Merry Christmas utensil pouches sitting on the table before dinner is ready. And as long as I can get one a good Instagram photo out of them, I'll be a happy camper!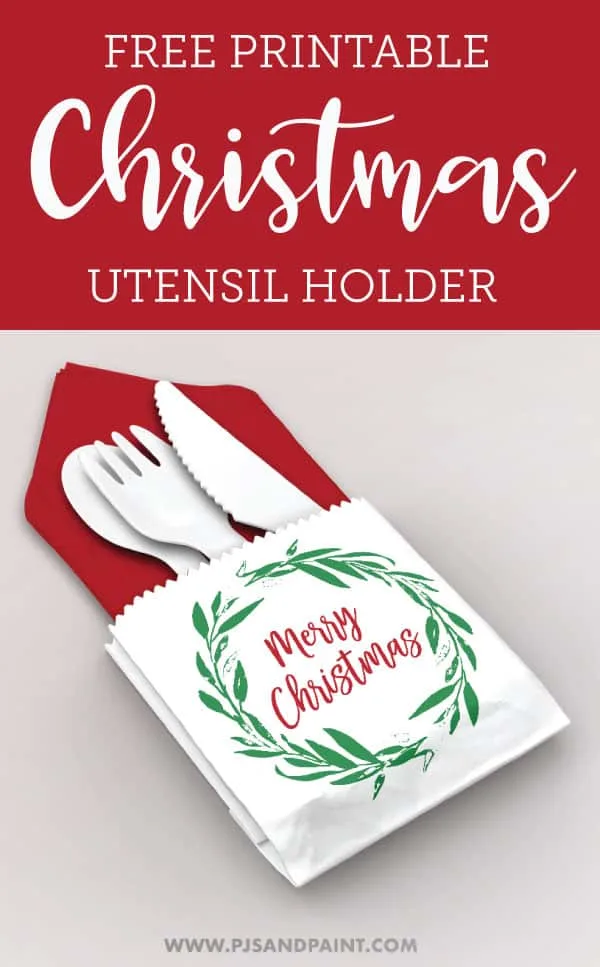 Disclaimer: This post contains Amazon affiliate links. This means that at no extra cost to you, I may earn a small commission if you decide to make a purchase.
Christmas is such a magical time of year. And adding small personal touches to your home can make it even more special! I created these printable utensil holders to add a beautiful and personal touch to your Christmas dinner table. They are completely free to download as many times as you'd like. I hope you enjoy them!
Free Printable Christmas Utensil Holder
Two utensil holders will print per 8.5×11 inch page. For the highest quality, I would recommend printing on white cardstock.
Feel free to print as many copies of the Christmas utensil holder templates as you would like. However, please do not edit or redistribute the files in any way. The designs are for personal use only.
Once printed, trim the utensil holders along the dotted lines. You can either use a scissor or a paper cutter if you happen to have one on hand. This is the paper cutter that I am currently using for all my projects and can definitely recommend it!
Next, fold the paper in half and glue the two outer edges together. Once completely, each will measure approximately 4.25×4.25 inches. After the glue is dry, place your utensils inside and set on your guests' dinner plates, or display in an area where everyone can grab them as they sit down to eat.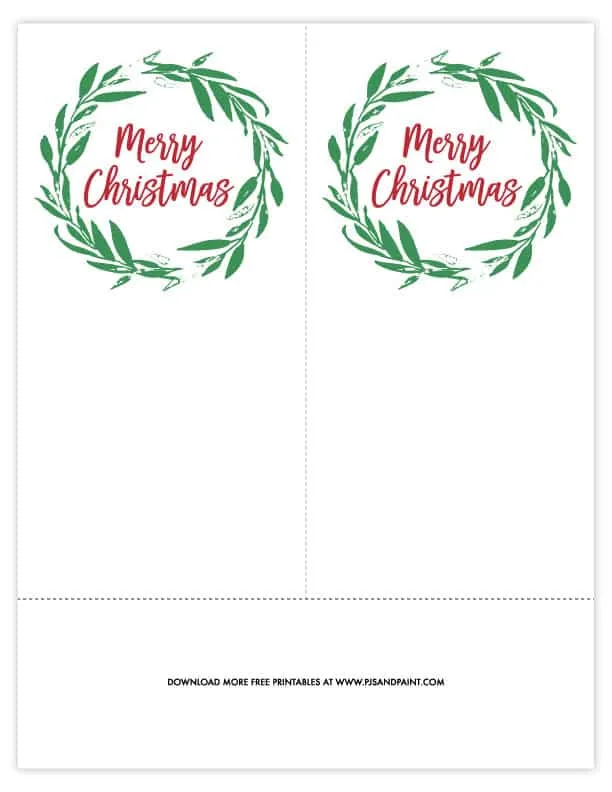 Download the Merry Christmas utensil holder pdf here.
Something fun you can also do with the utensil holders is add a fun scalloped or zig zagged edge to the top. All you would need to do to achieve this look is to pick up a specialty craft scissor.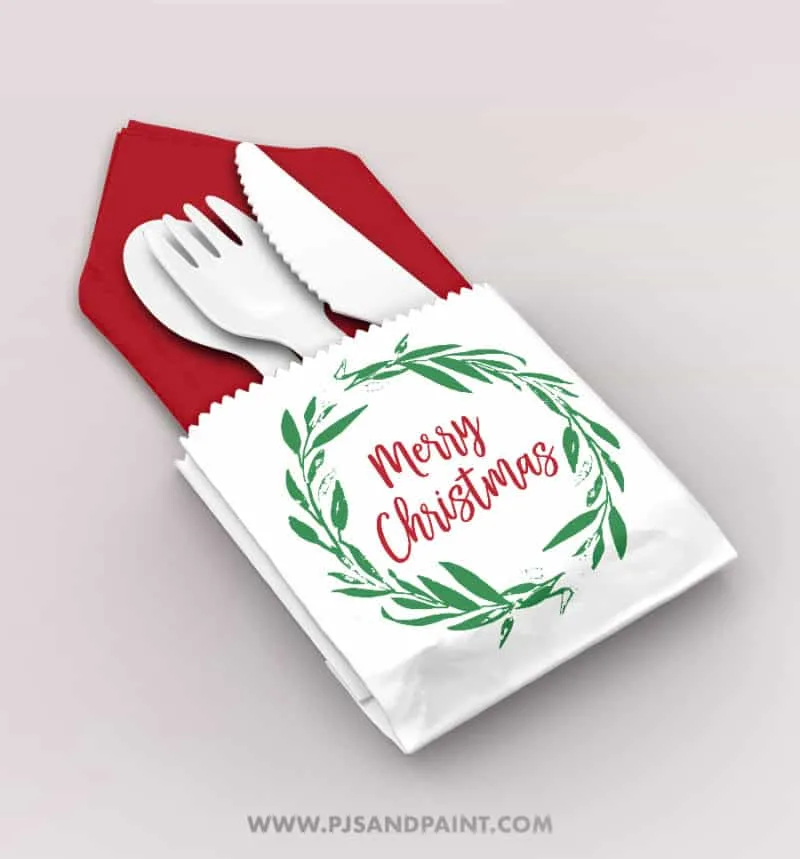 One of these two scissors would work great:
[column-half-1]


[/column-half-1]
[column-half-2]

[/column-half-2]
Now that you've made your dinner table look great, what about something to keep all of the kids entertained and out of trouble?
Restaurants are definitely onto something with the coloring and activity placemats that they give out to kids. It can be a real challenge to keep children occupied and sitting down at the dinner table. I don't know how many times I've already had to chase my son around a restaurant, trying to get him to stay in his chair. And he's only two! And once they're sitting down, it's a whole other struggle trying to get them to eat. I don't know how many times I've said, "Fine, you can just eat ketchup and crackers for dinner."
Anyway, getting a little off topic there! What I'm trying to say is that the more things you have ready to go to keep the little ones in their seats at the dinner table, and out of trouble, the better.
And that is why I've designed this fun free printable coloring and activity placemat that would be the perfect addition of you Christmas dinner table this year.
Featuring a Christmas themed word search, word scramble and a large coloring section, these printable placemats will keep all the kiddos entertained for a long time.
I've made them available in two different sizes. You can use either a standard 8.5×11 inch piece of paper, or if you have any 11×17 inch paper on hand, you can get a slightly larger placemat. The larger placemat may not keep the kids out of trouble for any longer than the smaller version, but it may just contain a little bit more of their messes! Anything that makes cleanup after dinner time just a little bit easier is a win for me!
Click here to view the Christmas placemat download page.
Did you use these Christmas utensil holders this year? Feel free to tag me on instagram at @pjsandpaint if you upload any photos. I would love to see them!
Merry Christmas and Happy New Year!
PS. Are there any wine lovers that are reading this blog post right now? Be sure to take a look at the matching wine bottle labels here.
I'm sure you'll be attending tons of Christmas and holiday parties in the upcoming winter months. Make sure you don't show up empty handed!
I've designed these free printable Christmas wine bottle labels to add a personal touch to any bottle of wine that you gift this holiday season.
PPS. Did you happen to stumble upon this post before Thanksgiving?
If so, you'll definitely want to check out the free printable Thanksgiving utensil holders. Featuring the words "Thankful for You," they would look great on your dinner table this upcoming holiday. Click here to visit the post with the download link.