If you are currently planning a baby shower and need some adorable onesie templates to complete your decor, look no further! Today, I'm sharing a free printable onesie template that you can use for a variety of fun projects.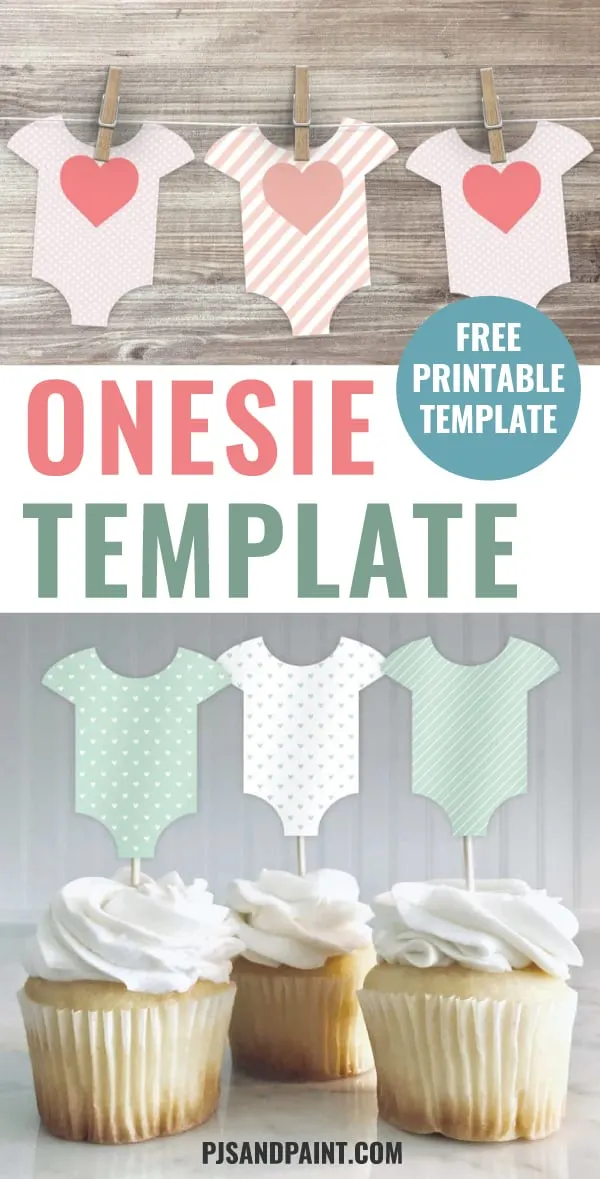 When I was pregnant with my son, my husband and I took a trip to the store to browse the car seats. Let me tell you, it is beyond overwhelming! There are countless types, styles and colors of these things. Being a first time parent you are learning a lot and we just stood there completely confused not knowing where to begin.
We picked up one car seat that I had done a bit of research on beforehand. Well.. let me be more clear, we tried to pick it up. Apparently there was some release button that we just weren't figuring out. My husband was putting all of this weight into trying to pull the actual car seat out of the base. I was standing there thinking how are we ever going to be able to do this if we can't even figure out how to work a car seat.
It was then that a man walked over to us with a smile. "I know that face. That was me before my daughter was born." He pointed to a different car seat, told us that was the one he uses and with one hand unlocked the car seat bucket from the base. Apparently we weren't very good at hiding our confused and terrified new parents-to-be faces.
We did end up getting the car seat that he recommended and he was right, it was great.
New parents have more than enough on their plate. Planning a baby shower shouldn't be the stressful part.
So to do my small part in helping even a few new mommies-to-be plan a shower for their new bundle of joy, I have created some easy to use onesie templates.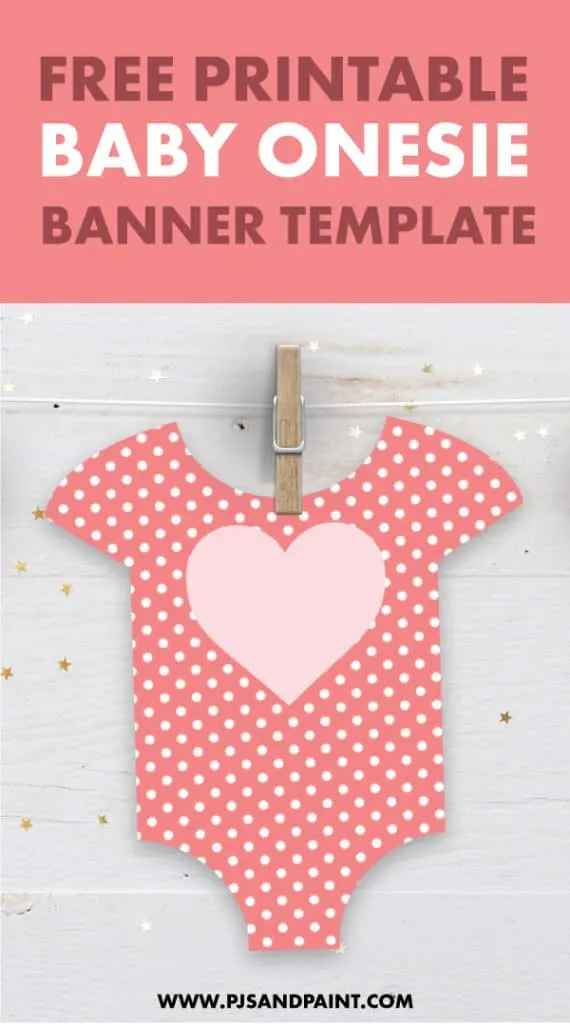 Disclaimer: This post contains Amazon affiliate links. This means that at no extra cost to you, I may earn a small commission if you decide to make a purchase.
These onesie templates will help you get started on your custom baby shower decorations. I'm sharing two different size patterns that would be perfect for a variety of projects.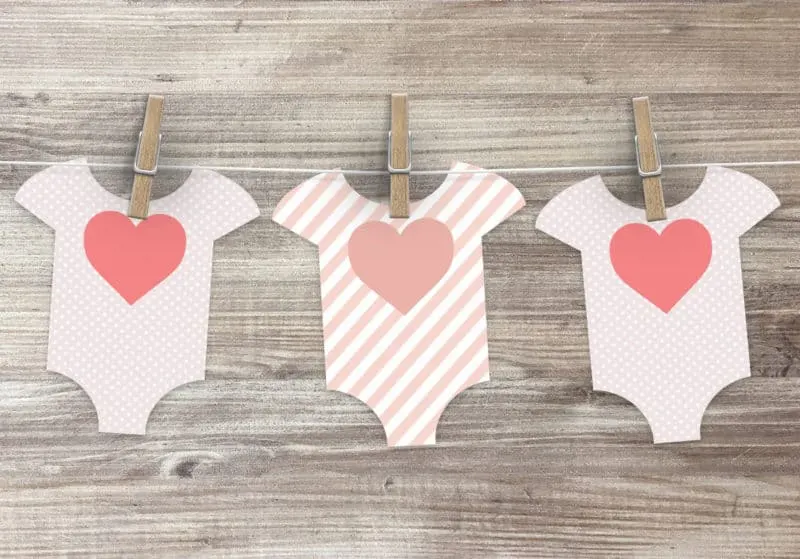 All download links are located at the bottom of this post.
Free Printable Onesie Template – Large Size:
The large onesie template is sized to fit on an 8.5×11 inch piece of paper. For the best quality I would recommend printing on cardstock. Once cut out, the onesie will measure approximately 8 inches tall.
The template also includes a bow tie and a heart that you can glue onto the onesie to create a more feminine or masculine look. Both the bow tie and heart will measure about 3 inches in width.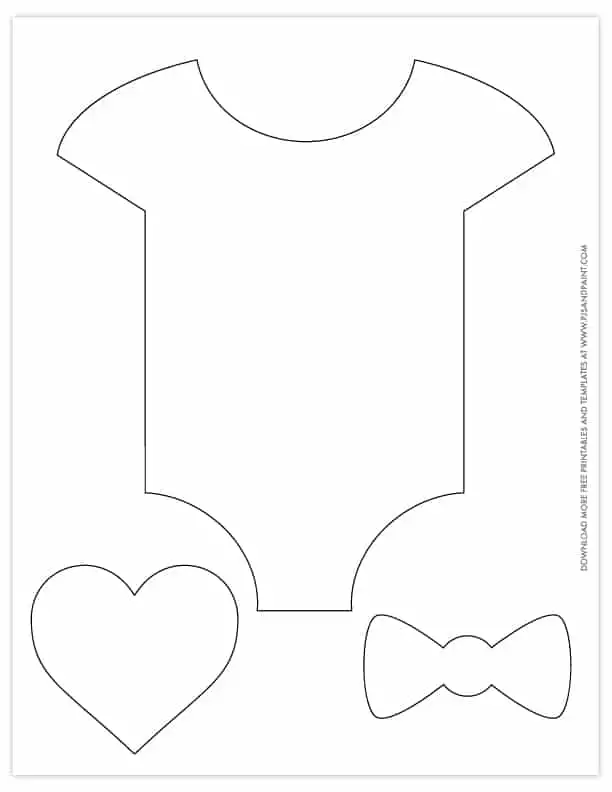 How to use the large onesie template to create a hanging banner:
Print out the pattern on a peice of 8.5×11 inch cardstock. Cut out the template using scissors and then place the pattern onto a piece of colored or patterned cardstock or srapbooking paper.
Below are a few cute paper options that I think would work great for a wide variety of themes. Click one of the images below to be taken to their Amazon pages.
Use a pencil to trace the pattern onto the colored or patterned paper. I would definitely recommend tracing the template onto the back of that paper so that you won't be able to see any pencil lines if you don't happen to cut out the onesie perfectly.
Alternatively, if you happen to have any 8.5×11 inch cardstock or scrapbooking paper on hand, you could also print directly onto the final paper itself and cut out from there. This will make the process a bit quicker.
Next, take another piece of cardstock or scrapbooking paper that contrasts the color and/or pattern on the large onesie. Trace either the bow tie or the heart template. After cutting out the bow tie or heart, you can use a glue stick to adhere it onto the onesie.
Repeat this process as many times as needed, using a variety of colors and patterns to create a fun look! You can hang the banner with some string or twine, and then use standard or mini sized clothespins to attach to the string.
Free Printable Onesie Template – Small Size:
The small onesie template is sized to fit on an 8.5×11 inch piece of paper. For the best quality I would definitely recommend printing on cardstock. Once cut out, the onesie will measure approximately 3 inches wide. 6 onesies will print per page.
If you're going for a more subtle onesie banner, you can follow the same steps above to create a hanging banner out of the small onesie templates. For this sized of banner I would recommend using mini clothespins to attach to the string. Check out mini clothespins on Amazon here. They are just so stinking cute!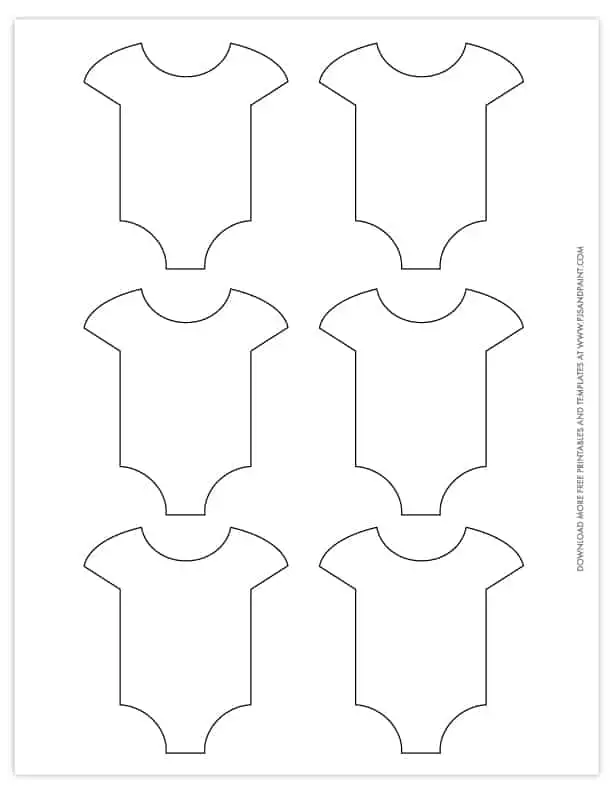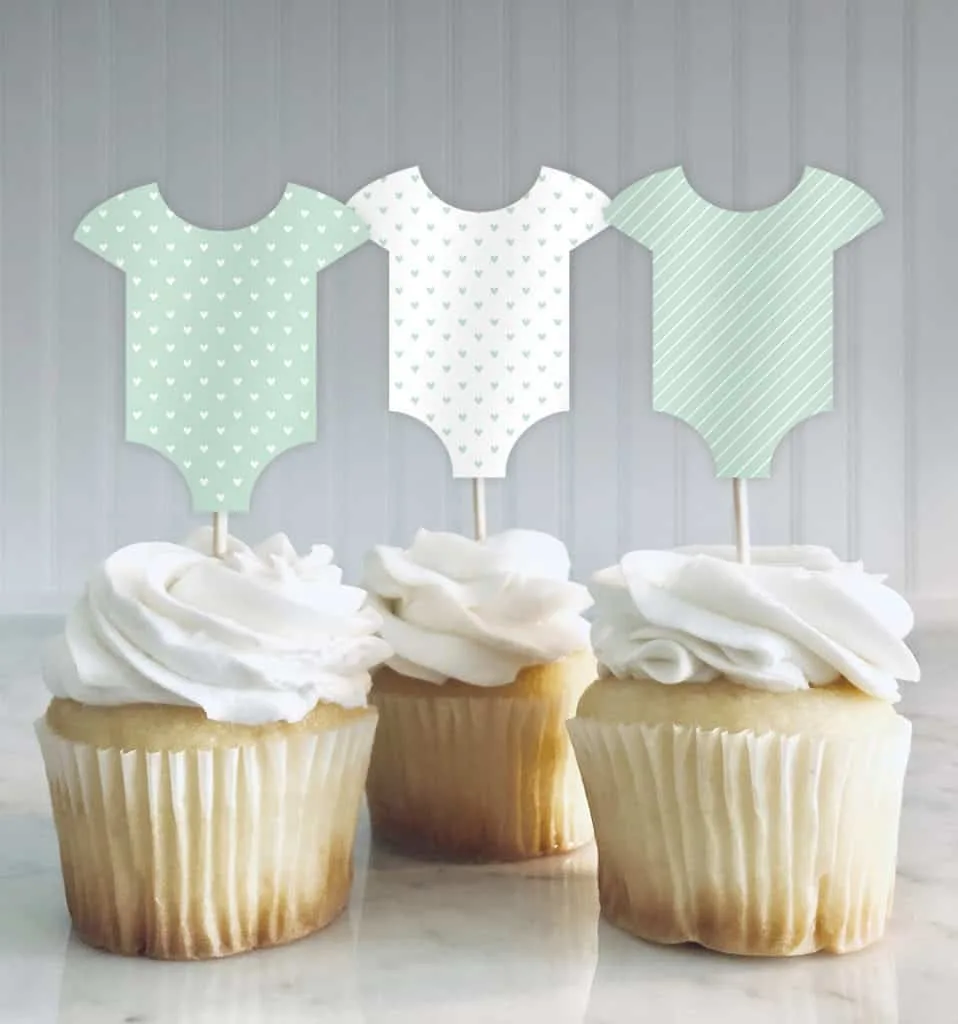 How to use the small template to create cupcake toppers:
Print out the pattern for the small onesies on 8.5×11 inch cardstock. You could also choose to print directly onto the final paper you will be using.
I'm loving these patterns below! Click on an image to take you to the Amazon page.
After the onesies are printed and cut out, you can tape toothpicks or small lollipop sticks to the back of the pattern and stick them into the tops of the already frosted cupcakes. You can try mixing and matching different colors and patterns to create a really fun look that all your guests will love!
Other ways to use the onesie templates:
Use the large template as a coloring page:
If you're planning on having any younger kids attend the baby shower with their parents, you're going to need some activities for them! One great idea is to print out the large onesie pattern onto a piece of regular printer paper. Create a coloring station and have kids design their very own onesie.
Use the small template for gift tags:
Whether you need a gift tag for a baby shower gift, or are in need of a favor tag, these small onesies would be perfect! You can either print out the small onesie patterns on cardstock and write on them by hand, or download the pdf template and upload it into a program such as Photoshop or Canva.com (free alternative). There, you can add your custom text, print and use on your gifts or favors!
Use the onesies at table numbers:
These templates would be just perfect for table numbers at your shower! Download the patterns to your computer and then either hand letter or use a design program (such as Adobe Photoshop, Illustrator, or a free alternative, Canva.com) to add numbers onto the center of the onesie. You can use these table number stands to stick the onesies into. I think this would be such a cute idea!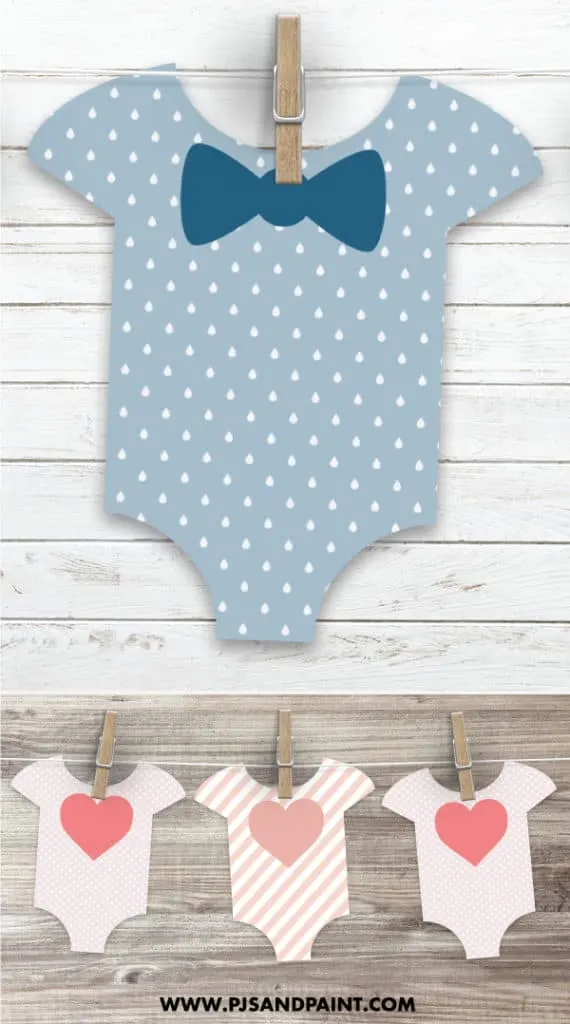 Download Links:
Download free large onesie template
Download free small onesie template