Last Updated on
I don't know about you, but I've always thought plaid was one of the cutest themes for a baby shower. So today, I've created a set of free printable plaid baby shower games! Included are: Word scramble, Bingo Cards, Baby ABC Game, Wishes for Baby Cards, Advice for Mommy Cards and Diaper Raffle Tickets. Scroll down to the bottom of this post for the download links!
Don't forget to check out the other free baby shower designs here: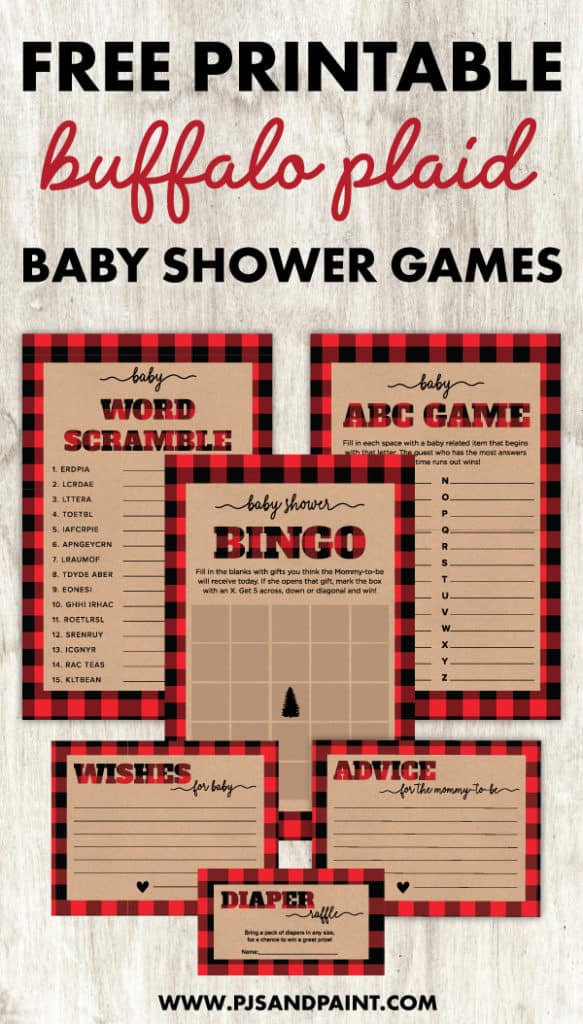 Disclaimer: This post contains Amazon affiliate links. This means that I may receive a small commission if you purchase through one of my links.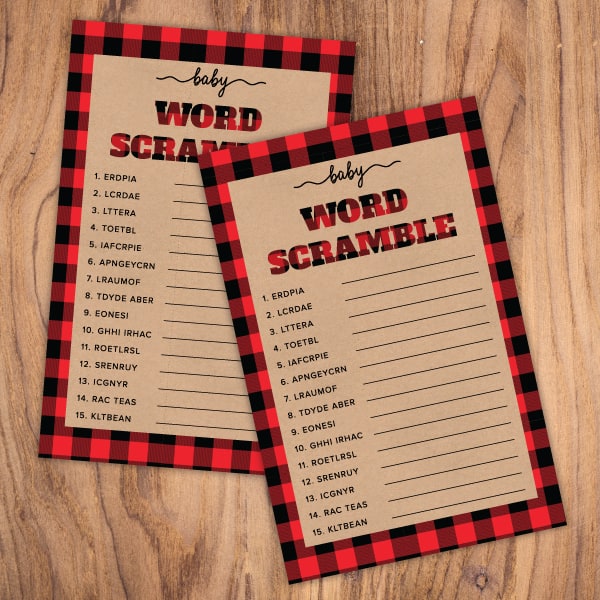 How to play Baby Word Scramble
Have each guest try and unscramble all fo the baby themed words. You can either have the games at their seats when they arrive or hand them out later on in the shower. To make it more fun, set a stop watch for a certain amount of time. Have your guests unscramble the words as quickly as possible. Whoever has the most when time is up could win a prize! (Maybe this cute manicure set?)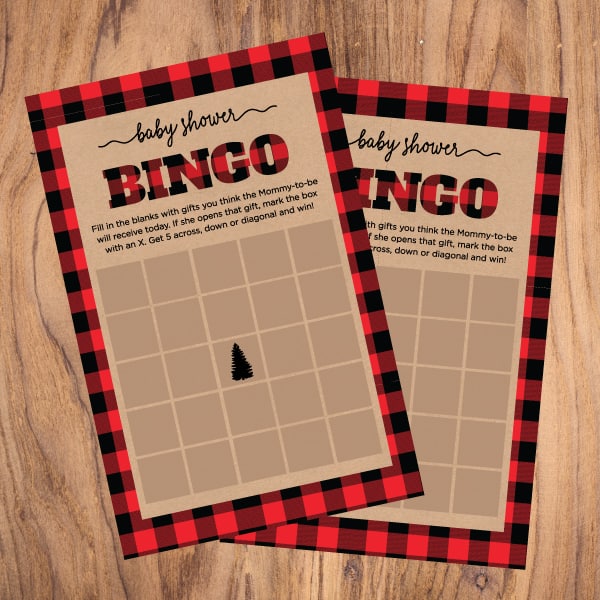 How to play Baby Shower Bingo
Fill in the blanks with gifts that you think the Mommy-to-be will receive at the shower. If she opens that gift, mark the box with an X. Get 5 across, down or diagonal and win!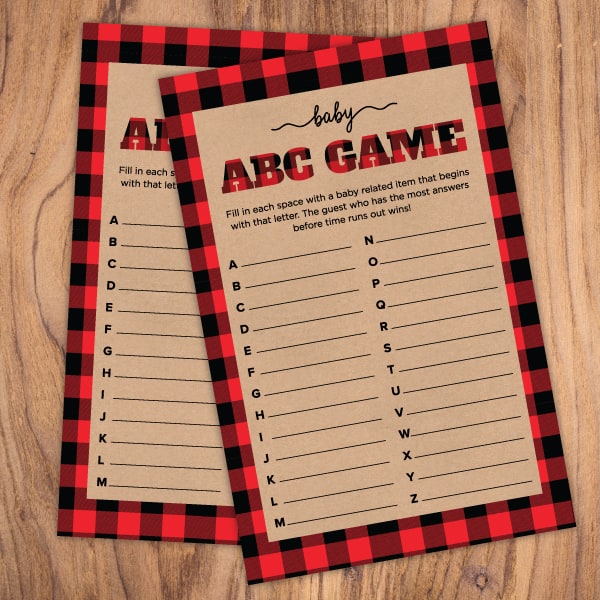 How to play the Baby ABC Game
Fill in each space with a baby related item that begins with that letter. The guest who has the most answer before time runs out, wins!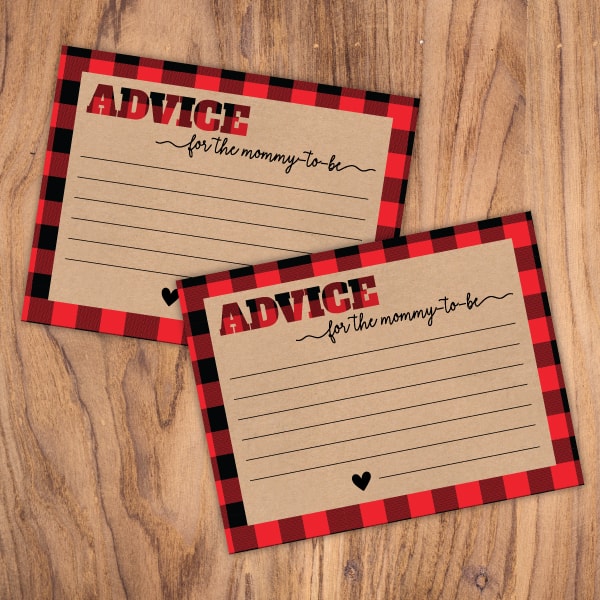 What to do with Advice for Mommy Cards
Have each guest fill out a card with advice or words of encouragement for the new mom-to-be. Afterwards, you can put the cards in a decorative box or in a photo album. It will be something to treasure for years to come.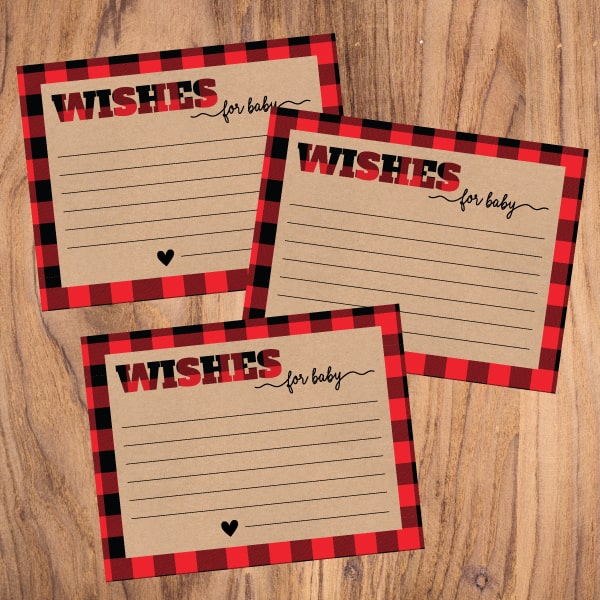 What to do with Wishes for Baby Cards
Create a wishes for baby station at an empty table where guests can write down hopes, dreams and words of advice for the new baby. Alternatively, you could place the cards at each seat for guests to fill out at their leisure. After the shower, you can keep the cards in a decorative box or photo album. What a fun keepsake to look back on when the baby grows up!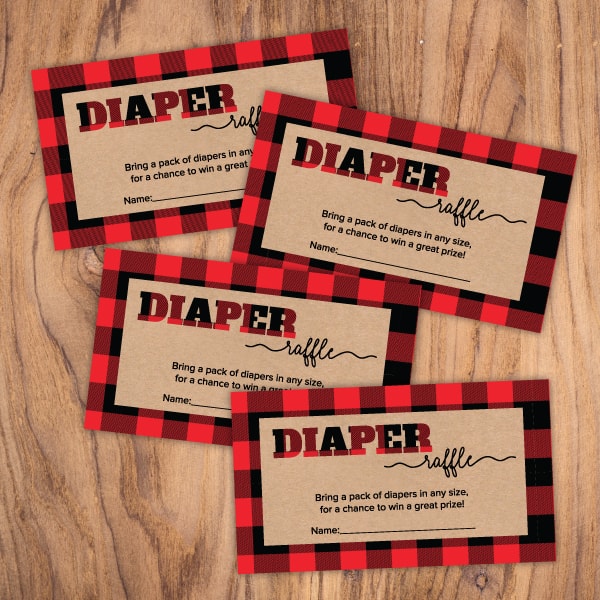 How to use Diaper Raffle Cards
Put a diaper raffle card in each baby shower invitation. If a guest would like to enter the raffle, they can bring a pack of diapers to the shower along with the raffle ticket with their name on it. The host can collect the tickets or have a container set up for people to drop them off as they come in. The parents-to-be will be so grateful to have a nice stockpile of diapers before the baby arrives!
Free Printable Plaid Baby Shower Games
Each activity file is sized to fit an 8.5×11 sheet of paper. The word scramble, Baby ABC game, and Bingo cards all print 2 per page.
The well wishes cards print 4 per page and the diaper raffle tickets will print 8 per page. For the best quality print, I would highly recommend printing on white cardstock. If you have a paper cutter (I use this one!) you can easily trim the games and cards along the guidelines. If you don't have one, scissors will work just fine!
Thanks for checking out my free printable baby shower activities!
Check out the other free baby shower designs here:
Buffalo Plaid Party Decorations
Feel free to print as many copies as you'd like, however, downloaded files are for personal use only. You are not permitted to redistribute, reproduce, edit or resell any of our designs.