If you've been keeping up with my posts recently, you'll know that it seems like all my friends have been getting engaged this year! That means tons of wedding related activities will be coming up. Things like bridal showers! I designed a set of free printable bridal shower activities that you can download and print for free right now!
I'll be posting a bunch of bridal shower games I've designed in the near future, but set is probably my favorite. It's a simple black and white design but in my opinion so classic and elegant.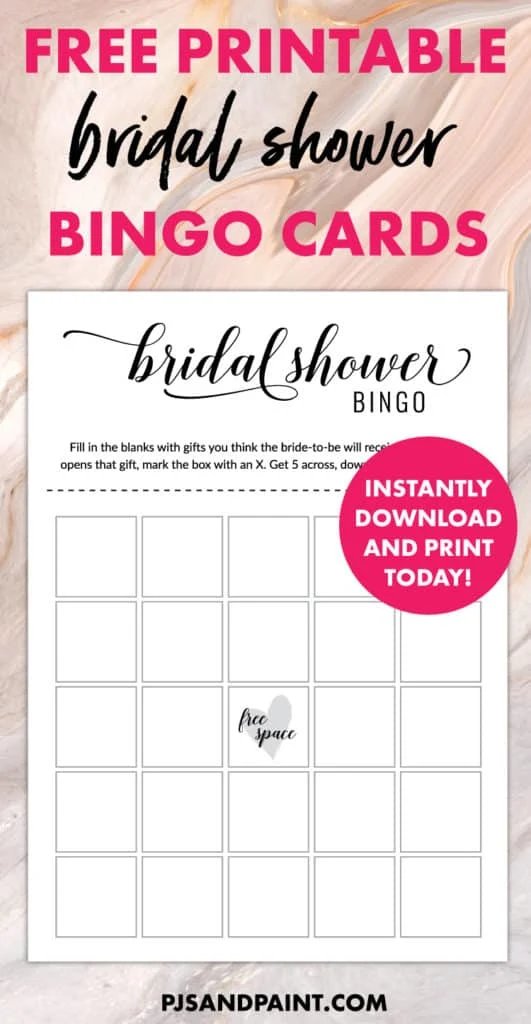 This post contains free printable bridal shower bingo cards. Check out the other matching activities here (and yes, all totally free to download and print as many times as you'd like!):
Disclaimer: This post contains Amazon affiliate links. That means I may earn a small commission if you make a purchase though one of my links.
Free Printable Bridal Shower Bingo Cards
5×7 inches (Prints 1 game per page)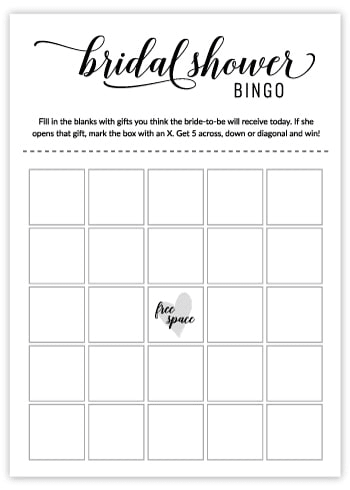 Download bridal shower bingo card here
8.5×11 file (Prints 2 games per page)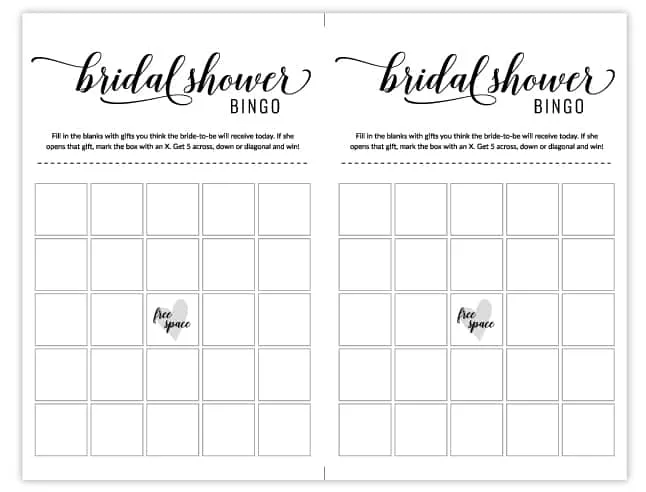 Download bridal shower bingo cards here
How do you play bridal shower bingo?
Each guest at the bridal shower will receive one blank bingo card. Everyone will then fill in the blank spaces with gifts that you think the bride-to-be will receive at the shower. If the bride opens up that gift, mark the box with an X. Get 5 X's across, down, or diagonal and win!
There are two versions you can choose from. The 5×7 inch file, which prints 1 game per page, or the 8.5×11 inch file which will print 2 games per page. If you are sending the games to a local printer or online printer such as Vistaprint, I would recommend the 5×7 inch game for best quality. If you are printing at home on your own printer, the 8.5×11 inch file will work best.
Both files are exactly the same with the exception of size. If you do choose to print at home, I would highly recommend white cardstock to ensure the best quality print. I also think this brown kraft paper would look great if you're going for a more rustic theme.
What does the bingo winner win?
That's up to you! Here are a few prizes I think would be perfect:
Don't forget to check out the matching free printable bridal shower activities: