This free printable Christmas scavenger hunt is a great way to keep your kids entertained this holiday season. It includes eight simple to solve clues which make it perfect for an indoor game.

Disclaimer: This post contains affiliate links. This means that at no extra cost to you, I may earn a small commission if you decide to make a purchase. For more information, please read our affiliate disclosure.
I am so excited that this year my son will be old enough to really start understanding and enjoying the magic of Christmas. He recently started asking to clean up his toys before bedtime so "Santa doesn't slip." I tried to explain to him that Santa won't be coming for a few more weeks, but hey, I'm not complaining about the extra help!
One Christmas tradition that I am really looking forward to is the Elf on the Shelf. Personally, I don't remember the Elf on the Shelf being around when I was younger. I believe it started once my brothers and I were already teenagers.
Anyway! I absolutely love the idea of moving the elf around at night, having him end up in silly situations and leaving notes for the kids in the morning.
Since this is the first year my son will really understand the concept of the elf, I wanted to start it off strong!
After some brainstorming, I decided that I wanted to create a fun and simple Christmas themed scavenger hunt that the elf could set up. I thought that once my son completed the scavenger hunt (with my husband and I's help of course!), he could find a small stocking stuffer type gift to get him excited about the elf's stay in our home this holiday season.
I wanted to create an indoor scavenger hunt so that no matter where you live or are spending the holidays, you could still enjoy the game. This Christmas scavenger hunt includes eight clues that lead to areas around your home.
With the exception of the first and last clue, all other clue cards can be placed in any order you would like. Simply leave a small gift in a closet, place the clues around your home and tell those kids to get hunting!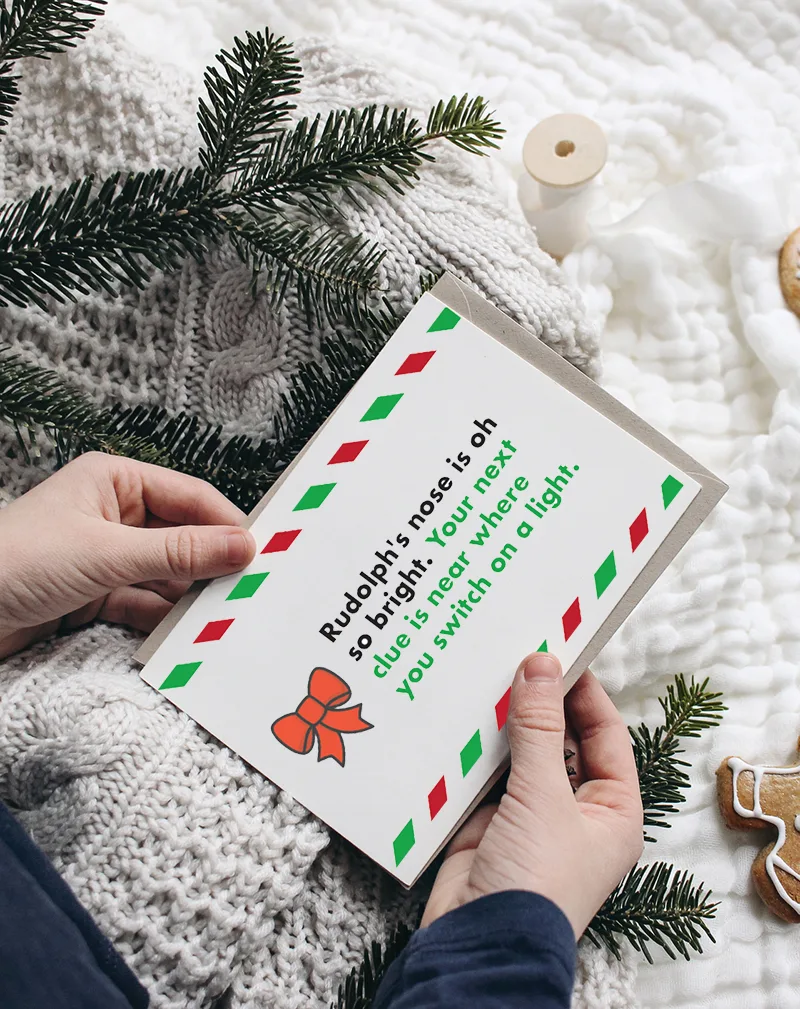 Christmas Scavenger Hunt Clues and Answers
This is a scavenger hunt just for you. Look in the bathroom for you every first clue.
Answer: Bathroom
Rudolph's nose is oh so bright. Your next clue is near where you switch on a light.
Answer: Near a light switch
Decorating the tree is so much fun. Your next clue is in the room where cooking is done.
Answer: Kitchen
When is snows outside you can build a snowman. To find your next clue, look beside a garbage can.
Answer: By a garbage can
Santa's sleigh can fly through the air. Your next clue can be found under a chair.
Answer: Under a chair
Great job, you found the last clue. Now check the closet to find a surprise waiting for you.
Answer: Inside a closet
Free Printable Christmas Scavenger Hunt for Kids
This scavenger hunt game is designed to print onto a standard 8.5×11 inch piece of paper or cardstock. Once printed, you can then cut along the lines to separate the eight scavenger hunt clue cards.
Feel free to download and print as many copies of the Christmas scavenger hunt game as you would like. However, please do not edit or redistribute the files in any way. This game was created for personal or classroom use only.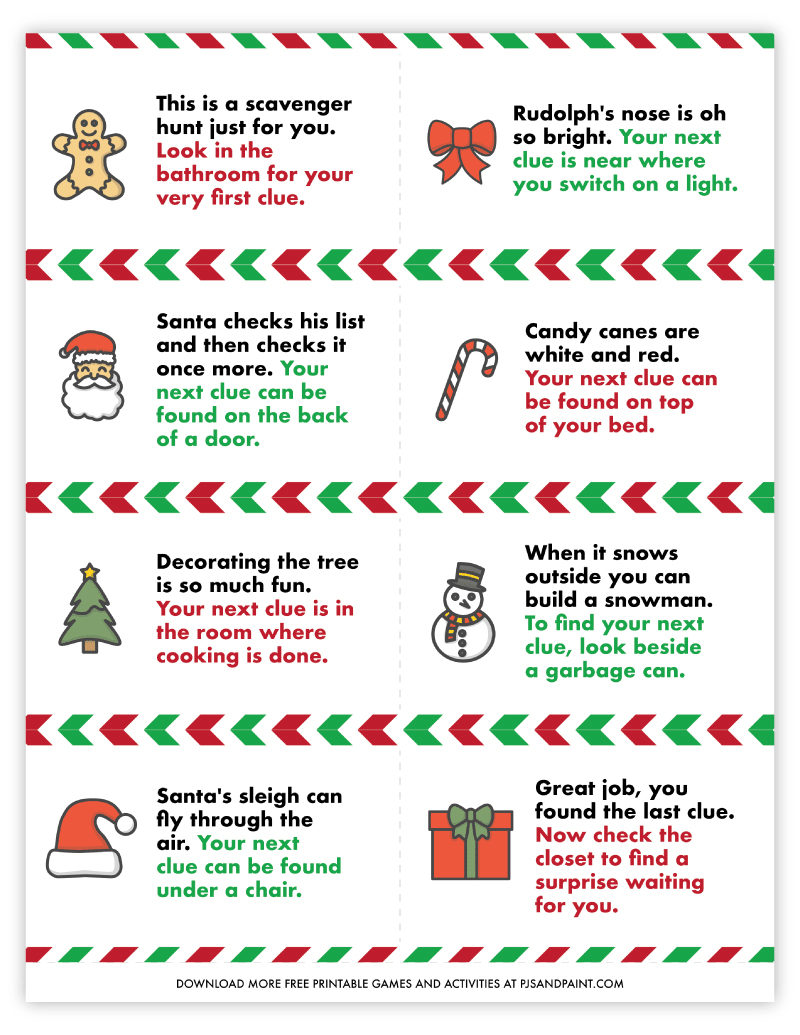 Here are a few fun scavenger hunt prize ideas I thought would be cute! (I bought the Blippi ball pit surprise since our little guy is a HUGE Blippi fan).
Blippi Ball Pit Surprise:
This is what we went with for this year's scavenger hunt prize. Our son is a huge blippi fan and he loves opening surprise eggs and similar toys. We've bought these for him in the past and they have been a big hit!
Sensory Fidget Toys:
I have gotten a set similar to this when my son was a bit younger. They are absolutely perfect for long car rides, restaurant dinners, or just for every day play. I always try to keep a few of these fidget toys in my diaper bag for a quick fix when the crankiness starts!
WikkiStix:
I actually haven't heard of these things until very recently. My brother's girlfriend is an art teacher and always has fun things in her bag. We were having dinner together one day and my son started getting fussy and not wanting to sit at the table. She took these WikkiStix out of her bag and showed him how to create a few simple items. They were a huge hit and made dinner a lot less stressful!
If you enjoyed this game, you might like to check out some of our other fun free Christmas printable activities for kids below:
Free Printable Build Your Own Snowman Coloring Page:
This free printable build your own snowman coloring page is a great activity for kids to work on during a cold winter day. Simply color in the pieces, cut them out and then glue them together to build your very own snowman!
Free Printable Christmas I Spy:
Have fun searching for and counting these Christmas themed pictures in this great I spy game. Perfect for at home, in the classroom or at holiday parties, it is the perfect festive game that will keep the kids entertained!
Free Printable Christmas Word Search:
This free printable word search game features plenty of Christmas themed words to find. Word searches are fun, relaxing and perfect to get you into the holiday spirit.

Download Link:
Download the free printable Christmas Scavenger Hunt.