This free printable build your own snowman coloring page is the perfect activity to keep the kids entertained and having fun this winter season.
Personally, I am not a fan of snow. Sure, I think it looks beautiful when it first starts falling and everything is quiet and serene. Yes, I used to LOVE watching the ticker on the bottom of the news channel to see if my school was closed for the day. (Really dating myself here!) But aside from that, snow and me just don't mix.
I've never enjoyed the shoveling, cleaning and overall slushy wetness that comes along with snow. And I feel like at least where I live, the beautiful freshly fallen snow quickly turns to gray mud from all of the cars.
But with that being said, now that I'm a mom, I'm starting to see the magic in the snow that I seemed to have forgotten. I remember as a kid my neighbors and I would all gather in one of our backyards and play out in the snow for hours.
We would attempt to make an igloo, have snowball fights and of course, make snowmen.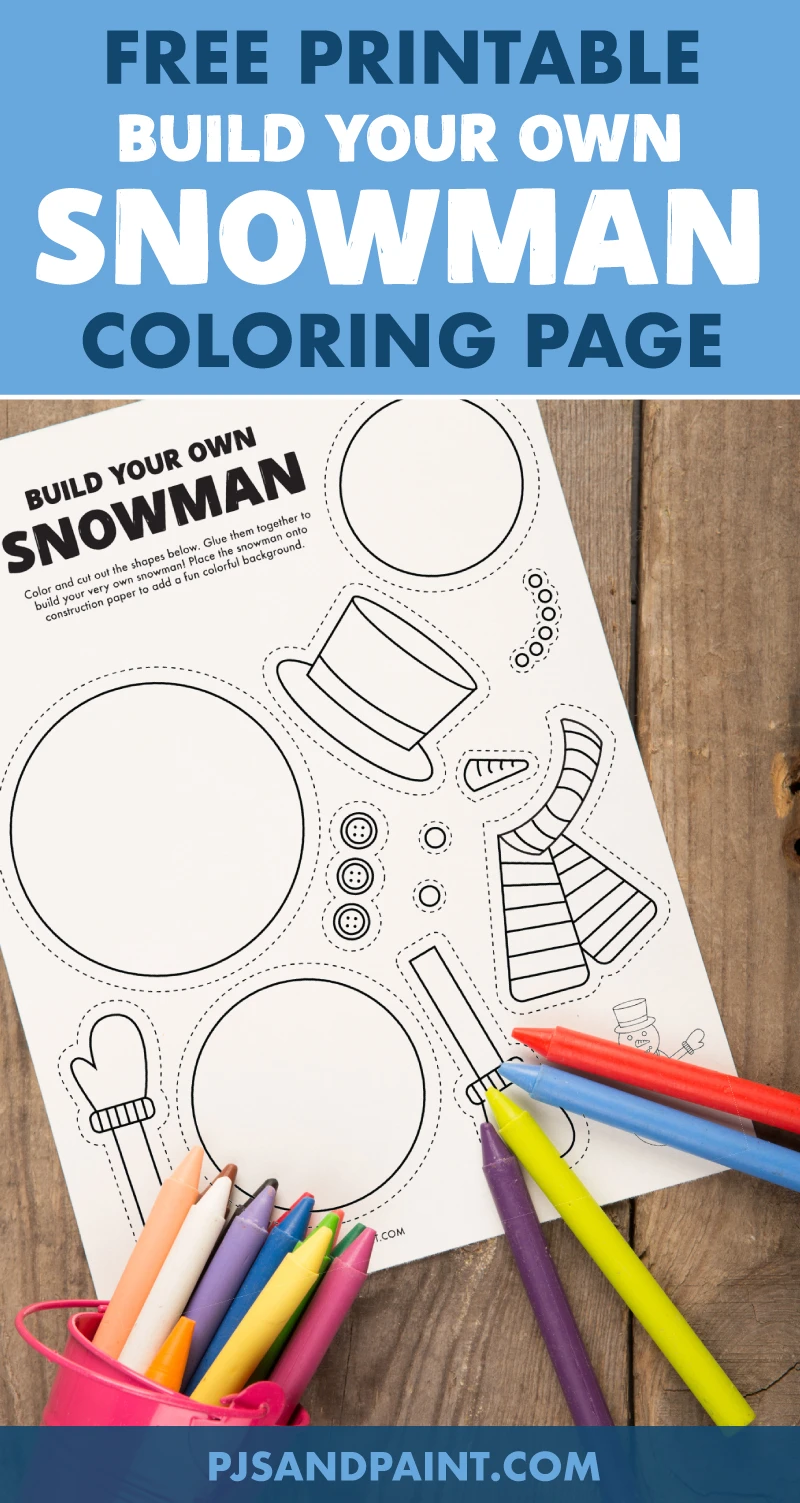 Disclaimer: This post contains affiliate links. This means that at no extra cost to you, I may earn a small commission if you decide to make a purchase. For more information, please read our affiliate disclosure.
I think the most memorable snowman of my childhood was one my brothers and I made with the help of our dad. I remember us all going out after it was already dark and building a giant snowman and then creating a whole crime scene around him. My dad took out some old yellow caution tape he had lying around to block off the area "under investigation."
It was really a fun memory that I'm definitely looking forward to recreating with my own kids.
So in the spirit of the snowy season coming upon us, I wanted to create a fun little printable activity where kids can build their very own snowman, inside their house.
All you need to do is print out the free printable activity page, color in the parts of the snowman, cut them out and then glue them together to form your very own Frosty!
Afterwards you can glue the newly built snowman to a piece of colored construction paper to add a fun background.
Free Printable Build Your Own Snowman Coloring Page
This coloring page is designed to print onto a standard 8.5×11 inch piece of paper or cardstock.
Feel free to download and print as many copies of the build your own snowman activity as you would like. However, please do not edit or redistribute the files in any way. This coloring page is intended for personal or classroom use only.
What you need to build your very own snowman:
Free printable coloring page
Scissors
Glue
Crayons, markers or colored pencils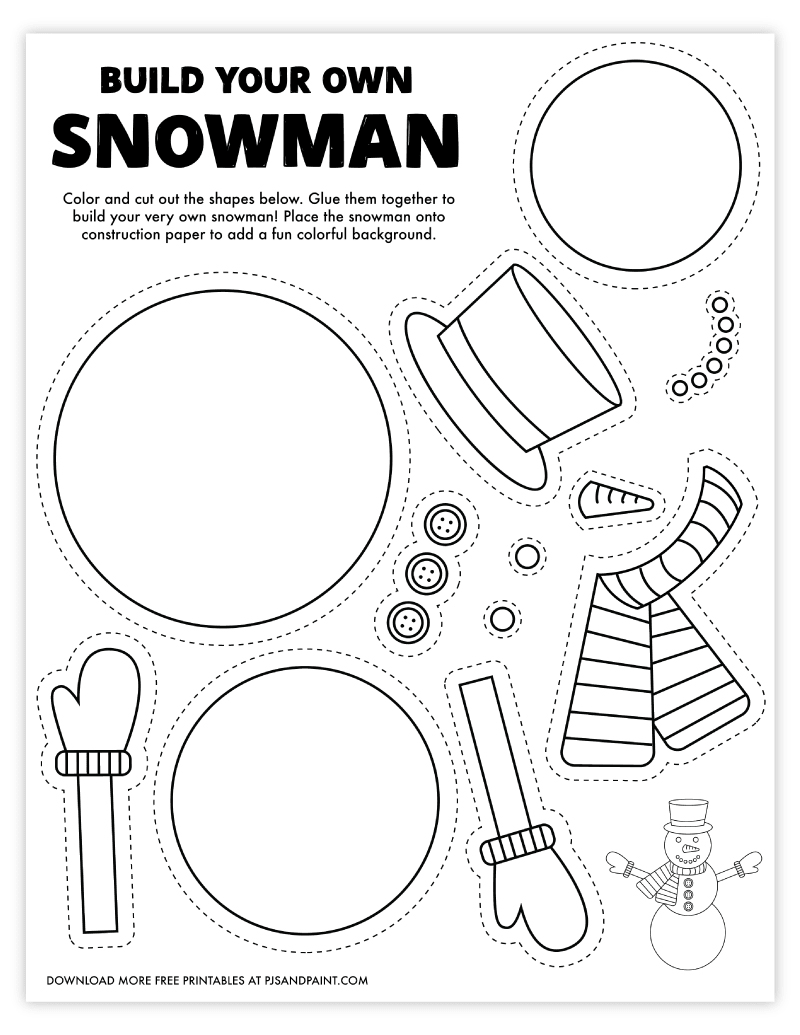 If you enjoyed this build your own snowman printable activity, you may also like to check out some of our other fun free winter printables below:
Free printable winter activity page
This fun free printable activity page includes a large word search section, a word scramble section and a cute little snowman to color in. This printable would be perfect for winter or holiday themed parties, classroom activities or simply during a relaxing day at home.
Free printable gingerbread man template
This gingerbread man template is perfect to use as a template for tons of fun holiday themed crafts this winter season. Whether you use it as a coloring page, a stencil to cut out or as a festive decoration, this template will give you the perfect tools for a fun project!
Free Printable Christmas Maze
Find your way through this holiday themed maze to reach the jolly Santa Claus in the center. A fun and relaxing activity to get you and the kids into the holiday spirit!
Free Printable Christmas Scattergories
A fun festive twist on the classic scattergories game you know and love! Using the categories cards provided, each player will fill in answers that start with the letter selected at the beginning of each round. Write down as many answers as you can before the timer runs out. Try and come up with the most unique answers that you can!
Free Printable Roll a Christmas Tree Game
In this fun game, each player will have a printable game board. Roll one dice and then use the key to determine which color M&M you will place on the Christmas tree. Continue to roll the dice until the entire tree is filled with the correct colored M&Ms. Whoever wins, gets to eat all of the candy!

Download Link:
Download the free printable build your own snowman activity page.