Have fun searching for and counting winter and holiday themed pictures in this free printable Christmas I Spy Game. This I Spy Game is perfect for holiday parties at home or in the classroom. It is also a great festive activity that will keep everyone entertained.
Today I wanted to share with you my second version of the Christmas I Spy game. This version prints in black and white and is great to double as a coloring page. Great for adding an extra dose of creativity to the game.
If you'd like to take a look at another more colorful option, feel free to check out Christmas I Spy Game – Version 1.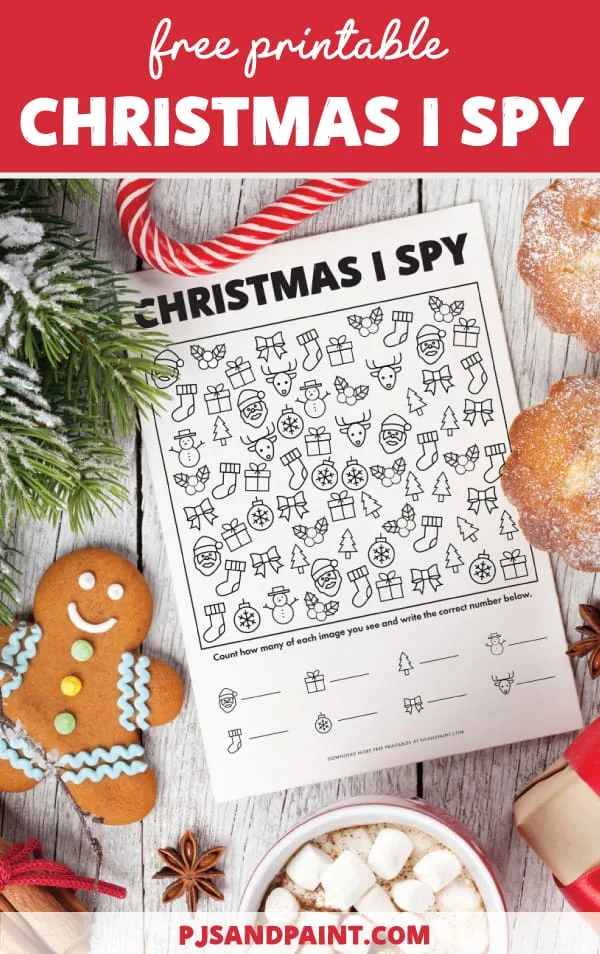 The game download link and answer key are located at the bottom of this post.
Disclaimer: This post contains Amazon affiliate links. This means that at no extra cost to you, I may earn a small commission if you decide to make a purchase. For more information, please read our affiliate disclosure.
Recently, I have been trying to come up with a lot more activities to entertain my son at home. It can be hard to figure out how to keep a toddler engaged and having fun, especially in the wintertime.
The thing I love about I spy games is that they can really be modified to fit a wide range of age groups. If the child is older, they can count the pictures by themselves and write the numbers on the spaces below. If the child is younger, they can help count the pictures and you can write down the correct number of items.
What I did with my son was ask him to point out every reindeer that he saw. As he pointed them out, I would color them in one by one. After we found and colored all of the reindeers, he helped me count how many there were. It was a fun interactive activity that also turned into something a bit educational too!
How to play Christmas I Spy:
Count how many of each image you see in the box above. Write the correct number in the boxes below.
Everyone will have so much fun searching for all the Christmas themed items. In this game, you will be searching for:
Santa Claus
Presents
Stockings
Ornaments
Christmas Trees
Ribbons
Snowmen
Reindeers
Be sure to check out these other free printable Christmas themed activities and games:
Christmas I Spy Version 1
This I Spy game included different Christmas themed icons in full color! This would be a great game to print out every year, or even laminate and reuse for years and years to come! All you would need are some dry erase markers and you have a fun Christmas themed activity that will keep the kids busy and out of trouble.
Free Printable Christmas Activity and Coloring Page Placemat
Getting kids to stay seated at the dinner table can definitely be a challenge. These free printable placemats include a word search puzzle, a word scramble game and a large coloring section. Simply have a placemat at each child's seat along with a container of crayons and markers and they will have a ton of fun working on the puzzles and coloring the fun snowman and Christmas tree picture.
Christmas Scattergories
A holiday twist on a classic word game. This fun fast paced word game is perfect for both large and small groups of players. To play, a letter is randomly selected out of a hat. Then, using that letter you need to come up with an item that begins with that letter, for each category on the printable game cards. Once time runs out, each player will read out their answers for each category. If another player has a duplicate answer, they both must cross it off their list. The person with the most unique answers at the end of the game will win a prize!
Christmas Word Search
This fun word search game features 21 Christmas themed words to find. It is a fun activity that can also help kids build their vocabulary and improve their spelling skills. Check out this blog post for the download links and also ideas on how to make the word search games more fun for large groups.
Christmas Word Scramble
Another fun free printable activity, this word scramble game features 10 Christmas themed words to unscramble. But don't worry, we've also included an answer key in case you get stumped.
Christmas I Spy Game
The Christmas I Spy Game pdf is sized to print on a standard 8.5×11 inch piece of paper.
Feel free to print as many copies as you'd like! However, please do not redistribute or edit this design in any way. This I Spy game was created for personal or classroom use only.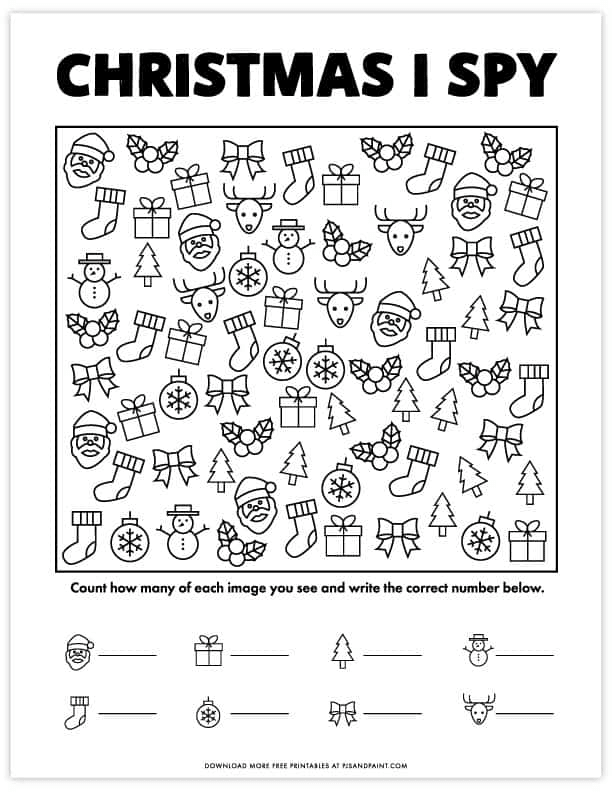 The game download link and answer key are located at the bottom of this post.

Download Links:
Download the Christmas I Spy Game – Version 2.
Download the Christmas I Spy Game – Version 2 answer key.