Whether you need a last minute gift for a good friend, or simply want to add a personal touch to an ordinary wine bottle, these free printable custom wine bottle labels are the perfect solution that you've been looking for!
Ever since I had my son, going shopping at the stores has become much more challenging. If I had to get a gift for someone in the past, I could walk up and down the aisles, browsing and taking my time to figure out what to buy.
Now, my main goal is to get it, get what I need as fast as possible and get out before he's screaming to get down out of the cart!
This has led me to be a bit more creative when figuring out gifts for friends and family members.
And as much as I love online shopping, sometimes even 2 day shipping isn't fast enough for a last minute gift.
I don't know what it is about this year but seven of my friends have gotten engaged recently! A few of them I knew about beforehand but most of the engagements were a total surprise. However, I still wanted to get them a thoughtful gift in a timely manner.
With all of the big events coming up in my friends' lives like buying houses, bridal showers, rehearsal dinners etc. I figured they were going to be going through quite a few bottles of wine.
I wanted to create some beautiful printable wine bottle labels that were personalized to them, but also allowed me to run to the store real quick and then add on a custom label.
So today I wanted to share with you these free printable custom wine bottle labels. While I will be using these labels for an engagement gift, they are really great for just about any occasion that the couple will be celebrating.
I've included a beautiful gold and floral monogram to represent the newly engaged couples shared last name. There are two editable sections on the label as well. One to write the soon to be Mr. and Mrs.' first names, and another space to add the date of their engagement, future wedding, or any other important date that takes place in their lives.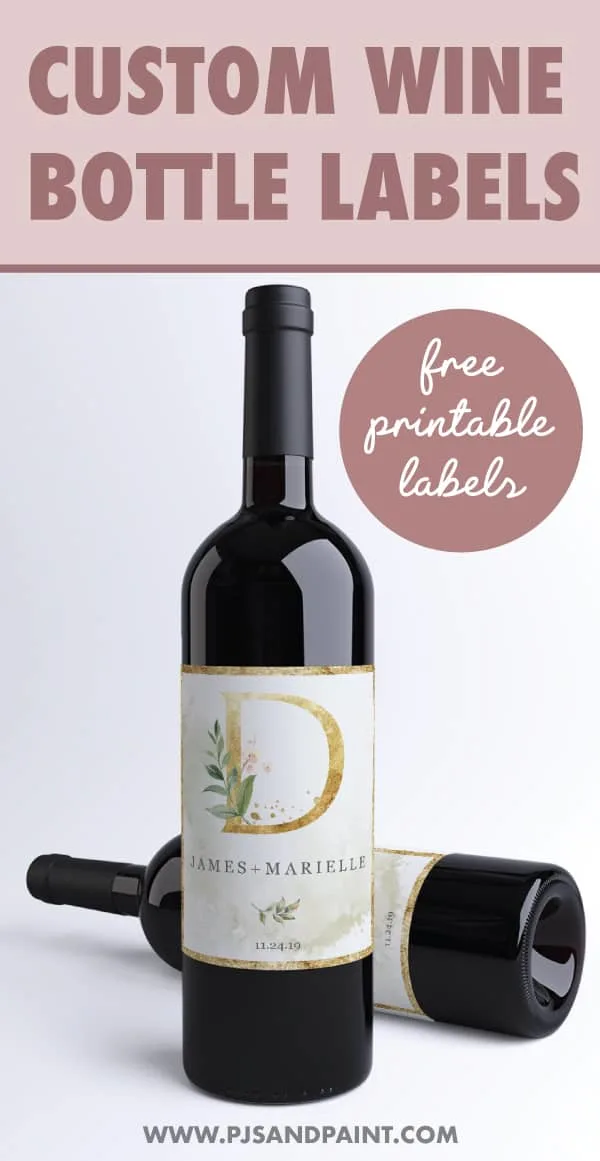 Disclaimer: This post contains Amazon affiliate links. This means that at no extra cost to you, I may earn a small commission if you decide to make a purchase.
How to personalize the wine bottle labels
First, find the monogram letter that you will be using from the list of download links at the bottom of this page.
Once downloaded, open up the file in Adobe Acrobat. Here, you should see that there are text boxes highlighted in blue. Fill in one of the labels with the couples' names and their special date. Alternatively, you could also skip the date portion and write down who the gift is from, or a short message.
You only need to fill in one of the labels and the rest will populate with the same text as the first. This is great if you are using these labels for bridal shower or wedding favors where you will need to print out multiples at one time.
These labels would also be great for customizing the wine bottles that are often readily available at each table at a wedding.
Please note that the text will remain highlighted in blue, however, only your custom text will actually print.
If this is a last minute gift, you can print on regular printer paper or cardstock and tape or glue to the bottle.
However, for the very best and most professional looking product, I would highly recommend printing on white sticker paper. Waterproof sticker paper would definitely be ideal. Click here to check out waterproof sticker paper on Amazon.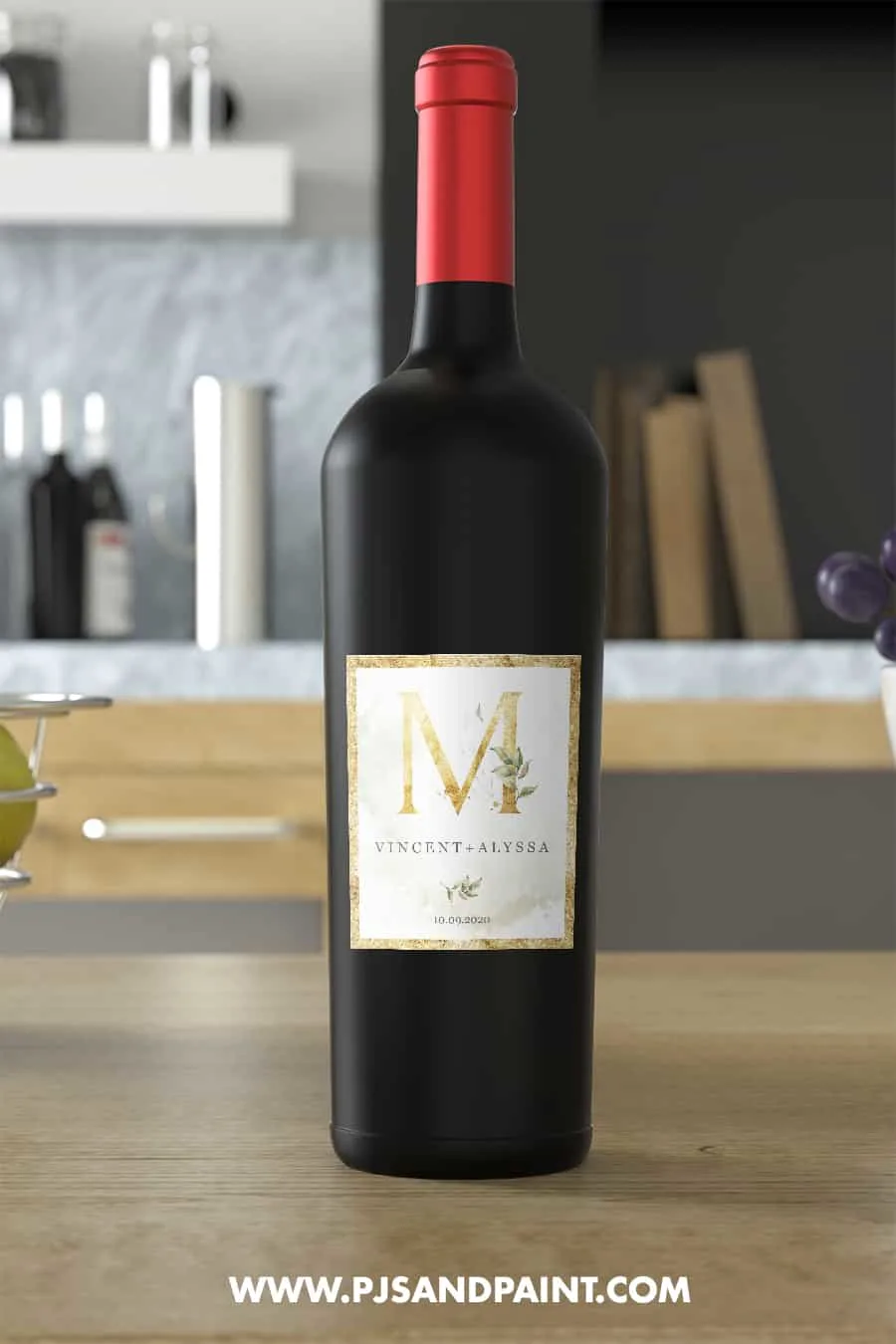 You can choose to print on either matte paper or gloss paper. Glossy paper will have a shine to it, whereas matte paper will not.
Once you print out the custom wine bottle labels, you can trim them apart using scissors or a paper cutter. For best results I would recommend using a paper cutter. This is the one that I am currently using.
In the files, I've included a slight bleed around the edge of each label, along with crop/trim marks. These lines show you where to cut to ensure that the gold border remains visible and you don't end up with any white edges.
Another fun idea would be to use scalloped scissors to create a fun detailed edge around the label.
Feel free to download and print as many wine bottle labels as you would like. However, please do not redistribute or sell the labels in any way. These files were created for personal use only.
If your original wine bottle has a particularly small label, you may be able to stick the new label right on top. However, if your label is much larger, you probably will want to remove the original one before placing the new label on. Below are the instructions on how to easily remove a wine bottle label.
How to remove a wine bottle label:
Fill up a container with warm water and add a few tablespoons of baking soda. Soak for around 30 minutes.
Remove the wine bottle from the warm water and you should now be able to wipe the label off with a rag or washcloth. If any of the adhesive material or pieces of the label remain on the bottle, you can use a little bit of rubbing alcohol to remove the excess residue.
One the wine bottle is clean and dry, you can now stick your new label on top!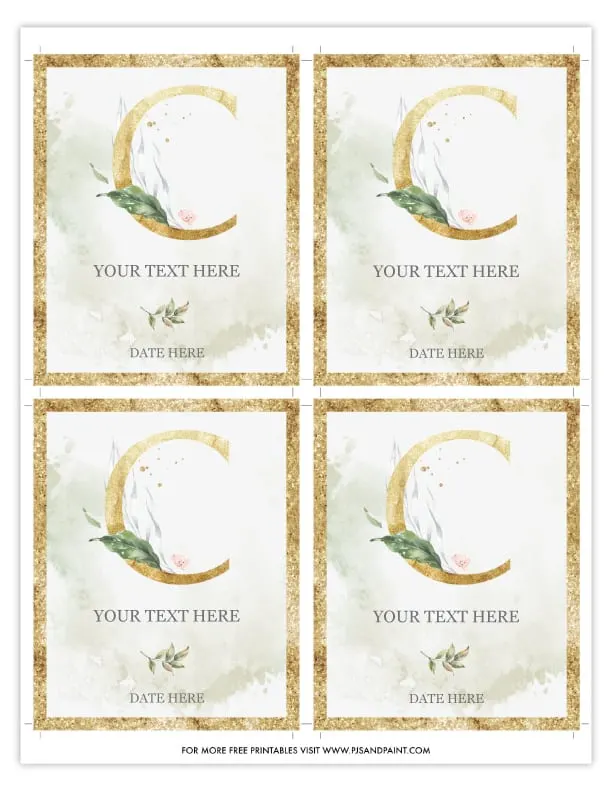 Custom Wine Bottle Labels – Printable Monogram Labels
4 wine bottle labels will print per 8.5×11 inch page. Once trimmed, each label will measure 3.75×4.75 inches.
For the very best results, I would highly recommend printing on white waterproof sticker paper. View white waterproof sticker paper on Amazon here.
Please note: When choosing a wine bottle to use, try finding one that is smooth and is uniform in size. Avoiding any uncommon bottle shapes will ensure that the new label will adhere as smoothly as possible.
Custom Wine Bottle Label Download Links:
Did you use these custom wine bottle labels at your event? I would love to see them! Feel free to tag me on Instagram at @pjsandpaint if you decide to upload any photos.
Be sure to also check out our free printable "Cheers" wine bottle label design here.
If you are in need of a last minute but thoughtful gift for an engagement party, then these free printable custom champagne bottle labels are exactly what you are looking for!
These labels are quick and easy to customize and print yourself at home. Simply stick to a store bought champagne bottle (or really any other type of bottle) and you are good to go! Click here to view the full blog post and download links.