Easter will be here before you know it! Along with the warmer Spring weather and blooming flowers of course comes the Easter bunny! A fun way to celebrate Easter this year is by coloring and wearing this free printable Easter Bunny Hat.
It is an easy and creative activity that kids of all ages can have fun working on. It is great for not only at home but in the classroom as well.

Disclaimer: This post contains Amazon affiliate links .This means that at no additional cost to you, I may earn a small commission if you decide to make a purchase. For more information, please feel free to read the affiliate disclosure on our privacy policy page.
Easter is probably one of my favorite holidays. Ever since I was little, my parents always set up a giant egg hunt in our backyard and invited all of the neighbors. We searched for eggs, played games and had a big delicious brunch.
Now that I have kids of my own, I love that I am able to carry over the tradition of the Easter Bunny. Part of that includes doing fun crafts!
Today, I'm excited to share with you this free printable Easter Bunny Hat. It is the perfect holiday craft that allows for creativity and a ton of fun. And the best part is that kids can wear their hat all day!
With only a minimal amount of supplies, kids can color in and assemble their very own hat to wear this Easter Sunday.
This is a great activity for Easter parties at home or in the classroom.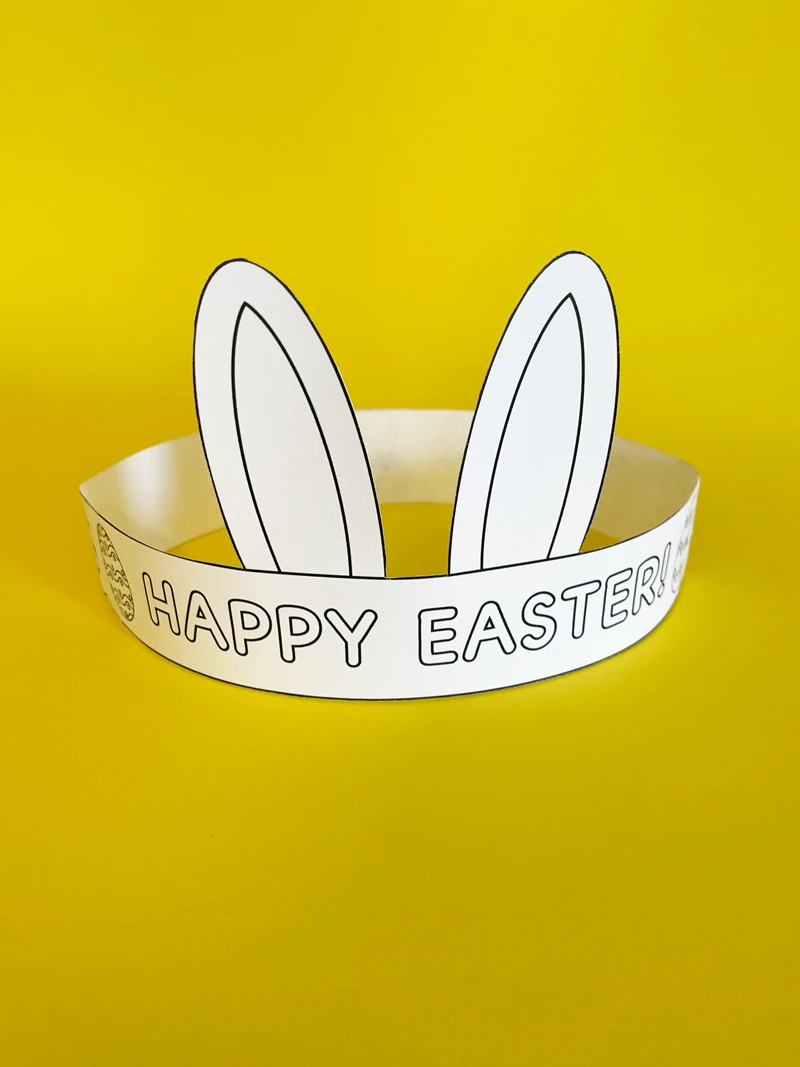 Materials needed to create one Easter Bunny Hat
White cardstock (while you can also use printer paper, cardstock is definitely recommended for the best outcome).
Markers, crayons or colored pencils
Scissors
Glue or tape
How to assemble the Easter Bunny Hat
First, download and print out the free bunny hat pdf. The link is located at the bottom of this post.
Next, color in the hat using art supplies such as markers, crayons or colored pencils. You can then cut out all of the pieces.
If the child is able to use scissors on their own, this would also make a great scissor skills activity.
Next, glue or tape one of the side sections to either the left or right side of the middle of the hat. You can also tape or glue the second side section to the middle piece if someone needs to have a larger hat.
Wrap the hat around the child's head and then tape the crown into place. Finally, you can cut off any excess from the side sections of the hat if needed.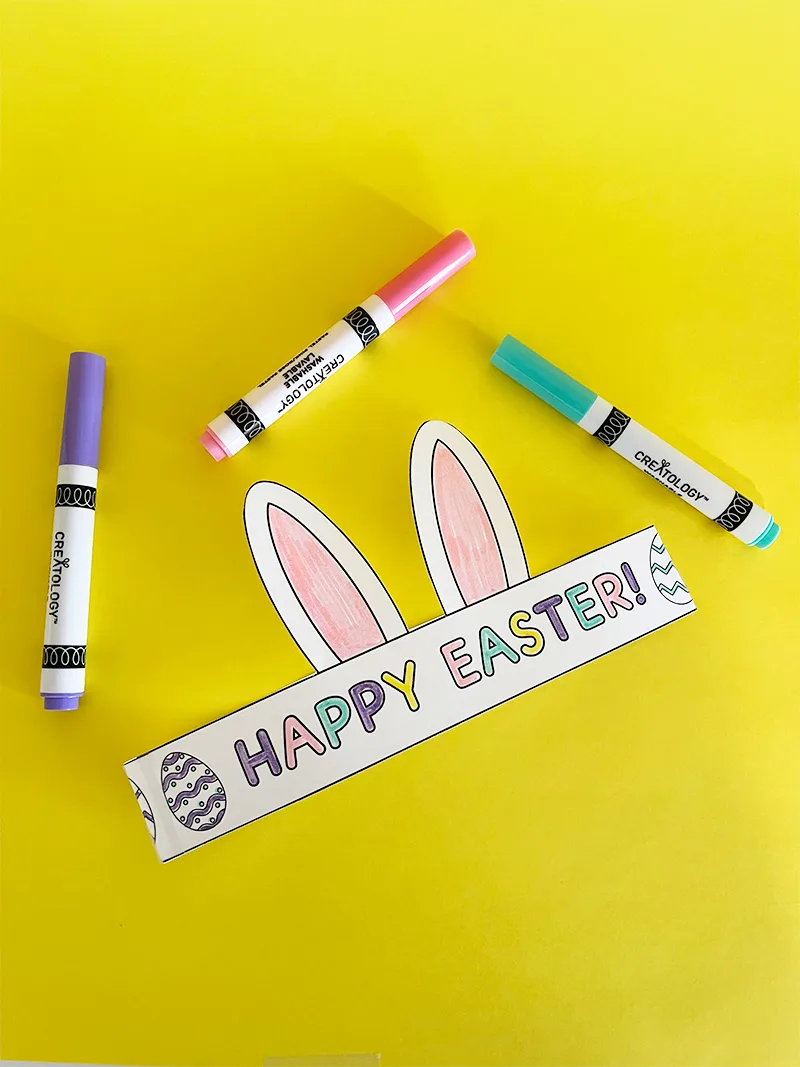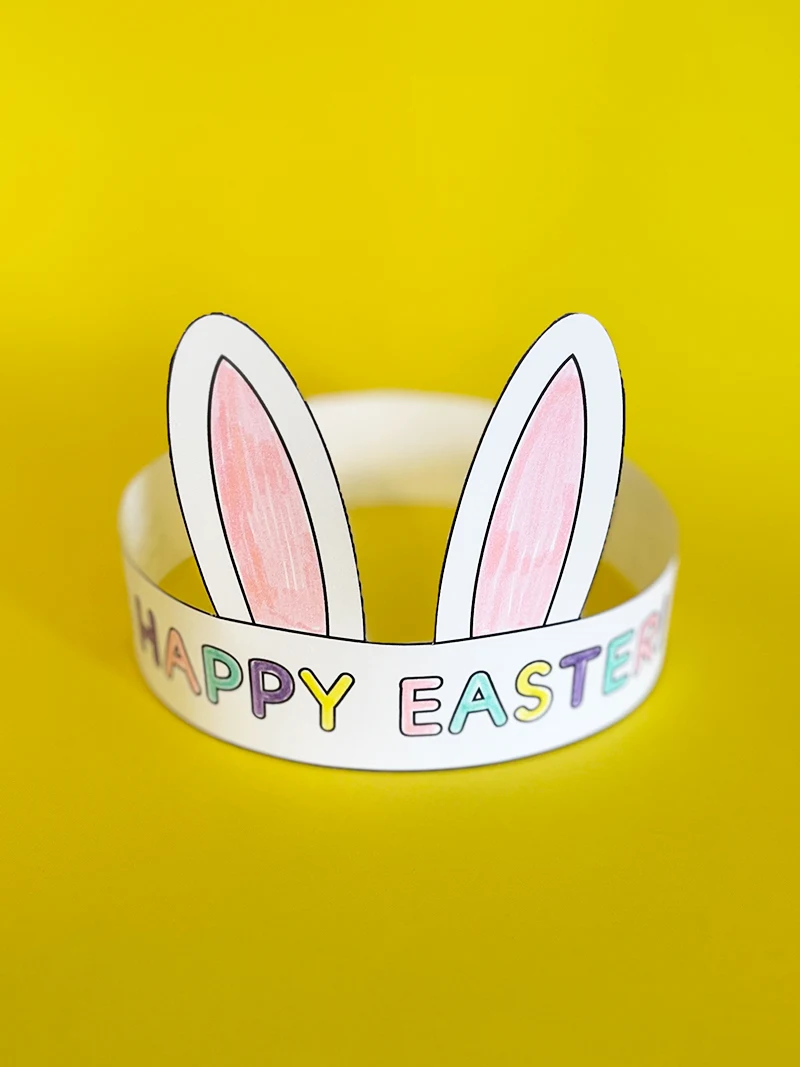 Free Printable Easter Bunny Hat
This Easter Bunny Hat was designed to be printed onto a standard 8.5×11 inch piece of white printer paper or cardstock. One hat will print per page. The size of the bunny hat can be easily adjusted to fit any size head.
Please feel free to download and print out as many copies of the Easter Bunny Hat as you would like. However, please do not edit or redistribute the files in any way. This hat was created for personal or classroom use only.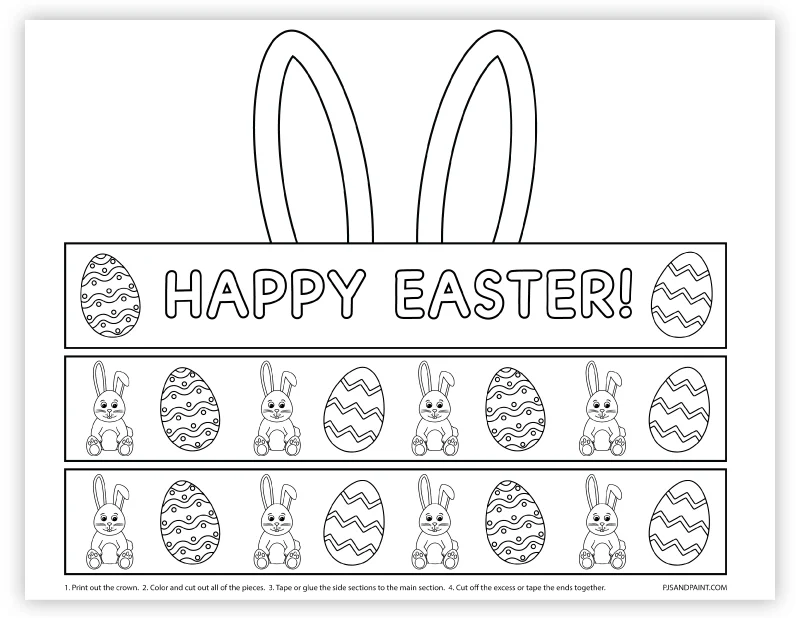 If you enjoyed this post, you might also like to check out some of our other fun free printable Easter games and activities below:
Free Printable Easter I Spy Game:
This game would be perfect for any holiday classroom party, a rainy day activity, or something fun to do during a kids' play date.
Free Printable Easter Word Jumble
In this activity, you will need to first unscramble the eight Easter themed words below. Then, using the circled lettered from each word, unscramble those to form a new word and find out what is inside the Easter egg.
Free Printable How many words can you make out of Easter Bunny
In this game, you will need to try and make as many words as you can using only the letters found in the words Easter Bunny.
Download Link:
Download the free printable Easter Bunny Hat.