These free printable recipe cards are perfect for organizing all of the recipes you reach for night after night. Instead of ingredients and instructions written on napkins, scraps of paper or remaining in your head, take some time to write down and store the delicious recipes your family knows and loves!
One thing I love about my husband is that he has become an amazing cook. He can just throw a bunch of ingredients together, add in some spices and turn out the best tasting meal without even needing a recipe.
I, however, most definitely need a very detailed recipe in order for anything I cook to come out halfway decent.
So what I've started doing recently is writing down exactly how much of each ingredient my husband is using, in hopes that his awesome dinners can be replicated for a second (or third, fourth or fifth) time.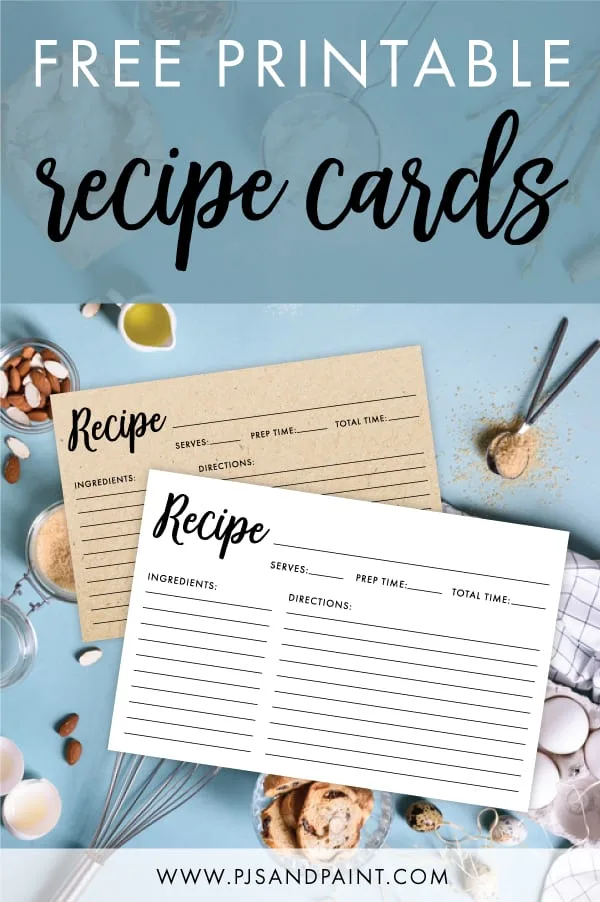 Disclaimer: This post contains Amazon affiliate links. That means at no extra cost to you, I may earn a small commission if you decide to make a purchase.
For some reason, I don't think I can ever get into reading recipes off of a screen. I'm definitely forever a pen and paper kind of girl.
Because of that, I created little recipe cards that I hand write and keep in a recipe box. There also just seems to be something so nostalgic about handwritten recipes, passed down from generation to generation. And the little bits of ingredients that inevitably get smudged into the card forever!
So today, I wanted to share these free printable recipe cards with you.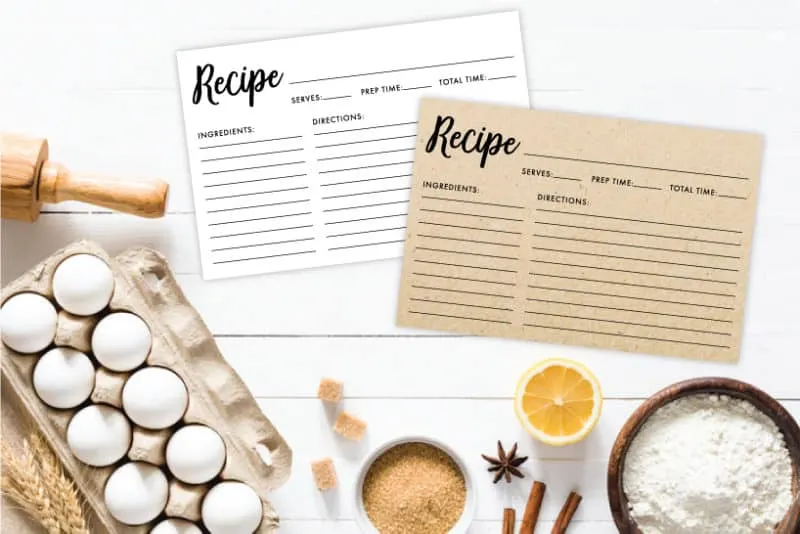 Other uses for recipe cards other than organizing your own kitchen:
Bridal showers
These free printable recipe cards would be so great for bridal showers. You can have each guest write down their favorite recipe for the bride-to-be! Alternatively, you could send the recipe card in the invitation envelope and have your guests bring the already filled out recipe to the shower.
Baby showers
You might not immediately associate recipe cards with baby showers but stay with me here! When you have a newborn, cooking is usually the very last thing on your mind. But that doesn't mean you have to eat take out and microwavable meals from now on! During the sleepless newborn stage, how nice would it be to have a stash of super easy and quick recipes that you can throw together while baby is napping. Invite your baby shower guests to fill out recipe cards with their simplest yet most delicious easy meals and you will definitely appreciate it later on!
Free Printable Recipe Cards
These cards are super easy to print at home. The pdf includes 2 recipe cards on an 8.5×11 inch page, that when trimmed will measure 4×6 inches. (I use this paper cutter to ensure my cut lines are always straight!)
Feel free tp download and print as many times as you'd like. For the best results, I would definitely recommend printing on white cardstock (or this kraft paper cardstock is pretty cool too!) With the majority of our other printables, you could get away with printing on regular printer paper. However, with recipe cards, you need a little more weight to the paper to make sure they hold up over the years.
Have you considered laminating your recipe cards?
That way, any excess food that makes its way onto the recipe can easily be wiped clean. This home laminating machine is 100% on my Christmas with list this year.
(Update: Future Kelly here, I actually did get the laminating machine for Christmas and I can confidently say that I absolutely love it! I'm now one of those people that will find any reason to laminate just about anything!)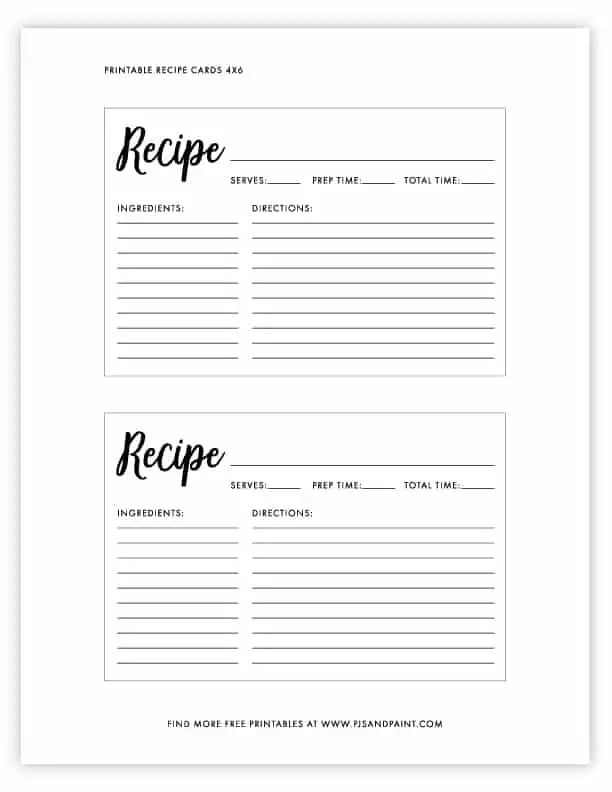 Be sure to also check out the matching free pantry labels to keep your cabinets and shelves organized!
Visit our free printable pantry labels blog post to download our super cute food storage labels. They are perfect for sprucing up and organizing your kitchen cabinets. I found that I was frequently throwing out large quantities of food, partially because it was going bad and partially because I just didn't know what was in my cabinets! These pantry labels in addition to new food storage containers definitely helped me out big time!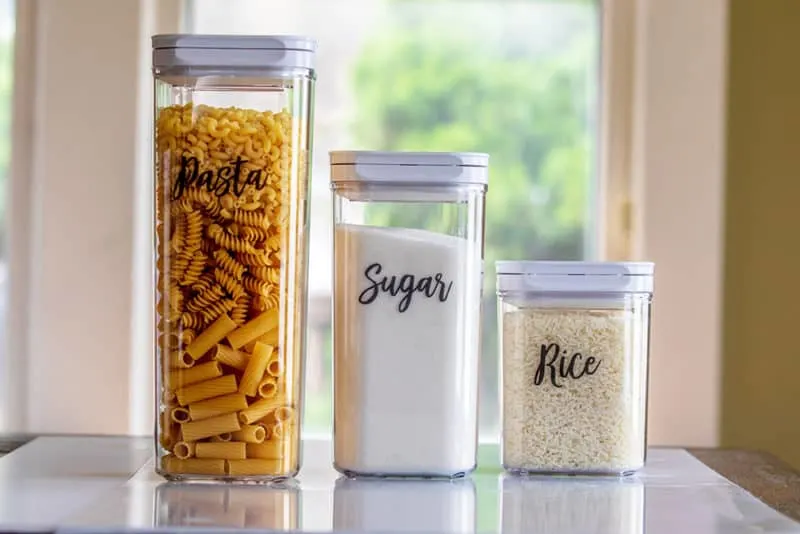 And while we are on the topic of kitchen organization, you may want to check out our free printable grocery list.
Am I the only one who ends up grocery shopping multiple times a week? I like to think of myself as fairly organized in general, but when it comes to food I feel like I'm always running to the store for a last minute ingredient. I recently created this free printable grocery list that I wanted to share with you today! I find that having a list that is divided into various sections is beneficial in a few ways. Click here to read the full blog post and download the printable files.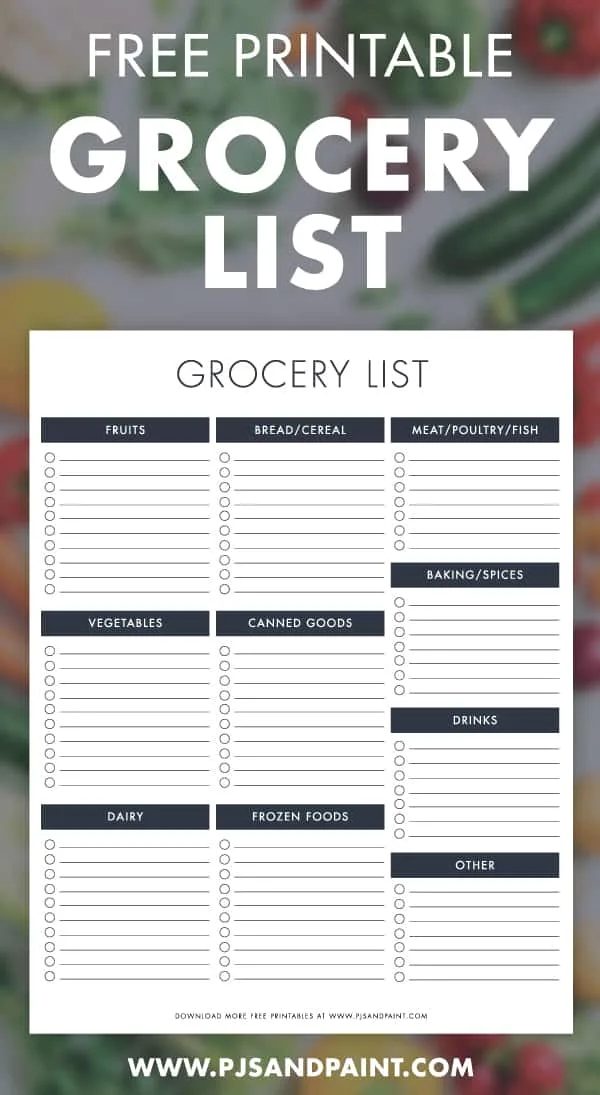 Recipe Card Download Link:
Click here to download the free printable recipe cards.
What about you? How do you like to store your favorite recipes?