This free printable grocery list is a great way to organize your weekly or bi weekly shopping trip.It's great for hanging up on a bulletin board, on the fridge or simply laying on the kitchen counter. Any place that your family can come to and write down their shopping requests!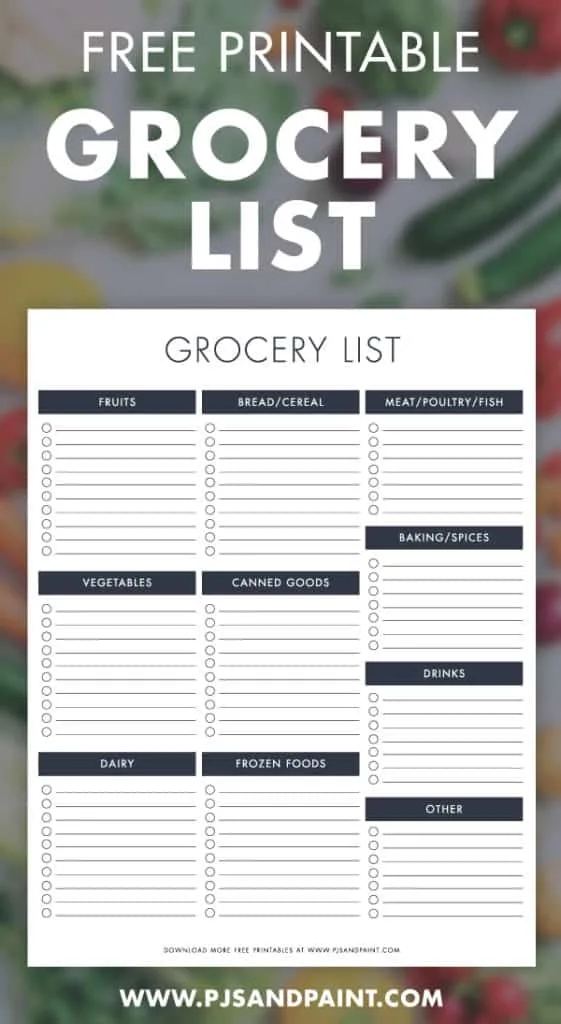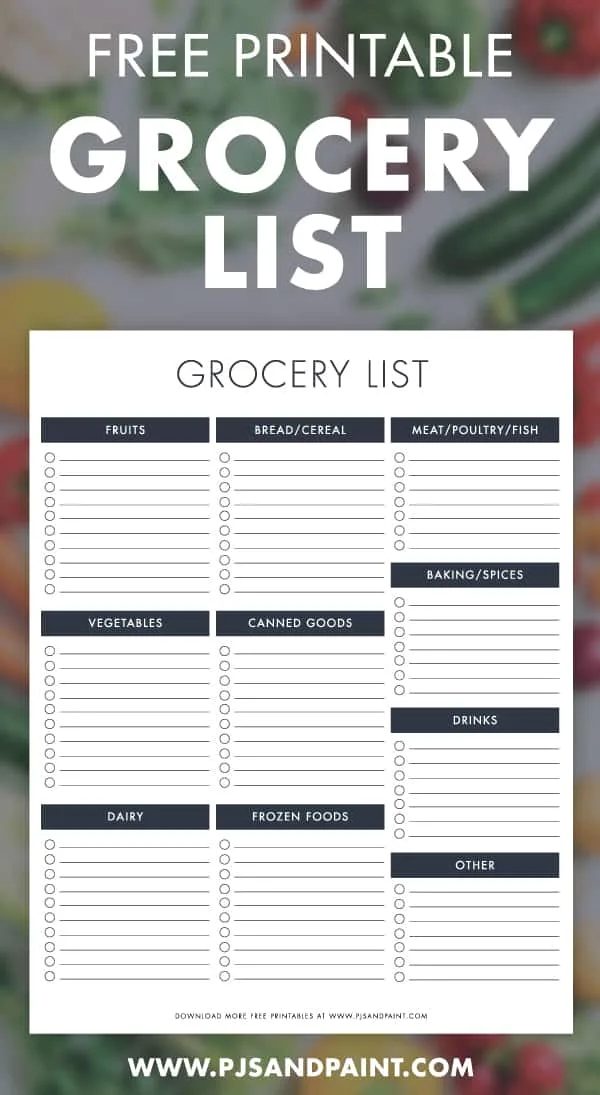 Disclaimer: This post contains Amazon affiliate links. That means, at no extra cost to you, I may earn a small commission if you make a purchase.
Am I the only one who ends up grocery shopping multiple times a week? I like to think of myself as fairly organized in general, but when it comes to food I feel like I'm always running to the store for a last minute ingredient.
I recently created this free printable grocery list that I wanted to share with you today! I find that having a list that is divided into various sections is beneficial in a few ways. First, it's easy to forget things like spices and items to stock your pantry. If I see the "Spices" header, I'm much more likely to remember that I need to add pepper, garlic powder etc. to my list.
Another reason I love grocery lists that are organized by section is that it makes the actual shopping trip go faster and smoother. When I used to write a basic list of what I needed on a piece of scrap paper, I'd just add items as I thought of them.
This lead to apples being at the top of the list and bananas somewhere down at the bottom. But now, I can quickly see all the different fruits I need and quickly grab them while I'm in the produce section, and then move on to the next category.
And if you have kids, you know that a "simple trip to the grocery store" often is not so simple! Not only can I now quickly speed through the store before my son has a meltdown, but if my husband or a friend tags along with me, we can divide and conquer different sections of the grocery store and get out of there as soon as possible.
Little time savers really make a difference!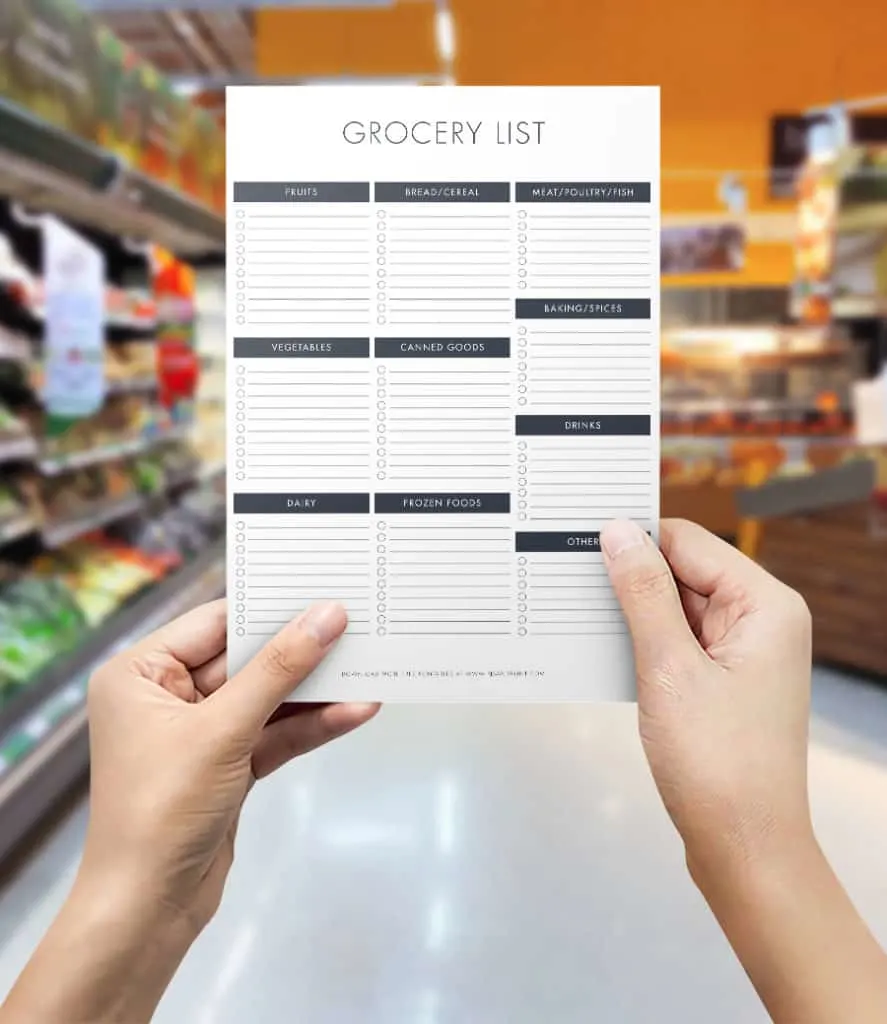 This free printable grocery list is sized to fit a standard 8.5×11 inch piece of paper. Feel free to print out as many as you'd like and stick them to your refrigerator, bulletin board or just leave out on the kitchen counter.
Having a place that everyone in your household can easily access and write down what needs to be bought will save a lot of time, money and items from being forgotten.
Free Printable Grocery List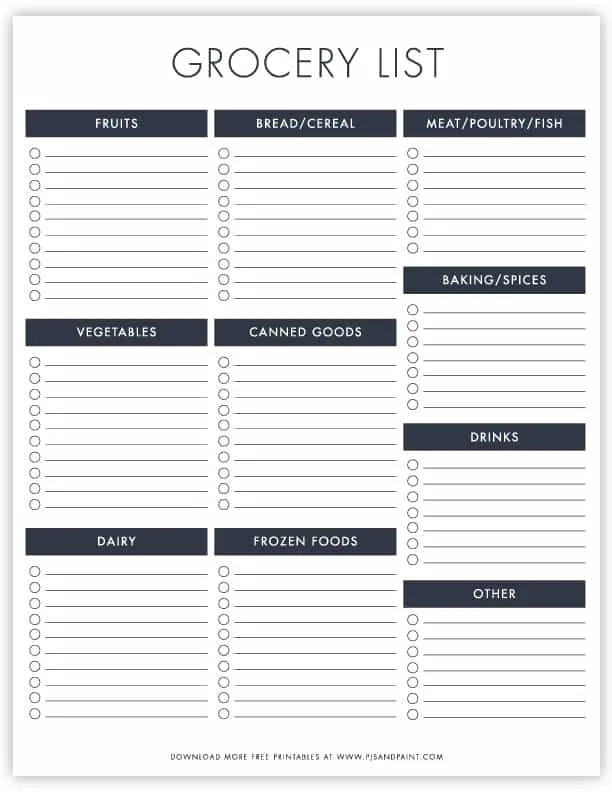 Reuse your grocery list multiple times with this trick:
Another awesome way to use this printable is to stick it in a dry erase holder. Check out what I'm talking about here on Amazon. Save yourself a ton of paper and turn the grocery list into a portable dry-erase surface. This one even has an eyelet at the top fo the holder that allows you to easily hang it on the wall.
Other than that, all you need are some dry erase markers (make sure to get thin ones like these!) and you have a handy reusable grocery list.
Be sure to check out some of our other free kitchen organization printables below:
Free printable weekly meal planner
Download this free printable weekly meal planner to help you organize your kitchen, plan your meals and see what delicious food you and your family can look forward to over the upcoming week. Click here to view the full blog post and download the planner files.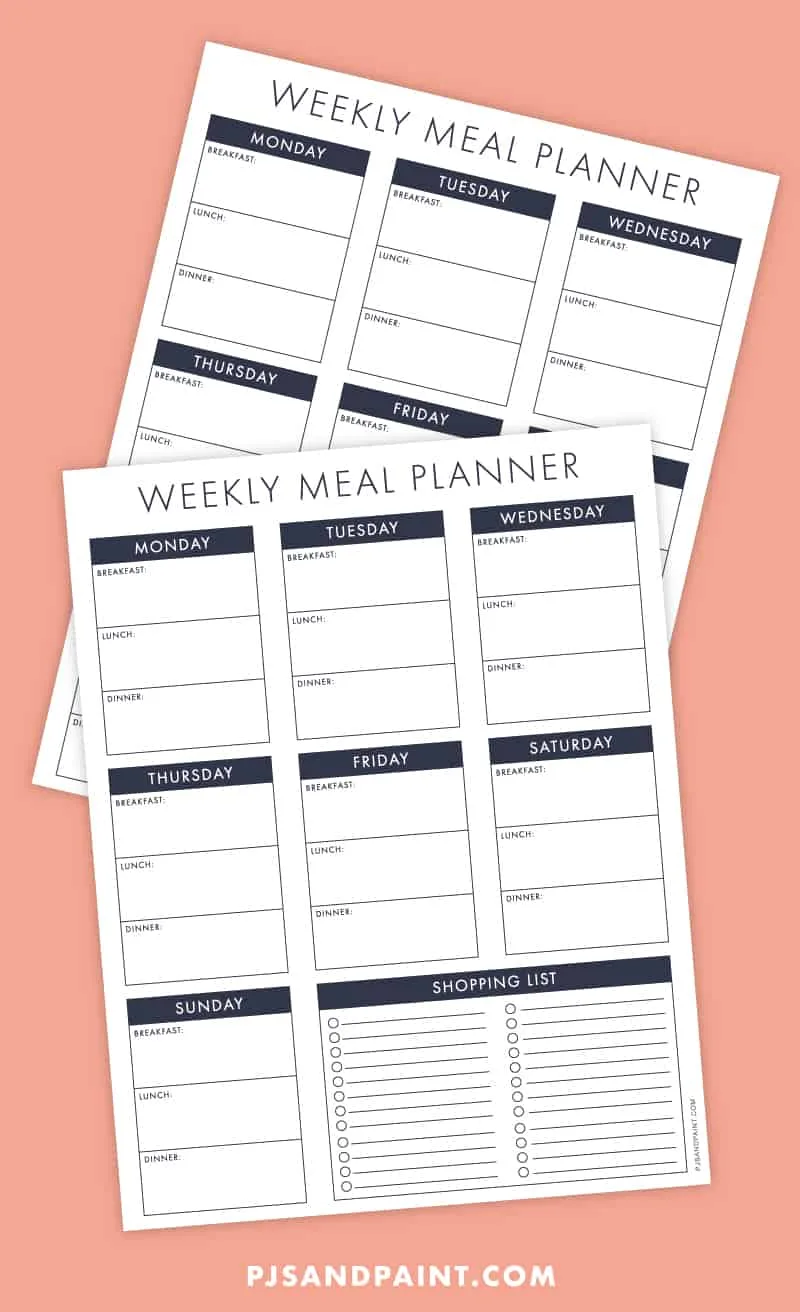 Printable Pantry Labels
Visit our free printable pantry labels blog post to download our super cute food storage labels. They are perfect for sprucing up and organizing your kitchen cabinets. I found that I was frequently throwing out large quantities of food, partially because it was going bad and partially because I just didn't know what was in my cabinets! These pantry labels in addition to new food storage containers definitely helped me out big time!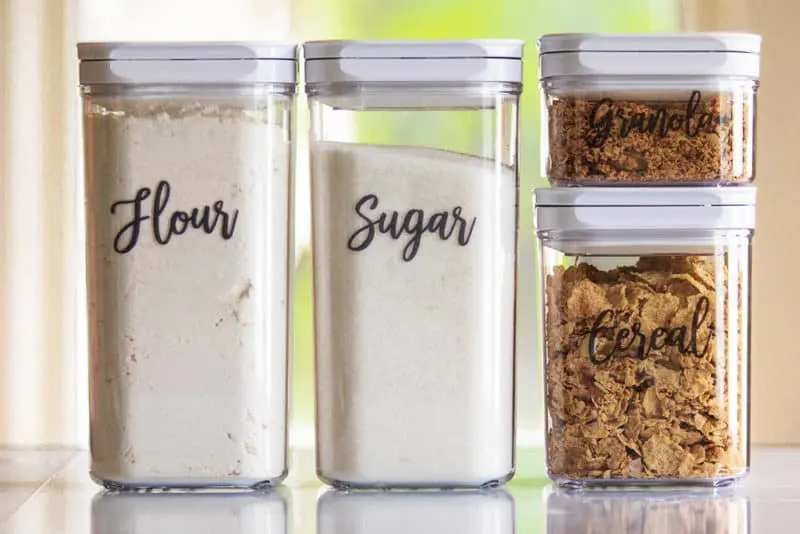 Printable Recipe Cards
These free printable recipe cards are perfect for organizing all of the recipes you reach for night after night. Instead of ingredients and instructions written on napkins, scraps of paper or remaining in your head, take some time to write down and store the delicious recipes your family knows and loves! Click here to view the full blog post and download the free printable recipe card files.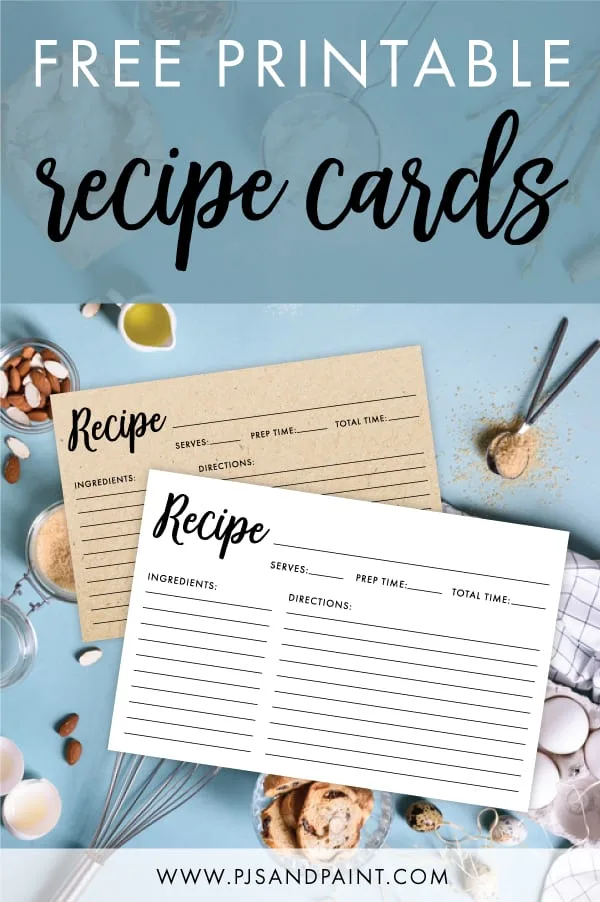 Grocery List Download Link: