Today I am excited to share with you this fun free printable Spring maze. It is a great activity for kids of all ages to work on at home or in the classroom.

Disclaimer: This post contains Amazon affiliate links. This means that at no extra cost to you, I may earn a small commission if you decide to make a purchase. For more information, please read our affiliate disclosure.
Have you heard the trick that it is easier to figure out how to work your way through a maze if you start from the end?
I am not sure where I first heard that idea or if it even works but that is the first thing that pops into my mind when I think of mazes. Weird I know!
In any case, I always find working on mazes to be very enjoyable. They can be challenging but also somewhat relaxing. Personally, I always try to work on mazes with a pencil in case I need to start over. Which definitely happens in most cases!
Lately, I have been trying to come up with a bunch of printable games and activities to keep my kids entertained while at home. After the craziness of the year 2020, I really found it so important for everyone's sanity to keep a wide variety of new activities on hand for my family to do at all times.
And so today I am happy to share one of them with you all! Work through this free printable Spring themed maze to reach the pretty pink flower in the center.
Whether you start from the "start" or the end is up to you! Happy Spring everyone!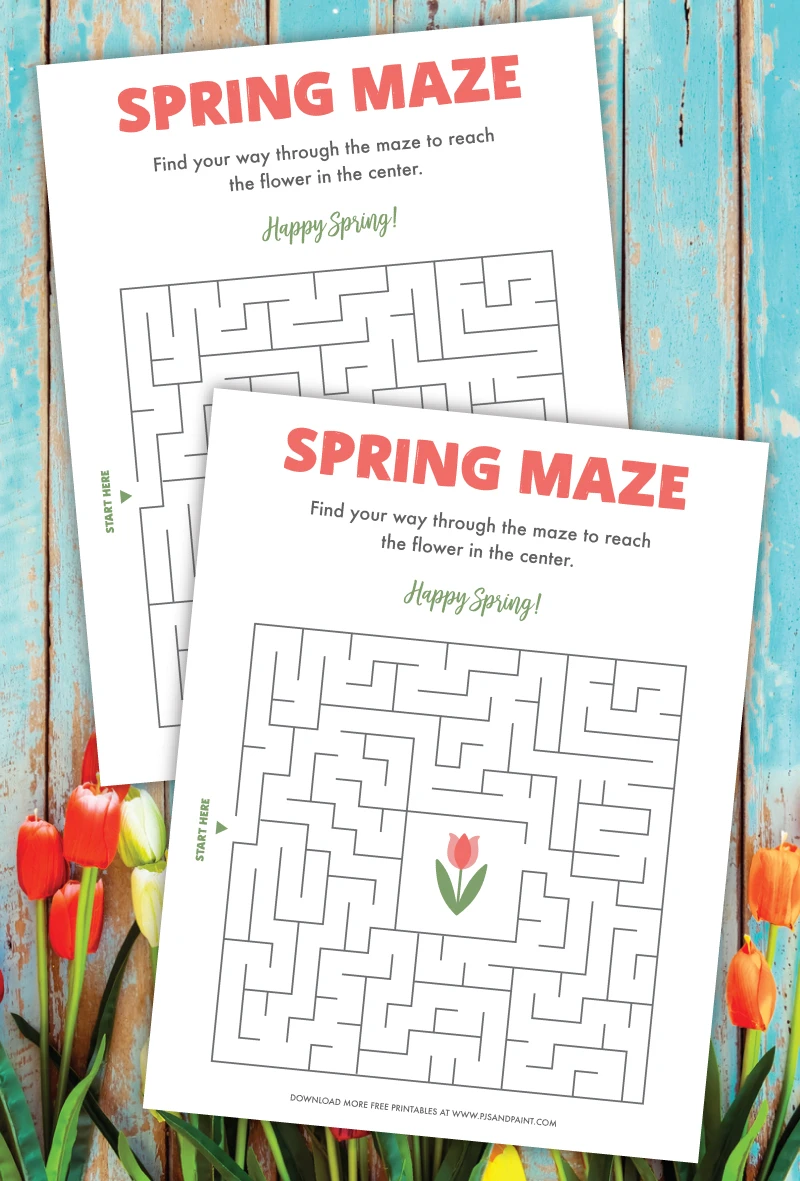 The maze download link is located at the bottom of this post.
Free Printable Spring Maze
This free printable Spring maze is designed to print onto a standard 8.5×11 inch piece of paper.
Feel free to download and print as many copies of the Spring maze as you would like. However, please do not edit or redistribute the files in any way. This maze is intended to be used for personal or classroom use only.
How to make mazes and other printable games reusable:
If you are using this maze as part of a yearly classroom activity, you may wish to make them reusable for all of your students.
If so, I would definitely recommend using a lamination machine to laminate the page. You can then have your students use dry erase markers to complete the maze. (Dry erase markers are especially useful if they want to start over or get stuck!)
Once the maze has been completed, you can simply wipe away the lines and reuse the game over and over again.
This is the lamination machine that I currently have in my office and it definitely gets quite a bit of use!
If you don't have a lamination machine or would like a different alternative, you can also use dry erase pockets. All you have to do is place the printed game into the pocket and then use dry erase markers to work through the maze.
For both of these options, I would also recommend printing out the games onto white cardstock. Cardstock is more durable than regular printer paper and will be able to better withstand being reused over and over again.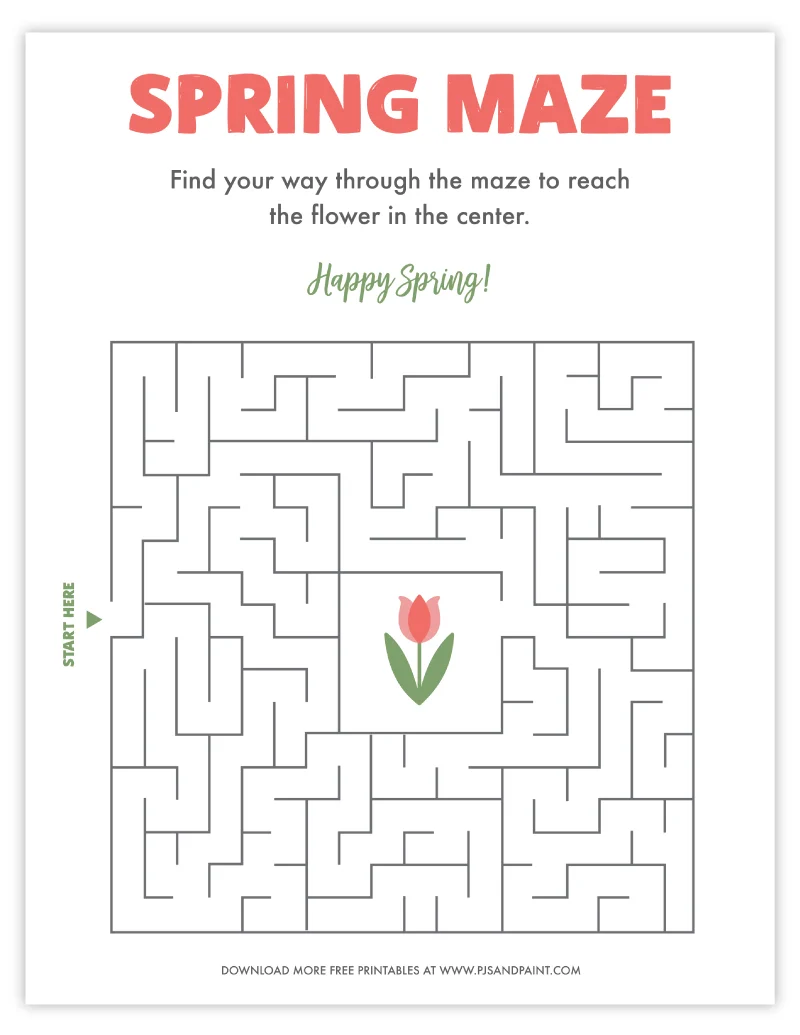 The maze download link is located at the bottom of this post.
Here are a few fun Spring themed items that would make working on this maze even more fun!
Mini Erasers
Just in case you make a mistake, these cute little mini erasers will do the trick! With carrots, eggs, bunnies, chicks and more, they are perfect for any Spring themed party.
Cute Animal Pencils
These adorable pencils feature fun pencil toppers and would be a great addition to any classroom or kids party this Spring. You can even have your students or guests take them home as favors!
If you enjoyed this Spring Maze, you might also like to take a look at some of our other fun free printable Spring games and activities below:
Free Printable Spring Word Scramble
In this word scramble game, you will be trying to unscramble ten Spring themed words. It is a great activity for both children and adults alike.
Free Printable Spring Word Search
Here, you will be searching for fifteen Spring themed words. Word searches are fun, challenging and may even help kids learn a few new words!
Download Link:
Download the Spring Maze.