Use this free printable worry jar worksheet to write down your fears throughout the day. Sit down at your designated worry time to work through the anxious thoughts.

Disclaimer: This post contains Amazon affiliate links. This means that at no extra cost to you, I may earn a small commission if you decide to make a purchase. For more information, please read our affiliate disclosure.
Just another quick disclaimer. I am not a doctor or a counselor and have no formal education in psychology. If you are struggling with anxiety and need help, please contact your trusted doctor or medical provider.
Anxiety has been something I have struggled with for as long as I can remember. Fear and worry is almost always on my mind and it can be extremely difficult to deal with at times.
One of the strategies that stuck with me the most is the idea of a designated "worry time."
Personally, when I get anxious about something, it immediately feels like the absolute worst thing in the world. It doesn't matter how silly it may seem to someone else, or if I even rationally know it is not something I should be worried about. In that initial moment, my anxiety is at its peak and I cannot even imagine it going down.
One technique that has helped me calm down was to set a designated time to worry. For me, this meant that I would write down whatever I was worried about and then do my best to not think about it for the rest of the day.
Writing it down was a way to get it out of my head, but still remember what I was so fearful of.
At a certain time of day I would take out my piece of paper filled with my anxious thoughts and go through them one by one, taking the time to talk back to those fears and see how I felt.
More often than not, by the time my "worry time" had come, I usually forgot about whatever was so intensely bothering me. And if I didn't completely forget about it, whatever it was seemed so much less stressful and all consuming. I was always in a better head space to deal with the fear and if it was a legitimate concern, be able to figure out a solution.
This strategy worked wonders for me. In fact, it was the inspiration for writing this blog post today. A situation came up that I was intensely worried about to the point I couldn't focus on anything else. I decided to write down my fear and then move on with my day. When I sat down to look at my list of worries tonight, I couldn't help but laugh at how silly they seemed now.
It's not always easy to remember in the moment, but at least for me the old saying of "what goes up, must come down" is very true. No matter what I'm anxious about, if I just give it some time, it will never seem like as big of a deal as it did in those first few moments.
I created this free printable worry jar to help anyone out there who needs to have a safe place to put their worries until they have time to deal with them.
Whether you keep this folded up in your pocket or prominently displayed somewhere, I truly hope it will help you or your children learn how to calm their fears and live a less anxious day to day life.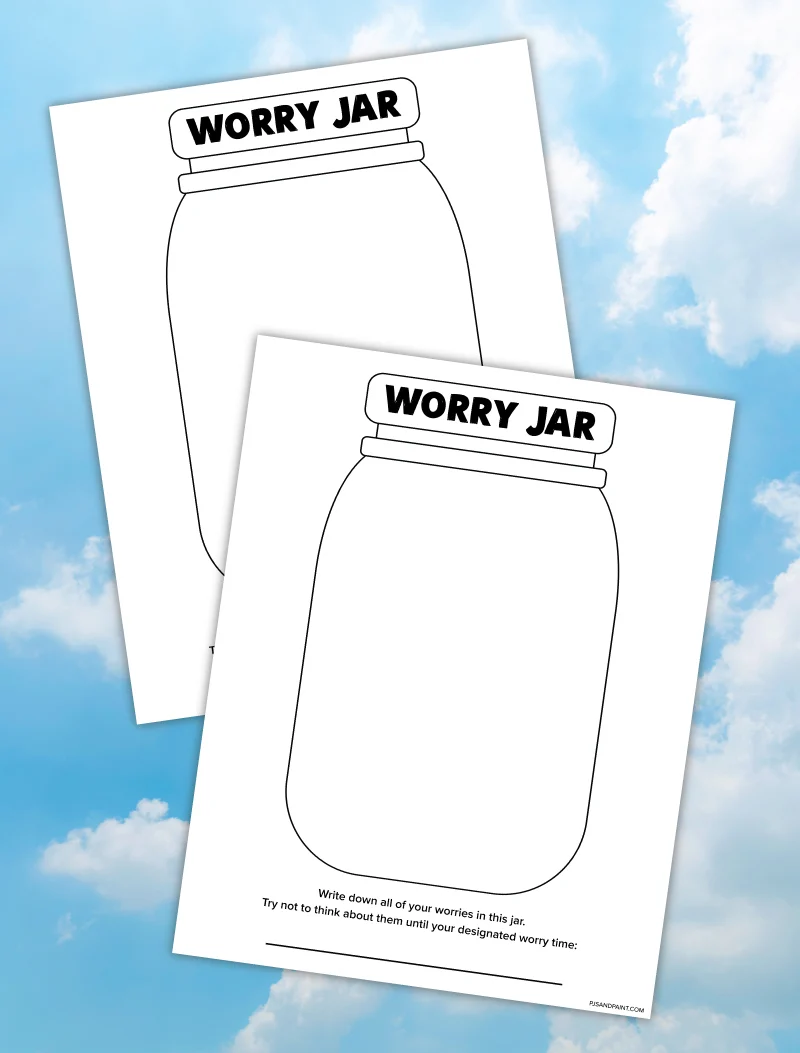 Worry jar download link is located at the bottom of this post.
How does the worry jar work?
Whenever you have an anxious thought throughout the day, one that you simply cannot get off of your mind, write it down in the worry jar.
At the bottom of the page, there is a blank space for you to write down your "designated worry time." This is the time you will sit down and read through all of your worries and deal with them as best you can. More often than not, your anxiety will have subsided by then and you will have a clearer mind to talk back to those fears.
If you find yourself filling up the jar rather quickly, you can print out a worry jar each day. If you only have a few worries here and there, you may want to use the worry jar less frequently, and only have a designated worry time say once a week. Do whatever works best for you!
It may sound silly but I often keep the pieces of paper that I write down my fears on. Sometimes when I'm having a rough day anxiety wise, I'll look back on my previous worries and see how the situations have worked out fine, or at the very least, were not nearly as bad as I had pictured them in my mind.
For me, it helps looking back and seeing how what I thought was a huge deal at the time, in reality, wasn't so bad.
And again, please see your doctor if you or your child has a problem with anxiety. This post has simply been sharing a technique that has helped ease my own worries in hopes that it can help someone else as well.
Free Printable Worry Jar Worksheet
This worry jar is designed to be printed onto an 8.5×11 inch piece of paper. One worry jar will print per page.
Feel free to download and print out as many copies as you would like. However, please do not edit or redistribute the files in any way. This worry jar worksheet is intended for personal or classroom use only.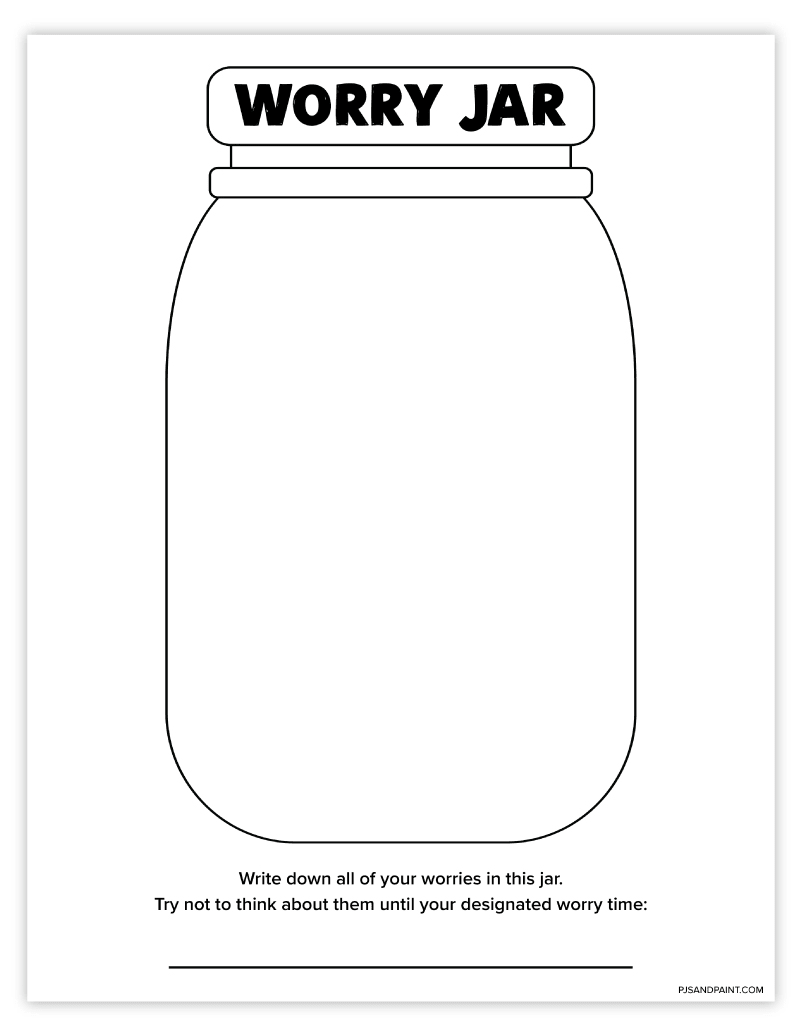 Worry jar download link is located at the bottom of this post.
Ways to make the worry jar reusable:
If you'd like to save some time and paper, you may wish to reuse the worry jar worksheet over and over again.
If so, I would recommend placing the worry jar printout into a dry erase pocket and using dry erase markers to wipe off your anxieties at the end of each worry time.
For this option I would also suggest printing out the worry jar onto white cardstock. The cardstock is thicker and more durable which will be able to better withstand being used over and over again.
Download Link:
Download the worry jar worksheet.